Anigan Evacup vs.  Lena Cup: Overview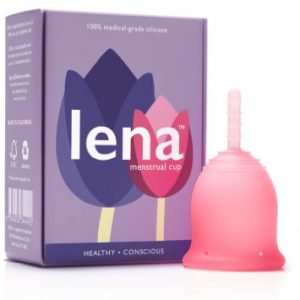 The Anigan Evacup is an up and comer in the world of menstrual cups and it's gaining traction over older, more established brands like Diva Cup, Lunette and Moon Cup. Women seem like to really like it because it's one of the cheapest cups available. Another popular feature is that the Anigan Evacup is manufactured in the USA, unlike many of the other cups in that price range that are made in China. It has a very high 4.4/5 star rating on Amazon and comes in 8 different colors.
The Lena Cup is also made in the USA and is quite similar to the Anigan Evacup. It's just a little bit more expensive on Amazon. It's a quality product made from medical grade silicone. It has a very high 4.7/5 star rating and the only complaints about it on Amazon are about menstrual cups in general and not about this specific product.
Anigan Evacup vs. Lena Cup: Design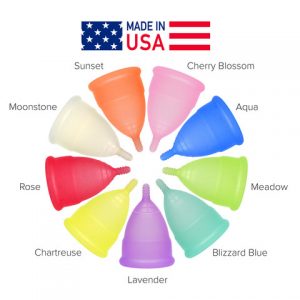 In terms of design, the Lena Cup and Evacup are similar, however the Lena Cup has a much longer stem and is longer overall. This can make removal of the Lena Cup easier but it will certainly not be suitable for those with a low cervix.
However, if you're looking for a higher capacity cup, the Anigan Evacup is the hands down winner with 30 ml (small) and 37 ml (large) while the Lena Cup only has a capacity of 25 ml (small) and 30 ml (large)
Anigan Evacup vs. Lena Cup Comparison Chart

Anigan Evacup vs. Lena Cup: Which one to Choose?
Both of these cups are made from the highest quality medical grade silicone and are manufactured in the USA. The Lena Cup is a bit more expensive than the Anigan Evacup but it does have a higher rating on Amazon and women seem to love it. Women mention that is has the perfect stiffness, making it easy to fold but also easy for it to pop open and seal once inside of you.
If you have a heavy period, the Anigan Evacup Large would make an excellent choice for you. At 37 ml, it has one of the biggest capacities of all menstrual cup, along with the Meluna L/XL and the Yuuki L.
Also see: Heavy Period? Use a Menstrual Cup.
Anigan Evacup + Lena Cup: Where to Buy
The best place to get both of these cups is on Amazon:
Anigan Evacup vs. Lena Cup: More Information