Diva Cup vs. Anigan Evacup: Overview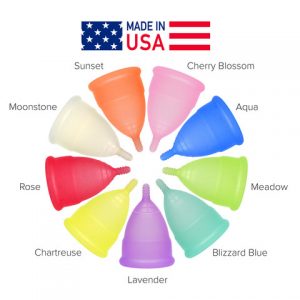 The Anigan Evacup is an up and comer in the menstrual cup world and it's fast gaining popularity. Women seem like to really like it because it's one of the cheapest cups on the market and it's manufactured in the USA, unlike many of the other cups in that price range that are made in China. It has a very high 4.4/5 star rating on Amazon and comes in 8 different colors.
In contrast, the Diva Cup has been around for years and the name Diva Cup is almost synonymous with the name "menstrual cup." It's a high quality product from a very reputable company committed to women's health. The DivaCup is made in Canada from the highest quality medical grade silicone and it's one of the few menstrual cups approved by the FDA. See: FDA approved menstrual cups for more details. The Diva Cup comes in only one color: white, and it has the same rating as the Evacup of 4.4/5 over on Amazon.
Diva Cup vs. Anigan Evacup: Design
In terms of design, the DivaCup and EvaCup are quite similar, with the major difference being the stem. The Diva Cup has a hollow stem which can make it a bit difficult to clean and keep sanitary, while the EvaCup has a solid stem.
Both period cups come in small (pre-childbirth) and large (post-childbirth) sizes. In terms of diameters and lengths, the two cups are quite similar, with the Evacup being slightly shorter. The major difference is in the capacity of the large version. The Evacup holds 37 ml of fluid while the Divacup holds only 30 ml. This can make the Eva Cup a nice choice for the larger women who has a heavy period. See: How to handle a heavy period for more details.
Diva Cup vs. Anigan Evacup: Comparison Chart

Diva Cup vs. Anigan Evacup: Which One to Choose
Both the Diva Cup and Anigan Evacup make an excellent choice for your first menstrual cup. They are made in North America from the highest quality medical grade silicone by reputable companies. If you like to shop local, the Diva Cup is from Canada, while the Anigan Evacup is made in the USA.
Both are around $30, but the difference is that the Evacup has two cups in a single package, while the Divacup only has one. Nobody really needs two menstrual cups though, so it's a bit of an odd marketing strategy. However, if you can find a friend or family member to split the package with, the Anigan Evacup is one of the cheapest menstrual cups you can buy, especially among those made outside of China.
If you're a larger women who has a heavy period, consider the larger size of Evacup which has a higher than normal capacity of 37 ml.
Diva Cup vs. Anigan Evacup: Where to Buy
The best place to buy these cups is on Amazon:
Diva Cups
Diva Cup Small + Large: Amazon Canada
Diva Cup Small + Large: Amazon UK
Anigan Evacups
Anigan Evacup Small: Amazon USA
Anigan Evacup Large: Amazon USA
Anigan Evacup Small + Large: Amazon Canada
Diva Cup vs. Anigan Evacup: More Information
If you need more information about either of these two popular period cups, check out their full reviews by clicking the following links below: