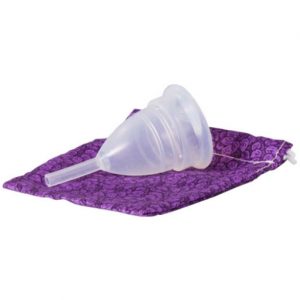 Diva Cup vs. Moon Cup: Overview
The Diva Cup and the Moon Cup are the two most popular menstrual cups in the world for good reason! They're both made by reputable companies from the highest quality medical grade silicone. These two cups are on the list of FDA approved menstrual cups, a rare distinction. Although many cups make this claim it is in fact not true.
The Divacup is manufactured in Canada while the Mooncup is based out of England.
Both these cups only come in one colour: white. They both have two sizes: small and large.
Moon Cup vs Diva Cup: Sound Pretty Similar to You?
Do these two period cups sound pretty similar to you? That's because they are!
Top-quality medical grade silicone. FDA approval. Manufactured in the Western world. Made according to strict quality standards. Excellent companies that stand behind their products and have great customer service. A ton of satisfied customers (based on Amazon reviews). A nice design and fit. Easy to understand instructions and storage pouch included. Readily available.
Sounds like a win to you? You can check out the choices for yourself on Amazon:
Diva Cup vs. Moon Cup: Design
In terms of design, the Divacup and Mooncup are very, very similar and they look basically the same when placed side by side to one another. Unlike many other menstrual cups, they are available in only one colour: clear.
The main difference between the two is that the Diva Cup has a slightly larger cup and shorter stem, while the Moon Cup has a smaller cup and longer stem. The result is that the Diva Cup has a slightly bigger capacity (30 ml) compared to the Moon Cup at 25 + 28 ml, although both have almost the same overall lengths (70 + 71 mm).
When you're out and about on a busy day, or on the night of your heaviest period, even a few ml of extra capacity can make a difference. This could tip the scales slightly in favour of the Diva Cup.
In terms of diameters, both cups are similar, with the only difference being that the Mooncup is slightly larger. See the chart below for more details.
Diva Cup vs. Moon Cup: Comparison Chart
Diva Cup vs. Moon Cup: Which one to Choose? 
These two menstrual cups are so similar in terms of design, price, and marketing that it is hard to differentiate between two. Perhaps your choice could be made most easily based on where you live. Although if you have heavy periods, the Diva Cup might be a better choice for you due to the higher capacity.
If you Live in Europe…
If you live in Europe and want to buy local, consider the Moon Cup. You can get it directly from the company, or on Amazon. If you get it from the website, you'll get free shipping within the UK and your total will be just under 20 pounds.
Even if you don't live in the UK, shipping is still surprisingly affordable. When you factor in shipping from Amazon, or the lack of availability at the local drugstore, you'll often find that ordering directly from MoonCup makes the best choice.
—>Buy directly from Mooncup's website<—
If you Live in North America…
If you live in North America and like to support local businesses, the Divacup makes an excellent choice. You can buy it easily on Amazon, especially in the USA and Canada where it dominates the market.
Diva Cup vs. Moon Cup: More Information
If you want some more information about which period cup is right for you, the Divacup or the Mooncup, see the following:
Or, just head on over to Amazon to get the Mooncup Menstrual Cup or the Diva Cup for yourself.