Lunette Cup vs Moon Cup: An Overview
Both the Lunette Cup and the Moon Cup are extremely high-quality products made by very reputable companies. These menstrual cups are made from medical grade silicone to the most exacting manufacturing standards. They are both made in Europe, which usually means top-quality manfacturing standards combined with the best materials. Lunette is based out of Finland while Mooncup is from England.
If you're looking to buy your first menstrual cup, either one of these would make an excellent choice. Both the Lunette Menstrual Cup and the MoonCup have been around for years and they have thousands of happy customers, as demonstrated by the reviews on Amazon. In terms of rankings, the Lunette has a 4.6/5 star rating on Amazon, while the MoonCup has a 4.2/5.
Lunette Cup vs Moon Cup: Design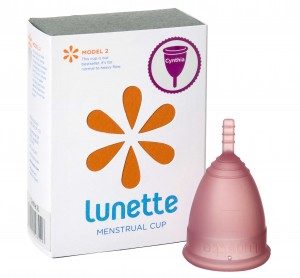 In terms of design, these two period cups are very similar. They come in small (pre-childbirth, under 30) and large (post-childbirth, over 30) sizes. The small Lunette is slightly shorter than the Mooncup small but besides that, they're almost identical.
The Lunette is one of the stiffest cups on the market. While some women report that it can be quite difficult to remove due to "super-suction," the positive is that it doesn't leak easily, like some of the softer menstrual cups. The MoonCup is more pliable than the Lunette Cup, but it's still considered one of the stiffer cups on the market.
Related: Soft Menstrual Cups
Lunette Cup vs. Moon Cup: Comparison Chart
Lunette Cup vs Moon Cup: Which one is Right for You?


Either one makes an excellent choice and you really couldn't go wrong! Both of these companies have been around for years and you're likely to be very satisfied with either sanitary cup. The Lunette comes in on average $10 more expensive, but has a slightly higher rating on Amazon. The Mooncup is very affordable, but with a slightly lower rating.
You can buy either cup easily online:
Get the MoonCup directly from their website. Shipping is free worldwide and prices are often a bit cheaper than on Amazon. Check it out below:
—>Buy the MoonCup direct from the company<—
If you're looking to buy the Lunette Cup, the best place is on Amazon. It's widely available in all countries on Amazon, however it can be pretty difficult to find outside of Europe on drugstore shelves. Check out the Lunette Menstrual Cup on Amazon:
More Information about the Lunette Menstrual Cup and MoonCup Menstrual Cup