Menstrual Cup Comparison: Everything you Need to Know
If you're looking to compare menstrual cups, you've come to the right place! On this page you'll find the top brands of menstrual cups, as well as a link to a menstrual cup comparison chart. The first place you should start is this page with Reviews of the Top 10 Menstrual Cups. You'll find reviews of the leading menstrual cups brands in the world including the following ones:
Diva Cup: Made by a Canadian company, the name Diva Cup is almost synonymous with menstrual cups or period cups. They're the standard by which all other menstrual cups are compared. If you're looking for your first menstrual cup, this should be on the top of your list.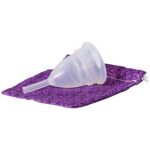 Anigian EvaCup: Made in the USA, the Anigan Evacup is another popular choice in menstrual cups. Women seem to love the fact that it's made in the USA and that it still comes in at around $20, cheaper than some other menstrual cups by up to 1/2. It also comes in a nice variety of colors, unlike the Diva Cup or the Moon Cup.
The large size Anigan Eva Cup has a very high capacity of 37 ml, 7 ml more than something like the Diva Cup, which makes it an excellent choice for women who have heavier flows.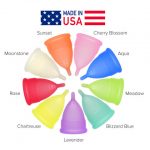 Moon Cup: The third menstrual cup we'd like to mention in our menstrual cup comparison is the Moon Cup. Made in the UK, it's one of the most reputable brands of menstrual cups in the world. It's one of the few period cups on the FDA's list of approved ones for sale in the USA (along with the Diva Cup and the Lunette Cup).
Coming in with an impressive 4.5/5 star rating on Amazon, it's a very popular choice for those looking for their first menstrual cup. It's a little bit smaller and shorter than the Diva Cup, so it can make an excellent choice for smaller women.
Menstrual Cup Comparison among the Most Popular Brands:
If you're looking for some head to head comparisons on some of the most popular period cups, check out these posts below. You'll find out the pros and cons of each menstrual cup as well as our final recommendation.
Menstrual Cup Comparison Chart
If you want to compare menstrual cups in a handy chart, look no further than this menstrual cup comparison chart. It has all the top brands of menstrual cups in the world and you can find what you're looking for at a glance:
Menstrual Cup Comparison Chart