A common question that women ask is whether or not it's possible to have penetrative sex during their period. Sex during period? The short answer is yes! Of course it's always been possible to have sex during your period, the messy way. But, there are a couple of other alternatives if you want to have sex, minus all the blood and mess. The two popular options are: Soft Cups, and Sea Sponge Tampons.
We'll give you all the details about these popular sex during period choices so keep reading for all the details!
Sex During Period Option #1: Soft Cups
Regular menstrual cups like the Diva Cup or MoonCup are bell-shaped silicone containers that sit low in the vaginal canal. They are designed to be reused for a year or longer. They are not suitable to use when you have sex on your period because they sit too low in the vaginal canal and they are also quite firm. It would be extremely uncomfortable for your partner to say the least!
However, Soft Cups have a totally different design. They are flat, and are designed to sit right up under your cervix. Soft Cups are also disposable and shouldn't be reused. These reasons make Soft Cups an obvious choice for women who want to have penetrative sex during their period. Women, as well as their partners mention that they were unable to feel the Soft Cup during sex. If you're worried about your partner noticing, don't! He most likely won't.
The only real negative to Soft Cups is that they're disposable, making them not a great choice for the environmentally friendly or thrifty woman! Plus, some women who aren't experienced with regular menstrual cups can find them a bit hard to insert and remove.
There are a couple of things to be aware if you're using a Soft Cup during sex. The first is if you have an IUD. If this is the case, please consult with your doctor before using a Soft Cup. It can be easy to dislodge the IUD when you're trying to remove your Soft Cup. The second is that Soft Cups are not designed as contraceptive/STD protection devices. You should also use a condom, or another form of birth control. Please consult with your doctor.
More Information about Soft Cups?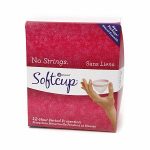 If you're looking for more details about Soft Cups, you can check out the full review here on this site: Full Review of Soft Cups.
Where Can I Buy Soft Cups?
Soft Cups are sometimes not so easy to find at the drugstore or supermarket, especially in small towns. We recommend buying Soft Cups on Amazon. Shipping is very fast, reasonably priced and you'll find that the prices on the products are extremely competitive. Check out Soft Cups on Amazon today:
Sex During Period Option #2: Sea Sponge Tampons
Sea Sponge Tampons are another great choice for sex while on your period. They are similar to traditional tampons in function, but they are actually bits of sponge from the sea. They are super-absorbent, which makes them a nice choice for those days when your flow is particularly heavy. Sea sponge tampons also have the added benefit of being reusable, making them an environmentally friendly, as well as economical choice. Just wash and reinsert.
As far as sex when wearing a sponge tampon goes, most women mention that their partner didn't even notice. They are really soft, and squish up to just about any shape. Unlike Soft Cups, where if inserted correctly, no fluid will escape, the sea sponge tampon will be a bit messier. There will be some menstrual fluid, but certainly a lot less than when wearing nothing. These sea sponge tampons have the added bonus of being much easier to insert and remove than Soft Cups.
You should however be aware that sea sponge tampons are not designed as a contraceptive device. They will not protect you from pregnancy or STDs during sex. Please consult with your doctor for options.
More Information about Sea Sponge Tampons?
You can get more information about sea sponge tampons by reading the reviews of some of the most popular brands:
Jade and Pearl Sea Pearl Sponge Tampon Review
Where can I Buy Sea Sponge Tampons?
Sea Sponge tampons are kind of a specialty item and you probably won't be able to find them easily at your local drugstore or supermarket. By far the best place to buy them is online and our #1 recommended retailer is Amazon. Amazon is the most trusted name in online shopping and they have some excellent customer service as well as very fast shipping.
Check out sea sponge tampons on Amazon today: