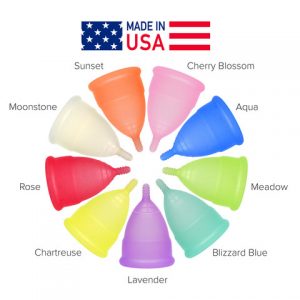 The Anigan Evacup has a 4.4/5 star rating on Amazon and people that like it, seem to really like it. It's made in the USA, registered with the FDA and made from the highest quality medical grade silicone. If you're looking to shop local, the Anigan Eva Cup makes an excellent choice. It's cheaper than other cups like The Dutchess Cup or The Diva Cup.
Anigan EvaCup: 2 Sizes
Size 1 (small)-for women who have not given birth
Size 2 (large)-for women after they have given birth.
Of course, all bodies are different and you should see what works best for you.
People that like it are saying things like:
"I was very pleased with the price 0f this menstrual cup."
"I like it better than the Diva Cup."
"It doesn't leak like some of the other menstrual cups I've tried."
Anigan EvaCup Pros:
1.The price! It's 1/2 the price of some of the more expensive menstrual cups on the market. However, just because it's cheap doesn't mean it's crap. It's manufactured in the USA from the highest quality medical grade silicone and completely safe to use.
2. It's manufactured in the USA if you like to support local businesses.
3. It's more flexible than some of the other firmer cups like the Diva Cup. This makes insertion quite easy, although it can be a bit difficult for it to snap into place.
4. The larger size has a capacity of 37 ml, which is one of the highest out of all menstrual cups on the market. This makes it an excellent choice for women who have particularly heavy flows and find themselves getting up in the middle of the night to empty their menstrual cup.
See this menstrual cup comparison chart for more details
5. It has 8 different colour options.
Anigan EvaCup Cons:
1.It's shorter than some of the other cups which may make removal difficult for some.
2. It's very flexible and some women report difficulties with getting the cup to snap into place and suction to the vaginal wall.
3. Some women report leaking despite with both the Evacup and the Diva Cup. If this is the case, consider something like the Keeper or the Femme Cup which are designed quite differently than these two cups.
The Takeaway:
The Anigan Evacup is an economical choice for those who like to shop local in the USA. It's more flexible than other cups, which some women prefer while those who've previously been using something like the Diva Cup seem to hate. It's an individual choice, but this is an excellent choice for your first menstrual cup simply due to price. If you don't like it, you haven't invested that much into it.
Buy the Anigan Evacup on Amazon Now: USA
Anigan EvaCup (Made in USA – FDA Registered) 
Buy the Anigan Evacup Now: Canada
Anigan EvaCup (Made in USA) – Menstrual Cup (Large, Chartreuse)


Buy the Anigan Evacup Now: UK
Anigan EvaCup (Made in USA) – Menstrual Cup (Cherry Blossom, Large)
All Other Countries