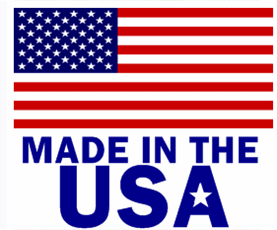 Menstrual Cups Made in the USA
If you're looking to shop local and help support American workers, consider "Made in the USA menstrual cups." These days, there is an ever-increasing numbers of choices for menstrual cups made in America. You're spoiled for choice in fact! Menstrual cups that are made in America are usually made from top-quality medical grade silicone. They are made according to the strictest manufacturing standards. They are an infinitely better than the cheap menstrual cups made in China.
Here are my top three choices for period cups that are made in the USA:
The Anigan Evacup
The Lena Cup
The Keeper Menstrual Cup
Keep on reading for all the details and a quick review of each of these popular period cups that are made in America.
The Anigan Evacup
The Anigan EvaCup is a newcomer to the world of menstrual cups. However, they've made a big impact in a really short amount of time. The Evacup has a very high 4.5/5 star rating on Amazon. It also comes in eight colours and is very reasonably priced. This makes it one of the cheapest cups out there if you can find a friend to share with!
Yes, it comes in a pack of two. It's quite odd since you need only one menstrual cup. However, despite that annoying marketing, it's an excellent menstrual cup at a very reasonable price.
This period cup is particularly good for women with really heavy periods because the large size has a capacity of 37 ml. This is quite a bit more than most other cups which range between 25 ml and 30 ml, such as the Diva Cup or the Lunette Cup.
More Details:
Or, just check out this popular American made menstrual cup on Amazon today. Shipping is usually free with Amazon Prime and delivery is discreet and fast. Check out the Anigan EvaCup today:
---
The Lena Cup
The Lena Cup is a great choice for "Made in the USA menstrual cups." It also has a very high rating on Amazon: 4.7/5. It is sold as a single cup and comes in a bit cheaper than some of the more expensive cups like the Diva Cup, Moon Cup, or Lunette.
Many women mention that because of the stiffness of the Lena Cup, it pops open really easily and isn't prone to leaking. There are almost no specific, negative reviews about this menstrual cup and those who weren't happy with it seemed to just not like menstrual cups in general.
More Details:
Or, just check out the Lena Cup for yourself on Amazon. You'll see hundreds of satisfied customers and can be one yourself!
The Keeper Menstrual Cup
The Keeper is a little bit unusual in the world of menstrual cups in that it's made of latex instead of medical grade silicone. The negative is that some women are allergic to latex, or develop a reaction to it after repeated exposure to it. The good news is that the Keeper Menstrual Cup can last for a decade or even longer because latex is far more durable than silicone.
Although it's a bit more expensive than other cups made in the USA, it can last for years and years. This makes it actually one of the most economical choices. Seriously, some people report that this cup has lasted 10+ years. Compare this to a regular cup made of medical grade silicone which has a lifespan of 2-5 years. The bit more you might spend upfront is recouped a couple times over.
More Details
Or, just check out the Keeper Cup for yourself on Amazon and buy one today: