What are the Softest Menstrual Cups?
Some women who use menstrual cups like the Keeper Cup, the Lunette Cup, or the Moon Cup don't like them because they are very stiff. However, there are some advantages to stiff menstrual cups including the following:
Pops open easily
Doesn't leak once in place
Suctions well to the vaginal wall
Easy to break the seal when removing
Can be good for beginners
However, a major disadvantage of the stiff menstrual cups is that you can sometimes feel them when they're inside you, causing some discomfort. They can also be more difficult to get into the correct place when inserting because they need to pop open and suction against your vaginal walls. Removal can also be a bit more difficult because of this super-suction that stiff cups often create.
Related: How to Insert and Remove a Menstrual Cup
Soft menstrual cups have a few advantages and disadvantages as well so what you like is mostly a matter of personal preference. Soft menstrual cups can be more comfortable because they don't press against your bladder and you won't feel them inside of you. However, there are a few negatives including the following:
Difficult to pop open
Prone to leaking
Difficult to get the seal and suction necessary.
If you are one of those women who prefer a softer menstrual cup, here are our top five choices.
Top 5 Choices for Soft Menstrual Cups
Femmy Cycle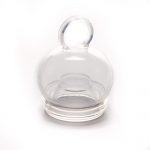 Femmy Cycle: The Femmy Cycle Menstrual Cup is our top pick for soft menstrual cup because of its' unusual design. Despite being very soft, the design makes it seal in place quite easily and prevent leaks. Finally! A soft menstrual cup that doesn't have the disadvantages that the other soft ones usually have.
We especially like the design of it. The company says that this unique period cup is "leak-proof," and we've found this true in our own experience. You can also check out the reviews for yourself over on Amazon.
The FemmyCycle is made in the USA from the highest quality materials according to strict manufacturing standards. It really is a product that you can feel good about putting inside your body.
While not cheap, you get what you pay for and in this case, it's a top-quality menstrual cup! Another bonus of the Femmy Cycle is that they have a Low Cervix Model, which is often perfect for smaller women or teenagers.
Check out: Full Femmy Cycle Menstrual Cup Review
Iris Cup
---
Iris Cup: Next up on our list of soft menstrual cups is the Iris Cup. The Iris Cup, manufactured in Spain is one of the cheapest European Made Menstrual Cups, coming in at just under $20.
It has a high 4.5/5 star rating on Amazon and the comments mostly consisted of, "Finally! I found a menstrual cup that doesn't leak." For whatever reason, it just suctions quite well to the vaginal walls. Despite being quite soft, people commented that is opens easily once inside. If you're looking for one of the best menstrual cups for beginners, the Iris Cup should be at the top of your list.
Check out: Full Iris Cup Review
Yuuki Cup
Yuuki Cup: The next one in our list of Top 5  Choices for Soft Menstrual Cups is the Yuuki Cup. Manufactured in the Czech Republic from German made medical-grade silicone, it makes an excellent choice for soft menstrual cup.
It opens very easily, despite being a softer menstrual cup and doesn't leak for most women. It also includes an "infuser box," which allows you to easily clean your Yuuki Cup in the microwave. This is the only menstrual cup to include a deep-cleaning apparatus with it!
Check out: Full Yuuki Cup Review
Fleur Cup
---
Fleur Cup: Another one of the softest menstrual cups includes the Fleur Cup. Manufactured in France, one of the best features of this cup is the easy removal. This is due to the flat stem and the ridges along the base of it. The length of the Fleur Cup is shorter than many of the other cups which can make this a good choice for women with a short vaginal canal.
So, if you have a low cervix and are looking for a soft menstrual cup, the Fleur Cup should be at the top of your list.
FemmeCup
---
FemmeCup: Rounding out our list of soft menstrual cups is the FemmeCup. The silicone is extremely think and pliable, making it a great choice for women who don't want such a stiff cup as the Moon Cup or the Lunette Cup.
The FemmeCup is manufactured in the UK (along with the MoonCup) and while it's easy to find there, it can be quite difficult in other parts of the world. This is why it takes the last spot on our list of the Top 5 Soft Menstrual Cups. It's certainly a top-quality, soft menstrual cup at a very reasonable price.
Check out: Full FemmeCup Review