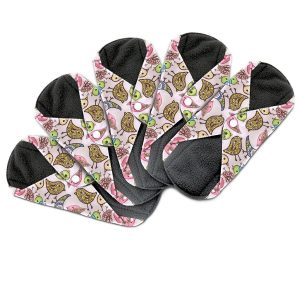 Dutchess Cloth Menstrual Pad
Dutchess is a brand of cloth menstrual pad that has some great reviews over on Amazon, scoring a very high 4.4/5 stars. Cloth menstrual pads are a preferred option to disposable ones for the following three reasons:
They'll save you money. A set of five Dutchess cloth menstrual pads is affordable on Amazon and you'll make your money back in just a few months as opposed to always buying a box of disposable pads each month.
They're way better for the environment. These cloth menstrual pads are reusable, meaning you just wash them and use them again. They're extremely durable, meaning they can last for years and they're also resistant to staining so they'll still look nice even after years of use.
No more chemicals! Stop putting harsh chemicals next to your skin. Pads and tampons contain pesticides from the cotton used to manufacture them and aren't good for your body.
Dutchess cloth menstrual pads have a charcoal and bamboo inner layer, which do a great job of absorbing fluid, but also prevent any odours. The micro fleece layer feels good against your skin and the snaps keep this pad securely in place.
What People are Saying on Amazon about Dutchess Menstrual Pads:
"They come out of the washing machine looking really nice."
"This one pad did the same job as 3 or 4 disposable ones."
"A nice length and width for me"
Dutchess Cloth Menstrual Pad Pros:
It's a quality product made by a quality company and they have a very high rating in the reusable menstrual pad world. Very few of these products having ratings greater than 4.5/5, while the ones that people don't like rate at 4.0 or even less.
Save money! These cloth menstrual pads are affordable for a pack of 5, but they can last for years. You'll save money in just a few months.
Most women commented that while they slid around a little bit, they usually didn't leak, at least for low-medium flow days.
Help the environment. Feel good about this purchase by preventing all that plastic from disposable menstrual pads from going to the landfill.
Dutchess Cloth Menstrual Pad Cons:
They shift around a little bit because they only have one snap.
Chemical smell that didn't come out even after a few washes.
While they are absorbent, it's not as much as a disposable pad. But, why not pair up this pad with a menstrual cup? Some of the highest quality ones include: The Lunette Cup, Moon Cup, or Diva Cup and all three make an excellent choice for a first-time menstrual cup user.
The Takeaway:
As far as reusable menstrual pads go, the Dutchess cloth menstrual pad is an excellent option. It is reasonably absorbent, comfortable to wear and affordable. If you have a medium-heavy flow, you should consider using these pads along with a menstrual cup. For help in choosing the menstrual cup that will work for you, see the following two resources:
Menstrual Cup Comparison Chart
Reviews of the Top 10 Menstrual Cup Brands
Buy Dutchess Cloth Menstrual Pads:
The best place to buy Dutchess Cloth menstrual pads is on Amazon, where you can get a set of 5 for $29.99.
Also Consider Dutchess Wet Bags: 
The Dutchess wet bag is going to make your life using reusable menstrual pads way easier. Bring one along with you while you're on the go, put your used pad into it, seal it up and throw it into the wash once you get home. It's far better than carrying around plastic bags, especially for the environment.
Get Dutchess Wet Bags on Amazon