Dutchess Wet Bags Review
What are Reusable Cloth Menstrual Pads?
Reusable cloth menstrual pads are an eco-friendly alternative to disposable menstrual pads. They attach with snaps to your underwear and are worn in the same way as regular disposable pads. The difference is that they are made of cloth and can be washed in the washing machine and reused. They're stain resistant, extremely durable and can be used for years.
Reusable cloth pads will save you a ton of money because you won't have to buy a box of pads each month. They're also great for the environment because they prevent all that waste from going into the landfill.
If you want to check out some reusable menstrual pads, I recommend the following brands:
Glad Rags Organic Nighttime Reusable Pad
Lunapads Reusable Panty Liners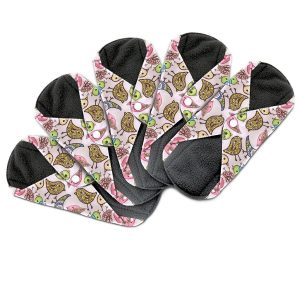 Reusable Cloth Pads are Awesome. Any Problems?
The major problem with reusable cloth menstrual pads is what to do with them when you're on the road. When you're at home and need to change you cloth pad, simply change it. Put the old one in some water to soak or throw it directly into the washing machine with some other laundry.
However, when you're on the go, it can be a bit annoying to deal with a soiled reusable cloth menstrual pad. Sure, you can put it in a Ziploc bag and keep it your purse, but it's kind of disgusting if someone happens to see it when you're taking out your wallet to pay for something. And, it also defeats the eco-friendly factor in using cloth menstrual pads when you store them in disposable plastic.
Dutchess Wet Bags: A Great Solution
The best way to deal with soiled reusable menstrual pads on the roads is with something like the Dutchess Wet Bag.   They keep smells and moisture sealed in, in order to avoid any embarrassment. Washing up at home is easier as well if your pads don't dry and seal in the stain.
They're a good value for a set of 2 on Amazon. You can use one for dirty pads and the other for clean ones. They are made according to strict quality standards and are guaranteed to not leak. They also come with a 100% money-back guarantee if you're unsatisfied for any reason.
Lots of Other Uses for Wet Bags
Other uses for these Dutchess Wet Bags include things like wet swimming gear, breastfeeding pads, or incontinence pads.
What People are Saying About Dutchess Wet Bags:
"They work perfectly and I always have one clipped to my diaper bag!"
"These wet bags are a lifesaver when I'm out and about using wearing my cloth pads."
"A nice size, not too big and not too small."
Where to Buy Dutchess Wet Bags: 
The best place to buy Dutchess Wet Bags is on Amazon. The set of two is very well-priced and many reviews mentioned the extremely fast shipping.