Review of the LBB Reusable Washable Menstrual Pads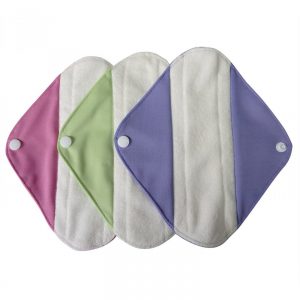 Isn't it yucky to see your menstrual pad all wet and leaking all over your underwear especially on Days 1 and 2 of your period? A lot of women, young and old feel so irritated whenever their period comes. Who will ever feel comfortable with her menstrual cycle, all the stains and leaks, all on top of the painful cramps?  Not unless one puts a washable menstrual pad on! It's a good thing a lot of these period products are now available and many of them are reusable. And, since washable menstrual pads now offered to women are designed breathable, and organic, it's possible to not be so uncomfortable during that time of the month.
LBB Reusable Washable Menstrual Pads for a Happy Period
The LBB Reusable Washable Menstrual Pads usually come in a set of 3 for just around $11. It is one of the bestselling brands on Amazon today with a high 4.5/5 –star rating because of the comfort and convenience it provides every user. At less than $4 per pad, they're also cheaper than most other cloth menstrual pads. Since the pads have super absorbent feature, it lessens the possibility of leaks and stains. These washable period pads are made of very soft materials that offer total comfort. Indeed, the LBB Reusable Washable Menstrual Pads are more comfortable to wear than disposable sanitary napkins.
Pair Cloth Menstrual Pads with a Menstrual Cup
Here at reusable menstrual cups, we recommend having a menstrual cup as well as cloth menstrual pads. Menstrual cups are bell-shaped containers that are placed inside your vaginal canal to collect fluid. Cloth pads can serve as a good back-up to your menstrual cup in case of leaking. They can also be used in conjunction with cloth menstrual pads for your heaviest flow days or nights when you need a little bit of extra protection. For our top picks for a menstrual cup, you can check out this post:
Save and Reuse with the LBB Reusable Washable Menstrual Pads
Because the LBB Reusable Washable Menstrual Pads are washable, they guarantee the user huge savings on her money. And the easy-washing feature even adds excitement to every woman that she'd feel excited to wash each pad ever after use. There's no need for special instructions as the pads are so easy to clip on the underwear. They also have wings with snaps to make sure that the pad stays in place. Undeniably, this set of washable menstrual pads is worth its cost. For more details about savings, washing, etc. please see this post: Top 10 Cloth Pad FAQ's.
You can easily get these highly-rated cloth menstrual pads on Amazon today:
What People are Saying About LBB Reusable Washable Menstrual Pads:
"These are really lovely cloth pads. I've been using them for a couple months, and so far, they have been amazing. The lining is so soft and comfortable, plus they are very absorbent."
"I originally bought these for myself, but my teen daughter's cycle started before mine, and she decided to try one, she loved them and I ended up having to give them to her."
"This is such a great product. Pads feel drier because they absorb better than disposable pads; plus they are not irritating."
LBB Reusable Washable Menstrual Pads Pros:
A set of 3 so there are extra pads for heavy flow (when on the go, you'll need a wet bag. We recommend the Dutchess Wet Bag).
Easy-washing pads for the next use
Made of materials that truly absorb
Leakproof
LBB Reusable Washable Menstrual Pads Cons:
Thinness has the tendency for leaks and stains.
A few complaints about not staying in place
Some comments about possibility of discomfort
The Takeaway on the LBB Reusable Washable Menstrual Pads:
Now you know your $11's worth! Imagine! With just so little to spend, you are treated to a hassle-free menstrual cycle. What's more comfortable than an 8-inch long pad that's breathable and soft? The LBB Reusable Washable Menstrual Pads are designed folded up for more convenient bringing. And, even if each set contains thin pads, their easy-absorbent feature helps control leaks and stains. And because you are spared from such embarrassments and discomfort, you will always have a happy period with these highly-rated menstrual pads!
Shop now on Amazon to experience happy period all the time: