Low Cervix Menstrual Cups
If you're looking for some advice about buying a menstrual cup that will work for you if you have a low cervix, you've come to the right place! We're going to give you the low-down on the top five menstrual cups to consider for people with a low cervix.
But first, we'll start at the beginning, and help you figure out if you have a low, or high cervix.
Then, we'll get into our recommendations, along with where you can buy these menstrual cups.
Check out our Top-Rated Low Cervix Menstrual Cup
Don't have time to read this whole article? Just check out the top-rated, low cervix menstrual cup on Amazon, the FemmyCycle:

Do I Have a Low, or High Cervix?
Here's how you can check your cervix height:
Insert your index finger into your vaginal canal.
Can you touch your cervix easily with the tip of your finger? Low cervix.
When your finger is fully inserted, you can just feel your cervix. Regular cervix height.
You can't feel your cervix when your finger is fully inserted. High cervix.
However, a picture says a 1000 words. These are two of the best videos we could find to help you figure out whether or not you have a low, or high cervix.
How to Measure your Cervix #1
How to Measure Your Cervix #2
My Cervix is Short! Which Menstrual Cup?
So, you've figured out that you have a low cervix, and you want to know which period cup will work for you? Keep on reading!
Go with a Shorter Menstrual Cup
Basically, you want to use a menstrual cup that is on the shorter side in total length. It doesn't really matter what the stem vs. cup length is. It's the total length that we're after.
A standard length of menstrual cup is around 70 mm. For example, the Diva Cup, Lunette Cup, and MoonCup are all within a milimeter or two of that.
These average length/long cups will NOT work well for you if you have a low cervix.
You might want to consider the FemmyCycle Low Cervix model. Check it out on Amazon here:

10 mm Actually Does Matter
Instead, we recommend the following period cups, which have total lengths of 40-60 mm. 10-20 mm may not seem like a big deal, but trust us, it is when it's something going into your vaginal canal!
Menstrual Cup is too Long? Here's What will Happen
If the menstrual cup you choose is too long, one of two things will happen:
The stem will stick outside your vaginal canal. This is very, very uncomfortable. You can cut the stem, or turn the menstrual cup inside out and it might work for you. However, it's better to just buy a shorter one to start with.
The cup will push up against your cervix. This is especially true is the actual cup part is too long for you. This will be very uncomfortable as well and can even cause cramping.
Both of these things are bad news. We HATE it when people find that the menstrual cup they buy is uncomfortable, or leaks like crazy on them.
The good news is that these things can often be prevented by buying the correct menstrual cup in the first place.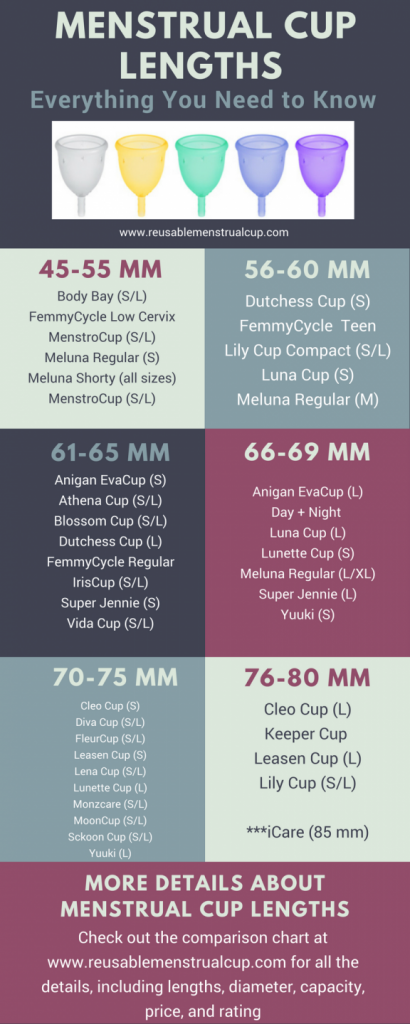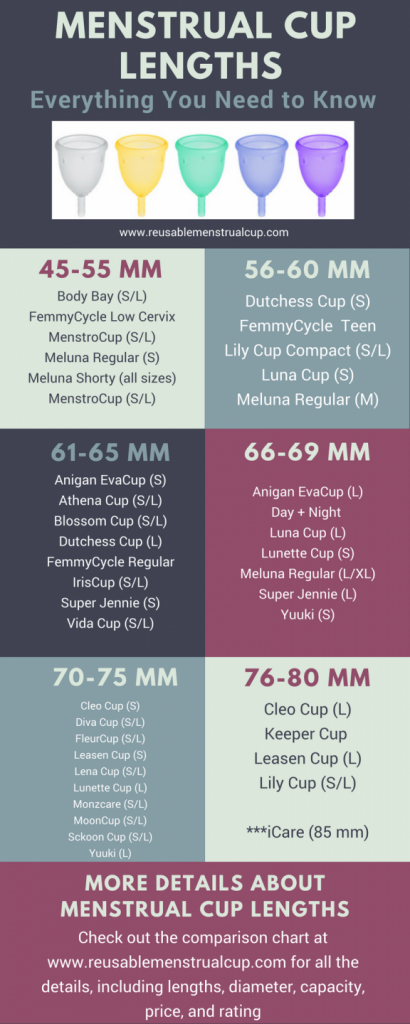 Top 5 Low Cervix Menstrual Cups Reviewed
Here are the Top 5 Menstrual Cup that you should consider if you have a low cervix. They are short enough that you'll find them very comfortable to wear. No more stem sticking out and making you feel bad.
The only thing you should have to worry about during your period is cramps!

#1: Meluna Shorty
Coming in at first place on our list of low cervix menstrual cups is the Meluna Shorty Cup It's specifically designed for people with a low cervix.
A Very Short Menstrual Cup
With a total length of 42-48 mm, it's shorter than any of the other cups out there. This is the menstrual cup that might work for you, if none of the other longer cups have.
Small Capacity
However, there is a downside! The Meluna Shorty only has a capacity of 15 ml, which is half of the regular cups, which come in at around 30 ml. 15 ml is around the capacity of a jumbo tampon, so you're losing one of the biggest advantages of a menstrual cup-the frequency of which you have to deal with it.
If you have a low cervix, but a heavy flow, this one might not work that well for you. Keep on reading for some better options.
Made from TPE
The Meluna Menstrual Cup is a bit unusual in that it's made from Thermoplastic Elastomer, instead of silicone (all the other cups) or latex (the Keeper Cup). One advantage, however slight is that it gets softer when exposed to your body heat. This means that it can mold to your body and feel very comfortable.
One disadvantage is that TPE seems to hold odours more than the silicone or latex cups. Not everyone experiences this, so you'll have to see if it holds true for you, or not.
One of the Firmer Menstrual Cups
The Meluna Cup comes in two models-soft, and classic. The soft version is actually one of the softest menstrual cups you can buy, while the classic is one of the firmest.
If you're a beginner, go with the classic model. You'll find that inserting it is much easier because it'll just pop open.
If you're experienced with menstrual cpus, you may want to try the soft version. Inserting it will be a bit more difficult, however, it will probably feel extremely comfortable inside of you.
Difficult to Find?
The other downside to the Meluna Cup is that it can sometimes be a bit difficult to find on Amazon, especially if you live outside of Europe. However, if you can find it, and don't have a heavy flow, this may indeed be the low cervix menstrual cup for you!
You can check out the Meluna Cup for yourself on Amazon:

Meluna Cup Review
#2: FemmyCycle Low Cervix
Next up on our list of the best low cervix menstrual cups is the FemmyCycle Low Cervix Model. The good news about this one is that it's far, far easier to find it on Amazon than the MeLuna Shorty.
Short in Length, Regular in Capacity
This menstrual cup is similar in terms of length to the Meluna Shorty, coming in at a total length of 43 mm. The capacity is also far better at 30 ml. This makes it a much better choice than the Meluna for people with a low cervix and a heavy flow.
Very Soft
In terms of firmness, the FemmyCycle is one of the softest menstrual cups you can  buy. While it will feel very comfortable inside you, the downside is that it can be a bit more difficult to insert than the stiffer cups, which will just "pop" open.
You may have to turn it a full circle one way, then the other in order to get it to fully open. Most people find that it's not a big deal though, and with a bit of practice it's quite easy to do.
Interesting Design
While some people like the design, others hate it and you'll have to try it out to see if it works for you. Take a look at the picture and you'll see that it's very unusual in the world of period cups.
Insertion and removal can be pretty intimidating  because the Femmy Cycle just feels big when it's inside of you. However, if you can overcome this, the company claims that it's leakproof, and the reviews of it seem to agree.
Expensive, but Worth it?
It's an excellent menstrual cup, but it certainly isn't cheap! However, in the world of menstrual cups you usually get what you pay for.
In this case, it's a top-quality menstrual cup designed for people with a low cervix. If you happen to have a low cervix, but also a very heavy period then this one from FemmyCycle is essentially your only decent option.
You can easily get this low cervix menstrual cup on Amazon today:

FemmyCycle Low Cervix Menstrual Cup Review
#3: Lily Cup Compact
Next up on our list of the best menstrual cups for a women with a low cervix is the Lily Cup Compact. It has a length of 58 mm, which should work well for those with a low-medium cervix.
Short in Length, but Low Capacity
However, the capacity is 18 ml-23 ml, depending on the size. This means that it might not work that well for people with a very heavy flow. In this case, the FemmyCycle low cervix model is probably a better choice for you.
It's Collapsible!
What is unusual about this cup is that it's the only collapsible menstrual cup in the world. We're not really sure why you could want this, since menstrual cups are small enough to easily fit into your messenger bag, purse or backpack easily, if this is what you're looking for, the Lily Cup Compact could be your cup!
As you can imagine with a collapsible menstrual cup, the Lily Cup is extremely soft. While some people don't like this due to the difficulty with insertion (it doesn't pop open), others love it because it's more comfortable. You'll have to check it out for yourself and see which category you're in.
You can check out the product description and reviews over on Amazon:

Lily Cup Compact Review
#4: Luna Cup
The next menstrual cup for people with a low cervix is the Luna Cup. The Luna Cup has a total length of 60 mm. With a capacity of 20 ml, it's average as far as low cervix menstrual cups go.
Read Between the Lines?
Much of the information about this cup is in Spanish, so you'll have to do a bit of reading between the lines! It can also be quite difficult to find outside of Europe, but have a look on Amazon in your country and see if it's available.
Check out the Starter Kit
One thing we do like about the Luna Cup is that they have a great starter kit. It includes the menstrual cup, some reusable cloth pads, as well as cloth bag. If you're looking to get started with reusable feminine hygiene products, this can be a great way to do that.
Check out the Luna Cup on Amazon:

#5: Femme Cup
Rounding out our list of the best low cervix menstrual cups is the Femme Cup. It has a total length of 60 mm, making it a bit shorter than the average cup of around 70 mm. While this might not work for people with an extremely short cervix, it should work for most.
Normal Capacity
Coming in at a capacity of 30 ml, it can make an excellent choice for people with a heavy flow, but a shorter than average cervix height. If you have a low cervix, but a heavier flow, you don't have a lot of great options. It's basically this one, or the FemmyCycle Low Cervix.
Manufactured in the UK
In particular, we love that the FemmeCup is manufactured in the UK. They have some very strict manufacturing standards, and you can usually be assured that menstrual cups produced there are made from medical grade silicone, and are of the highest quality.
If you live in England, and like to shop local, definitely consider the FemmeCup. You can check out the FemmeCup on Amazon:

FemmeCup Review
Still Not Sure Which Menstrual Cup is Right for You?
You've made it to the end of this article, but are still unsure as to what the best menstrual cup for your body type is. Don't worry. We're here to help.
We've combined our popular menstrual cup comparison chart, with our extensive knowledge gained from reviewing ALL the cups and made it work for you. The result is this five question menstrual cup quiz that will only take a minute of your time.
At the end, you'll get our pick for the best menstrual cup (or two). Get started with the quiz now:
Have your Say: What is the Best Low Cervix Menstrual Cup?
What is the best menstrual cup is you have a low cervix? Leave a comment below and let us know what you think.