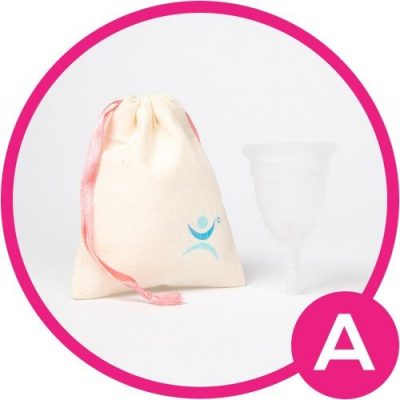 Do you live in the UK and want to shop local? Then you'll need to seriously consider the MoonCup, a top-quality menstrual cup that you be found online for a very reasonable price. Keep on reading for all the details that you need to know about it.
MoonCup UK: Everything you Need to Know
The MoonCup is one of the most popular period cups in the world and for good reason! It's a top-quality menstrual cup at a very reasonable price. Most women who try the Moon Cup seem to love it-it's durable, doesn't leak and it's also easy to insert and remove.
Excellent User Ratings
The MoonCup has some very high ratings on Amazon and a ton of satisfied customers. For more detailed information about the Moon Cup and whether or not it's the best choice for you, please see our Moon Cup Review.
Top-Quality Materials and Manufacturing
Based in the UK, this popular sanitary cup is also manufactured there from the highest quality medical grade silicone according to the strictest production standards. The Moon-Cup is a product that you can feel good about putting into your body for up to a week each and every single month. In our opinion, spending a few extra bucks on something like this cup, or the DivaCup is a much better option than getting a cheap cup of dubious quality from China.
Where to Buy It?
You can easily get this top rated menstrual cup in the UK directly from MoonCup's website. Shipping is fast, shopping is easy. Plus, the MoonCup is one of the best period cups that money can buy. It's a win all around in our eyes.
—>Buy the MoonCup from their Website<—
Moon Cup vs. Diva Cup
You've probably heard of the DivaCup before because it's the most popular menstrual cup in the world. It's manufactured in Canada and in terms of sizes, diameter, capacity, length, colour, etc., is very similar to the MoonCup. You couldn't really go wrong getting either one of these cups for your first menstrual cup.
See: Diva Cup vs. Moon Cup for more details and to help you choose between these two popular period cups.
MoonCup UK: Where to Buy
If you live in the United Kingdom and are looking to buy a MoonCup, you're in luck! It's super easy to buy the MoonCup in the UK directly from their website. It's around 25 pounds, and shipping is free. If you'd like to add tracking to your order, it's an extra 6 pounds.
A great product manufactured in the UK at a very reasonable price, along with a hassle-free online shopping experience? We love it and think that you will too. Along with the menstrual cup, you'll get an instruction book and small cloth storage bag.
Click the link below to go directly to MoonCup's website:
Buy the MoonCup from their Website
Have your Say about Getting a Menstrual Cup in the UK
What are your thoughts about where to get the MoonCup in the UK? Leave a comment below and let us know what you think.
Also be sure to give this article a share on Facebook, Twitter, or Pinterest.