Top Five Menstrual Cups
Menstrual cups these days are becoming all the rage and chances are, many of your friends and family members are already using them, even if you don't know it. Menstrual cups belong in any eco-friendly person's bathroom for the following three important reasons:
The environment. Pads and tampons create a massive amount of waste that goes directly to the landfill. Much of it is plastic, and therefore non-biodegradable. A single menstrual cup can last for years, especially if you get The Keeper, an unusual menstrual cup made of latex instead of silicone which can last for a decade or even longer. They do, of course require care and cleaning to keep them in top shape.
Your pocketbook. If you're looking to save money on sanitary products, look no further than a menstrual cup. A box of pads and a box of tampons can run you well over $10, each and every single month. It can be even more expensive if you use organic tampons, or you have a heavy and/or long period. A menstrual cup costs around $$20-$30, but can last for years. See: Aren't Menstrual Cups Expensive? for more details.
Your health. Pads and tampons contain harsh chemicals that don't belong anywhere near your lady bits! The chemicals come from the manufacturing process, and pesticides come from the cotton used in them. Most menstrual cups are made from the highest quality medical grade silicone-just say no to chemicals! See: Are Tampons Dangerous? for more information.
Which Menstrual Cup to Choose?
Are you having a difficult time choosing the right one?
So Many Choices
There are a ton of menstrual cups out there to choose from. This is especially true in recent years as there have been a ton of new ones on the market. Just search for "menstrual cups" on Amazon and you'll be confronted with pages, and pages of choices.
Beware of the too Cheap Menstrual Cups
Buyer beware: quality varies considerably, from outstanding to something that I'd never, ever recommend putting into your body. There are a ton of cheap menstrual cups from China that are bad news.
These period cups are not made from medical grade silicone. The result is that they're often so flimsy that they don't fully open inside of you. This means that they usually leak like crazy, which besides health reasons, is why they should be avoided.
What are the Best Period Cups?
Keep on reading for your guide to the best menstrual cups. By "best," I mean ones that are easy to insert and remove, don't leak, and most importantly, are made from top-quality materials in Western countries according to the strictest manufacturing standards.
Sure, they cost a little bit more, but in our opinion, it's certainly worth it. After all, you'll be wearing your menstrual cup INSIDE your body for up to a week or every month.
Menstrual Cups: The Diva Cup
The Diva Cup is one of the most trusted names in the menstrual cup world and for good reason. The DivaCup is manufactured in Canada from the highest quality medical grade silicone and it is one of the few menstrual cups that has gotten approval from the FDA (although many falsely claim this).
It's actually the cup to which all others ones are compared. Many people end up buying this one for their first menstrual cup and then stick with it for their whole lives. It really is that good.
Related: North American Made Menstrual Cups
The Diva Cup comes in only one colour, but there are two sizes: small (pre-childbirth) and large (post-childbirth) and you can find it easily on Amazon.
For more details about this popular brand of menstrual cup, see: Diva Cup Pros and Cons. Or, just check out the Diva Cup for yourself on Amazon to see the product description and reviews.

The Moon Cup 
The Moon Cup is very similar to the Diva Cup in that it's an extremely high quality product manufactured according to the strictest standards.
It's based out of the UK and the product is made there as well. In terms of design, it's very similar to the Diva Cup, except that is doesn't have any nooks and crannies, making it easier to clean. There are certainly a lot of people who appreciate not having to get that old toothbrush out to scrub the holes, like with their Diva Cup!
Related: European Made Menstrual Cups
The Moon Cup also comes in two sizes: small (pre-childbirth) and large (post-childbirth). You can find it on Amazon, or you can buy directly from MoonCup's website, which is especially good if you live in Europe:
Buy the Moon Cup directly from their website.
For more details about this very high quality period cup, please see: MoonCup Pros and Cons. Or, head on over to Amazon and check it out:
Diva  Cup vs. MoonCup
Maybe you've read our quick review of the MoonCup and the Diva Cup and you're now wondering which one is best for you. The good news is that they're both excellent menstrual cups and that you couldn't really go wrong with either of them.
They are also very similar, but there are subtle differences.
Check out our comparison article: Diva Cup vs. MoonCup.
The Lunette Cup
The Lunette Cup is another top-quality menstrual cup that has been around for years and has an excellent reputation.
It is one of the more expensive menstrual cups on Amazon, but it also has a very good user rating and many people find that this cup is better for them than something like the Diva Cup in terms of preventing leaks.
For whatever reason, the shape and stiffness of the materials just makes it easy to insert correctly, even from the first few times using it.
The Lunette is manufactured in Finland from the highest quality medical grade silicone. It comes in two sizes: small (pre-childbirth) and large (post-childbirth), as well as three different colours.
For more information about the very popular Lunette Menstrual Cup, see: Lunette Cup Pros and Cons. You can also head over to Amazon to check out the Lunette:
Lunette Cup vs. Diva Cup
The Lunette Cup and the Diva Cup are both nice choices if you're looking for an eco-friendly, healthier, and cheaper period experience. They've both top-quality cups made from the best medical grade silicone in the Western world.
However, are there any differences? Is there any reason why you might choose one of them over the other?
Be sure to check out our detailed comparison article: Lunette Cup vs. Diva Cup.
The Lena Cup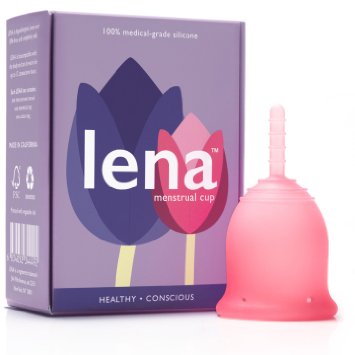 The Lena Cup is another menstrual cup manufactured in the USA (see: Made in the USA menstrual cups) that is gaining popularity in recent years.
Despite being a relative newcomer, it has a lot of things going for it. The Lena Menstrual Cup is affordable and many people love it. It can also be cheaper than many of the other cups on this list.
Saving a bit of money while getting a top-quality period cup? Love it—we're all about the frugal power here. And we're sure you are too. Lena's mission to to provide an affordable, top-quality menstrual cup to everyone who wants one.
The Lena Cup comes in two sizes: Small (pre-childbirth) and large (post-childbirth). They have recently introduced a "sensitive" model, in addition to their regular one.
The regular Lena Cup is quite stiff, which some people find uncomfortable. If you want a softer cup, which doesn't press so strongly against your vaginal canal walls, then you'll want to try out their sensitive model.
For more information about this newcomer quickly becoming more popular in the menstrual cup world, please see: Lena Cup Pros and Cons. Or, check out the Lena Cup over on Amazon:
Lena Cup vs. Diva Cup
The Diva Cup has dominated the menstrual cup scene for years. It's so popular that the name Diva Cup is almost synonymous with "menstrual cup" in the same way that Kleenex refers to tissue.
However, the Lena Cup is fast becoming more and more popular. It has higher user ratings than the Diva Cup on Amazon, and is also a bit cheaper.
But, is there a reason you might want to consider buying the Lena Cup instead of the Diva Cup?
Find out here: Lena Cup vs. Diva Cup.
The Keeper Cup
Rounding out our list is the Keeper. The Keeper Cup is a little bit unusual in the menstrual cup world in that it's made of latex instead of medical grade silicone.
The disadvantage is that some women are allergic to latex, but it has the huge advantage of being extremely durable. Some people report that the Keeper has lasted them 10+ years and still looks almost new. This fact makes it one of the most economical menstrual cups you can buy.
The Keeper is made in the USA and comes in two sizes: Small (pre-childbirth) and large (post-childbirth).
For details about the extremely long-lasting menstrual cup, the Keeper, see: Keeper Menstrual Cup Pros and Cons. Or, head over to Amazon and check out the best menstrual cup in terms of durability:
Not sure Which Menstrual Cup is Right for You?
Maybe you've made it this far, but still aren't sure which menstrual cup is right for you. That's pretty normal. There is kind of an overwhelming amount of menstrual cups to choose from.
That's why we've designed this menstrual cup quiz to help you. We've taken all the information from our detailed comparison chart, and combined it with our extensive experience in reviewing menstrual cups. There are only five simple questions that will take you less than a minute to answer.
At the end, you'll get a recommendation for the best one for your body type. It really is that easy.
Check it out:
Have your Say
What do you think the best menstrual cup is? Why do you love it so much?
Are there any menstrual cups that you've tried, but found that they didn't work?
Leave a comment below and let us know!
Also be sure to give this a share on Facebook, Twitter, or Pinterest.