All your Menstrual Cup FAQs Answered Here
If you're looking for some answers to common questions about menstrual cup, including the Diva Cup, MoonCup and Lena Cup, you've come to the right place! These menstrual cup FAQs will answer all the common questions that you might have.
Onwards to the menstrual cup FAQs!
What is a Menstrual Cup?
Before we get started with the FAQs, you may be wondering what exactly a menstrual cup is. It's an excellent question! You may have heard of the Diva Cup, MoonCup, or Lunette. These are some of the most popular menstrual cup brands in the world.
Some other names for this product include period cup, sanitary cup, or reusable cup. You can sometimes find them in physical stores, but the best place is on Amazon because there is a wide variety of brands, colours, sizes, and styles.
Basically, a period cup is designed to replace tampons. It is worn inside the vagina, and collects menstrual fluid, unlike tampons which absorb it. It is bell-shaped, and most often made from firm, but pliable medical grade silicone.
There are a number of reasons why you might to consider a menstrual cup, but some of the main ones include:
FAQ #1: How can I Pick the Right Menstrual Cup?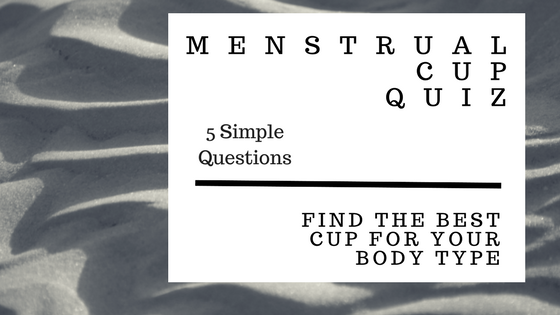 This is an excellent question! If you search on Amazon for "menstrual cup," you'll notice that there are pages and pages of results.
That's because there are almost 100 brands of menstrual cups, and each brand has different style and size options. It can be a bit overwhelming to have to choose only one.
Our best advice for choosing your first (or next) menstrual cup is to check out our menstrual cup quiz. We've combined all the information from our menstrual cup comparison chart, along with knowledge gained from reviewing ALL the cups.
There are five simple questions that will only take a minute of your time. At the end, you'll get our recommendation for the best one for your body type and needs.
Check it out here: Menstrual Cup Quiz
What about the Soft Cup vs. the Diva Cup?
All the information you need to know about the Soft Cup vs. the Diva Cup here:
[slideshare id=89422348&doc=insteadsoftcupsvs-180303003750]
Compare Non-Messy Period Sex Options
FAQ #2: Can I Have Sex While Wearing a Menstrual Cup?
Many people want to know whether or not they can have sex while wearing a period cup. The answer is that it depends on what kind of sex. For anything up to penetrative sex, a cup is an excellent option because your partner may not even know you have your period. There are no strings hanging out, like with tampons.
However, for penetrative sex, a regular menstrual cup isn't suitable. There isn't enough room in there for everything. Plus, any activity will certainly dislodge the cup and cause some serious leaking, which is exactly what you're probably trying to prevent.
A better option for sex during your period is the Instead SoftCup (or Flex Menstrual Disc). It's flat, sits right up under your cervix, and most people report that neither they, nor there partner could feel it.
The only negative to SoftCups is that they're disposable. This means that you lose out on many of the benefits of menstrual cups, namely the eco-friendly part, as well as cost-savings.
FAQ #3: Are Cheap Menstrual Cups a Good Buy?
Next up on our list of the Top Menstrual Cup FAQs is this one about cheap cups out of China.
If you look on Amazon, you'll see that menstrual cups range in price from $5-40 USD. That's a huge gap! You may wonder why you'd want to spend 30 or 40 bucks, if you could spend only 5. Of course, ideally you'd be able to spend less, instead of more on an identical product.
However, these are not identical products we're talking about. A top-quality cup like the Diva Cup, MoonCup, Lena Cup, or Lunette Cup is a far, far higher-quality product than the cheaper ones like the Vida Cup, or Aiwo Cup. All these cups belong firmly on our list of the Top 5 Things to NEVER Put into your Vagina!
There are a ton of problems with cheap menstrual cups, but the biggest one is the materials used in them. Top-quality cups use medical grade silicone, which doesn't easily degrade and wear out. Cheap cups use "food grade" silicone, which isn't designed to be used inside a human body.
This means that these cups degrade very quickly, and possibly leach chemicals into your bloodstream. They're often very flimsy, which means that they never really fully open and seal when inside of you. The result is that they often leak like crazy!
Just avoid them, and stick with a top-quality cup instead.You'll most often end up switching to a top-quality menstrual cup later, if you buy a cheap cup so why not skip over this time (and money) wasting step?
FAQ #4: Can I Pee while Wearing a Menstrual Cup?
You probably want to know whether or not you can pee while wearing a menstrual cup. The good news is that it is indeed possible!
Let's talk anatomy for a minute. You have three holes "down there:"
Urethra (where pee comes from)
Anus (where poop comes from)
Vagina (where you insert a tampon or menstrual cup)
In theory, using a menstrual cup shouldn't interfere with peeing in any way, because they are different holes.
However, you may have the experience that it takes a long time to pee while using a cup. This is because the vagina and urethra are in the same areas. Because a period cup is quite big, it can push against your vaginal canal walls, which is turn pushes are your urethra, which may cause it to narrow slightly.
Most people find this only a minor inconvenience. However, it does cause pain, or even cramping for some people. If this is the case for you, we recommend paying careful attention to your sanitary cup firmness, and perhaps try a softer cup that won't push so strongly against the walls of your vaginal canal.
FAQ #5: Can I Poop with a Menstrual Cup In?
Next up on our list of the Top menstrual cup FAQs is this one about pooping while wearing a menstrual cup. Please refer to our quick anatomy lesson from the previous question.
Because a menstrual cup is inserted into the vagina, and you poop from your anus, they shouldn't interfere with each other.
The vast majority of users report no problems with this at all.
FAQ #6: How Often Do I Need to Replace Menstrual Cups?
There is a lot of confusion surrounding this important question about how often to replace menstrual cups. This is mostly because each company has a different recommendation, despite using almost identical materials for their cups! For a top-quality cup made from medical grade silicone, the range is from 1-10 years.
One year is a bit ridiculous, after all, that's only 12 cycles. 10 years may be a bit of a stretch because over time, the silicone loses some firmness, and you may find it more difficult to seal correctly, and not leak. Five years is probably a more accurate guide for how often you'll need to replace your cup.
Of course, the cheap menstrual cups might only last a few cycles, and probably not longer than a year. The materials in them are sub-par, and will degrade quite quickly.
FAQ #7: How Can I Take Care of My Cup?
Menstrual cups aren't cheap, coming in at around $20-30. It makes sense to take good care of it so you don't have to replace it as often.
Here are a few of our tips for how to keep your period cup in tip-top shape:
Be sure to wash your hands before handling your cup
During your period, you can wash your cup with mild, water-based soap and water.
You can also use something like the DivaWash, or Pixie Wash
At the end of your period, you can sanitize your cup by boiling it in a pot of water on the stove for 5-7 minutes. Set a timer so you don't forget about it. This is optional
Most importantly, don't forget to store your cup in a place with good air circulation. The best place is the cloth bag that came with it. Or, loosely wrapped in a paper towel. NEVER in an airtight container like a tupperware container.
FAQ #8: Are there any Negatives to Menstrual Cups?
So it may sound like menstrual cups are all glitter and gold! There are actually a few things that aren't great about them, so in the interests of being up-front, we'll talk about them here.
At First, it's Not Easy
There is a learning curve associated with using a menstrual cup. Most people don't really feel confident with them until their third or fourth cycle. Just wear a pad in case of leaking, and don't stress out about it. You WILL figure it out.
Care and Cleaning Takes Some Time
Tampons are very simple to dispose of. You just throw them into the trash, and put in a fresh one from your cupboard, purse, or backpack.
However, it does take some effort to take care of a menstrual cup. Most people find that this isn't a big deal, but it's really up to you.
Using a Cup in Public Washrooms
The last thing that you might not love about a sanitary cup is how to deal with it when you're in a public bathroom. First of all, I'd mention that there are sometimes "private" options such as a handicapped stall. Take a look around, and if nobody requires it, quickly use it for a minute or two to change your cup.
Otherwise, here's what you can do:
Wash your hands before going into the stall. You should always have clean hands before handling your cup.
Take out the cup, and dump the contents into the toilet.
Wipe it with toilet paper, or a wet wipe you carry in your bag for this purpose.
Reinsert it.
Wash your hands again.
Make sure you wash your cup extra well when you get home.
FAQ #9: Can I Get Toxic Shock Syndrome (TSS) from Using a Menstrual Cup?
Next up on our list of the top menstrual cup FAQs is this one about Toxic Shock Syndrome (TSS). Let's talk facts.
There are thousands of reported cases of TSS being caused by a tampon. To date, there is only one case from a menstrual cup. It happened because the person cut themselves when inserting a Diva Cup at the beginning of their period.
It should be considered that there are far more tampon users, than people who use menstrual cups, which could lead to a higher incidence. And actually, the risk of TSS from using tampons is very small, especially if you take basic precautions such as changing your tampon frequently, and matching the absorbency level to your flow.
However, while it is possible, in theory to get TSS from a menstrual cup, it's very difficult and not something that you should worry about.
FAQ #10: Is there a Menstrual Cup Brand you Recommend?
There are around 100 menstrual cups on the market today. Of those 100, there are around 25 that we recommend. But, a few stand out ahead of the rest.
Check out: Top 5 Menstrual Cups for 2019 to help you choose a top-quality menstrual cup brand. Or, watch this short video about one of our favourites, the Lunette Cup:
FAQ #11: Why Should I Consider a Menstrual Cup?
There are a number of reasons why you might want to consider making the switch from tampons to a menstrual cup. We'll outline just a few of them here:
Health Benefits
As mentioned in a previous section, menstrual cups have a lower risk of Toxic Shock Syndrome when compared to tampons.
Another health benefit is that by making the switch, you're reducing your exposure to toxic chemicals that can be found in trace amounts in tampons. These toxins come from the manufacturing process, as well as the pesticides used to grow the cotton.
Sure, there aren't a lot of these toxins in tampons or disposable pads, but exposure can add up over time. It just makes sense to reduce this if possible, and switching to a menstrual cup is one way to do that.
Environmental Benefits
There are various estimates for the number of tampons someone users over their lifetime, but it's between 11,000 and 16,000. That's a lot! Then throw in sanitary pads, and all the resources it takes to make/grow the raw materials, manufacture and then ship them. It's hard on our environment.
Sanitary cups are an eco-friendly feminine hygiene option. Imagine the difference it could make if even 10% of menstruating people in the world stopped using disposable products?
Save Money
Finally, you can save a ton of money by switching from disposable pads and tampons to reusable menstrual cups, and cloth pads. Think thousands of dollars over a lifetime. It's worth it, isn't it?
[slideshare id=89378828&doc=relevant2-180302161757]
FAQ #12: I have a Heavy Period—Will a Menstrual Cup Work for Me?
If you have a heavy period, you may wonder if a period cup will work for you. The good news is that it's actually even better than using tampons!
The average tampon has a capacity of 5 ml, while a jumbo one can hold 10 ml or so.
A regular cup has a capacity of 25-30 ml, while a high-capacity cup can hold up to 42 ml.
This means that if you had to change your tampon every 2 hours, you might be able to make it 8 hours with a cup. Amazing!
Some high-capacity cups you might want to consider include the Anigan EvaCup, Super Jennie, and the Meluna Cup.
FAQ #13: I have a Low Cervix—Is there a Period Cup for Me?
If you have a low cervix, you're able to reach it easily with the tip of your index finger, when you insert it into your vagina.
Is there room for a menstrual cup in there too? It's an excellent question! You should be able to make it work for you, as long as you use a low-cervix menstrual cup,which are shorter than average menstrual cups.
Some brands/styles that you may want to consider include the following:
FAQ #14: Can Teenagers Use Menstrual Cups?
The short answer is that yes, teenagers can use a menstrual cup. The key thing is to get one of the smaller cups, which will be much easier to insert and remove.
By "smaller," we mean a small diameter. You could try the FemmyCycle teen cup which is the smallest menstrual cup you can buy.
Also check out this article: Menstrual Cup Diameter Comparison. 
FAQ #15: What's the Best Menstrual Cup for a Beginner?
For beginners, the firmness of the cup is a major factor.
A stiff menstrual cup is usually easier to insert because it just "pops" into place when inserted into the vagina. The downside to this is that they can sometimes feel uncomfortable because they press quite strongly against the vaginal canal walls. However, most people don't even notice them.
A softer menstrual cup is usually more comfortable. However, it's sometimes difficult to insert because it doesn't just pop open. Most people eventually figure it out, but it does take some practice and fiddling around with it.
That's why we recommend a firmer menstrual cup for your first one. Check out this comparison chart below for more details.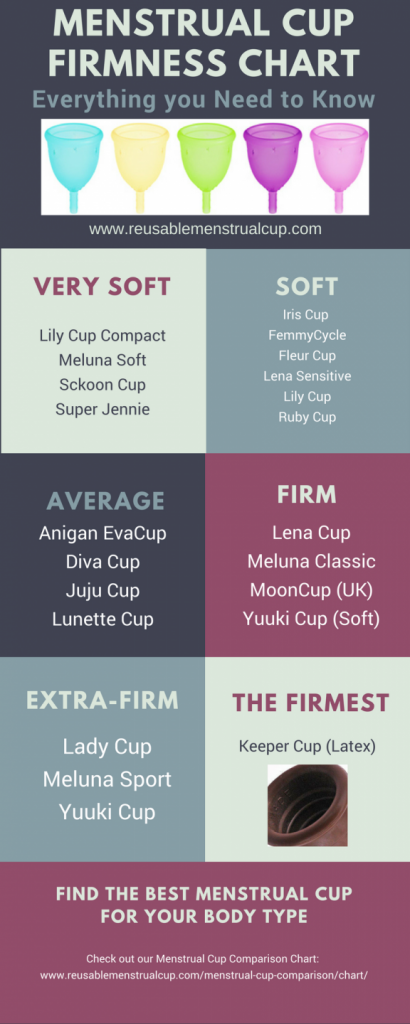 FAQ #16: Can I use a Cup With an IUD?
Next up on our list the top menstrual cup FAQs is this one about using a menstrual cup along with an IUD. The short answer is that it is possible but be sure to check with your physician first about your individual circumstances.
Also, check out our advice here: Menstrual Cups and IUDs—Everything you Need to Know.

FAQ #17: What is the Correct Position for a Period Cup?
You may be wondering what the correct position for your menstrual cup is. It's not something that people intuitively know—menstrual cups are radically different from the product you've probably used, tampons.
Basically, you want your cup to sit as low in the vaginal canal as possible, as long as the stem doesn't stick out (this is very uncomfortable).
If you push the cup up against your cervix, it will be uncomfortable and also more prone to leaking.
Something that can happen is that the cup migrates up your vaginal canal when you sleep. The power of gravity is no longer working! This is normal and nothing to worry about. Pull the cup down gently by the stem in order to grasp the base, and break the suction seal before removing it.
If you can't use your menstrual cup without either the stem sticking out, or it pushing uncomfortably against your cervix, your cup is too long. You can cut the stem to see if this helps. Or, you could consider a shorter menstrual cup.
Oh, and in case you're wondering about whether or not it can get lost, not to worry! It's impossible for a cup to get lost (or stuck) forever. 
FAQ #18: How Can I Prevent My Sanitary Cup from Leaking?
The biggest problem that people have with menstrual cups is that they can sometimes leak. This is particularly true at in the beginning when you don't have much experience with them. It can be frustrating.
The key is to not give up too quickly. Wear a pad, and keep on practicing. Most people (99% is my guess) eventually figure it out. It can take 4-5 cycles.
For some tips on this, see: Menstrual Cup Leaking Help.
FAQ #19: Do you Have any Tips for Inserting, and Removing my Menstrual Cup?
You may have heard about period cups from your friend, so you went out and bought one. You can't wait to get your period! Then you take the cup out of the box, and realize that it's actually quite intimidating, and you don't really have any idea what to do with it.
There is a learning curve to using cups, unlike with tampons which are quite easy to figure out. The biggest problem is usually with inserting it, and then the second one is with removing it.
We have a whole article to help you out with that. Check out: Menstrual Cup Insertion and Removal Tips. 
FAQ #20: Can a Menstrual Cup Get Lost or Stuck?
You may feel worried about your new cup getting lost or stuck. Don't worry! Neither of these things will happen to you.
A menstrual cup can't get "lost." Your cervix opening is very small (except when giving birth) and something as large as a period cup won't fit through there.
You may, however, be unable to remove your cup. Perhaps it's moved further up your vaginal canal? It is NOT stuck permanently though.
We recommend relaxing for an hour or two and trying again later. Get a trusted partner to assist you if necessary. Remember to break the suction seal (squeeze in at the base with two fingers) before attempting to remove the cup.
Finally, if you absolutely can't get it out, it's not a huge deal. See a doctor and they'll have it out of these in minutes.
FAQ #21: Can I use a Period Cup While Swimming or Scuba Diving?
You may like to swim or scuba dive, and wonder if a menstrual cup is right for you. I have some good news! It's actually better than your other option, tampons.
Tampons have a capacity of 5-10 ml, while average capacity cups hold around 30 ml, and there are even some high-capacity ones with space for up to 42 ml.
Another benefit? There are no strings hanging out.
For more details, please see:
FAQ #22: Can I Sleep with a Cup In?
Yes! Most companies recommend that you empty your cup every 12 hours. Tampon manufacturers suggest 8 hours for their products, so it's actually better in this regard.
If you have a very heavy flow, menstrual cups make a better choice for nighttime use. They have capacities 3-4x that of tampons, so you might even make it through the night. Pair your cup with a nighttime pad (we love cloth ones) and you'll have some serious lasting power.
FAQ# 23: Should I Use a Menstrual Cup when Exercising?
Menstrual cups are an excellent option if you like to exercise! We particularly love them for long surf sessions, backpacking trips, running marathons, and any other time when you don't want to deal with serious period hassle.
However, some people find that the soft menstrual cups don't work that well for them. All the activity can break the suction seal and cause leaking.
You may want to consider a firmer cup in this case.
FAQ #24: Is a Period Cup Fine for Traveling With?
We always recommend menstrual cups for when you're on the road. You can take one single thing with you, and that's it. This is far better than searching for your favourite brand of tampons when you're in a foreign country.
The extra capacity of a cup vs. a tampon is nice on log bus or train trips too.
A quick note. Please remember to always wash your cup with potable (drinking) water. This will ensure that you don't introduce any nasty bacteria or germs up into your vaginal canal.
For more details, please see: Traveling with a Lunette Cup.
FAQ #25: Are there Any Disposable Menstrual Cups?
You may want to know if there are any disposable menstrual cups. There are a couple options for this kind of product: The Instead Soft Cup/Flex Menstrual Disc.
They are very similar products, and are actually made by the same company. The major difference is how you buy the products. The Soft Cup is available in stores, and on Amazon, while the Flex Disc is offered as a subscription model.
Both of these disposable menstrual cups are designed for a single use, and the company recommends changing them every 12 hours. Because they're flat, and fit right up under your cervix, they are suitable for penetrative sex, unlike normal period cups.
FAQ #26: I've Never Heard of Menstrual Cups? Why?
I had the same experience. I didn't know there were are other options besides tampons or pads until I was in my early 30's. I'm not sure why, but perhaps I was hanging around the wrong people? Or maybe the companies didn't have big advertising budgets. Finally, these products just weren't as popular a few years ago.
Anyway, I did eventually figure it out and I'm glad I did! I've been hooked eve since.
FAQ #27: I Can Feel My Menstrual Cup Inside of Me
Most people will tell you that you can't feel a menstrual cup when you're wearing it. This is true for most people. You put it in your vaginal canal, and then don't have a second thought about it until you have to take it out and empty it.
However, some people may be able to feel the cup inside of them, and a portion of those people may find it quite uncomfortable, even causing cramps. If this is the case for you, here are some possible reasons why and what you can do about it:
Too Large of Cup
If you have a cup that is to large for you, then you might feel it pressing very strongly against your vaginal canal walls. You'll also find it very difficult to get a menstrual cup that is too big to seal correctly and not leak.
You could try a smaller cup size.
Too Stiff of Cup
Some people find that the stiffer cups are uncomfortable because they press quite strongly against the vaginal canal walls, and they can feel them once inside.
Stiff cups are easier to insert which is why a lot of beginners start with them. They just pop open and into place once inserted with minimal fuss or hassle.
If you are one of those people who find a stiffer cup uncomfortable, you could try a softer cup instead.
Your Anatomy
Your urethra (where pee comes from) and vagina (where you put a menstrual cup) are very close to each other. Some people find that a menstrual cup can push quite strongly against the vaginal canal walls, which can in turn push against the urethra.
If this is the case, you'll feel some discomfort when peeing. You'll also notice that it takes longer than normal when you're wearing a cup.
Try a softer menstrual cup to see if this alleviates the problem.
Questions or Comments?
Did we miss anything? Leave a comment below and let us know!