What is Perimenopause?
Perimenopause is a period of 4-10 years before menstruation stops (menopause). The average age of menopause is about 50, so most people go through perimenopause in their 40's, although it can happen earlier, or later.
It's characterized by a time of fluctuating hormones. This can result in a range of symptoms, including:
Periods During Perimenopause
As far as periods go, the normal pattern is that they become less frequent, and lighter as time goes on. This makes sense if they'll eventually stop.
But, fluctuating estrogen and progesterone levels can cause just about anything to happen! Periods can get lighter, or heavier. You can experience spotting. The length of your cycle can get shorter, or longer.
It can be a bit challenging to deal with them, especially the spotting, and not knowing when they're going to happen.
The good news is that there are better options than regular old tampons, or sanitary napkins!
Keep on reading for details about menstrual cups, period panties, and reusable cloth pads and pantyliners.
Perimenopausal Period Protection Option #1: Menstrual Cup
The first option to consider during Perimenopause is a menstrual cup like the Lena Cup. In case you haven't heard of them, they're a reusable bell-shaped product that is usually made from medical grade silicone. They can be used in place of tampons.
Why Use a Menstrual Cup During Perimenopause? 
Why consider using a menstrual cup before menopause? There are a few different reasons:
You can easily track your flow with them, which can be useful information for your doctor to have.
It's possible to use a menstrual cup before you begin your period, unlike with tampons (you shouldn't do this because of the risk of Toxic Shock Syndrome).
Some people experience heavier periods during perimenopause. If this is the case for you, then a menstrual cup makes an obvious choice. They have a capacity 2-4x more than a jumbo tampon.
If you have lighter periods or spotting, a menstrual cup will also work well. Just be sure to take it out and clean it every 12 hours to reduce your risk of TSS.
Which Menstrual Cup to Consider?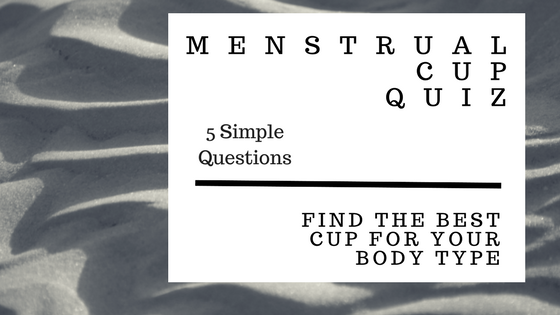 The main problem with menstrual cups is that it can be difficult to decide which one to get! There are more than 100 brands, each with different sizes and styles.
That's why we recommend taking our menstrual cup quiz. It'll take just a couple minutes or your time. At the end, you'll get some ideas about which cup will work best for you. Check it out here:
Find the Best Menstrual Cup with our Menstrual Cup Quiz
Check out the Yuuki Menstrual Cup
Perimenopausal Period Protection Option #2: Period Panties
The Best Period Panties
The next period protection option to consider for Perimenopause are period panties. They are one of the best solutions for light spotting, or when you're not sure if you're going to get your period.
2 Styles of Menstrual Underwear
Some menstrual underwear has just a leakproof layer. This can help to prevent embarrassing leaks until you can get to the bathroom to deal with your period.
Other period panties have an absorbent layer in them that is equivalent to a heavy pad. It's generally recommended to use these as back-up to a tampon or menstrual cup if your period is heavy. But, if you have a very light period, or spotting, they could work well on their own.
More Comfortable than Panty Liners
We find them a far better option than always using disposable pantyliners. This is because disposables can sometimes be pretty irritating to the skin, and cause things like yeast infections if worn all the time.
Learn more About Period Panties
Which Period Panties do you Recommend? 
There are a lot of options for period panties, ranging from around $8 per pair to upwards of $30. In general, we recommend sticking with some of the cheaper options because the expensive ones are not that much better to warrant that higher price.
You can check out our picks here: The Best Period Panties for your Money. Or, take a look at our comparison chart below:
Perimenopausal Period Protection Option #3: Reusable Cloth Pads
Next up on our list of the best options for Perimenopause are reusable cloth pads. They're similar to disposable pads except that they're made from cloth, bamboo, charcoal and other natural materials.
Great for the Environment, as well as your Health
Washable pads make an excellent choice for the environment because they don't contain plastic like disposable sanitary napkins do. Plus, you can use them for at least a few years.
Your bank account balance will thank us as well! The cheaper reusable menstrual pads cost $5-10 per pad, but they can last for years.
The best thing about them? They're great for people with sensitive skin because they won't cause irritation. And, they contain none of the toxic chemicals in them that many leading pad brands do.
What about Cloth Pads for Perimenopause? 
In particular, we recommend them for the time before menopause because they can be worn for far longer periods of time and not cause skin irritation or rashes. They also don't expose your body to toxins.
If your period is irregular, and you're not sure if you're going to get it, use one of these cloth pads for a bit of extra security.
Check out Party in My Pants Cloth Menstrual Pads
Which Reusable Pads to Consider? 
You can see our picks here: The Best Reusable Menstrual Pads. Or, have a look at this comparison chart below:
Perimenopausal Period Protection Option #4: Reusable Pantyliners
Reusable pantyliners make a nice options for spotting before menopause.
Best Cloth Pantyliners
The final option you may want to consider during Perimenopause are reusable cloth pantyliners. They're an eco-friendly, affordable, and healthier alternative to disposables.
What makes them so great for Perimenopausal periods? It's that they are perfect for when you're spotting and need only the lightest of protection. Or, if you have your period but it's extremely light.
You can check out some of our favourite picks here: The Best Reusable Pantyliners.
Perimenopausal Period Options: Have your Say!
What is your preferred option for Perimenopause? Have you tried some of the more eco-friendly options, including period panties, cloth pads, or a menstrual cup?
Or, are you sticking with tampons and disposable pads?
Leave a comment below and let us know your thoughts.