You want to have the best period experience possible, right? Everyone does! Pain free, hassle-free and affordable really are possible.
The good news is that you're in the right place. We're going to give you the run-down on the top 5 must-haves for 2018 in period protection.
Get ready for some eco-friendly feminine hygiene products in your life today! And get ready to have your period in style this year.
We'll give you all the details you need to know about menstrual cups, reusable cloth pads, organic tampons, period panties, and first period starter kits.
#1: Menstrual Cups
—>Check Prices on our Top-Rated Menstrual Cup<—
Menstrual cups, or period cups take the top spot on our list of the Top 5 Sanitary Products for 2018. What exactly are menstrual cups? The short answer is that they are bell-shaped cylinders that you insert into your vaginal canal to collect menstrual fluid.
They are usually made of medical grade silicone, although the Keeper Cup is made of Latex, while the Meluna is made from Thermoplastic Elastomer (TPE).
Basically, they menstrual cups take the place of tampons because they are inserted inside you. Instead of absorbing fluid like tampons, they collect it.
Some of the most popular brands in the world include the Diva Cup (Canada), MoonCup (UK), Lunette Cup (Finland), Anigan Eva Cup (USA), and the Lena Cup (USA). We love European and North American made menstrual cups here at Reusable Menstrual Cups! They have a reputation for being top of the line cups, made from the best materials and according to strict manufacturing standards.
If you're looking to get your first menstrual cup, or switch to another menstrual cup brand, then you'll need to check this out.
Five easy questions, a couple minutes of your time, and then you'll have a recommendation for the best menstrual cup for your body type. We've combined our popular menstrual cup comparison chart, with all the information we've gleaned from reviewing all the cups and put it to work for you:
Menstrual cups take this top spot because we think that they are the best thing to be invented since sliced bread. They have the potential to change the world for the better. It's our goal to have one of these things in the hands of every single menstruating person in the world.
Here's why menstrual cups float our boat.


Reusable Sanitary Products: Great for the Environment
The average person in the USA uses 11,000-16,000 tampons over the course of their lifetime. This is a lot of waste going into the landfill. Also consider things like pantyliners, and disposable sanitary napkins. It's certainly a lot of sanitary products being thrown in the trash, when there is a much better option.
Menstrual cups have an average lifespan of 5 years, and they can last up to 10 years with proper care and cleaning. A single piece of silicone instead of all those tampons for a decade? Love it! And so does our Earth. It's really easy to reduce our eco-footprints and tread lightly.
Save Money Compared to Disposables
Just as using a menstrual cup is better for the world than tampons, it's also much cheaper. The average menstrual cup costs around $30 USD. There are some very cheap menstrual cups out of China, but they should be avoided as they're not made of the highest quality medical grade silicone. They're also so flimsy that it's very hard to insert them correctly, and to not get them to leak like crazy.
An average box of tampons costs about $5, and disposable pads are pretty similar. This can add up quickly, particularly if you have a heavy period and are using a whole box of pads, as well as tampons every single month. You should be able to recoup your menstrual cup costs back in as little as a few months.
Menstrual cups aren't really that expensive over the medium to long-term. We're ALL about the frugal here at Reusable Menstrual Cups!
The Huffington Post has broken down the "pink-tax" for us. Have a look at this article.
Better for your Health
Non-organic tampons and pads contain harmful chemicals and pesticides. The pesticides are from the cotton used in the products, while the chemicals are from the manufacturing process. These things aren't good for our bodies. This is particularly the case when they're inside our vaginal canals, or next to our skin.
Menstrual cups are non-toxic, don't leach chemicals, and the more reputable ones are FDA approved. There have been no reported cases of TSS (Toxic Shock Syndrome) being associated with menstrual cups, unlike with tampons.
Check out this article from Time Magazine about this problem. It's a vicious cycle-lack of information about what's in these products, and the FDA declaring them "safe" due to lack of evidence. Because they're considered "safe," no further research studies are done!
Menstrual Cups: Less Hassle
The final reason menstrual cups take top spot on our list of the best sanitary products is that they're less hassle. The average cup has a capacity of 30 ml, compared to even a jumbo tampon with 10 ml. Three times more capacity equals three times less hassle!
There are even some high-capacity menstrual cups with capacities of around 40 ml. For example, the Super Jennie (USA) has a capacity of 42 ml.
When you combine a high-capacity menstrual cup like the Super Jennie with an overnight pad, you may make it through the night without having to get up to deal with your period. Love it!
Check out this menstrual cup capacity chart for more details: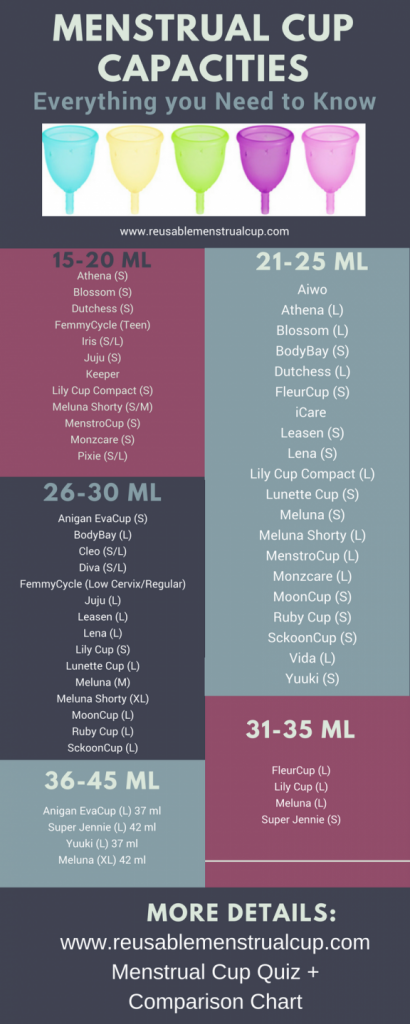 Why Switch to a Period Cup? Even More Reasons
[slideshare id=89378828&doc=relevant2-180302161757]
Can I Wear a Menstrual Cup When Not on My Period?
Some people who experience vaginal discharge wonder if they can wear a menstrual cup, even when they're not on their period. Instead of dealing with panty-liners, changing underwear, etc., some people find it easier to just empty their menstrual cup once in the morning, and then at night.
The other reason you might want to wear a menstrual cup all the time is if you have stress urinary incontinence. This can happen to athletic people who may let out small amounts of urine when exerting themselves. For example, pitching in softball, doing some serious weightlifting, etc. Some people find that wearing a menstrual cup prevents this from happening as frequently.
From our research, no menstrual cup company recommends specifically against this. From our own experience, we believe the same thing. Menstrual cups, when compared to tampons are far safer, and come with a much, much smaller risk or the rare, but deadly Toxic Shock Syndrome (TSS).
Of course, we are NOT medical professionals. Please consult with your doctor before wearing your menstrual cup all the time, even when you're not on your period.
Even More Reasons to Use a Menstrual Cup
Buy a Menstrual Cup
There are many great menstrual cup options on the market today, but taking top spot on our list of the Best Menstrual Cups for 2019 is the Diva Cup. It's the sanitary product that belongs in the bathroom of just about everybody who menstruates! We particularly love the Diva Cup for the following reasons:
The oldest, most established menstrual cup brand in the world
It's readily available, even in most local stores around the world (especially true in North America)
It's manufactured in Canada
Most people who use it, stick with it for the rest of their lives
Some very high user ratings on Amazon
It's the menstrual cup to which all others are compared
Made from top-quality medical grade silicone


What People are Saying about the Diva Cup:
"My only regret about the Diva Cup is not knowing about it earlier in my life! I can't believe this one single thing replaces all those pads and tampons I used to waste my money on. It's a miracle and I wish more people knew about it." Jen T.
"The Diva Cup is the most popular menstrual cup in the world, and now that I have one, I can see why. It's a great cup and I found the price to be very reasonable for what I'm getting." Amy A.
—>See More Customer Ratings and Reviews<—
If this sounds like a sanitary product that you'd like to try, check it out for yourself on Amazon:
#2: Reusable Cloth Pads
Next up on our list of the best sanitary products for 2018 are reusable cloth pads. Reusable cotton pads replace disposable ones. You wear them, wash them with your regular laundry, and then can use them for years.
With proper care, cloth menstrual pads can last for 10 years or more. Reusable cotton pads have many of the same advantages of menstrual cups as compared to tampons, including money saving potential, environmental, as well as health benefits.
—>Check out our Top-Rated Reusable Cloth Pad<—
Save Money, and the Environment with Reusable Sanitary Products
Cloth pads cost about $5-10, or you can make your own for even cheaper. Check out Pinterest for patterns and ideas.
The average person needs around six of them to get through their period in style. The amount you need depends on how often you do laundry.
When compared to disposables, you'll save money, as well as the environment in short order by using reusable cloth pads!


Cloth Pads are Better for your Health
Reusable cloth pads, like menstrual cups, also have the advantage of being much better for your body. They don't contain all the chemicals and pesticides that disposable pads do, after you wash them. Even better, consider buying the organic cotton ones that are readily available on Amazon.
The Best Reusable Cloth Menstrual Pads
Buy Reusable Cloth Pads
If reusable cloth pads sound like a sanitary product that you've been missing out on, then you'll need to get some! Or, make your own, but if you're like me, then maybe buying is better? Taking top spot on our list of the Top 5 Cloth Menstrual Pads is the Wegreeco Bamboo Reusable Sanitary Pad. We're really into these pads from Wegreeco for the following reasons:
Affordably priced
Nice variety of sizes
Cute design
Stain-proof fabric that feels nice against the skin
Extremely high user ratings on Amazon (highest in the category)
Waterproof outer layer that prevents leaks
They stay in place very well with the snaps, unlike some of the other reusable pads out there
What People are Saying about Wegreeco Reusable Sanitary Napkins:
"I love the wings on these ones-it holds them in place better than some of the other ones I've tried that seem to slide around a lot." Tara S.
"Regular menstrual pads irritate my skin like nothing else. I finish my period with a rash. So happy that I made the switch to these ones-all those problems are gone." Bobbi P.
If these reusable pads from Wegreeco sound like one of the best sanitary products that you've been missing out on, you can check them out on Amazon here:
Menstrual Cup vs Cloth Pads: Which One is Right for Me?
An excellent question is how to decide between a menstrual cup or cloth pads. Both options are economical, eco-friendly and healthy alternatives to disposable pads or tampons.
That's why we've put together our period product quiz. There are a few simple questions that will take less than a minute of your time. At the end, you'll get our top recommendation for period protection, menstrual cups, cloth pads, tampons, Soft Cups, and more.
Check it out here: Period Protection Quiz.
#3: Organic Tampons
Some people don't like menstrual cups and prefer to use other sanitary products. I totally get that. Maybe they feel uncomfortable, give you cramps, or you just never really get the hang of inserting them. Can I convince you to try again? Or try another size of cup? You might have one that is either too big, or too small.
—>Check out the Top-Rated Organic Tampons<—
An Alternative to Regular Tampons
Not convinced to give it another go? That's okay. I have some good news for you! There is another option that's better than regular disposable tampons, and that's organic tampons.
Regular tampons contains all sorts of pesticides and chemicals in them that aren't good for our bodies. And the worst part about it is that companies in the USA aren't required to disclose their ingredients.
This is a scary thing for me—not knowing what's in a product that I put INSIDE my body for up to a week of every month. That's why I've made the switch to organic tampons.


Organic Tampons: Expensive for a Sanitary Product?
Organic tampons are a fair bit more expensive than the regular ones from your local drugstore. This is especially true if you shop at a natural food store and get them there. However, there are some reasonably priced options on Amazon, and shipping is often free with Amazon prime. On average, they're 20-50% cheaper than the prices at natural food stores!
Some things are not worth going organic for, but this sanitary product most certainly is!
Organic Tampons vs. Regular Tampons
Buy Organic Tampons
Coming in at #1 on our list of the Top 5 Organic Tampons are the Natracare Organic All-Cotton Tampons.  This is certainly one of the best sanitary products for 2018! They have a lot of things going for them, including the following:
More reasonably priced than other organic tampons
Excellent user ratings and reviews on Amazon
All cotton (contains no plastic)
Come with, or without an applicator
Different absorbency levels, like regular tampons
What People are Saying about Natracare Organic Tampons:
"They work fine, and I'm happy that I'm not exposing my body to all those chemicals in regular tampons." Donna M.
"These ones from Natracare solved the irritation issues that I was having with regular tampons. I must have been allergic to something. Anyway, happy I made the switch to organics. It's worth the slightly higher price for sure." Cathy A.
If you're ready to make the switch from conventional tampons, to organic ones, check out Natracare on Amazon:
 #4: Period Panties: Another Reusable Sanitary Product
Next up on our list of the best sanitary products for 2018 are period panties. They've become trendier in recent months with a very successful marketing campaign from Thinx. It kind of seems like everyone has heard of them.
However, we don't recommend Thinx here at Reusable Menstrual Cups. This is because we've heard numerous reports of them not honouring their referral commitments ($10 for every person you refer to them). Companies that don't honour their commitments? Not cool!
Not to worry, there are plenty of other excellent period panties on the market today with slightly better reputations, albeit lower marketing budgets! We'll share period panties in a little bit.
—>Check out our Top-Rated Period Panties<—
Best When Paired with Another Form of Sanitary Protection
Period panties are quite similar to reusable cloth pads, but instead of attaching a cloth pad to your regular underwear, the pad and underwear are one unit.
Although not designed to be your sole source of protection, especially on heavier days, they do offer some great backup. For example, they work well when paired with a menstrual cup, or organic tampon.
If you experience a bit of leaking, you're still good when wearing a pair of period underwear. You throw period panties into the wash at the end of the day, like regular panties. In our experience, they can absorb more than you might think.
People Try Period Panties
Buy some Period Panties
Coming in at #1 on our list of the Top 5 Period Panties are the Yoyi Fashion Period Panties. There are a few reasons why they get our top recommendation, including the following:
Reasonably priced (similar to regular panties)
Nice design that looks like normal panties
Soft and comfortable to wear
Well made and durable


What People are Saying about Yoyi Fashion Period Panties:
"I love how breathable these things are. It's never sweaty or gross down there anymore since I started using these. I find that they just work better for me than disposable pads." Eva A.
"I love having an added layer or protection when I'm wearing a menstrual cup." Heidi D.
If period panties sound like the sanitary products that belong in your dresser, check them out for yourself on Amazon:
#5: First Period Starter Kit
One of the new things that have come onto the market in recent years are first period starter kits. Although we think menstrual cups are the best thing since sliced bread, these ones come out a close second.
Celebrate your daughter's first period with a period starter kit. Although they vary in what they contain, the best ones have a menstrual cup, reusable cloth pad, disposables pads and tampons, as well as some literature about menstruation. It's a beautiful way to celebrate this important right of passage.
We'll give you the details about a couple of our favourite period starter kits
Luna Cup Period Starter Kit
The Luna Cup Period Starter Kit Set focuses on reusable sanitary products. It contains one small, and one large Luna Menstrual cup, as well as a silk storage bag. There are also three reusable cloth pads, and a wet bag to hold used pads when on the go outside the house. The price is extremely reasonable, especially considering that you're getting two menstrual cups along with it.


Reviews on Amazon for this kit are excellent, and we give the Luna Cup a solid recommendation here at Reusable Menstrual Cups. Most people that use it really seem to like it-it's a nice firmness, it's easy to insert and doesn't leak.
We love the fact that both sizes of cup are included with this kit-try them both out and see which one works best for you. It can sometimes be hard to tell until you give them a test run.
You can get the Luna Cup Period Starter Kit on Amazon today:
First Period Gift Box by Lunar Wild
The Luna Period Starter Kit is a very affordable, basic option for reusable sanitary products. This first period gift box from Lunar Wild is a lot more comprehensive.
It'll be available in Spring of 2018, so get your pre-order on! It contains a menstrual cup, reusable cloth pads, disposable feminine hygiene products, and luxury self-care products like candles and bath bombs. You'll also find empowered literature about womanhood and period management. It's all packaged up in a beautiful looking box.
This gift box from Lunar Wild would make an excellent gift for any young girl in your life!
Check it out for yourself here:
First Period Gift Box from Lunary Wild
Lunar Wild First Period Gift Box Review
Have you Say about the Best Sanitary Products for 2018
That brings us to the end of the best sanitary products for 2018 and beyond. What are you going to do to get your period on in style this year? Try a menstrual cup? Check out reusable cloth pads? Buy a first period starter kit for a young girl in your life?
Leave a comment below and let us know!