As an Amazon Associate, I earn from qualifying purchases. What does this mean? I recommend products (only ones that I like) and if you purchase a product through that link, I earn some money.
Fairyfox Cup Menstrual Set of 2 Cups, with 1 Brocade Bag (Large Purple&Small Pink)
CHANGE YOUR LIFE! Live the extremely empowering and liberating experience of not having to depend on...
BEST PRODUCT EVER! This Fantastic Innovation will completely turn around your attitude towards your...
THE INVENTION OF A LIFETIME! Stop using inferior caveman technology to deal with your monthly flow....
GREAT VALUE! GET 2 PREMIUM FAIRYFOX CUPS at an extremely favorable price! Fairyfox Cup is made from...
WELL WORTH EVERY PENNY! This revolutionary product will pay for itself several times over...and you...
We'll soon get to our review of the Fairyfox Cup Mensrual Set, but first some basic information about menstrual cups.
In the world of menstrual cups, there are two kinds, top-quality ones, and cheapies. Keep on reading to find out where the Fairyfox cup falls on this spectrum of period cups.
Top-Quality Cups from Reputable Companies
Some of the menstrual cups you can buy have been around since the 1980s or 1990s. For example, the Diva Cup, MoonCup, Lunette Cup, and Keeper Cup. These ones are the most popular period cups in the world. In fact, the name "Diva Cup" is almost synonymous with the term "menstrual cup."
These cups have been around for years, and are so popular for good reason. They are:
Made from top-quality materials (medical grade silicone/latex)
Manufactured in North America, or Europe
Made according to strict quality control standards
Strong advocates of women's health
Excellent user ratings on Amazon
Aren't these Menstrual Cups Expensive?
If you're looking at something like the FairyFox Cup, you're probably looking for a cheaper menstrual cup. And you may think that spending $30 USD or so on one of these cups I've just mentioned is way too much.
However, think about this way. A menstrual cup is something that you're putting into your body for up to a week each month. It makes sense to get the best quality one that you can and it's what we always recommend here at Reusable Menstrual Cups.
In addition, menstrual cups can last for up 10 years, with proper care and cleaning. When compared to disposable pads and tampons, you'll save thousands of dollars over the course of a lifetime.
$30 for a top-quality cup vs. 1/2 that for something like the FairyFox Cup Menstrual Cup really doesn't make a big difference when you consider this factor.
If you are looking for a top-quality cup that's a bit cheaper than something like the Diva Cup, or Lunette Cup, then check out the Lena Cup, as well as the Anigan EvaCup. They are both made in the USA from top-quality materials, and are quite reasonably priced.
See: Are Menstrual Cups Expensive for more details.
Cheap Cups Made from Sub-Par Materials
This brings us to the FairyFox Menstrual Cup. It most firmly belongs in the "cheap menstrual cup" category. Some similar cups include the iCare, Hengsong Cup, Aiwo Cup, and the Leasen Cup.
These cheap menstrual cups share many of the same characteristics:
No official company website
Poor quality of English on their product description on Amazon
Made in China
Lack of information about sizing/materials/manufacturing, etc.
Poor reviews on Amazon from actual users
Fake reviews on Amazon—over the top, but not from verified purchasers
Very flimsy construction, and doesn't fully open once inserted into the vaginal canal. Often leaks like crazy
What about the Fairyfox Cup Menstrual Cup?
Let's look more closely at the FairyFox Cup and see why we consider it one of the cheaper cups that should probably be given a miss.
Lack of Information for the FairyFox Menstrual Cup
We scoured the Internet trying to find information about the sizing of the Fairyfox, but were unable to find it. The most we could get is that the small size if for someone who hasn't given birth vaginally, while the large size if for someone who has.
The small size has a capacity of 15-20 ml, while the large has a capacity of 15-25. The huge range seems quite strange, and no other menstrual cup company offers this. Capacity is an objective measure—you pour liquid into the cup until it's full and that's it. It's quite simple, so we don't understand why there is a range for this.
No Official Company Website for the Fairyfox Cup Menstrual Cup
Fairyfox Cup does not have an official company website for their product. ALL the top-quality menstrual cup companies have this, with lots of information about their products, manufacturing, sizing, and a blog with general information about feminine hygiene.
Poor Quality of English on the Amazon Description for the FairyFox Cup
Poor English on Amazon is almost always an indication of a cheap menstrual cup. Here's some details from the FairyFox Cup:
"You like it better because it's slightly thinner silicone so it fits more comfortably, for you."
"Get rid of the troubles of the sanitary napkin"
"Packing includ:"
FairyFox Cup: Why 2 Cups?
Here's what Fairyfox Cup says:
"2 menstrual cups, one pulled out, and the other must be inserted immediately."
This is almost the strangest thing we have ever heard, and we've been reviewing menstrual cups for years! There is no reason that anyone really needs two menstrual cups.
In general, you take out your cup, empty it into the sink or toilet, wash it with warm water and soap (or something like the DivaWash), and then put it back in. Unless you have the most serious period, then you should be fine for that 30 second window when you're washing your cup, and won't need two of them.
The Luna Cup?
We found this gem in their product description:
"Luna Cup menstrual cups are just right!"
It seems like Fairyfox Cup was just cutting and pasting from other companies and forget to put their own brand name in there. Ha!
Which Menstrual Cup to Consider?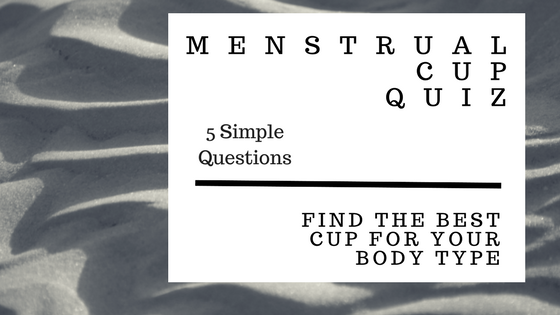 The Fairyfox Cup Menstrual Cup is a definite miss, and not something that we'd personally ever put into our own bodies. If you're looking for your first, or next menstrual cup, then we recommend taking our menstrual cup quiz.
We've combined all the information from our handy menstrual cup comparison chart, with our knowledge gleaned from reviewing ALL the cups and put it to work for you. The result is this quiz, with five simple questions that will only take a minute of your time.
An the end, you'll get our recommendation for the best menstrual cup for your body type. Love it? We think you will! Check it out here:
Last update on 2019-11-13 / Affiliate links / Images from Amazon Product Advertising API