As an Amazon Associate, I earn from qualifying purchases. What does this mean? I recommend products (only ones that I like) and if you purchase a product through that link, I earn some money.
Our Top Picks for Menstrual Cup
Taking the top spots on our list of the best brands are the following:
Although there are lots of newcomers to the period cup scene, the Diva Cup is still the most popular menstrual cup in the world.
Top 5 Menstrual Cups
Are you convinced that a menstrual cup is just what you need for period protection during your time of the month? We hope so! Most people who try them are hooked for life.
Menstrual cups are amazon for a few different reasons:
Better for the environment (one cup replaces thousands of tampons)
Better for your health (no toxic chemicals in them)
Save money (a bit more up-front, savings for years to come)
Let's Get To It!
Without further ado, let's get to our list of the Top 5 Menstrual Cups. There are a few classics, and a few top-quality new ones. We have also included a few honourable mentions—just because they're not our favourite menstrual cups, doesn't mean that other people don't love them.
There are some for people with a low cervix, some for people with a heavy period, one for teens, and some for regular people!
Let's get started with our menstrual cup reviews!
#1: The Diva Cup
First up on our list of top menstrual cups is the Diva Cup. The Diva Cup is the most popular menstrual cup in the world and for good reason-it's a top quality cup at a very reasonable price. It's the menstrual cup to which all others are compared.
It's also the first one that most people use, and many of those people end up sticking with it for the rest of their lives. If it works, it works. There's no reason to switch to another one if you try it, and it doesn't leak.
The Diva Cup is one of our top picks for beginners. The firmness is in the middle, which means that it's reasonably easy to insert because it usually just pops open when inside you. However, it's not so stiff as to feel uncomfortable.
You can get it easily in just about any country.
Read more: Review of the Diva Cup.
Two Sizes of Diva Cup
The Diva Cup is available in 2 sizes:
Small (pre-childbirth). If you're under the age of 30, and have never given birth vaginally, this is probably the best choice for you.
Large (post-childbirth). If you're over the age of 30, or have given birth vaginally, then you should start with the large size.
You can easily get this top-quality period cup, made in Canada today:

Diva Cup Review
#2: The MoonCup
Next up on our list of best menstrual cups is the MoonCup. In terms of design, dimensions and sizes, it's very similar to the Diva Cup. The main difference is that it's manufactured in the UK. So, if you live in Europe and like to shop local, this may be the menstrual cup for you.
The Moon Cup is one of the oldest, most established menstrual cups in the world today and it's certainly an excellent one to choose if you're looking for your first cup. For whatever reason, many people find that the MoonCup doesn't leak for them, unlike some of the other period cups that they've tried.
The MoonCup has a nice stiffness to it, but the silicone is still thin and pliable. Like the Diva Cup, it's a great choice for beginners to menstrual cups.
Find out More
Learn more here: MoonCup Menstrual Cup.
"The MoonCup just worked better for me than the Diva Cup. I'm not sure why, but I think the firmness of the MoonCup makes it easier to insert correctly, and get it to not leak." Anna M. 
Two Sizes of MoonCup
The MoonCup comes in 2 sizes:
Small (pre-childbirth)
Large (post-childbirth)
You can easily get this menstrual cup delivered to almost any country in the world. Shop now today:

MoonCup Review
#3: The FemmyCycle
Coming in at #3 is the FemmyCycle. It's made in the USA, according to the strictest manufacturing standards.
The main selling point is that it has an unusual, no-spill design that works for a lot of people. This is particularly true if you're tried the more traditional cups like the Diva Cup or Moon Cup and found that they kept leaking, for whatever reason.
The reason why the FemmyCycle takes the third spot on our list of the best menstrual cups is the sizing of it. We LOVE the teen size because it's one of the smallest menstrual cups you can buy. We also LOVE the low cervix Femmy Cycle because it's one of the shortest menstrual cups.
Learn more here: full FemmyCycle review.
FemmyCycle Sizes
The FemmyCycle Menstrual Cup comes in a variety of sizes:
Low-Cervix. If you have a low cervix, this model is a full 20mm shorter than most of the other menstrual cups. It should work for you, even if a lot of other period cups haven't!
Teen Model. If you are a teenager, or a very small person, then you might want to consider the teen model of the FemmyCycle. It's a very small cup, and will feel comfortable even if you've never used one before.
Regular. If you don't have a low cervix, or a very small vaginal canal, then the regular FemmyCycle should work well for you.
You can get any of the FemmyCycle models today:

#4: The Anigan EvaCup
Coming in at #4 is the EvaCup. Although it's a relative newcomer to the menstrual cup world, it's a top-quality cup that is cheaper than many of the older ones out there.
It's made in the USA according to the strictest manufacturing standards. They also makes a nice line of period panties that are among the most popular, affordable options.
Cheaper Price
It's cheaper price-tag is in no way any indication of inferior quality. On the contrary, it compares to the more expensive cups extremely well. Same top-quality cup, but at a lower price? Most people seem to love it, if reviews over on Amazon are any indication.
The EvaCup also comes in a wide variety of colours, unlike many of the other cups. Colour choice in a menstrual cup? How unusual! But, also awesome. We love this about the Anigan EvaCup and we're sure you will too.
One thing in particular that we love about the Eva Cup is that the large size is very large. It holds 37 ml, which makes it a nice choice for someone with a heavy period. When you consider that the Diva Cup holds 30 ml, or a jumbo tampon holds 10 ml, and it really does make a difference.
Read more here: Eva Cup.
"I LOVE the high-capacity of the Eva Cup. I have a very heavy period and this thing is a lifesaver for me. With the Eva Cup, I can even sleep through the night during my heaviest flow days, which was never possible before." Tammy C.
Two Sizes of Anigan EvaCup
There are two sizes of Anigan Eva Cup:
Small (pre-childbirth)
Large (post-childbirth). The large Eva Cup has a capacity of 37 ml, making it an excellent choice for people with a heavy flow.
You can get this made in the USA menstrual cup on Amazon today:

#5: The Lena Cup
Rounding out our list is the Lena Cup. It's another newcomer to the menstrual cup scene, but it's here to stay!
In terms of ratings and reviews, the Lena often reigns supreme. It's come out with a bang, garnering some of the highest user ratings in the category on Amazon.
It's a top-quality cup that's made in the USA. It's also cheaper than some of the older, more established cups like the Lunette Cup.
Doesn't Leak for Most People
One of the things that we love best about the Lena is that it doesn't seem to leak for most people. For whatever reason, it's designed well and seems to snap into place quite easily, and then just stays there, even for very active people. A cup that doesn't leak? We love it! And we're sure that you will too.
They are committed to putting a top-quality menstrual cup in the hands of as many people as possible at a reasonable price. Nice work Lena!
Earth's Friends: The Lena Cup is #1
Here's what Kimberly at Earth's Friends has to say about this menstrual cup:
"The best period cup is the Lena Cup. It is made in the USA and we have found countless positive reviews and few negative reviews. I have personally been using it for more than one year and have many more good things to say about it."
Two Sizes and Two Models
There are two sizes:
Normal Flow (small)
Heavy Flow (large)
There are two models:
Normal (above average firmness)
Sensitive (below average firmness)
You can get it on Amazon today:

New Addition: The Saalt Cup
One of our favourite new menstrual cups is the Saalt Cup. It actually came onto the market after this list was compiled. But, we're sure you won't mind us adding another one.
Like many of the period cups on this list, the Saalt Cup is made in the USA from top-quality, medical grade silicone. The best thing about it is that for every cup sold, the company helps out a woman in need. So you get a product you can feel good about using.
The other reason why you might want to check out the Saalt Menstrual Cup is because there is a 2-cycle, money-back guarantee. Try it out for 60 days, and if you don't like it, or you have the wrong size, you can return it for a refund, or another size cup.
Money-Back Guarantee
We LOVE companies that offer a money-back guarantee on their products because it's an excellent to way to try out a menstrual cup, risk-free for the first time.
But, the Saalt Cup is so good that you'll want to hold onto it. Seriously, it's  period game-changer. Save money, and the environment while having way less period hassle.
For more details, check out the Saalt Cup Review.
Or, just head on over to Amazon to find out why it's an up and coming menstrual cup:

Saalt Cup Unboxing Video
Honourable Mention #1: The Juju Cup
If you live in Australia, you may have heard of the Juju Cup. If you don't, you probably haven't, because the only way to get it is direct from the company, via expensive shipping!
Along with the Diva Cup, and the Lunette Cup, the Juju is the only other menstrual cup legally allowed to be sold in Australia.
Hygiene and You's #1 Pick
Cara from Hygiene and You gives it her vote for the best menstrual cup. Here's what she has to say:
"Juju cup is the best one we have tried so far. We really like the firmness of the cup that allows it to pop open very easy as soon as it is inserted. The shape and sizes available are also great; the new sizes for high and low cervix are very helpful."
You can find Cara on Twitter, as well as at her website.
We certainly agree with Cara, and we like the nice range of size options. Juju really does make a menstrual cup for just about everyone.
Shop Now at Amazon:

Honourable Mention #2: The Meluna Cup
We LOVE the Meluna. There is a massive range of sizes and styles. In total, there are 20+ combinations, so you're almost guaranteed to find a Meluna Cup that will work for you.
Unlike most other menstrual cups which are made from medical grade silicone, the Meluna Cup is made from Thermoplastic Elastomer (TPE). Many women find that it just feels nicer to insert, and remove and that it's more comfortable when inside them. It's also an easy material to clean.
Try it out for yourself and see what you think!
Change-Diapers: The Meluna is #1
Maria at Change-Diapers gives it her vote. Here's what she has to say:
"It's so hard to choose the ONE "best" one since there's a different "best" for each woman. That said, I recommend the MeLuna because they have so many options as far as firmness, size and handle styles. They are a fantastic option for women with a lower cervix."
You can find Maria on Twitter, or at her website. 
We certainly agree with Maria. The only reason that the Meluna didn't make our top 5 cups is because all the size and style options aren't widely available outside of Europe. We hope that the company will improve their distribution because they'll be a menstrual cup to be reckoned with!
Have a look on Amazon for the Meluna Cup:

Honourable Mention #3: The Super Jennie
Although it's a bit of a newcomer, the Super Jennie is a good one. It's one of the softest ones you can buy, so if something like the Diva Cup (average firmness) causes cramps for you, try the much softer Super Jennie.
The large is also the highest-capacity menstrual cups you can buy. This makes it perfect for someone with a very heavy period. Outdoorsy women or endurance athletes may also want to consider it No more stopping in the middle of a big hike, or when running a marathon to deal with your period.
Top Choice for GenerationMe
Here's why GenerationMe chose it as their top cup:
"The cup I'm using right now is the Super Jennie. It comes in two sizes (Small and Large) and four colors (Blue, Teal, Pink and Clear) and is Made in the USA. It has a ridged stem with a small rounded tip for super easy removal and is great for anyone, including first time or veteran cup users and pre or post childbirth."
You can find GenerationMe at their website.
You can shop now on Amazon:

Still Not Sure Which Cup is Right for You?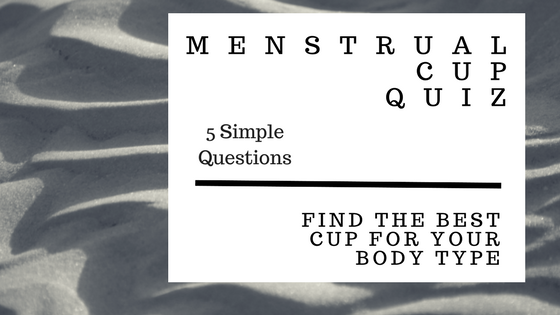 So you've checked out our picks for the top menstrual cups, but you're maybe having a hard time deciding between them. It's not an easy choice, and a lot of women feel like that.
In reality, they're all excellent brands and you couldn't really go wrong with any of them. However, there is probably one that is better for your specific body type.
In order to help you find that perfect one, you'll need to check out our menstrual cup quiz. We've taken all the information from our handy comparison chart, and combined that with our years of experience reviewing menstrual cups.
The result is a simple, 5-question quiz that will take you less than a minute. At the end, you'll have our recommendation for the best cup for your body type. It really is that easy.
Check it out today:
What is the Best Period Cup for Beginners?
If you're new to menstrual cups, but want to make the switch from disposables to a reusable period option, then you may be wondering what is the best one for beginners. It's a great question, and we'll do our best to answer it.
The most important factor for beginners is how firm the menstrual cup is. Softer cups will be quite difficult to insert because they don't just "pop" open. You'll have to fiddle with them a little bit in order to get them to fully open, and seal to your vaginal canal walls. It's the seal that prevents leaking.
The advantage to softer menstrual cups is that they can sometimes feel more comfortable inside you because they don't press so strongly against your vaginal canals walls.
Beginners: Try a Firmer Menstrual Cup
For a beginner to menstrual cups, we recommend sticking with a firmer cup instead. These will pop open quite easily and you'll find it not that difficult to insert. Most women find them comfortable, and in fact can't even feel them once inserted.
Check out this menstrual cup firmness chart for some suggestions. However, a word of caution! Don't just go buy the firmest option (The Keeper). This actually isn't one on our favourites because it's made of latex, which some women are allergic to. Instead, check out one of the average/firm/extra-firm options.
One of our favourite menstrual cups for beginners is the Diva Cup. It's often the first cup that women buy, and the majority of them stick with it for the rest of their lives. Shop now on Amazon:

More Details about Menstrual Cup Firmness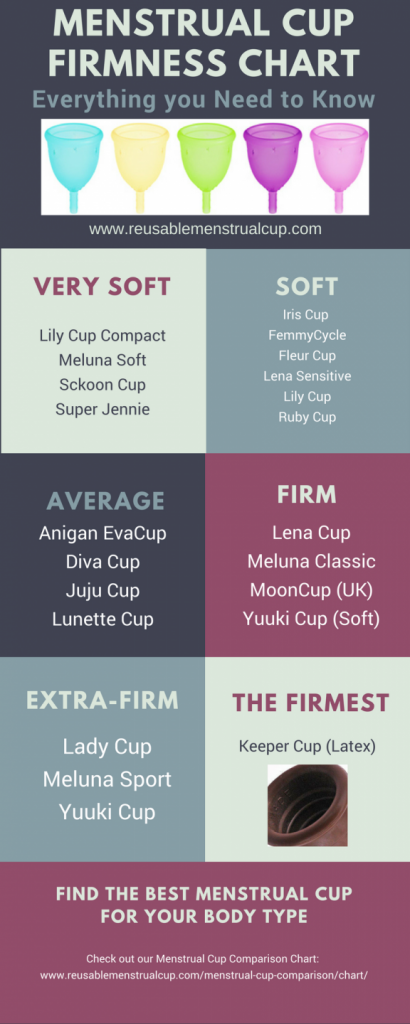 What's the Best One for a Heavy Flow?
If you have a very heavy flow, you might be wondering what the best cup for you is. This is a great question.
One of the big advantages of switching from tampons to a menstrual cup is the extra capacity (2-4x). This means that you'll have to deal with your period less often. And, you might even sleep through the night without having to get up.
However, in order to get the biggest advantage possible, you'll probably want to consider a high-capacity menstrual cup. Instead of holding around 30 ml like an average cup, they hold 35-40 ml. That extra 5 or 10 ml really does make a difference.
Consider the Anigan EvaCup
Out of the best ones that we've already mentioned, the best one if you have a heavy period is the Anigan EvaCup. It has a capacity of 37 ml, which is more than almost any other menstrual cup.
It's reasonably priced, and has some great reviews.
Check out the Anigan EvaCup on Amazon for yourself:

More Details about Menstrual Cup Capacities Here
For heavy periods, check out these highest-capacity period cups: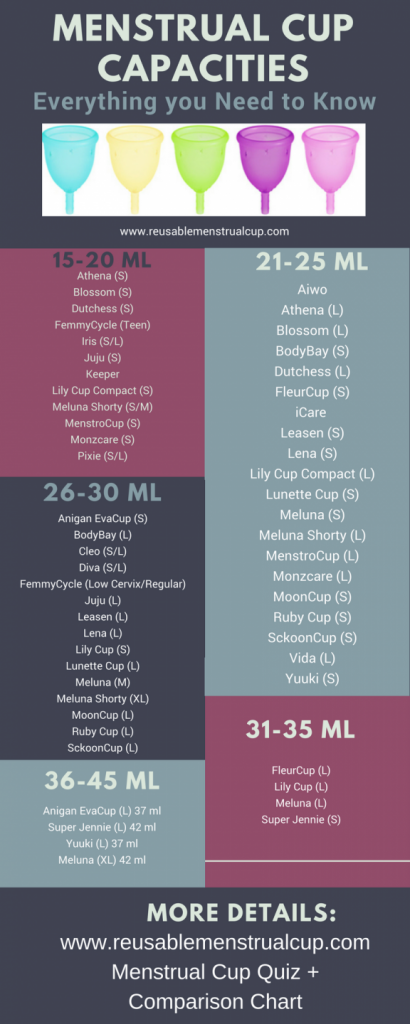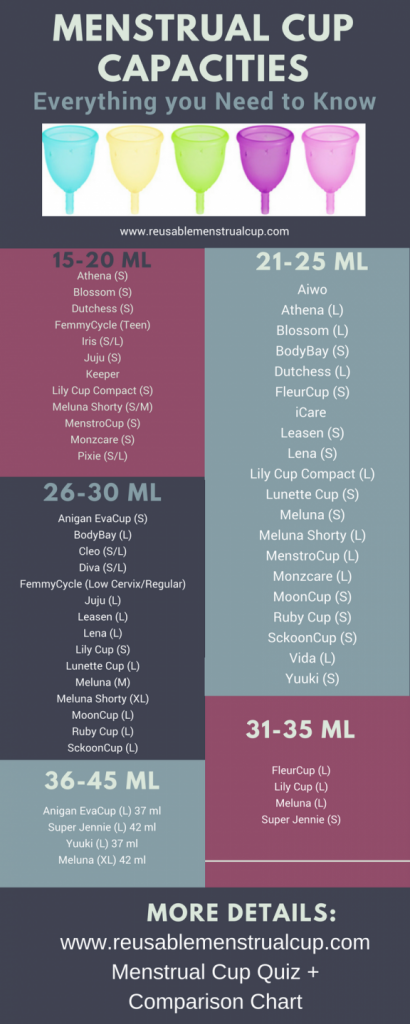 I have a Low Cervix, What's the Best Cup?
If you don't know if you have a low, regular, or high cervix, then check out the following video. Or, just refer to my quick guide:
Stick your index finger into your vaginal canal.
Can you touch your cervix easily with the tip of your finger? You have a low cervix and should use a shorter menstrual cup.
Can you just touch it with your finger fully inserted? You have a regular height vagina and could use a cup around 60-70 mm.
Can't touch it? You have a long vagina and should use a longer menstrual cup.
If you have a low cervix, you certainly don't want a long menstrual cup. The stem will stick out of you and feel very uncomfortable. You'll want to get a shorter one.
Or, if you have a long vagina, then you'll want to get one of the longer menstrual cups. This will make removal much easier because you'll be able to grab the stem, if necessary, instead of searching around in there for it.
Check out the following for some help with lengths.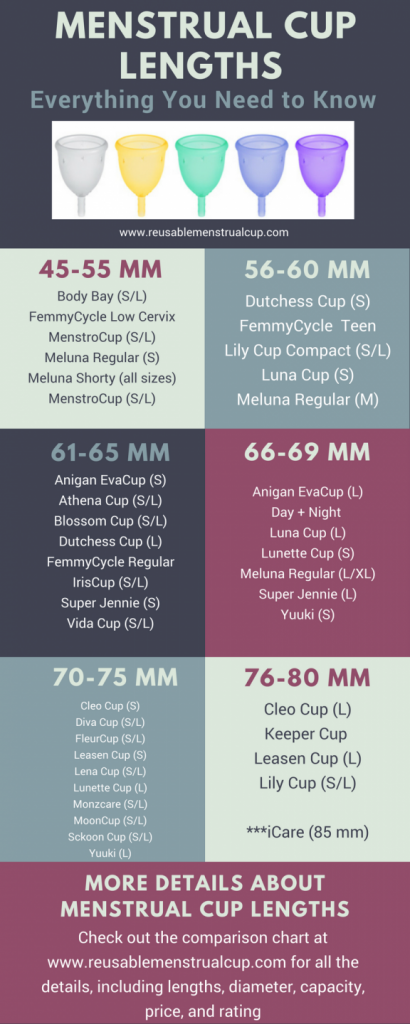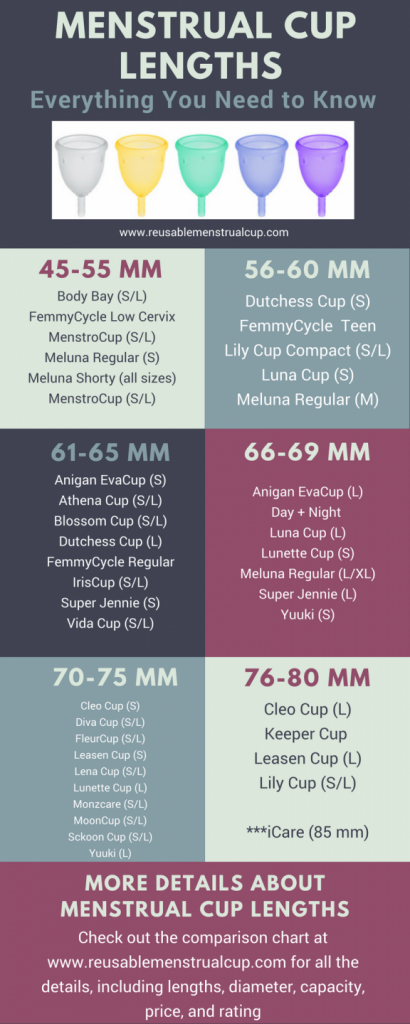 I'm a Teenager: Which Menstrual Cup do you Recommend?
If you're a teenager, you may be wondering what is the best menstrual cup for you. In general, you'll need a very, very small one, and even the small version of something like the Diva Cup may not be your best option.
There are a couple of companies that make them especially for teens, FemmyCycle and Intimina.
We've already talked about the FemmyCycle, but their teen/petite version is the smallest one you can buy. It has a ring on the end, which many people find easier to remove.
The other company, Intimina makes the Lily Cup One especially for teens. It's a very small period cup, however, it's not as small as the FemmyCycle. Both should work quite well though, so have a look at both of them and see what you think.
Menstrual Cups for Teens
Are Menstrual Cup Comfortable?
If you're never tried a period cup before, you probably want to know whether it's comfortable, or not. Most people find that they are. In fact, menstrual cups are similar to tampons in that once it's inside, you barely notice it's there.
However, some people who use firm sanitary cups may find that they press too strongly against their vaginal canal walls, which can even lead to cramps. Or, it can feel uncomfortable to pee because the urethra is compressed a little bit.
See: Menstrual Cups and Cramps for more information.
If this is the case, try a softer, smaller cup. But this is not that common and the vast majority of people find menstrual cups to be an eco-friendly, affordable, and most importantly, comfortable alternative to tampons.
Here's Why We LOVE Menstrual Cups
There are a number of reasons why you might consider making the switch from tampons and pads:
 They're great for the environment
Disposable pads and tampons are hard on the environment. Consider the fact that most women use 10+ boxes of these products each and every single year for around 40 years of their life!
That's a ton of waste that goes straight to the landfill. Not to mention the chemicals and waste from the manufacturing process. Now, compare this to a sanitary cup. This one single period cup can replace all those pads and tampons and last for five years or even longer. Love it? We sure do.
Save money by using a Menstrual Cup
You know this one already, but disposable sanitary pads and tampons are expensive! Stop wasting money and get yourself a menstrual cup. They cost around $30 USD for the top-quality ones, but you'll recoup this in less six months from not having to use disposable feminine hygiene products.
If you want to live a bit more frugally, then you'll be making some serious headway by switching from disposables to a reusable option
Menstrual Cups are Better for your Health
While disposable tampons are convenient, they do have a significant downside, which is Toxic Shock Syndrome (TSS). Although the risk is relatively small, it can happen and when it does, it's very serious. There are thousands of reported cases of TSS associated with tampon use each year.
To date, there is only one reported case of TSS being caused by a menstrual cup.
While making the switch to a cup from tampons and pads doesn't guarantee that this serious problem won't happen to you, you do cut your risk significantly.
Hassle Free Periods
Menstrual Cups hold between 15 and 40 ml of fluid. Compare this to a jumbo tampon that comes it at around 10 ml, and it's obvious that a period cup is the hassle free choice.
You'll have to deal with it less often, and by combining a high-capacity menstrual cup with a reusable cloth pad, you might even be able to make it through an entire night.
They're also easy to insert and remove, once you get the hang of them.
Have Your Say
What do you think? What is the ultimate menstrual cup? Leave a comment below and share it with us.
And don't forget to share on Facebook, Twitter, or Pinterest.