Menstrual cups are better for you, your wallet and the environment. Find the perfect one now: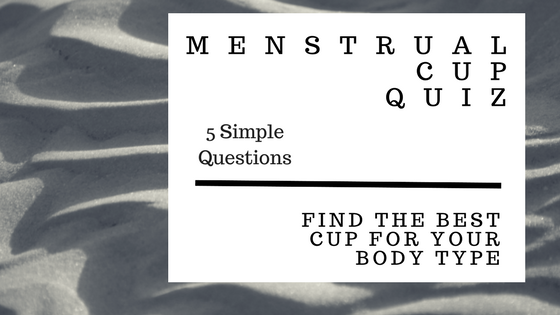 "Menstrual cups are amazing! I'm never going back to pads or tampons and my only regret is not finding out about these things years earlier." Amy S.
"This is revolutionary. No more period hassle!" Leyla T.
What is a Menstrual Cup?
It is a feminine hygiene product that can be used instead of pads or tampons. It's usually made with medical grade silicone, is flexible and shaped like a bell that's open on one end. Once inserted into the vaginal canal, it collects menstrual fluid.
The average period cup holds around 30 ml of fluid, which is about 3x more than the average tampon. This means that it can be worn for up to 12 hours, depending on your flow. Then you have to remove it, empty it into the toilet or sink, wash and reinsert it.
It's obvious that menstrual cups are great for overnight use, as well as people who have heavy periods. To sum it up, menstrual cups are convenient, great for the environment and much cheaper than any of the other feminine hygiene alternatives.
Trust us-once you try a period cup, you'll never be going back to disposable feminine hygiene products again.
"Some people may be worried about mess and cleaning. I never clean mine in public restrooms since I can usually wear it for 12 hours without emptying it. At home it's really easy to empty into the toilet and clean in the sink." Tammy D.
Get the Lena Cup, our most popular cup on Amazon today:

Sizes of Menstrual Cups
In general, most brands of menstrual cups have two sizes: small and large. For example, the Diva Cup, Lunette Cup, and Moon Cup all follow this general rule.
The smaller menstrual cup is for people under 30 who haven't given birth vaginally. The larger menstrual cup is for people over the age of 30, or those who've had a vaginal birth.
Help in Choosing the Right Period Cup for You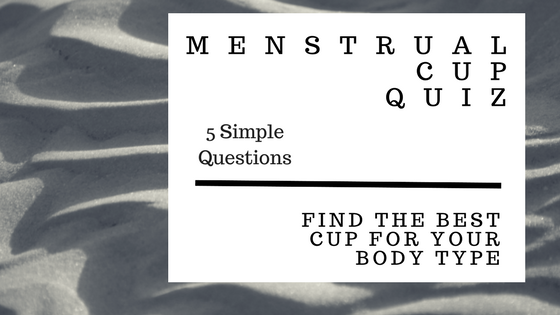 If you need some help in choosing the best menstrual cup for your body type, then you're going to love our menstrual cup quiz. We've combined all the information from our detailed menstrual cup comparison chart, along with the knowledge gleaned from reviewing ALL the cups and put it to work for you!
The result is five simple question that will take you less than a minute of your time. At the end, you'll get our top recommendation for the best menstrual cup for your body type. Love it? We think you will!
Check it out:
Top 3 Menstrual Cups Reviewed
If you need some help in choosing the best cup for your body type, then you'll need to check out the information below. We give you the basics of our three favourite menstrual cups- The Lena Cup, Diva Cup and the Moon Cup.

Manufactured in the USA, Canada and UK respectively, they're the three cups with the highest ratings on Amazon. These menstrual cups also have a great reputation for being a solid product that you can trust-they're manufactured from the highest quality medical grade silicone according to the strictest standards. They really are products that you can feel great about putting in your body.
#1 Menstrual Cup Option: The Lena Cup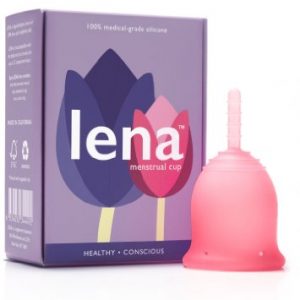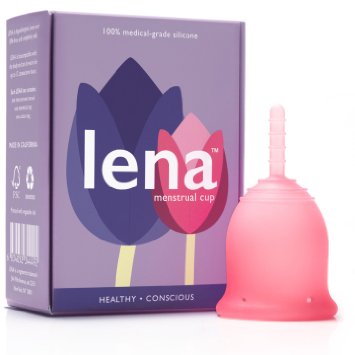 The Lena Menstrual Cup has a very high user rating on Amazon and there are very, very few specific complaints about this product. The only negatives reviews are related to menstrual cups in general and not the Lena Cup.
Not only is the Lena Cup well-loved, but it's also affordable. It's made in the USA and registered with the FDA so you can be assured of a top-quality period cup that you can use for years. Although it's a relative newcomer to the menstrual cup scene, we're sure that this top-quality cup will be around for decades to come.
Check out:
"I'm wondering why I didn't know about the Lena sooner. It has exceeded my expectations. This particular cup is very well made. The material is the perfect thickness and it pops open easily. The shape fits perfectly, and the grips on the end make removal easier. I'd recommend the Lena Cup to just about anyone." Selena T.
You can easily buy it on Amazon:

#2 Best Menstrual Cup: The Diva Cup
The DivaCup is almost synonymous with the  name "period cup," or "menstrual cup" because it's one of the oldest, most established companies. The Diva Cup is manufactured in Canada from the highest quality medical grade silicone and it's one of the few period cups to get full FDA approval from the US government. It's the menstrual cup that all others are compared to and it makes an excellent choice for your first one.
For more details:
"The Diva Cup is a life saver! I've had this for several months and I love it more every month. It saves money, there's no nasty trash to try and it allows me to have a worry-free period experience!" Kimberly F.
Check it out on Amazon:

#3 Top Menstrual Cup: The MoonCup
The MoonCup is another top-rated menstrual cup that is on the list of those approved by the FDA. It's manufactured in England and has a good user rating on Amazon. Most people who try it really seem to love it, commenting that it's easy to clean and can last for years. It has a good reputation for not leaking and being easy to insert and remove as well.
Check out:
"The MoonCup is absolutely amazing! It is not difficult to use, even for a first-timer. The directions that come with this cup are very clear, informative, and easy to follow. Folding and inserting the cup is simple.  It's also easy to grip wet or dry. I Highly recommend the Moon Cup!" Maria H.
Take a look for yourself on Amazon:

What about other Reusable Feminine Hygiene Products?
Check out Reusable Cloth Menstrual Pads
Cloth menstrual pads are another reusable feminine hygiene product that has been gaining in popularity in recent years. This is for very good reason. They're awesome! Cloth pads are very similar to their disposable counterparts, except that you throw them in with your laundry, and then reuse them. They not only work for period protection, but many people experiencing incontinence find that they work well too.
Here are a few of the reason why we love them:
Reusable Menstrual Pads are Better for your Body
Cloth menstrual pads, particularly the organic ones contain no pesticides or harmful chemicals from the bleaching process. Compare this to disposable pads. They have pesticide residue from the cotton growing process, as well as residual chemicals from when the cotton is bleached.  You'll also find that cloth pads feel better against your skin, as opposed to plastic. They breath and let some air flow in there!
Cloth Pads are Better for the Environment
Disposable sanitary napkins create a significant amount of waste. Much of it is plastic, which doesn't biodegrade for decades. This creates a lot of waste that goes to the landfill which doesn't actually need to. Reusable cloth pads can be used for years. Although they need to be washed between uses, you can throw them in with a regular load of laundry for minimal environmental impact. They truly are an eco-friendly way of dealing with your period.
Save Money By Switching to Reusable Sanitary Napkins
Disposable pads and tampons are expensive. A cheap box of pads costs about $5. Someone with a heavy period would use that entire box up each month. That adds up to $60 over the course of a year. Think about that unnecessary cost over the course of a lifetime. The average cloth pads costs around $5, or you can make your own for even cheaper.
If you have a light to normal flow, you can probably get away with 4-5 of them. With a heavier flow, you might need more. This also depends on whether or not you pair a reusable cloth pad with something like a menstrual cup. If you live in a house where you do laundry frequently, you'll also need fewer than if you do it only once or twice a week. 
Cloth Pads: A Solution for Spotting Between Periods
If you find that you spot between periods, finding an adequate solution can be tough. You shouldn't wear tampons due to the risk of Toxic Shock Syndrome. Disposable pads can be expensive if used for long periods of time, not to mention how hard it is on the environment. Think reusable cloth pads can work extremely well for this common problem.
Top 3 Reusable Cloth Pads Reviewed
If you need some help in choosing the best reusable cloth pad for you, we'll share our top three recommendations. One for light flow, one for medium and finally a cloth pad for people with heavier flows. Reusable cloth pads really are products that you can feel good about using.

#1: Wegreeco Super Long Reusable Menstrual Pads-Heavy Flow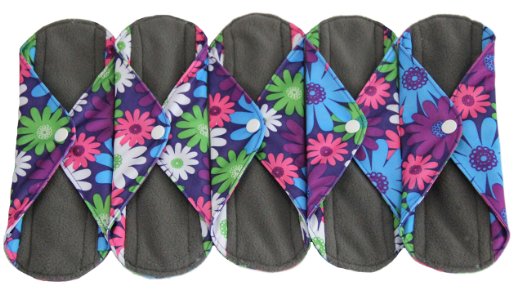 The Wegreeco extra-long cloth menstrual pads are our top pick for people with heavy flows. They also work well for overnight use. Over on Amazon, they have an excellent 4.7/5 star rating and a lot os very satisfied customers.
We particularly love the dark colour, which is far more forgiving of stains than the lighter ones. If you don't throw these in the was for a day or two, it's not a big deal. The other thing that's amazing about these cloth pads from Wegreeco is how good they feel against your skin. The bamboo layer is designed with a stay dry surface to keep you cool and comfortable. The inner charcoal layer absorbs odours and fluid well. Finally, these stay in place well after you snap them onto your underwear.
Check out:
Full Wegreeco Bamboo Reusable Menstrual Pad Review
"These pads from Wegreeco are great! With most other cloth pads, they start to stink and get stained after a short time. However, this is most definitely not the case with these ones from Wegreeco! You can put them in the washer and then the dryer and they come out clean. Compared to other cloth pads, the Wegreeco ones are large, thick, and long." Linda M.
Take a look for yourself on Amazon:

#2: Dutchess Cloth Menstrual Pads-Medium Flow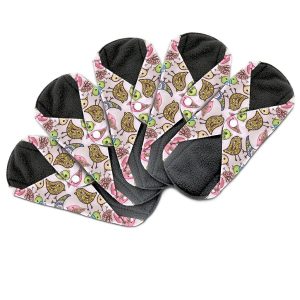 Next up on our list are the Dutchess Cloth Menstrual Pads. They are our pick for people with medium flows. These cloth pads can also work well for overnight back-up protection if you pair it with something like the Diva Cup.
We recommend them because they also have a charcoal layer, which is great at absorbing menstrual fluid and odours. They have a bamboo layer against the skin which helps you stay comfortable, and most people find them a nice width and length. Dutchess Cloth Pads have a dark pattern, which helps them to stay clean and nice-looking for a lot longer than the lighter ones.
For more details:
Full Dutchess Cloth Menstrual Pad Review
"Dutchess Cloth Pads are the perfect size: not too bit, not too small. I like that I can adjust them a bit. I've used mine for a few cycles now and they haven't stained at all. I also find that they don't leak, even on my heaviest flow days." Gail T.
You can check them out on Amazon:

#3: Hesta Organic Cotton Reusable Pad- Light Flow/Pantyliner
Last up is the Hesta Organic Cloth Panty-Liners which are perfect for very light flows, spotting between periods, or as a pantyliner. They have an excellent 4.3/5 star rating on Amazon and many satisfied customers.
One of the best things about these reusable pantyliners is that they're made with organic cotton. They really are a product you can feel good about using, and also one you can feel good having next to your body. Despite being very thin, they are super-absorbent and have a leakproof, waterproof outer layer.
Check out this article for more details:
Hesta Organic Cotton Reusable Pad Review
"These organic reusable pads from Hesta are very soft and very comfortable to wear! They are thin and don't have any bulk to them. They are made of organic cotton and my skin wasn't irritated, unlike disposable pads. The wings are wide enough to prevent leaking when active. I'm really surprised at their quality and performance. Happy I found them!" Annie M.
Take a look at this popular organic option on Amazon:

Consider Reusable Period Panties
If you're looking for some extra protection during your period, consider a pair of period panties. They are similar to regular panties, except that they contain a built in sanitary pad. After wearing them, you just throw them into the wash like a regular pair of underwear. Although period panties aren't designed as a primary source of protection, especially during your medium-heavy flow days, they can offer a bit of extra protection from embarrassing leaks.
Here are just a few of the reasons that we recommend period panties:
Period Panties are Great for the Environment
Instead of using something like a disposable sanitary pad or panty liner for a bit of extra protection, consider wearing period panties. There is nothing to dispose of in the trash, and you just throw them in the laundry with your regular washing.
Period Underwear are Great for the Pocketbook
Pads and panty lingers are expensive, especially if you wear them for a few days before, or after your period too. It can really add up, but we're sure you know that already. Buy a few pairs or period panties instead-they're similar in price to a nice pair of regular panties.
Use Period Panties for Spotting Between Periods
If you're someone who regularly spots between periods, it can be difficult to find a good solution for this. Disposable sanitary napkins can be expensive. Instead, consider using period panties. Try them out for yourself and we're sure you won't go back to any of the other options out there.
Period Underwear: Extra Protection for a Heavy Flow
If you have a very heavy flow, you'll probably find that you need something else besides a menstrual cup in order to prevent leaking. This is especially true at night, if you don't want to get up in the middle of it to change soiled bedding and underwear.
Top 3 Period Panties: Make the Best Choice
If you're looking to get a pair of period panties, you'll probably notice that there are a ton of choices out there. We'll review our top three period panties to help you make the best decision possible. Keep on reading for our favourite period panties that offer some excellent protection, minus all the bulk.

#1: Yoyi Fashion Leakproof Breathable Period Panties
First up in our list of the best period panties are these ones from Yoyi Fashion Menstrual Briefs. They have some excellent reviews on Amazon and most people who use seem to love them. They are fashionable, and surprisingly, look almost like regular panties.
The things we love best about these Yoyi Period Panties are that they're leakproof as well as breathable. The outer layer is waterproof, and the rest of the material is stretchy and will feel good against your skin. When you have your period, we know that you just want something comfortable. These period panties from Yoyi are just that.
To find out more about our top-rated period panties, check out:
Review of Yoyi Fashion Breathable LeakProof Period Panties
"These period panties are very comfortable and just like wearing regular underwear. They don't slide around or feel like I'm sitting on a big pad. The aren't bulky at all. The best thing is that they don't leak thanks to the waterproof layer in them. I'm sold!" Jenny A.
You can check them out for yourself on Amazon:

#2: Anigan Stain Free Menstrual Period Panties
These menstrual period panties from Anigan have some excellent reviews on Amazon.  They are very comfortable to wear, with the stretchy, moisture wicking fabric. After all, the last thing you want during your period is a pair of uncomfortable underwear! A special note about Anigan period panties. They fit a bit small, so perhaps order one size bigger than your would a normal pair of underwear.
We particularly love how fashionable these ones are! If you don't want to wear grannie underwear during your period, then these are the ones that you need. And they really are stain-free, even if you don't soak or wash them immediately after using them.
For more details about these fashionable period panties, check out:
"I was originally looking to purchase some other period panties, but was turned off by the high price. This product is half the price but still works well. They don't leak and the design is quite stylish. I was so satisfied that I ordered another pair." Tony A.
You can find them on Amazon:

#3: Anna + Eric LeakProof Period Panties
Last but not least on our list of the top period panties is this pair from Anna & Eric. They are much cheaper than some of the other period panties out there (THINX!), but work surprisingly well.
One of the things we like best is that they have a waterproof layer to them. No more embarrassing leaks! They are also made from stain-free material, as long as you follow the care instructions on them.
You can check out more details about these popular period panties here:
Anna & Eric Leakproof Period Panties Review
"They really work! They are waterproof and perfect to use for a light day, or to combine with a tampon or menstrual cup. I like the cute packaging and colours too. AJ
You can easily find them on Amazon:

---