If you live in South Africa, you may want to know where to buy a menstrual cup, and which brands are available to you.
We'll give the rundown of how to get yourself some eco-friendly, affordable, safer period protection going on. Let's get started with everything you need to know about buying a menstrual cup in South Africa.
Option #1 for a Menstrual Cup in South Africa: The MoonCup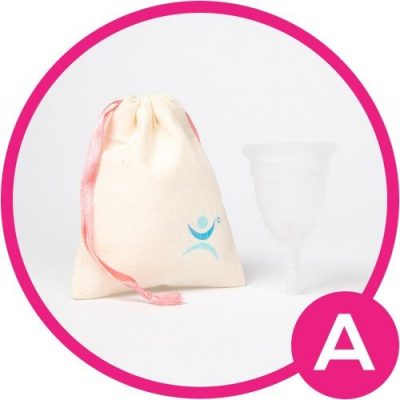 The first option that we recommend if you don't have an Amazon marketplace in the country where you live is buying the Mooncup directly from the company. Here are a few of the reasons why you might consider it:
Shipping (untracked) is usually free (it currently is to South Africa) to most countries in the world
You can get tracked shipping for a small additional fee
It's a top-quality menstrual cup that most people really like
The company has been around for years and has an excellent reputation
There are two sizes and you should be able to find the one that works for you
You can check out the Mooncup for yourself at the company website:

Still undecided about whether or not it's the right menstrual cup for you? Check out our Review of the Moon Cup.
Option #2: Amazon USA
We checked out the shipping rates to Africa page over on Amazon, and here's what they had to say about South Africa. Hint: We have some good news for you!
South Africa and Egypt are both eligible for standard shipping rates. Basically, personal care items, at the time of writing this article cost $6.99 per shipment.
That's not bad, especially if you live here and have a difficult time finding menstrual cups.One of our favourite menstrual cups is the Lena Cup. It's easy to insert, doesn't leak and feels very comfortable.
It's a top-quality menstrual cup that has some of the best user ratings on Amazon. Most people that try it really seem to love it. The company is committed to selling a reasonably priced, high-quality cup and they've definitely succeeded at that!
Check out the Lena Cup for yourself over on Amazon USA:

Option #3: The Miacup
The final option for people who live in South Africa is the Mia Cup. The company is based in South Africa, so you might be able to find it at your local drugstore.
The company offers a money-back guarantee, and the cup itself is high in quality and seems to work for most people.
Check out the Macup for yourself at the company website:
You can contact the company directly for information on how to buy it. It's a nice solution if you like to shop local.
Menstrual Cups South Africa: Have your Say!
Do you have a place that you recommend getting a menstrual cup from in South Africa? Leave a comment below and let us know your secret. We'd love to hear from you.
Also be sure to give this article a share on Facebook, Pinterest, or Twitter. It'll help other people, like yourself who are from this country and want to buy a menstrual cup.