An Introduction to the Ruby Cup
The Ruby Cup is a relative newcomer to the menstrual cup world (started in 2011), but they are quickly getting a lot of attention. Part of this is simply because Ruby Cup makes a top-quality menstrual cup at a decent price.
But, the bigger reason is that for every period cup someone buys, Ruby Cup donates one to a person in need. We LOVE this here at Reusable Menstrual Cups! And we sincerely hope that other reusable feminine hygiene companies start to do the same. It has the potential to change a whole lot of lives for the better.
Is the Ruby Cup for You?
Let's get into a few details about the Ruby Cup and whether or not it's a good one for you to consider for your body type. The Ruby Cup is similar to other menstrual cups in that there is a small and a large size (called medium by Ruby Cup).
The small size is a bit below average, while the large is bigger than average. We love this! There are so many companies that offer a small and large size that are in fact not really different from each other.
In terms of design and stiffness, it's similar to the Fleur Cup. Most people who use it, find it reasonably easy to insert and remove, as well as clean. The stiffness falls somewhere in the middle-it pops open when it's inside you, but it's not so stiff that it's uncomfortable.
Made in China
The biggest negative of the Ruby Cup is that it's made in China. Generally, we don't recommend menstrual cups made in China because they are often low-quality knock-offs of the brands manufactured in North America or Europe. By low-quality, we mean silicone that is not medical grade, and cups that are so flimsy that they barely work.
However, the Ruby Cup appears to be different. Although their cup is manufactured in China, it seems to be a top-quality menstrual cup. They use 100% medical grade silicone that is approved by the FDA and meets EU standards.
According to Ruby Cup, the manufacturer they have chosen is an expert in silicone tooling and production. They have been working with European companies for years. Quality assurance is done by a Danish company that specializes in silicone products. From what we can see, the Ruby Cup seems to be a safe product made to strict manufacturing standards from top-quality medical-grade silicone. It's a product that you should feel safe putting into you body!



About the Company
Ruby Cup was started by three women as a business school idea. They not only wanted to introduce a new menstrual cup to the world, but they wanted to help make the world a better place. To date, they have donated more than 24,000 menstrual cups to women in low income communities around the world.
Sizes of Ruby Cup
There are two sizes of Ruby Cup, a small and a medium. It's a bit unusual in that instead of recommending a cup based on age, or pre/post child-birth, Ruby Cup recommends based on flow. The small size is for light to medium flow, and the large is for medium-heavy flow.
Ruby Cup Small
| CUP LENGTH | STEM LENGTH | TOTAL LENGTH | DIAMETER | CAPACITY TO THE RIM | CAPACITY TO THE HOLES |
| --- | --- | --- | --- | --- | --- |
| 46 mm | 19 mm | 65 mm | 40 mm | 24 ml | 19 ml |
Ruby Cup Medium
| CUP LENGTH | STEM LENGTH | TOTAL LENGTH | DIAMETER | CAPACITY TO THE RIM | CAPACITY TO THE HOLES |
| --- | --- | --- | --- | --- | --- |
| 51 mm | 17 mm | 68 mm | 45 mm | 34 ml | 24 ml |
As you can see from the above charts, the Ruby Cup Small has a below average capacity. For example, the Diva Cup, Moon Cup, and Lunette all have capacities of around 30 ml.
The Ruby Cup Medium has an above average of 34 ml. This makes it one of the highest capacity menstrual cups on the market today. It's an excellent option to consider if you have a heavy flow. You can pair it with something like a reusable cloth pad, or a pair of period panties for some serious protection, especially at night.
There are five colours available: blue, clear, pink, purple and red. Menstrual protection that's not boring-Love it!
One of the Softest Menstrual Cups
The Ruby Cup is one of the softest menstrual cups you can buy. Some people like softer cups because they find them more comfortable. This is because they don't press so strongly against your vaginal canal walls, and they are less likely to cause cramps than some of the stiffer cups.
However, the main disadvantage to a softer menstrual cup is that it can be a bit more difficult to insert. This is because it doesn't just pop open easily like the stiff cups do. You may have to twist, and rotate it in order to get it to seal to your vaginal canal walls.
Most people do eventually get the hang of it though, so don't be scared off by this! For more details, check out our handy menstrual cup firmness chart: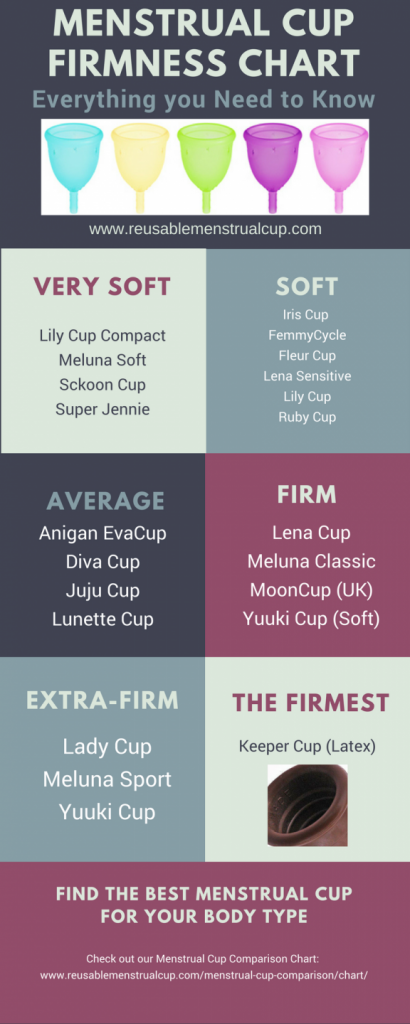 Buy the Ruby Cup
If you want to buy this popular menstrual cup, the best place is online. Usually we recommend that people buy menstrual cups on Amazon because you'll find the widest selection of all the brands, colours and sizes, as well as excellent prices. However, it's quite difficult to find this cup on Amazon in our experience. We recommend getting the Ruby Menstrual Cup directly from the company. You can check out their shop here:


Shipping is very reasonable to most countries. We love buying directly from the company!
Ruby Cup Pros
Buy one, donate one program. Help someone in need. They get a cup, you get a cup. Love it!
The medium size is one of the highest capacity menstrual cups on the market today. This makes it an excellent option for someone with a heavy period.
Manufactured from the highest quality medical grade silicone, according to strict standards.
Can last for up to 10 years with proper care.
An eco-friendly feminine hygiene option from a socially conscious company.
A nice, medium level stiffness. It opens easily when inside you, but it's not so stiff that it's uncomfortable.
Ruby Cup Cons
Made in China. The cheap, low-quality menstrual cup knock-offs are often made there. However, the Ruby Cup seems to be an exception.
More expensive than most other menstrual cups on the market today (around $10 more than something like the Diva Cup). However, this is likely because they donate one cup to people in need for every cup bought. This will obviously increase their production costs and overhead.
More Ruby Cup Reviews
How to Insert and Remove the Ruby Cup
Here is some advice from the company about how to insert and remove a Ruby Menstrual Cup.
Wash your Hands
Always wash your hands before handling a menstrual cup. You don't want to introduce all sorts of germs into your vaginal canal. If you're in a public restroom, wash your hands before going into the stall.
Fold the Cup
Ruby recommends the "C" fold.
Insert the Cup
Insert the folded cup into your vaginal canal. It's designed to sit lower than a tampon would, but it should still be fully inserted. Make sure the cup is fully opened, and sealed to your canal walls by running your finger around the outside rim.
Clean the Cup
Ruby recommends rinsing your cup in warm water before reinserting it. If there is no water available, they recommend cleaning it with a tissue. They don't mention the need for soap, or something like the DivaWash.
You can of course, use the DivaWash if you want to keep your cup in tip-top shape. Although these menstrual cup cleansers are a little bit expensive, you only need to smallest amount of them because they lather very well. Most people find that a small bottle lasts for months.
Remove the Cup
Again, wash your hands before removing the cup. Grab the stem and use your pelvic floor muscles to push down the cup until you can grab the base of it. Squeeze the sides of your cup with your fingers until the seal is broken. Pull it out. That's it!

Care and Cleaning of the Ruby Cup
During your period, the company recommends using warm water to keep your cup clean. If you use soap, they recommend a mild, non-scented one. Our tip is to be sure to wash off any soap residue. You don't want to get that stuff up in your vaginal canal because it can lead to infections.
As the end of your period, you can boil the cup for 5 minutes (absolute maximum is 15 minutes before the silicone starts to degrade). Be sure not to let the cup touch the edges of bottom of the pot. You can also do it in the microwave. Ruby has an option to include a "clean cup" in the package, which is a cup that you can use to boil your menstrual cup in the microwave. It's a few extra bucks, and may be worth it for you.
As far as storing goes, make sure your cup is completely dry after sterilizing it. Then, keep it in the cotton bag that came with your cup. Or, wrap it loosely in a paper towel and store it in your drawer. The most important thing is to make sure your period cup is exposed to air because it discourages bacteria growth. No air-tight containers!
The Takeaway on the Ruby Cup
120 Day Money-Back Guarantee
The thing we love most here at Reusable Menstrual Cups is a company that stands behind their products. And Ruby Cup is a company that certainly does that. They offer a 100% satisfaction guarantee which means they offer a full refund within 120 days with no questions asked. Or, they'll switch your cup size within that time as well. This is (one of?) the most generous return policy of any menstrual cup we've run across. And this factor alone makes the Ruby Cup worth checking out.
Committed to Social Change
The other thing we love about the Ruby Menstrual Cup is that they are a company committed to social change for people in the developing world. More cups in the hands of people in developing countries means more people are going to school or work every single day. We love it and wish that more menstrual cup companies would follow suit.
A Top-Quality Menstrual Cup
As far as the actual cup goes, although it's manufactured in China, it's a top-quality product. It's made from medical grade silicone that is FDA approved. The design and sizing of the cup is excellent and people who use it really seem to like it. It's easy to insert and remove and doesn't seem to leak.
It's a Buy!
Based on these three factors-the money back guarantee, social activism, and the fact that it's just a good menstrual cup make the Ruby Cup a buy. It's hard to find on Amazon (don't be fooled by the cheap knock-offs), so we recommend buying it straight from the company. You can check it out on the company website by clicking on the banner below: