Fleurcup Review
The Fleur Cup is a popular menstrual cup that is made in France. Here are a few quick facts about it:
Made from top-quality, medical grade silicone
Flat stem, as well as ridges and bumps on the bottom makes removal easy
2 sizes of Fleur Cup Menstrual Cup (small is quite small, while the large is very large)
Very soft compared to other menstrual cups
The Fleurcup menstrual cup holes are designed for easy cleaning
Some excellent user reviews and ratings from customers
It can be difficult to find the Fleurcup Menstrual Cup in stores if you don't live in France. That's why we recommend shopping online. You can find this popular period cup here: Fleurcup on Amazon.
FleurCup Pros and Cons
The Fleurcup is made in France and has many positive reviews and a good overall rating online.
The Fleur Cup menstrual cup makes a decent choice as it's manufactured from the highest quality medical-grade silicone by a reputable company that has been in business for years.
Here at Reusable Menstrual Cups, we love European made sanitary cups. They're top-quality, albeit a bit expensive sometimes. Our favourite menstrual cups from Europe include the Lunette Cup (Finland) and the MoonCup (England).
Many people like the flat stem as well as the ridges and bumps on the bottom of the Fleurcup. They comment that it makes removal of this cup very easy as compared to cups with a round stem like the Diva Cup or Moon Cup. However, some women find the flat stem uncomfortable once it's inside of them.
Where to Buy the FleurCup
It can be a little bit difficult to find the Fleurcup outside of France at physical stores. It's not a very popular cup.
However, you can get it easily on Amazon. If you want to have a safer, healthier, cheaper and more eco-friendly period experience, then consider making the switch to a menstrual cup.
Check out the Fleurcup for yourself today:

I Can't Find the FleurCup. Consider the Sckooncup
If you live in Canada or the USA, it can be quite difficult to find the Fleurcup, even on Amazon.com. The good news is that the Sckooncup is almost identical.
The design is very similar, and it's also one of the softer menstrual cups. Just about the only real difference is the large sizes of both of these period cups. The Fleurcup is larger than average, while the large Sckooncup is only slightly above average and doesn't make the best choice if you have a heavy period.
Need more information about the Sckooncup? Check out our full review. Or, head over to Amazon to learn more:

What People are Saying about the Fleurcup Menstrual Cup
"The Fleurcup is the most comfortable menstrual cup that I've tried (I've used the Diva Cup, Luna Cup and Yuuki Cup) because it's softer than those other ones. I also like the size of the small Fleurcup—it doesn't push on my bladder like the bigger menstrual cups."
"The Fleurcup was my first menstrual cup, and I have to say that I'm not really impressed. I think it's too soft for me and I could never really get it to open correctly. In hindsight, I should have gotten a firmer menstrual cup since I'm a beginner."
"I used to get cramps on the first couple days of my period from the Diva Cup and the MoonCup because they're so firm. I decided to go with the Fleurcup, which is a softer cup and I'm sure glad I did! No more cramps. Finally."
More Fleur Cup Reviews:
Two Sizes of Fleurcup:
The Fleurcup: Small: Under 30, light flow, pre-birth. 41 mm diameter, 70 mm length, 25 ml capacity.
The Fleurcup: Large: Over 30, heavier flow, post-birth. 46 mm diameter, 70 mm length, 35 ml capacity.
Fleur Cup Length: Possible to Modify It
If you have a regular-high cervix height, then the 70 mm length should work well for you. You'll find that the stem is easy enough to grip and pull down, in order to grasp the base to remove the cup. However, it's not so long that the stem will stick out of you.
If you have a low cervix, this cup at 70 mm will be too long. However, the company recommends cutting the stem to your desired length. This is something that is possible with most menstrual cups if you've accidentally bought one that is too long for you. Instead of buying a new cup, try trimming the stem first!
Small is Actually Small, Large is Actually Large
One thing we love about the Fleur Cup is that the small really is quite small, while the large actually is quite large. This is unlike many menstrual cup companies that offer two options which are both essentially average.
Consider the Large Fleur Cup Menstrual Cup if you Have a Heavy Period
The small Fleur cup may be a nice option for a smaller person or a teenager. You might want to consider the large one if you have a heavy period. With a capacity of 35 ml, it's one of the higher capacity menstrual cups you can buy.
For more details about low, and high capacity menstrual cups, then you'll need to check out this out: Menstrual Cup Capacity Chart.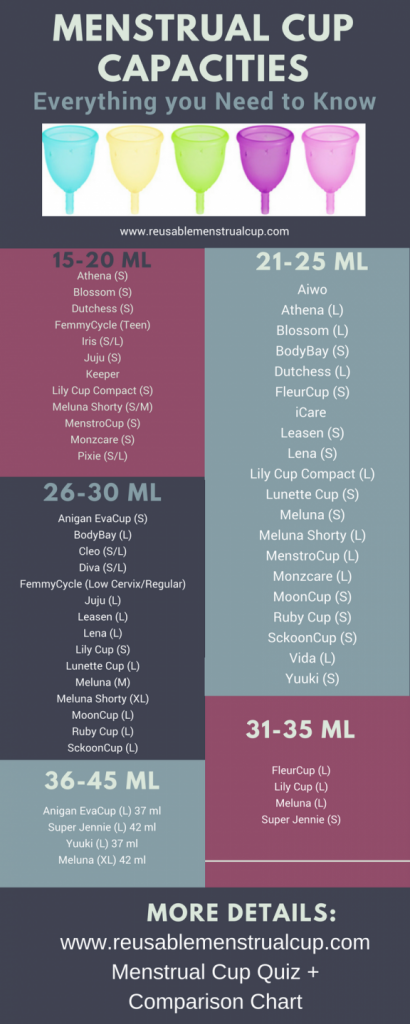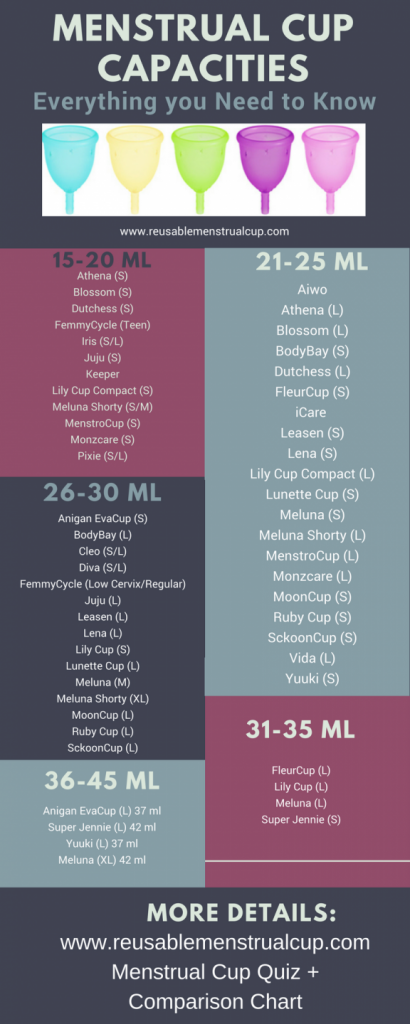 More High Capacity Menstrual Cups
The large Fleurcup does hold a decent amount of fluid, but ther are other period cups that hold even more. Check out our comparison chart for more details:
The Best High-Capacity Menstrual Cups
FleurCup: Design
In terms of design, the FleurCup is pretty standard in the menstrual cup world. One thing that we appreciate however is the ridged stem.
You may have had the experience too? You're wearing a menstrual cup with a smooth stem, and then you try to pull down the stem so you can grasp the base. But because it's wet down there, the stem is so slippery and major frustration is the result!
That's why we love stems with ridges, or balls on them.
Here's what the company says about their design:
The Fleur Cup has a rounded design, along with a "peach skin" texture, and 4 air holes which allows you to easily insert and remove it.
There is no writing to allow for easy cleaning. Although you should pay attention to the air holes.
The stem is supple, long, and ridge to ensure easy removal, but maximum comfort when wearing your Fleur Cup. The stem can be trimmed to length if required. Just be sure to start small and only trim as little as possible.
One of the Softest Menstrual Cups You Can Buy
In terms of stiffness, the Fleur Cup is one of the softest menstrual cups that you can buy. In general, we don't recommend that menstrual cup beginners start with one of the softer cups because they can be quite difficult to insert.
A softer cup won't just pop open easily once inside you, unlike with the stiffer cups. You may have to jiggle it around a bit in order to get it to open, and seal to your vaginal canal walls. Most people find it's easy enough to do. However, there is a bit of a learning curve and it may take you a few cycled to get the hang of it.
The main advantage to a soft menstrual cup is that it will feel very comfortable when inside of you. Most people don't feel it pressing against their vaginal canal walls at all.
Soft, or firm menstrual cup? It really is up to you! For more details, check out our handy menstrual cup firmness chart: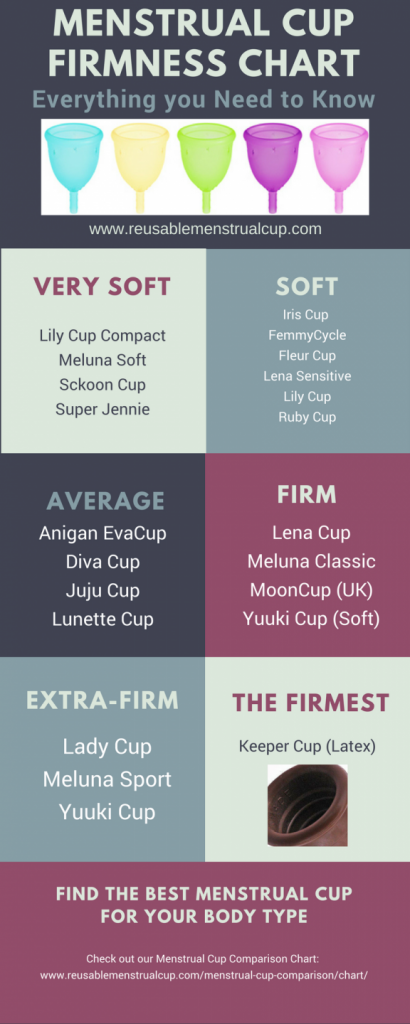 More Soft Menstrual Cups
If you're looking for a softer menstrual cup, there are lots more options beyond the Fleurcup. You can check out our top picks in this comparison chart below:
The Softest Menstrual Cups
Fleurcup Pros:
This period cup is manufactured in France and perfect for Europeans who like to shop local.
It's a reputable company that has been in business for years. You can trust that this product is manufactured from medical grade silicone according to the highest quality standards.
The large size has a capacity of 35 ml (Diva Cup = 30 ml), making it a good choice for women with a heavy flow, especially at night.
This cup pops open really easily so that most people are able to get it positioned correctly and prevent leaks.
It's decently priced.
It's one of the softer menstrual cups, which makes it a nice option for people who've found that the firmer cups cause cramping.
Feels soft to the touch.
Air holes are designed for easy cleaning.
Easy to grip stem. It can also be modified if you need to make your cup shorter.
You can check out the FleurCup for yourself over on Amazon:

Fleurcup Cons: 
The silicone is very dense and it pops open really easily. This is good for some, but it can be difficult to insert. You have to fold the cup and make it smaller to insert into the vagina, but if it's too stiff, it won't be so easy to do this.
The ridges on the bottom of the cup are very pronounced. This can make removal very easy but some women report that it's very uncomfortable and that the ridges feel "sharp" once inside of them.
The company has a terrible website! It's surprising that they wouldn't invest some money into a decent English website if they're selling their product on Amazon USA. I won't even link to it, it's so bad! Think 1990's!
The price. The Fleur Menstrual Cup is one of the more expensive cups out there.
Isn't the Fleur Cup Kind of Expensive?
If you take a look over on Amazon, you'll notice that there are a lot of cheap menstrual cups, ranging in price from $5-15 USD. You'll notice that the FleurCup is usually a lot more than that!
Some of the cheap brands include: BodyBay Cup, OTBBA Cup, Vida Cup, Aiwo Cup and the Aneer Cup.
If you're on a tight budget, you might be tempted by one of these more affordable period cups. However, we generally recommend against them for a few different reasons.
The most important one is that a menstrual cup is something that you're going to be putting into your body for up to a week each month. The cheap cups are often not made from medical grade silicone, and quality control checks are not minimal. They are personally not something I'd consider putting into my own body. It's just not worth the few bucks that you might save.
The other reason to give these cheap menstrual cups from China a pass is because they just don't work that well. They're often so flimsy that they never really fully open inside of you. This results in some serious leaking. Most people end up going back to tampons, or getting something like the Fleur Cup in the end anyway.
So is the FleurCup expensive? Not really, when you consider that it's a top-quality menstrual cup manufactured in Europe.
Is the Fleur Menstrual Cup Good for Beginners?
If you're looking for your first menstrual cup, you may want to know if the Fleur Cup is good for beginners. Although it's an excellent menstrual cup, it probably wouldn't be our first choice for your very first cup.
In general, we recommend a firmer menstrual cup to start with because they're easier to insert. After you fold and insert a firmer menstrual cup, it should just pop open pretty easily inside of you.
For the softer menstrual cups, you may have to jiggle and twist them around a bit to get them to work. Most people figure it out, but there's kind of a steep learning curve with them that may frustrate a beginner.
Which Menstrual Cup is Best for a Beginner?
Which menstrual cup is better for a beginner? Out top-rated menstrual cup here at Reusable Menstrual Cup is the Lena Cup. It has some excellent user ratings and reviews over on Amazon and most people that try it really seem to love it.
The reason why we recommend it for your first menstrual cup is because the firmness is a big firmer than average. This means that it pops open really easily and you should be able to insert it without too much stress or hassle.
If you're looking for your first menstrual cup, check out the Lena Cup over on Amazon:

See more of our top recommendations for the best menstrual cups here:
Fleurcup vs. Diva Cup
The Diva Cup is the most popular menstrual cup in the world. It's made in Canada from medical grade silicone and is the first modern-day menstrual cup made from that material (The Lunette and Mooncup were soon to follow).
With this long track record, come thousands of positive reviews for the Diva Cup. People really love this menstrual cup!
The Divacup is so good that many people choose it for their first menstrual cup and then end up sticking with it for the rest of their lives. For more details, please check out our Divacup Review.
What about the Diva Cup vs Fleurcup?
The most important difference is that the Diva Cup is stiffer, while the Fleur Cup is softer. This means that the Fleur Cup can feel a bit more comfortable, but it can also be a bit difficult to insert for beginners.
Most people find the Diva Cup pretty easy to insert, but for a small percentage of people, it can cause cramps.
In terms of sizing, the small Fleurcup is smaller than the small Diva Cup, while the large is larger. The Diva Cup, both small and large is actually kind of average-sized cups.
You can check out the Diva Cup for yourself over on Amazon:

FleurCup vs. Lunette Cup
Check out our head to head battle of these two popular European made menstrual cups:
Fleurcup vs Other Menstrual Cups
Cleaning and Care of the FleurCup
With proper care, menstrual cups can last for up to 10 years. With improper care, the silicone can begin to degrade in a matter of months. If you want to get the most value for your money, you'll need to look after cup. Here's what Fleurcup recommends:
Wash your Hands
Before doing anything with a period cup, you should wash your hands. This is to prevent any sort of germs from being introduced into your vaginal canal. It's sensitive up there!
Clean with Water and Soap
Fleurcup recommends cleaning your cup with water, and a gentle non-scented soap after you remove it, and before inserting it. Be sure to wash off any soap residue well for the same reason as above-it's sensitive in there!
Or, use a Menstrual Cup Cleanser?
Instead of soap and water, some people use a menstrual cup cleanser like the DivaWash, or PixieWash. These products are a bit expensive, but you need to use only the smallest amount because they lather up quite well. Most importantly, they'll keep your menstrual cup in tip-top shape for years to come.
There are a lot of menstrual cup washes on the market today. We've done the hard work and narrowed down the choices. Check out our top picks in this chart below:
Best Menstrual Cup Wash
Sterilize after your Period is Done
When your period is finished, you can sterilize your Fleur Cup by boiling it for 5-10 minutes. You can microwave it, but we recommend using a wide, deep pot on the stove. Be sure the cup doesn't touch the sides or bottom of the pot as this can damage it.
Proper Storage of the FleurCup
After sterilizing your Fleur Cup, be sure to let it dry completely. Then put it in the cloth bag it came in until next month. Or, just wrap it loosely in a paper towel if you don't have the cloth bag. Whatever you do, never store it in an airtight container because that causes some serious bacteria growth.
What about the Holes?
The FleurCup has four holes in it to assist with removal. Some people find these holes annoying because they're pretty difficult to keep clean.
However this cup is quite well designed and the holes are quite accessible. They're easy enough to clean by just using soap and water, and no special devices like a toothpick or old toothbrush.
Compare Menstrual Cup Washes
What about Sex with the Fleur Cup?
A common question that people have is whether or not they can have with the Fleur Cup. The easy answer is no! However, if you want to have anything besides penetrative sex, the Fleur Cup can actually make a nice option because your partner may not even know you have your period.
However, for penetrative sex, regular menstrual cups are not suitable because they're just too big, and there isn't enough room up there. They're also very stiff, and it certainly wouldn't be comfortable for you, or your partner. Trust us, it doesn't feel good so don't even try it!
If you want to have sex during your period, you should instead consider the Instead Soft Cup/ Flex Menstrual Disc. They are both made by the same company, and are very similar products.
Unlike the FleurCup, they're disposable which means you'll lose out on the eco-friendly benefit of reusable cups. Because of this, we usually recommend normal cups for everyday use, and then a Soft Cup for those "special" times.
Soft Cups sit right up under your cervix, and are flat discs, which is why they'll work for sex during your period. You can check them out on Amazon here:

More Options for Period Sex
There are lots more options for sex during your period than the Soft Cup, including one reusable menstrual cup. Check out our top picks here:
The Best Period Sex Options
Fleur Cup and Toxic Shock Syndrome
An excellent question that people have is whether or not they can get toxic shock syndrome (TSS) from a menstrual cup. It's a rare, but serious medical concern. Let's talk facts.
There are thousands of cases of TSS from tampon usage. To date, there has only been one case from a menstrual cup (the Diva Cup). It happened because the person cut themselves when inserting the cup at the beginning of their period.
It should be noted that there way more people using tampons than menstrual cups, so this could be part of the reason for the higher incidence rate. In reality, the risk from tampons is very small too, especially if you take basic precautions like changing it frequently enough.
However, it does seem clear that the overall risk of toxic shock syndrome is very low for menstrual cups, and is in fact probably lower than with tampons.
Can I Use the Fleur Menstrual Cup with an IUD?
The company says, "yes" on their website, but gives no further information beyond that. We have a few quick tips for using the Fleur Cup with an IUD that apply to all menstrual cups in general.
First of all, consult with your doctor. They'll have the best advice for your specific situation and whether or not the FleurCup will work with an IUD.
Be gentle when inserting your cup. Keep it low in the vaginal canal.
Be even more gentle when removing the FleurCup. DO NOT pull it out by the stem only. Squeeze it in at the base to break the suction seal. Then, pull it out by the base slowly. You should only pull down on the stem until you can reach the base of the cup.
Make sure you have the correct length of period cup. There should be space between your cervix and the cup. In general, shorter cups are better for you if you want to use them with an IUD.
Check the string location periodically to make sure they haven't moved. If they have, get it checked by a medical professional.
You can ask your doctor to trim the stem as short as possible on your IUD. This can help make sure your FleurCup doesn't interfere it.
Will I Get More Yeast Infections with Fleurcups?
A common question that people have is whether or not they can get a yeast infection (or opposite problem, Bacterial Vaginosis—BV) from Fleurcups.
Most people find that they get fewer yeast infections or cases of BV when switch to a menstrual cup from tampons. This is because of a few different reasons:
The Fleurcup doesn't dry out your vagina like with tampons. This helps your body to maintain it's natural state more easily.
Some tampon brands contain trace amounts of toxic chemicals in them which can throw off the pH balance in your vagina.
It's possible for leave some fibers behind when you remove a tampon. This can irritate your vagina.
Yeast Infections from the Fleur Cup: Possible Reasons
If you've found that you're getting yeast infections, or bacterial vaginosis after switching to the Fleurcup, here are a few things you can do:
Wash Your Hands Well
Before inserting or removing your Fleurcup, or even handling it, be sure to wash your hands well. If you don't, you can introduce all sorts of nasty bacteria into your vagina, which can lead to yeast infections.
Keep your Fleur Cup Clean
Be sure to clean your Fleur Menstrual Cup well whenever you remove it. You can do this with a mild soap and water, or a menstrual cup wash.
Make sure you wash off any soap residue very well before reinserting your cup.
Sterilize your Fleurcup
At the end of your period, you can deep clean your Fleur Menstrual Cup. Use an old toothbrush to scrub any nooks or crannies.
You can also boil your cup for 5 minutes in a pot of water on the stove in order to sterilize it. Be sure to keep an eye on things and don't let your Fleur Cup stick to the edges, or bottom of the pot.
Can I use the Bathroom with the Fleur Cup In?
A common question that beginners to menstrual cups have is whether or not they can use the Fleurcup while going to the bathroom. The good news is that you can! It'd be very inconvenient to have to take out your period cup every single time you had to pee.
Let's talk anatomy "down there" for a minute.
You have three holes:
Urethra where pee comes from
Anus where poop comes out of
Vagina, where menstrual fluid flows from, and where you insert a tampon or menstrual cup
In theory, peeing or pooping shouldn't interfere with a menstrual cup.
However, you may find that it takes a long time to pee while you have your Fleur Menstrual Cup in. This is because the vagina and urethra are quite close together.
A menstrual cup can push against your vaginal canal walls, which can in turn restrict the tube that pee comes out of. As long as it's not uncomfortable, then it's no problem.
If you have some discomfort when peeing, consider switching to a smaller, or softer menstrual cup.
The Takeaway on the FleurCup
The main reason that you might buy a FleurCup is if you're from France and like to shop local. Support your economy!
The other reason to consider the Fleur Cup is if you have a very heavy period, but also a low cervix. It can be pretty difficult to find a cup that will work for you. However, the large size might make an excellent pick for you.
A Soft Menstrual Cup
Finally, the FleurCup is one of the softest menstrual cups you can buy. If you find some of the firmer, stiffer cups like the Lena Cup, Diva Cup or MoonCup uncomfortable (or experienced cramping), you may want to try out a soft menstrual cup like this one. It won't press so strongly against your vaginal canal walls, and you'll likely have a better experience.
Don't give up on period cup altogether!
Overall, the Fleur Cup is a top-quality cup that is made from medical grade silicone. Although it's not so popular around the world, this is not an indication of the quality. It's worth checking out!
Buy the FleurCup on Amazon: 

Have your Say about the Fleurcup
What are your thoughts about the Fleurcup menstrual cup? Is it a buy?
Or, are you considering another menstrual cup brand. Leave a comment below and share your thoughts with us.
Last update on 2021-04-17 / Affiliate links / Images from Amazon Product Advertising API