A Review of the IrisCup
The IrisCup Menstrual Cupis a period cup manufactured in Spain from high quality medical grade silicone. It's reasonably priced, but is it a top-quality cup that you should consider putting into your body?
2 Sizes of Iris Cup
The Iriscup comes in two sizes: small and large. The small is for those who haven't given birth, or are under the age of 25. The larger period cup is for those who've given birth vaginally, or are over the age of 25.
Iriscup small: 65 mm length, 40 mm diameter, 15 ml capacity
Iriscup large: 65 mm length, 45 mm diameter, 20 ml capacity
You can find the Iris Cup on Amazon:

Very Low Capacity
At 15-20 ml capacity, this is one of the lowest on the market today. Compare this to something like the Diva Cup, which has a very average capacity of 30 ml.
If you have a regular-heavy period, then the Iris Cup is certainly not the cup you want. A jumbo tampon has a capacity of around 10 ml, so you'll end up losing one of the big advantages of a menstrual cup, which is having to deal with it less often.
If you have a heavy period, instead, consider one of these high-capacity cups, with room for up to 42 ml of fluid.
Iris Cup Unboxing
One of the Softest Menstrual Cups
The Iris Cup is one of the softest menstrual cups you can buy. Perhaps you've found the average or firm cups felt uncomfortable, or even caused cramps?
If this is the case, you might want to consider a softer menstrual cup like the Iris Cup. They won't push so strongly against your vaginal canal walls and may feel more comfortable inside of you.
The main disadvantage to soft menstrual cups is that they can a little bit difficult to get inserted correctly. They don't just "pop" open like the stiffer cups do. You may have to spend some time turning the Iris Cup one way, then the other in order to get it to fully open and suction to your vaginal canal walls.
It takes most people a few cycles, but they eventually figure it out, even with a softer cup.
We usually recommend that beginners stick with an average/firm menstrual cup, while those experienced with cups, can try one of the softer ones.
For more information, check out out handy Menstrual Cup Stiffness Chart: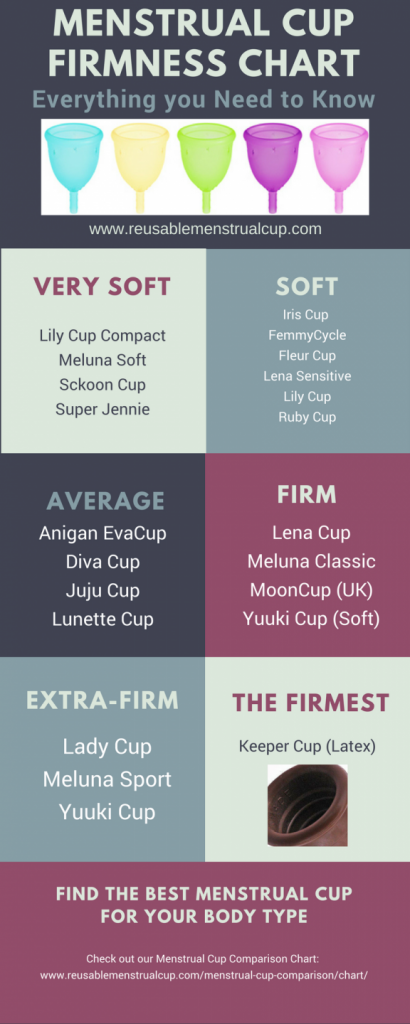 One of the Lowest Capacity Menstrual Cups
Coming in at 15 ml capacity for the small Iris Cup, and 20 ml for the large, this is certainly one of the lower capacity menstrual cups you can buy. If you don't have a heavy period, this may be fine. It does have the advantage of being one of the smaller menstrual cups, which may work well for teens or otherwise small people.
However, if you do have a heavy period, then the Iris Cup probably isn't a great choice.
Check out this menstrual cup capacity chart for more details: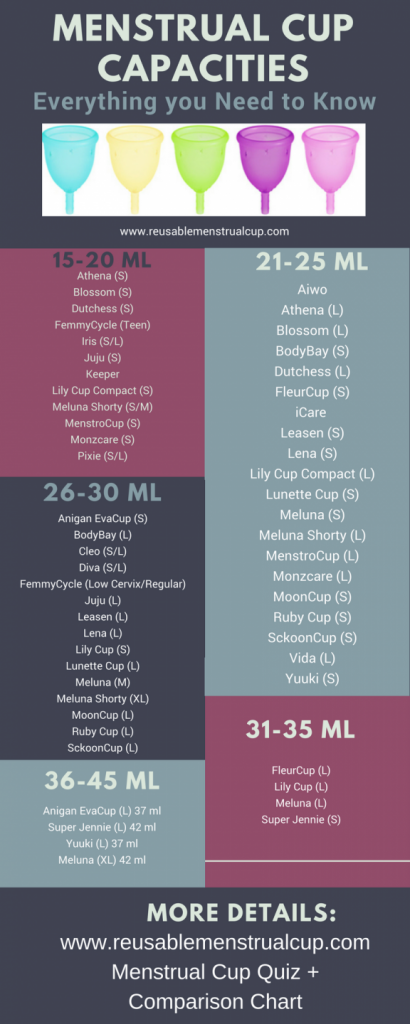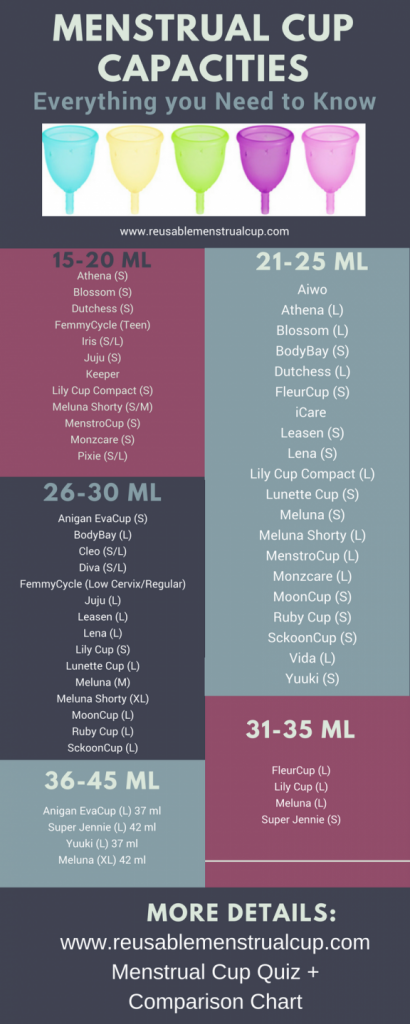 What People on Amazon are Saying about the Iris Cup:
"The Iriscup doesn't leak! I've tried a few others and kept having problems with that. It takes me a minute or so to get it inserted correctly, but once it's in there, it's there. The suction seal never seems to break, even during heavy exercise."
"Insertion is really easy and it has never leaked."
"The Iris Cup isn't as stiff as most of the other ones. It takes a while to learn how to insert it, but once you've got, you've got it!"
"When you consider the price, the Iriscup one of the best period cups you can buy. I don't really know why all those other cups are almost double the price of this one when it works really well."
More Iris Cup Reviews
Get an Iriscup Now on Amazon

IrisCup Pros:
The price! It's one of the cheapest menstrual cups on the market.
The IrisCup is manufactured in Spain, if you're from Europe and like to shop local.
It's not as stiff as some other cups like the Dutchess Cup or the Diva Cup, which can help reduce leakage for many women.
Insertion and getting it to "pop" into place can be easier due to reduced stiffness.
IrisCup Cons: 
Some people reported that the directions were a little confusing.
Slippery material and lack of grips on the base of the cup can make removal a little bit difficult. This seems like a major design flaw and something that should be standard on all menstrual cups.
The small could be too small for many people if they haven't given birth, even if they are over the age of 25.
The small only has a capacity of 15ml, which is far less than something like the Diva Cup or Femme Cup which have capacities that are double at 30ml. This can mean having to change the cup during the night on your heaviest flow days. This will also be a terrible choice for you if you have an above average flow. See: How to Handle a Heavy Period.
The Takeaway on this  Popular Period Cup:
If you're looking for an economical choice for a period cup, look no further. The Iris Cup is one of the cheaper ones on the market that's manufactured in a first world country and is made from the highest quality platinum silicone.
Most people that try it seem to like it. It's reasonably easy to insert, and remove and most people find that it doesn't leak.
However, if you have an above average flow, this certainly would not be a good choice for you. The smallest IrisCup is half the capacity of the more average menstrual cups like the Lunette Cup.
You can Buy the IrisCup on Amazon: