The Dutchess Cup: An Introduction
The Dutchess Menstrual Cup is manufactured in China, but it's made from the highest quality medical grade silicone according to the highest standards. Although we don't generally recommend menstrual cups that are made in China, this is one of our few exceptions. The Dutchess Cup is a decent cup at an affordable price.
This is unlike some of the extremely cheap menstrual cups out of China that are very low-quality and not recommended. For example, the Aiwo, OTBBA, Body Bay, or the Vida Cup.
You can check out the Dutchess Cup on Amazon for yourself:

Two Sizes of Dutchess Cup
The Dutchess Cup is available on Amazon, in both small (size B) and large (size A).
Dutchess Size B (small): 20 ml capacity, 42 mm diameter, 60 mm length
Dutchess Size A (large): 25 ml capacity, 47 mm diameter, 65 mm length
One of the Largest Diameter Menstrual Cups
Take a look at this menstrual cup diameter comparison chart. You'll note that the Dutchess Cup, along with the Super Jennie, Lily Cup, and Yuuki Cup is one of the largest diameter cups you can buy.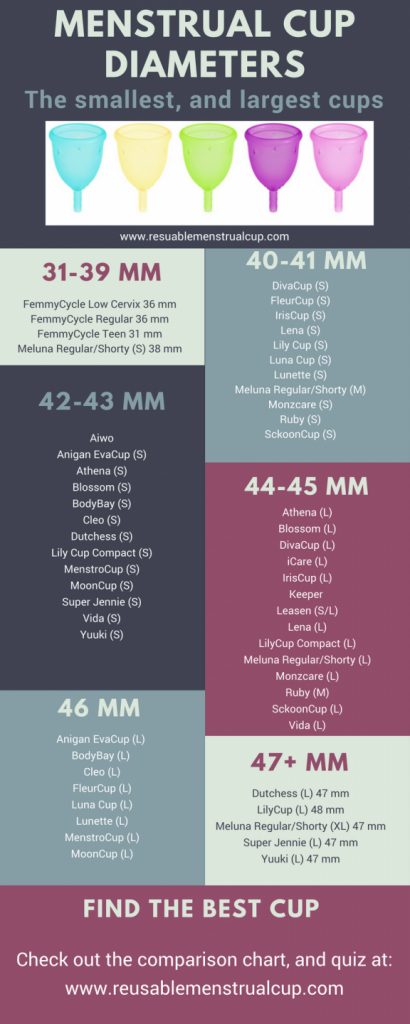 Consider a very large diameter cup if you fit into any of the following categories:
You have given birth vaginally (probably multiple times)
You have a very large frame
Maybe you've tried the smaller/average diameter cups and found that they never really sealed to your vaginal canal walls, and constantly leaked. Perhaps they shifted around a lot, and were hard to keep in place.
Coming in at 47 mm in diameter, the Dutchess Cup is a full 6-7 mm wider than the more "small-average" cups at 41 mm or so. This can make it a nice choice if you're looking for one of the biggest menstrual cups on the market today.
Dutchess Cup: An Odd Marketing Strategy
The company has kind of a strange marketing strategy in that they sell two cups together-a pink, and a purple. It's one of the cheapest period cups on the market and it's half what some of the more expensive cups cost (the Lunette Cup and the Diva Cup, for example). This is especially true if you consider the cost per unit.
However, nobody really needs two menstrual cups as one can last for at least a couple of years, or even longer (see: how long does a menstrual cup last?). If you can find a friend or family member to share the package with, the Dutchess Cup could be a good choice for you. Hopefully in the future, this company will also start to sell the cups individually which would make it a nice, economical option.
What People are Saying about the Dutchess on Amazon
The Dutchess Menstrual Cup has a 4.4/5 star rating on Amazon and people are saying things like:
"It's good for beginners. I found it quite easy to insert and remove. After a few cycles of getting the hang of it, it doesn't leak anymore."
"It's thinner and more pliable than the other menstrual cups. This made it easier to insert and find the correct position. It's totally worth the initial awkwardness! Just keep trying until you figure it out."
"I switched from the Diva Cup and I'm much happier with this one."
More Dutchess Cup Reviews:
The Dutchess Cup Pros:
1. Thinner and more pliable than the Diva Cup or the Moon Cup which can ensure a better fit for many people.
2. Great customer service from this company.
3. Very comfortable and reports of not leaking when other menstrual cups like the Diva Cup have.
4. Per cup, it's one of the cheaper ones on the market at around $15 for 2.
5. The small size (B) has one of the smallest diameters and shortest lengths of menstrual cups on the market, making it an excellent choice for smaller people, especially those with a low cervix. However, the capacity is a meagre 20 ml, which doesn't make it ideal for those with heavier flows.
For our recommendations, check out: How to Handle a Heavy Flow.
6. The large size (A) has one of the bigger diameters of period cups on the market, making it an excellent choice for larger people. This can allow it to take up enough room in the vaginal canal and not leak (hopefully!)
Get the Dutchess Cup on Amazon:

The Dutchess Menstrual Cup Cons:
1. The length is relatively short compared to other cups which can make removal a bit difficult for some.
2. They sell two cups in one package, but nobody needs two menstrual cups! Perhaps if they included  one small, and one large cup in a package it would make slightly more sense. Someone might be unsure of which size they need and want to try both.
However, the only difference between the cups is the colour.
3. Reports of difficulties with the cup opening after insertion since the silicone is more pliable and doesn't just "snap" into place easily.
People that don't like it are saying things on Amazon like:
"Insertion was hard. I'm not used to a menstrual cup that doesn't just snap into place super easily like the Moon Cup or the Diva Cup."
"Had high hopes but these didn't deliver. I ended up giving up after a few cycles because it just kept leaking, no matter what I did."
"Very leaky and hard to take out."
The Takeaway on the Dutchess Menstrual Cup:
If you're looking for an economical cup that is either smaller, or larger than average, the Dutchess menstrual cup may be the one for you. It's also an excellent choice if you have a low cervix since the length is shorter than most other ones on on the market.
Be prepared, however, to wiggle it around once it's inside you since it won't snap into place as easily as some of the other menstrual cups like the Diva Cup. However, this flexibility can ensure a better fit, but it does take a little bit to get it inserted correctly.
Don't be afraid to experiment and see what works best for you. There are a million and one ways to fold a menstrual cup so keep trying until you find one that works for you.
Buy the Dutchess Menstrual Cup on Amazon
Does the Dutchess Menstrual Cup sound like the one for you?
It can make an excellent choice if you're on a tight budget and you have a friend to share the package with. Despite being made in China, the Dutchess Cup is a solid product made by a reputable company. They have a lot of satisfied customers (based on Amazon reviews) and solid user ratings.
Check out the Dutchess Menstrual Cup for yourself on Amazon today: