—>Check Customer Reviews and Ratings for the Yuuki Cup Here<—
Yuuki Menstrual Cup Review
The Yuuki Cup is a recent addition to the menstrual cup world, but it's quickly becoming a very popular menstrual cup. Here are a few quicks facts about the Yuuki Menstrual Cup:
Made in the Czech Republic from German made, medical grade silicone
Includes an "infuser" box which allows you to clean the Yuuki in the microwave
2 sizes of Yuuki Cup (Small and Large)
The large Yuuki is one of the highest capacity menstrual cups.
2 firmness options (classic and soft)
2-year warranty
Affordably priced
It can be difficult to find the Yuuki Menstrual Cup in stores, which is why we recommend online shopping. Find it here: Yuuki Cup on Amazon.
Yuuki Cup Introduction
—>Check out the Yuuki Cup on Amazon<—
TheYuuki Menstrual Cup is made in the Czech Republic from the highest quality medical grade silicone manufactured in Germany.
The Yuuki Menstrual Cup is a quality product from a company that has been around for years, making it an excellent choice for period cup.
We love menstrual cups made in North America, or Europe because they are usually made from top-quality silicone according to the strictest manufacturing standards.
One of the unusual things about the Yuuki Cup is that it comes with an "infuser" cup that allows you to deep clean/sterilize your menstrual cup in the microwave. Most companies recommend doing this on a pot on the stove.
However, we LOVE the infuser cup because sterilizing your cup on the stove isn't terrible, but you can ruin your cup if you're not paying attention. It has certainly happened that people's cups have stuck to the bottom of the top, and gotten destroyed.
Beyond that, we love the range of sizes, and firmness of the Yukki Cup. They make a period cup for just about everybody.
Keep reading for our full review of the Yuuki menstrual cup to find out if it's right for you, or your body type.
Or, you can head over to Amazon to see all the details, and user reviews:

Yuuki Cup Sizing
The Yuuki Cup comes in both a small and large options. The company recommends the small for people who young people, and those who haven't given birth. The large is for those who have given birth, or those above 28 years old who regularly have penetrative sex.
Here are the dimensions:
Yuuki Cup Small:
Length: 67 mm
Diameter: 41 mm
Capacity: 24 ml


Yuuki Cup Large: 
Length: 74 mm
Diameter: 46 mm
Capacity: 37 ml
As you can see, the small size really is one of the smaller menstrual cups on the market today. It's comparable to something like the Lena Cup Small, or Sckoon Cup Small.
The large really is quite large! It's comparable to the Anigan Evacup Large.
Yuuki Cup Unboxing
Find out what's in the box of a Yuuki Menstrual Cup:
A Firm Menstrual Cup
The Yuuki Cup is harder than another menstrual cups making it a great option for certain people. If you find average firmness period cups like the Diva Cup or the Moon Cup difficult to insert, then give the Yukki Cup a try.
Very firm menstrual cups are easier to insert than the softer ones because they just "pop" into place really easily. Most people find that the classic Yuuki just seals itself to their vaginal canal walls with minimal fuss or hassle.
The disadvantage to such a firm menstrual cup is that it can sometimes feel uncomfortable because it presses so strongly against the vaginal canal walls. This can sometimes even cause what feels like menstrual cramps.
However, there are two firmness options for the Yuuki cup, so if you're looking for a softer menstrual cup, you may want to consider their other choice.
The Choices is Yours: Yuuki Cup Soft vs Classic
The Yuuki company has two kinds of cups-the regular one (classic) and a softer one. The company says that the soft menstrual cup version is 30% softer than the regular, or classic version.
Advantages of the Classic Yuuki Cup
If you want a menstrual cup that's easy to insert, go for the classic Yuuki Cup. It should just pop open quite easily once you put it into your vaginal canal.
Advantages of the Soft Yuuki Cup
If you want a sanitary cup that's a bit more comfortable, go for the soft Yuuki Cup. It won't press so strongly against your vaginal canal walls, and will feel comfortable when inside of you.
Please Note: Neither the Classic or Soft Yuuki are Very Soft Cups
It should be noted, however, that even the soft Yuuki Cup is still considered to have an "average" firmness, when compared to some other cups like the SckoonCup or Super Jennie.
—>Check out our Top-Rated Very Soft Menstrual Cup<—
If you're looking for a very, very soft menstrual cup, then even the Yuuki Soft should not be your first pick. In this case, you'd do well to consider one of these Top 5 Soft Menstrual Cups.
For more details, be sure to check out our handy Menstrual Cup Firmness Chart: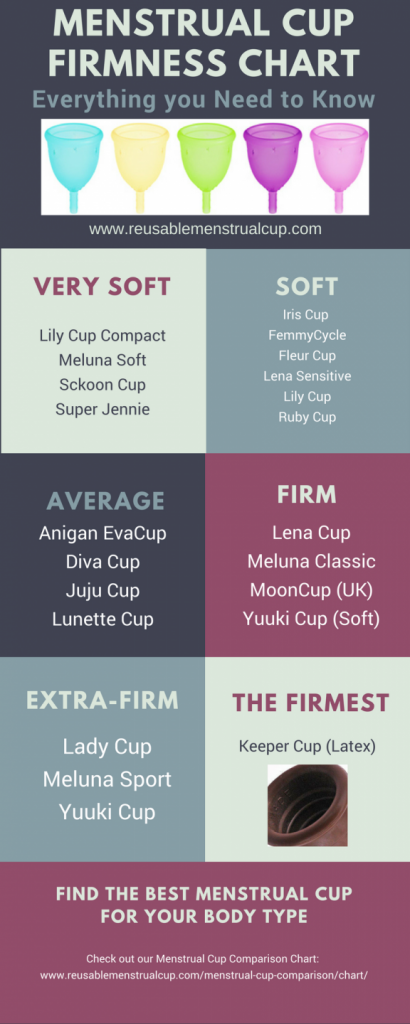 Is the Yukki Cup Good for Beginners?
If you're looking for your first menstrual cup, you'll probably want to know whether or not the Yukki will work well for you.
In general, we recommend a firmer menstrual cup for beginners because they're easier to insert. When you put them inside you, they'll usually just pop open.
Softer menstrual cups can be a bit more comfortable, but they're not always that easy to insert.
It's for this reason that we recommend the Yukki Classic, or the Yuuki Soft for beginners. The soft version of this menstrual cup is actually firmer than average. The Yukki is a top-quality menstrual cup that you'll find easy to insert correctly.
You can check it out for yourself over on Amazon:

Yuuki Soft vs. Yuuki Classic Cup
Large Yuuki = Very High Capacity Menstrual Cup
The large size Yuuki Cup is larger than most other ones on the market today. At 37 ml, it makes an excellent choice for people with a heavy period.
It is also longer (75 mm) and wider (47 mm) than average menstrual cups. This can make it perfect for larger people who find that the more average size cups don't suction to their vaginal canals easily.
It's also a great choice if you have a very long vaginal canal/high cervix. If you use a shorter cup, you may find that it's quite difficult to remove because you can't grasp the stem very easily.
However, at 75 mm, you should be able to grab the Yuuki Menstrual Cup stem and pull it down until you can grasp the base to break the suction seal. You can then remove the cup easily.
Check out this menstrual cup capacity chart for more details.
Large Yuuki: The Biggest Diameter Cup
Take a look at this menstrual cup diameter comparison chart. You'll see that along with the Meluna Cup, Dutchess Cup, Lily Cup and the Super Jennie, the Yuuki is one of the largest menstrual cups you can buy.
Most people find that the average diameter menstrual cups work well for them. We consider "average" to be between 40 and 45 mm. You'd want to go on the lower end if you're younger and haven't given birth vaginally. Head over to the higher end if you're older and/or have given birth vaginally.
You may want to consider a menstrual cup with a very large diameter if you've found that small-average cups slid around inside of you and never really properly sealed. This may be the case if you've given birth vaginally multiple times, or have a very large frame.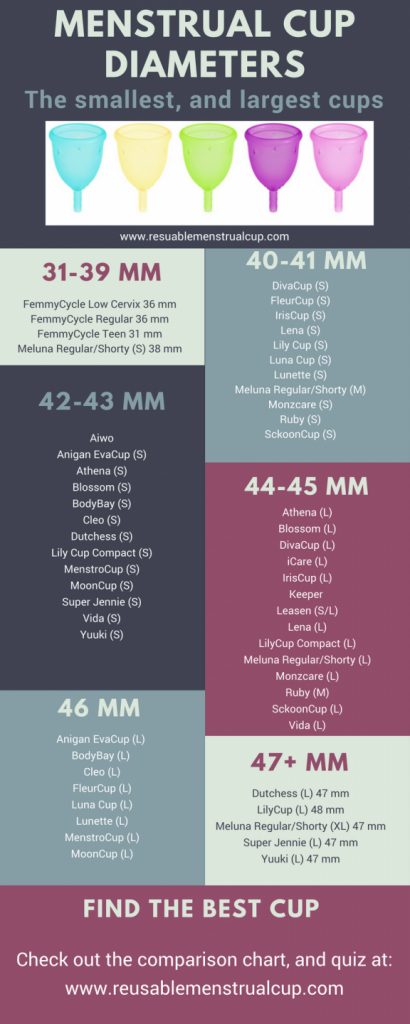 Comes with an Infuser Box for Easy Cleaning
One thing that we particularly like about the Yuuki Cup is that it comes with an infuser box. This allows you to clean your Yuuki Cup in the microwave.
What is an infuser box, you might be asking yourself. It's a device that you can put your cup in, with some water and then you pop it into the microwave for 5-6 minutes. It deeps cleans your cup, the easy way.
Most people boil their menstrual cup at the of their cycle in a pot on the stove for 5-7 minutes in order to clean their menstrual cup thoroughly. If you let the pot boil dry, you'll ruin your cup.
Taking this into consideration, the infuser box is a big win! It's almost impossible to ruin your menstrual cup with one of these things!
Does the YuukiCup sound like the one for you? You can check it out for yourself on Amazon today:

Want a Rainbow Cup? Go with the Yukki
If you're looking for a rainbow menstrual cup, your only option is the Yuuki! While their regular menstrual cups come in clear, you can get the rainbow Yuuki Cup, which is a mix of the 7 colours of the rainbow.
In our opinion, it's just about the coolest looking menstrual cup on the market today. Who says that menstrual care products shouldn't be fun?
 —>Check out the Yuuki Rainbow Cup on Amazon Here<—
Yukki Menstrual Cup Review
How to Clean the Yuuki Cup in a Public Bathroom
You may be wondering how to clean the Yuuki Menstrual Cup is a public bathroom. At home, it's very easy because you just have to take out the cup, and then wash it with some mild soap and water. You could use a special menstrual cup cleaner if you'd like.
In a public bathroom, wash your hands before going into the stall. Take out your Yuuki Cup. Wipe it with some clean paper towel, wet wipe, or spray it off with some water from a water bottle.
Then, be sure to clean your menstrual cup well when you get home. It's not ideal to have to take out, and then reinsert your Yuuki Cup in a public bathroom, but it's definitely possible.
Remember, some places like Starbucks have public bathrooms that are actually private stalls with a sink and toilet. Try to use these if possible for best results.
Compare Menstrual Cup Cleansers
What People are Saying about the Yuuki Menstrual Cup: 
"The Yuuki Cup opens really easily, unlike some of the other cups I've tried. It doesn't "pop" open like the Diva Cup, but I found that this worked better for me. I'm using the soft one by the way."
"The Yuuki Menstrual Cup is nice and soft which is much better for my body than the Diva Cup. The stiffer cups have always felt uncomfortable for some reason. I'm using the soft Yuuki Cup by the way. I've heard that the classic one is quite stiff."
"The Yuuki Cup never leaks unless you forget to empty it. I also love the infuser box that it comes with-it makes deep cleaning my cup really easy. Even after a couple of years, it still looks. I usually microwave my cup at the end of every cycle, although I don't really think that this is necessary."
—>See More Yuuki Cup Customer Reviews<—
How to Use the Yukki Menstrual Cup
If you're new to menstrual cups, you may feel a bit intimidated by how to use them. The truth is that there is a learning curve to them. It takes most people at least a few cycles to feel 100% confident in inserting them, and getting them to not leak.
The key with the Yukki Cup is to not give up too soon! Give yourself a chance to figure it out and keep on working on it.
Beyond that, here are a few steps that you can follow for how to use your Yuuki:
Wash your hands and the cup well with mild soap and water.
Fold the menstrual cup and insert it. Point it back and down, towards your tailbone.
Because the Yuuki is so firm, it should just pop open pretty easily. If it doesn't, jiggle, and twist it one direction, then the next until it does.
You can leave the Yuuki Cup in for up to 12 hours. If your flow is heavy, you'll probably have to change it before that because it can overflow.
Take your menstrual cup out by pinching in at the base with two fingers. Then, pull it out.
Clean your Yukki, and then reinsert it.
How to Insert and Remove the Yuuki Cup
More details about this in the video below:
Can I Wear the Yuuki Cup at Night?
You're probably used to feeling pretty paranoid about tampons. You can only wear them for 8 hours due to the risk of Toxic Shock Syndrome. So, you have to change them before you go to bed, not sleep too long, and then take it out first thing in the morning.
I have some good news for you! You can wear the Yukki Menstrual Cup for up to 12 hours. Change it before you go to sleep, wear it overnight, wake up, have a leisurely breakfast, and then worry about your period.
Sounds amazing, right? It is. Try out the Yuuki Cup overnight and see for yourself.
Yuuki Cup Review:
Can my Yuuki Menstrual Cup Get Stuck or Lost?
You may want to know whether or not your Yuuki Cup can get stuck in there. It's a question that many people who are new to menstrual cups want to know.
It can be a little bit difficult to remove a menstrual cup, especially in the morning. You should wear a menstrual cup very low in your vaginal canal. But overnight, your cup can migrate higher up in the vaginal canal. This can make removing it difficult.
If this happens, put on a pad to catch the leaks, relax, and try again in an hour or two.
But, back to the original question, "Can a Yuuki Cup get stuck?" No! Your cervix is a tiny opening, and nothing as big as the Yuuki Cup is able to pass through it. Even if you can't get your cup out immediately, it will eventually come out.
If you're tried everything (waiting, changed positions, pushed down with the muscles in your pelvis), you can get a trusted partner to help you. Or, go to your doctor and they should be able to get it out in seconds.
What about the Yukki Cup Getting Lost?
Some people worry that their Yukki Menstrual Cup is going to get lost "down there." Is this even possible? The good news is that it's not!
Your cervix, which separates the uterus from your vagina is a very small opening. It's not big enough for something as large as a tampon or menstrual cup to get through, except during childbirth.
Can I use a Yuuki Cup with an IUD?
As far as we can tell, the company has no information on their website about using the Yuuki Cup along with an IUD. But, we can offer you some general advice for using these two products at the same time.
First of all, be sure to check with your doctor to see if this will work for you. Everybody is different, and of course, there are different IUDs too.
How High is your Cervix?
There should be space between the menstrual cup and your cervix. If you have a low cervix (you can easily touch it with the tip of your finger), then you should use a low-cervix cup, which is much shorter. Even then, it may not work to use both an IUD and a cup. Check with your doctor.
Be Gentle
This is perhaps the most important tip about using the Yukki along with an IUD. Being very gentle when inserting, and removing the cup can go a long ways towards ensuring that your IUD doesn't become dislodged.
Break the Suction Seal Before Removing your Cup
In order to remove your Yuuki Cup, you have to break the suction seal first. You do this by grasping the base of the cup with two fingers and squeezing. Then pull it out gently.
If you can't reach the case, you can pull the stem down gently until you can get to the base. Then, break the seal. DO NOT pull the cup out completely by the stem. This is how most people who dislodge their cups do it!
Check your Strings Periodically 
Check your strings both throughout your period, and at the end. Make sure that the strings are still in the same position. If they're not, check with your doctor.
Get your Doctor to Cut the Strings as much as Possible
It can be helpful to have the strings on your IUD as short as possible. This prevents them from getting stuck in, or around your menstrual cup. Ask your doctor about this possibility.
Is it Possible to Get Toxic Shock Syndrome from a Yuuki Cup?
To date, there has only been one reported case of Toxic Shock Syndrome associated with a menstrual cup (it was the Diva Cup).
There are thousands of cases associated with tampons. It should of course be noted that many, many more people use tampons than menstrual cups. The overall risk from even tampons is very low. This is particularly true if you have take basic precautions such as changing your tampon frequently enough, or matching absorbency level to your flow.
While it is perhaps possible to get TSS from a menstrual cup like the Yukki Cup, the risk is almost non-existent, and seems to be lower than with tampons.
Can I Pee and Poop While Wearing a Yukki Cup?
A common question that people have is whether or not they can pee or poop while wearing the Yuuki Cup. The good news is that both of these things are indeed possible. Let's have a short, basic anatomy lesson.
You have three holes "down there:"
Vagina (where you insert a tampon or menstrual cup)
Anus (where you poop from)
Urethra (where pee comes from)
In theory, using the Yukkki Cup shouldn't interfere with either of these two bodily functions. However, some people find that peeing while they have a cup in takes a longer time than normal.
This can happen because the urethra and vagina are very close to each other. Because a menstrual cup is quite large, it can push against the vaginal canal walls, which in turn push against the urethra. This can cause it to narrow slightly, resulting in the longer time it takes to pee.
Some people find that this is very uncomfortable. If this is the case for you, we recommend trying a softer menstrual cup, which doesn't push so strongly against your vaginal canal walls.
Yuuki Cup vs. Lunette Cup
It's a head-to-head showdown of these two popular European menstrual cups. Find out which one is right for you in this short video:
Yeast Infections and the Yuuki Menstrual Cup
If you're prone to yeast infections (or Bacterial Vaginosis—BV), you may want to know whether or not you will get them when using the Yuuki.
In general, people get fewer yeast infections when using a menstrual cup compared to tampons. There are a few reasons for this:
Tampons sometimes contain trace amounts of toxic chemicals in them that can lead to changes in the pH balance in the vagina.
The Yuuki Cup collects menstrual fluid, but tampons absorb it. This means that tampons can really dry out your vagina, while a menstrual cup helps your body to maintain its natural state.
Tampons can sometimes leave microfibres behind which can irritate the vagina.
But, I'm Getting More Yeast Infections with the Yuuki!
Maybe your experience has been that you're getting more yeast infections with a menstrual cup than before? Here are a few things you can do:
Be sure to wash your hands well before handling the Yukki Menstrual Cup, or inserting and removing it. If you don't, you can introduce all sorts of bacteria into your vagina that shouldn't really be there.
Wash your cup well with mild soap (or menstrual cup wash) and water every time you take it out. Be sure to rinse the soap residue off well.
You can deep clean your cup at the end of your period. Use an old toothbrush to scrub all the holes and ridges. You can also boil it in the microwave using the infuser box that comes with the Yuuki Cup.
Why Make the Switch from Tampons to the Yukki Cup?
If you're currently using tampons, you may wonder why you should make the switch to a menstrual cup? There are a multitude of reasons! We'll share just a few of them here:
Better for the Environment
The average person uses 11,000+ tampons during a lifetime. If a menstrual cup lasts for 5-10 years, that's a handful of cups.
It's clear what the better choice is for our environment!
Better for your Bank Account Balance
Most people spend around $5 on tampons each month. It's more if you have a heavy and/or long period. It doesn't seem like a big deal, right? But, over a lifetime, it can equal thousands of dollars.
Although the Yuuki costs more up-front, you can really save a lot of money by making the switch. Who doesn't like more money in the bank at the end of the month?
Better for your Health
Tampons sometimes contain trace amounts of toxins in them. They come mainly from the manufacturing process (bleaching) as well as the pesticides used on the cotton.
By making the switch to a menstrual cup, you're making a better choice for your health. All those toxic chemicals aren't good for anyone to be exposed to.
Lower your Risk of Toxic Shock Syndrome
Tampons come with a higher risk of TSS than menstrual cups like the Yukii.
What about Sex With the Yuuki Cup?
A common question that people have is whether or not they can have sex with a menstrual cup like the Yuuki Cup. It's a great question, with a somewhat cheeky answer: it depends on what kind of sex!
For anything that is not penetrative sex, the Yuuki Cup would make an excellent choice. Unlike with tampons, there's nothing hanging out of your vaginal canal entrance, so your partner may not even know that you have your period.
Yuuki Menstrual Cup: Not for Penetrative Sex
However, for penetrative sex, consider the Instead Soft Cups. They are disposable, flat discs that are designed to sit right up under your cervix, instead of lower in the vaginal canal like the Yuuki Cup. Most people find that they, nor their partner are able to feel a soft cup while having sex.
The main disadvantage to them is that they're disposable, which means that they are far more expensive than regular menstrual cups, and they also don't have the environmental benefits. 
You can check out Soft Cups for yourself on Amazon. We recommend a menstrual cup like the Yuuki for everyday use, but then having a box of these SoftCups in your cupboard for those "just in case" times.

***Please note that neither the Yuuki Cup, nor the Soft Cups are designed to be used as contraceptive devices. Please take your usual precautions to avoid pregnancy and/or STI's.
Disposable Menstrual Cup (SoftCup) Review
How Often to Replace the Yuuki Cup
A common question that people have is how often to replace their menstrual cup. A top-quality menstrual cups costs $20-30 USD, so it makes sense to not replace it sooner than you have to.
The company says that most menstrual cup manufacturers recommend replacing it every two years. However, they point out that the silicone (medical grade) is the same as used in implants which can last your entire life. Therefore, it's really up to you how often to replace it.
They do offer a two-year warranty on their product, in case it does wear out quicker than expected.
Yukki Menstrual Cup Pros:
The Yuuki Cup comes with an "infuser box," which is designed to make cleaning your menstrual cup really easy. Simple put the cup in the box, fill it with water and microwave it for 5 minutes. Wait until it cools, take our your period cup, air it out and put it away until next month!
The price. You can get either size in a package with 2 menstrual cups (soft + classic) plus an infuser box. Try both of them out and see which model works best for you. (Check Yuuki Cup Pricing).
The classic one snaps into place really easily and seems particularly good at preventing leaks.
The large cup has a huge capacity of 37 ml (compare to: Moon Cup Large 28 ml, Lunette Cup Large 30 ml). This makes it an excellent choice for people with heavy periods. See: Menstrual Cup and Heavy Periods for more recommendations.
The Yuuki period cup comes with a two-year warranty. If the silicone degrades during that time, the company will replace it.
Yukki Menstrual Cup Cons:
Some people said that the infuser box didn't work well and boiled over. Perhaps they were adding too much water? Whatever the case, don't buy the Yuuki cup based solely on that. It's easy enough to clean a menstrual cup without one of these. See: Menstrual Cup Cleaning.
Even the small one has a relatively long length of 67 mm, making it not suitable for someone with a low cervix. Consider the Femmy Cycle Low Cervix instead.
More Yuuki Cup Reviews: 
The Takeaway on the Yuuki Cup:
The Yuuki Menstrual Cup is an excellent product at a great price and from a reputable company. It's made in Europe from the highest quality materials according to the strictest standards.
We love that there are two firmness options: classic, and soft. We also love that the small Yuuki is actually quite small, while the large is quite large. In particular, the large Yuuki Cup is one of the biggest ones you can buy, and can make a nice choice if you have a very heavy period.
People that use the Yuuki Cup seem to love it and rave about how it doesn't leak, when others like the Diva Cup have. It's certainly a good choice, particularly the package that come with both classic and soft cups for you to see which ones works better for your body.
It also comes with an infuser cup, which isn't the sole reason you would buy the Yuuki Menstrual Cup, but it's kind of cool.
Buy the Yuuki Menstrual Cup on Amazon
It can be pretty difficult to find the Yukki Menstrual Cup in stores because it's not such a popular menstrual cup. That's why we recommend shopping online.
Prices on Amazon are very competitive and shipping is often free with Amazon prime. Are you ready to have a greener, cheaper and healthier period experience? Then you'll need to pick up the Yuuki Cup today:

Yuuki Menstrual Cup: Have your Say!
What do you think about the Yuuki Menstrual Cup? Leave a comment below and share your thoughts with us.