If you like to have sex during your period, then you'll need to consider a Softcup. For years, it's been the go-to choice. Keep on reading our Soft Cup Review to find out more details and learn more about whether or not it'll work for you, or just check out the Instead cup here:
Sale
SoftCup Introduction
A few quick facts about the Instead SoftCup, a disposable menstrual cup:
The Instead menstrual cup is a flat, flexible disc
This disposable period cup fits right below the cervix
Disposable, and can only be used for up to 12 hours
Similar to the Flex Menstrual Discs (from the same company)
The Instead Cup be used during penetrative sex, so that you can continue to live your life while on your period
A number of people use the disposable Soft Cup for fertility purposes to increase their changes of getting pregnant
Possible to find disposable Soft Cups in stores, but the best prices are often online (Buy Instead SoftCups on Amazon)
Ideal for sports because of the high capacity and how easy it is to care a spare one along with you
Keep on reading for the full review of the Softcup along with plenty of helpful tips for getting started.
Instead Disposable Menstrual Cup Review
We'll give you all the details about the Instead disposable menstrual cup to know if it's right for you and your body type.
This "Cup" is a bit unusual in the world of menstrual cups because unlike products like The Moon Cup, or the Diva Cup, it's totally disposable. It's not even really a "cup" shape like other menstrual cups, but is more like a pouch that holds menstrual fluid.
The Disposable Soft Cup is Useful for Period Sex
The other very unusual thing about this disposable menstrual cup is that it doesn't have a stem, which means that it can be worn during sex. It fits right up under your cervix which is what allows sexual intercourse. This disposable period cup is one of the few "menstrual cups" or "tampons" that can be used in this way. The other exception is a sea sponge tampon.
Can My Partner Feel the Softcup?
Many couples report having penetrative sex without the mess and any sort of discomfort while wearing the Instead Cup. Amazing!
Usually, both parties report not being able to feel them during penetrative sex. Although the ring around the edge is a little bit rigid, the center portion of it is very soft and shouldn't cause any interference with this.
That said, if you, or your partner reaches up into your vagina with a finger, you'll probably notice the Instead menstrual cup in there. It feels noticeably different than your cervix or other tissue in your vagina.
Check it out for yourself to see if it solves the "messy sex" problem.
You can buy Softcups on Amazon
They may be difficult to find at your local pharmacy, which is why we recommend shopping online. You can shop now for them on Amazon. Check now for the best prices and don't forget to see if they're eligible for fast, free shipping with a Prime membership:

Instead Soft Cup Review
Do you want to learn more about this popular feminine protection cup? Then you'll need to check out this review video for all the details you need to know.
Instead Disposable Menstrual Cup Insertion
It's not all glitter and gold with the Instead Disposable Menstrual Cup however! It can be a little bit difficult to insert and remove for some people.
Instead of putting this disposable period cup into your vaginal canal and then "popping" into place like with a normal period cup, you actually have to insert this one right up under your cervix. This can be especially difficult if you have a long vaginal canal, or are unsure about how to find yours.
The Instead Cup manufacturer suggests that you can wear this product for about double the time that you would a tampon. This is similar to a regular menstrual cup that can hold around 30 ml of fluid, as compared to a jumbo tampon that holds around 15 ml.
How do I Know if this Disposable Period Cup is Inserted Correctly? 
The simple way to know if you've inserted your Instead Softcup correctly is to see if you can feel it, or not. If you can't feel it, then it's probably correct.
If you can feel it, then try pushing it further back before putting the front edge behind your pubic bone.
Instead SoftCups Tricks and Tips
Check out this Soft Cups tutorial for details on how to insert, remove them and more.
My Soft Cup Leaks
If your Softcup menstrual cup is inserted correctly, it shouldn't leak.
However, you may have the experience that it leaks a little bit when you go to the bathroom. This happens because you often bear down with your muscles when you do this, which can dislodge your Softcup.
Don't worry too much about it. You can just check to make sure it's still inserted correctly by using a clean finger to see if the top edge is still behind your pubic bone.
Test it out and see for yourself. The key is to not give up because it takes most people a few cycles to learn how to use them correctly.
How to Remove the Instead Menstrual Cup
In our experience, the Instead Disposable Menstrual Cup isn't so difficult to remove, but it's a bit harder to keep things from getting messy than with a regular menstrual cup. Here's what the company recommend for removing your disposable menstrual cup:
Wash your hands and sit on the toilet
Use your finger and feel for the outer edge of your disposable Softcup
Use your pelvic muscles to push down like you're taking a poop
Hook your finger beneath the edge and pull it straight out from your body
When you're pulling it out, take care to keep it horizontal so that it doesn't leak
Dispose of it in the trash
How to Remove the Instead Cup without a Big Mess?
Out of all the menstrual products, the Soft Cup style option is one of the most difficult to remove without making a big mess. Here's a list with a few tips for how you can do this will minimal fuss:
Don't give up! It gets easier over time to remove them
Try to keep the menstrual disc horizontal and level with the floor when removing it.
You can practice in the shower the first few times to avoid a big mess
You can also remove it over the toilet, and have some tissue handy.
Put the garbage can right next to where you're taking out. The move from taking it out of the vagina to the trash can is where many of the spills happen.
Are Instead Softcups Flushable?
A common question that people have is whether or not the Instead Softcup is flushable. It has an easy answer: no!
The only thing you should really put down your toilet are human waste, and toilet paper. Even tampons are a bit iffy to flush down the toilet, depending on where you live and the quality of your sanitation system.
You certainly wouldn't flush a disposable sanitary pad, and Instead Cups should fit into the same category as these products. You'll just end up plugging up your system and having some serious regrets! Throw Instead Disposable Menstrual Cups in the trash please.
Does it sound like the Instead Disposable Menstrual Cup is the one for you? You can shop now on Amazon:

Softcup Tutorial
If you're looking for some help getting started with Instead Disposable Menstrual Cups, then you'll need to check out this video:
How to Insert and Remove Them
Can I use it while Wearing an IUD?
A common question some women have is whether or not they can wear a SoftCup at the same time as an IUD. The company says that this is indeed possible, but that you should consult with your doctor.
A word of caution from us—you need to be extra careful when removing your SoftCup to make sure you don't dislodge your IUD at the same time. Go slowly. Be gentle. And check to make sure your IUD is where it should be after removing your Soft Cup. Most women find that it's not a big deal, but it does require some extra attention.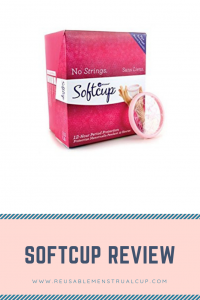 Can I Reuse the Instead SoftCup?
The Instead Cup is designed to be a disposable product, similar to tampons and pads. This is unfortunate because you lose many of the advantages that a menstrual cup has over disposable pads and tampons, including the following:
Better for the environment
Huge money-saving potential.
A common question that people have is whether or not you can reuse them two or three times, but just rinsing them off in between uses.
The company behind the Instead Disposable Menstrual Cup officially recommends against doing this with their product. It's similar to a disposable plastic water bottles. Although it is indeed possible to use these things for years, it's generally not recommended because the plastic wasn't designed to stand up that kind of use without leaching chemicals.
Sure, there are people on places like Reddit who mention doing this, but just because it's possible doesn't mean that you should!
If you're looking to save the environment, this product probably isn't the one for you! One of the big issues is that you'll be throwing plastic into the trash every single month.
What about the SoftCup vs. the Diva Cup?
They're both ways of dealing with your menstrual cycler. Which one comes out ahead?
The Softcup is the most popular disposable menstrual cup while the Diva Cup is the most popular reusable one. How do they stack up against each other and which types is right for you? Find out here: Diva Cup vs. Softcup.
What People are Saying about the Instead Menstrual Cup
"Have sex with no more blood on the sheets! It takes a while to figure out how to insert this disposable period cup correctly, but be patient with yourself. Once you get the hang of it, it's not so difficult. I'm so happy that I finally bought a box of them and that they worked well for me."
"I'll never go back to tampons or pads after using these disposable period cups. I found this one more comfortable than more traditional menstrual cups for whatever reason which didn't work for me. They looked a wee bit intimidating taking them out of the box, but it actually was easier than I thought. It changed my life!"
"Amazing. I recommend Instead disposables to all my friends for that time of the month. They had no idea there was a product that allowed them to have sex during their period! It changed my life, plus I love that it's better for my health. I'm thankful I was open to a change and decided to give these a chance. No issues with putting it in or removing it."
"The hard part is getting them inserted correctly and getting my hand up high enough inside me. But, it gets better with practice. Worth it though because they make period sex super convenient. There are some other benefits too, like not having to deal with cleaning it."
How Well do they Work?
Before spending money buying a new feminine hygiene product, you probably want to know how well Softcups work. It's a great question, and we'll give you the quick rundown on how effective Instead menstrual cups are at preventing leaking menstrual fluid during sex.
There are two main categories of people: those that can make them work, and those that can't.
For people that do figure out how to insert and remove them, they work very well and will almost never leak. Both parties usually report not being able to feel them during sexual intercourse.
However, there are some people, despite trying numerous times who just can't get Softcups to work for them. One factor may be a long vaginal canal, while another may be fingers that are very short. Finally, some people just have a vaginal canal shape or size that is not conducive to using them.
You won't really know which category you're in until you try Softcups or Flex Menstrual Discs (two closely related products). Don't worry though. Most people who try them find that they work well, and they're not actually that expensive, so you haven't lost that much by trying.
If you've found that they don't work well for you, consider Soft Tampons instead. They can also be used for period sex, but are basically a stringless tampon so are easier to insert and remove.
Does the SoftCup Protect Against Pregnancy/STI's?
It's important to note that the Instead Soft Cup does NOT protect against pregnancy or STI's. The company is very, very clear about this. It is certainly not equivalent to a female condom in any way.
You'll need to use your regular form of protection for these things (condom, birth control, etc.), even if you are wearing an Instead Cup.
Please see your doctor for more details about this.
Can a SoftCup be Used as a Condom?
It's a great question, with an easy answer. Softcups cannot be used as a condom.
They are not designed for this, so please don't try to make it work for that purpose. Use a regular condom and consult with a medical professional for further advice about pregnancy or STI prevention.
How Often to Take out the Soft Cup?
A common question is when you need to take out your Softcup. The company recommends 12 hours maximum. You may have to take it out sooner than this if it's full and starts to overflow. You'll notice some leaking on your underwear or pad when this happens.
Even if your flow is not heavy, it's still recommended that you change your Instead Softcup every 12 hours. This is done to reduce your risk of Toxic Shock Syndrome, a rare but deadly disease.
And of course, Softcups are single use products so be sure not to reuse them. Just throw it in the trash and grab a new one because they can't really be cleaned properly.
Can I Use it at Night?
The easy answer is yes! Because you can use it for up to 12 hours, put in a fresh one before you go to bed. Then, sleep in, enjoy your morning, and then finally worry about your period. Fact: You will LOVE your life when using a Soft Cup.
Can a Menstrual Cup Get Lost Up There?
Many people worry about whether or not a menstrual cup, including Instead cups can get lost. Despite what information you may have heard otherwise, the short answer is no! The cervical opening is far too small for something this big to pass through it.
It can be the case that disposable period cups are difficult to remove. It's most likely that your vaginal canal muscles are tense for whatever reason. Try to relax and try again in an hour or two. You can put on a pad to prevent leaking during that time if you wish.
If you really can't get your menstrual cup out, you can go to a doctor for assistance. It's 100% guaranteed that they'll be able to do it!
Instead Disposable Menstrual Cup Pros:
1. The unique design makes it one of the only menstrual cups that can be worn during sexual intercourse. Sex, mess free! This is the main benefit.
2. It's disposable so no messy clean ups. Just bring a fresh one with you in your bag when you're on the go. No more cleaning up a regular cup in public washrooms.
3. It's an option to try for those who experience leaking with traditional menstrual cups. It's designed differently so might work better for some women.
4. Unlike tampons, this disposable period cup doesn't leave the vagina dry during menstruation so the PH balance is maintained.
5. It collects more fluid than even a jumbo tampon by 2-3x. This means that if you have a heavy period, you might actually be able to sleep through the night when wearing one of these things! Or, make it through the whole day without changing it.
6. Some excellent instructions and information included with the product.
7. Might be better for your health than tampons because of fewer toxic chemicals.
8. Latex-free: great for people with allergies.
Instead Disposable Menstrual Cup Cons:
1. It collects less fluid than a standard menstrual cup so you'll have to change it every few hours on your days with the heaviest flow. It may not last the entire night, unlike most large menstrual cups. See this menstrual cup comparison chart for the largest capacity cups.
2. It's disposable. One of the main reasons women buy a menstrual cup is for environmental reasons because they can last for years.
3. Unlike silicone, the Instead Disposable Menstrual Cup can sometimes cause an allergic reaction for some people.
4. Those with short and/or fat fingers may find insertion difficult because you have to push it all the way into the correct position just below your cervix.
5. It's too big for some women and only comes in one size. Most reusable period cups have different sizes available.
6. The learning curve can be a bit steep. You have to know where your cervix is and put the Instead Cup right under it, ensuring a good seal with your vaginal wall.
Can Softcups Cause Cramps?
Some people experience cramping with Softcups. This is the same as with menstrual cups. Most people use them for years without any sort of discomfort or problems. Most people don't even notice these products are inside them.
However, for some, they may get cramps when using one of these products. Or, more menstrual cramps than they would normally get during their period.
This can happen because cups can push strongly against your vaginal canal walls. This can be uncomfortable in itself, and it can also cause some restriction of your urethra, which is in that same area. It's for this reason that it might not feel too nice!
For regular menstrual cups, the standard advice is try a smaller, softer menstrual cup. However, a Softcups only has one size! If if gives you cramps, then there's not much you can do about it. Stop using them. Flex Menstrual Discs or the Ziggy Cup are all similar in shape and size and results will probably be very similar.
If you do want to have non-messy period sex, you could consider Soft Tampons. They are basically stringless tampons and are not as firm or big as Soft Cups.
What if I Have a Heavy Period? Can I Use the Instead Menstrual Cup?
Soft Cups are not just for sex. They can also be used for regular period protection too. The company recommends changing them every 12 hours, but you might have to empty it sooner if you start to overflow.
One thing to keep in mind is that it can be pretty difficult to take out the Softcup without spilling it if it's full to the brim, as might happen when you have a heavy flow. That's why we recommend doing it a bit sooner than that.
The Instead Softcup holds around 30 ml of fluid. Compare this to an average tampon which holds about 5. That's a big difference, and you should find this higher capacity works well if you have a heavy flow. You might be able to make it through the whole school or work day for example without changing it out.
You might even be able to sleep through the night of your heaviest flow. Did you ever think this would be possible? It is.
Soft Cups and Yeast Infections 
Most people find that when they start to use menstrual cups, including something like disposable Soft Cups, they have fewer yeast infections (or the opposite problem, bacterial vaginosis).
This is because menstrual cups collect, rather than absorb menstrual fluid like with tampons. This allows your body to remain in better balance throughout your period.
However, if you start to get more yeast infections when switching to any sort of menstrual cup, including Softcups, then you need to strongly suspect the cup.
If you're using something reusable, be sure to wash off any soap residue extremely well. You can also boil your cup in a pot of water on the stove for 5 minutes at the end of your cycle.
For disposable Softcups, you have fewer options. You can make sure you wash your hands before inserting, or removing your Soft Cup in order to not introduce foreign bacteria into your vaginal canal.
If that doesn't help, stop using them for a few months and see if things get better. You'll eventually find out what works for you with regard to Softcups and Yeast Infections.
How do SoftCups Work for Pregnancy?
Are you trying to increase the size of your family? Then read more:
You may have heard stories on forums, communities, or anecdotally on Facebook that people are using Soft Cups to help them become pregnant. (Small disclaimer!) The company does not recommending using Instead Softcups to try to have a baby, nor have there been any official studies about how well this works.
However, if you're trying to get pregnant, using Soft Cups is a natural option that you might want to consider using. It certainly wouldn't do any harm.
Disclaimer:
Be aware that the information we're giving you right now is not based on any scientific studies, but just on user experience and stories.
Soft Cups + Pregnancy Option #1:
The first way you can use Instead Softcups to (maybe?) increase your chances of getting pregnant is to have sex as normal, but once your partner ejaculates inside you, immediately insert the Soft Cup to keep everything "up there."
People report that they did this while still in bed. They then would do things like keep their legs up, and avoided walking around for a few hours.
Then, take out the Soft Cup before the recommended time (12 hours).
Soft Cups + Pregnancy Option #2:
The second option is to get your partner to ejaculate into the Soft Cup. Be sure to spread the sperm around the entire cup, including on the rim. Then, immediately insert the cup and you can follow the same procedure as above.
Hopefully your change of having a baby will increase as a result of this?! Please leave a comment below and let us know if you have experience with this.
Soft Cups and Toxic Shock Syndrome
A common question that many people have is whether or not you can get toxic shock syndrome (TSS) from Soft Cups, or Flex Menstrual Discs and whether or not the risk is higher than with tampons or reusable menstrual cups like the Diva Cup.
Let's talk numbers. To date, there has been one reported case of TSS being associated with a menstrual cup (the Diva Cup) and no cases with Softcups. There are hundreds of cases each year from tampons.
Of course, far more people use tampons than the Instead Disposable Menstrual Cup or menstrual cups, so this must be taken into account. It is clear however that the risk of Toxic Shock Syndrome is extremely small with Soft Cups and it's not something that you should worry about. Just be sure to remove your Soft Cup every 12 hours, and use a fresh one if needed.
Can I Pee and Poop While Using the Softcup Menstrual Cup? 
I have some good news for you. It is certainly possible to pee and poop while you have the Softcup in. It'd be inconvenient if you had to take it out to do this!
Let's talk anatomy for a minute. You have three holes "down there."
The urethra is where pee comes from.
The anus is where you poop out of.
Finally, the vagina is where you insert the Instead Disposable Menstrual Cup.
Makes sense right? In theory, none of these things should interfere with each other at all.
You may find that it does take a bit more time to pee when using a menstrual cup. That's because it can push against your vaginal canal walls, which can in turn restrict the urethra because they're so close together.
As long as this isn't uncomfortable for you, it's not a big deal.
What about the Flex Period Disc (Disposable Period Cups)?
The Flex Menstrual Disc is a newcomer to the disposable menstrual cup world, and many people wonder how it compares to the Soft Cup. In reality, they are very closely related products, and are even made by the same company. There are, however, a few differences between the Flex Cup and the SoftCup to be aware of. Essentially, it's a new brand name for the same product.
As far as quality goes, both brands are worth a buy.
Flex Period Cup vs. SoftCup: How to Buy Them
Neither the FlexCup nor the Instead SoftCup are readily available in stores. If anything, your local drugstore will probably have only one or two choices for traditional menstrual cups like the Diva Cup. However, it's very simple to buy them on Amazon. Shipping is usually free with Amazon Prime, and it's also discrete.
The FlexCup has a different model and is only sold by subscription. The way it works it that the Flex company will send you an initial supply of Flex Discs, and then every three months they'll send you another shipment. You can cancel at any time.
Price: Soft Cup vs Flex Cup
In terms of pricing, you have to pay for convenience! In this case, the Flex Cup, on a per unit basis is more expensive than the SoftCup. However, you don't even have to think about it because Flex Discs will just show up to your door every few months. There is enough in a package that you should make it through your three cycles quite easily without having to restock sooner.
Flex Disc: Newer Materials, Updated Design
The company says that the Flex Disc is made from newer technology and materials, and that is has an updated design. The material in the Flex Cup is designed to use your body heat to form to your natural shape. In theory, this could mean fewer leaks.
However, we find that the Soft Cup doesn't leak either, despite the "old" materials and design.
Flex Cup vs. SoftCup: Which One to Choose?
In reality, it's up to you in the battle of the Flex Cup vs. the Instead Disposable Menstrual Cup. Both are excellent products and are actually very, very similar. It's almost like the company had to rack their brains to come up with any differences at between the products except for the colour!
The choice is probably between how you want to get the products. If you regularly buy things from Amazon, then go with the SoftCup. If you like the subscription model, then go with the Flex Disc.
Check out the Instead Disposable Menstrual Cup over on Amazon:

"I tried out this new disposable menstrual cup, and even though they're a little bit, expensive, they're absolutely worth it. Previously, I felt like I was left with no period sex options except and old towel, but now? It's a whole new, world of beauty out there!"
FlexCups and SoftCups
Is there a Reusable Option for Period Sex?
Up until quite recently, the answer was no! Unless you wanted to use sea sponge tampons, but these can be pretty difficult to keep clean and sanitary so we don't really recommend them.
However, Intimina, the makers of the Lily Cup has recently come out with the Ziggy Cup. In terms of design and function, it's very similar to the Soft cup or Flex Disc with the major difference being that it's reusable! There are some who think it may be better for our health because it doesn't come with any toxic chemicals in it.
—>See User Reviews and Ratings for the Ziggy Cup<—
Finally, it's the product that a lot of people around the world have been waiting for. We're happy to see that a company has finally done it. Period sex, the non-messy, eco-friendly way. Prior to the Ziggy Menstrual Cup this was mostly impossible.
Like the Soft Cup, the Ziggy Cup is a flat, flexible disc that fits right up under your cervix. It's made from top-quality medical grade silicone and the product can be reused for up to 2 years (the official recommendation from the company). Our guess is that the Instead Disposable Menstrual Cup can last a whole lot longer than that.
The Intimina Ziggy Cup is the best of both worlds: can be used during sex, but is reusable. You can check it out for yourself online:
Compare Period Sex Options
If you want to have penetrative sex during your period, the non-messy way, you'll need to check out some of our top picks for person care products here:
Buy the Instead Disposable Menstrual Cup
Does it sound like the Instead Disposable Menstrual Cup is right for you? There are a lot of pros to it, and very few negatives. If you're looking for an economical, environmentally friendly menstrual cup, this may not be the one for you. The disposable nature of it means it really is not these things. Of course, it's a personal decision for each woman about what's right for her.
However, if you're looking for something you can wear while having penetrative sex during your period, minus all the mess and hassle, the Instead Disposable Menstrual Cup may be the one for you!
There are a few other choices, namely a reusable sea sponge, but the Instead Cup is an easier, hassle free choice that most people are very happy with.
Try it out for yourself today! You can get a box for a very reasonable price on Amazon:

Instead Disposable Menstrual Cup: Have your Say!
What are your thoughts about the Instead Disposable Menstrual Cup (Soft Cup)? Are you going to try it, or make the switch to a Flex Disc, or reusable Ziggy Cup? Do you have any questions about how to use it?
Leave a comment below and let us know your thoughts about this product. We love top get feedback!
And, don't forget to share this content on Twitter, Pinterest, or Facebook. It'll help other people, like yourself who are interested in having sex during their period find this useful resource.
Last update on 2021-04-17 / Affiliate links / Images from Amazon Product Advertising API