Tired of tampons and pads? You've come to the right place because we're going to tell you all about the most popular menstrual cup in the world, the Diva Cup.
The Diva Cup is one of our best-selling menstrual cups. It's so popular that the name is often used interchangeably with "menstrual cup" and it's often credited with revolutionizing the feminine hygiene world. But, it's just one of 100+ brands of period cups on the market today.
Is it the best menstrual cup in the world? Keep on reading to find out.
Sale
DivaCup - BPA-Free Reusable Menstrual Cup - Leak-Free Feminine Hygiene - Tampon and Pad Alternative...
Reusable Period Cup: Say goodbye to tampons and pads with comfortable, eco-friendly protection
Silicone Menstrual Cup: Made of 100% medical grade silicone with no chemicals, plastic or dyes
Made For You: Ideal for anyone between the ages of 19 and 30 or who haven't given birth vaginally
Recognition: The DivaCup is recognized by the Society for Obstetricians and Gynecologists of Canada
Covered By: The Diva International, Inc. 90 day Satisfaction Guarantee and Limited Warranty,...
Diva Cup Review
The Diva Period Cup is the most popular menstrual cup brand in the world. Here are a few quick facts:
Made in Canada from medical grade silicone
2 size options (small + large)
Average capacity, firmness, length
The Diva Menstrual Cup is a great choice for beginners
Often the first menstrual cup people try
One colour option (clear)
Thousands of excellent user ratings and reviews on Amazon
You can sometimes find it in stores, but we recommend buying it online because prices are often better. Check prices here: Diva Menstrual Cup on Amazon.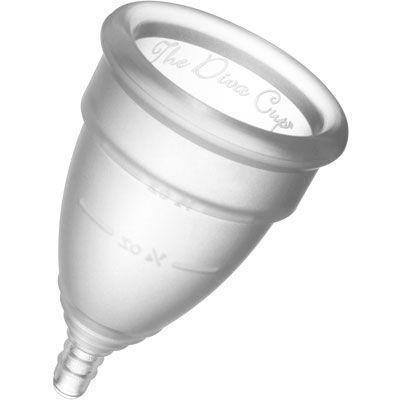 What about a Diva Cup Coupon?
A common question that people have is whether or not they can get a discount on the Diva Cup. Sometimes it's possible. Amazon often has some sales.
Besides that, you can Google something like "Diva Cup Coupon Code" and see what comes up. There are sometimes some specials on the website, through Groupon or other similar sites.
Only the Highest Quality Standards
This menstrual cup is made by a Canadian company of the highest quality medical silicone and this is the first period cup that many people end up buying. The brand name has now become synonymous with "menstrual cup" in the same way that Kleenex now stands for tissues.
It's the period cup to which all others are compared in terms of fit, stiffness, sizing, etc. They're truly a pioneering company that advocates strongly for women's health and it's a company that you can feel good about buying from.
The DivaCup is often the first menstrual cup that people end up trying and many stick with it for the rest of their lives! It's comfortable, easy to insert and remove (it has grips on the base), and made from the highest quality silicone, according to the strictest manufacturing standards. It's a product that you can truly feel safe putting inside of your body. If you want a third party opinion on why you should make the switch to this type of product, then take a look at Puratium's zero waste period article, where they also talk about cups.
Sounds like the sanitary cup for you? It likely is! Check out the Diva Menstrual Cup for yourself on Amazon today and see all the excellent reviews from hundreds of satisfied customers:

How Does it Work?
If you've never used a menstrual cup before, you may want to know how it works. It's actually quite simple.
Instead of absorbing menstrual fluid, they collect it in a closed funnel that's inserted into your vagina.
When it's full, or around 12 hours, you have to take it out, empty it and then reinsert the it.
Period cups are reusable and can last for years. This makes it eco-friendly, affordable and also more convenient. No more running to the store to pick up tampons!
Two Sizes
There are two sizes of this popular period cup:
Size One which is the smaller size and for those under thirty who've never given birth vaginally. 41 mm diameter, 70 mm long.
Size Two is for people who've given birth, and also for those over the age of 30. 45 mm diameter, 70 mm long.
Both the small and the large Diva-Cups have capacities of 30ml, which is on the larger end and it should last you overnight, even on your days with the heaviest flow.
Of course, you could also pair your Diva Menstrual Cup with something like a cloth menstrual pad for added protection during heavy flow days or nights.
Both the small and large Diva Period Cups are pretty standard in the menstrual cup world. You can find larger and smaller ones for teens/very large people, etc., but the Diva Menstrual Cup should work well for most people. If you have a low cervix, this might not work for you and you'd do well to consider another cup.
A Quick Note about Sizing
The official recommendation is to use the large size for women over the age of 30, even if you haven't given birth vaginally. This may work for some, but others may find it too big.
You may consider using the small size in this case. Many people have better results with it, even though they are above the recommended age limit.
Diva Menstrual Cup Review
Why is there Only 1 Colour?
You might notice that there is only one colour option of Diva Period Cup, which isn't actually a colour! It's natural, un-pigmented silicone.
The skin in the vagina is sensitive and shouldn't unnecessarily be exposed to  dyes and chemicals. Adding colour pigment particles to the silicone creates additional risks that the particles, or other chemicals may not bind properly and could leach into the body.
Back to us: sure, it's not "fun" to only have one colour choice, but we appreciate that they take safety seriously and don't want to add extra risks to their product.
Is this Period Cup Comfortable?
If you're never used a menstrual cup before, you probably want to know whether or not the it's comfortable to use. The vast majority of people find that it is. It's actually similar to tampons in that once the it is inside you, you probably won't feel or even notice that it's there.
However, there are a couple of situations where you may find the Diva Menstrual Cup uncomfortable. The first is if you have a low cervix and it's sticking out of you. This won't feel comfortable, especially since the stem is quite stiff (when compared to other cups like the Sckooncup, or XO Flo that have softer ones).
If this is the case for you, you can trim it. Start small and only trim as much as necessary. Having a little bit of stem on it can assist with removal.
The second reason why you might find it uncomfortable is because it can push quite strongly against your vaginal canal walls and even cause cramps. If this is the case, try switching to a softer menstrual cup and see if you have better results with it.
What about for a Low Cervix?
If you reach into your vagina with you index finger, and can touch your cervix easily with the tip of your finger, you have a low one. You may wonder if a Diva Menstrual Cup is a good option for you.l
At 70 mm, the Diva Menstrual Cup is kind of average-long. There are some cups out there around 80 mm, while there are some at 50 mm.
If you have a low cervix, you'll probably find that this period cup is not the best option. Instead, you'll want to consider a cup that is closer to 50 mm long.
Of course, you can do a couple of things to modify it to make it shorter. These include:
Cutting the stem. You can trim it as short as necessary. Start small and only trim a bit at a time because having it on there assists with removal.
Still too long? Cut the stem off entirely, and then turn it inside out. You'll lose some volume by doing this, but it does make the cup very short.
However, if you haven't gotten a cup yet, it's probably best to not go with this one. It's too long and although it can be modified, it's often better to just start with a shorter menstrual cup.
We generally recommend the FemmyCycle for someone with a very short vaginal canal. You can check it out for yourself over on Amazon:

Is it Good for Beginners?
Many people start with this one for their first menstrual cup. It works so well that they end up sticking with it for the rest of their lives.
In terms of firmness, it's "average." This means that it's not so stiff that it'll feel uncomfortable.
But, it's also not so soft that it'll be difficult to insert. When you put it inside you, it should just open with minimal hassle. You can double-check to make sure it's opened by jiggling it, or twisting it one direction, then the next. You can also try a different fold.
But, it's firm enough that it'll happen naturally for most people. This makes it an excellent option for beginners and even though it's a new thing, most people figure it out easily enough!
How to Use a Period Cup
If you're never used one before, you may feel a bit intimidated by it. However, it's relatively easy to use a menstrual cup if you follow these simple steps:
Wash your hands before handling the cup, inserting or removing it. Not doing this can introduce all sorts of things you don't want into your vagina.
Fold the cup, and then insert it. Remember to point it down and back towards your tailbone, not up towards the sky. The Diva Cup is relatively stiff, so it should just open easily inside of you.
If it doesn't open, take it out and try again with another fold. Or, twist and jiggle it until it does.
You should take it out every 12 hours, or sooner if you have a heavy flow and it begins to leak because it's overflowing.
Be sure to wash your cup well.
Then, put the cup back in.
At the end of your cycle, you can boil the cup in a pot of water on the stove for 5 minutes to deep clean it.
Is it Messy to Use for Periods?
If you use tampons, you probably know that you can make it through your entire period without getting any menstrual fluid on your hands. It's the same with pads or sanitary napkins, the other feminine hygiene product you may be familiar with.
What about with period cups? Is it possible for them to be not messy?
The unfortunate answer is not really, a sanitary cup is quite messy! You will indeed get menstrual fluid on your hands almost every single time you insert or remove a menstrual cup.
It's not as gross as you might think. Most people get used to it and don't give it a second thought.
We're sure that you'll learn a few things (or many things!) about your period and menstrual cycle.
Inserting and Removing it
What People are Saying about this Period Cup:
"I love mine! I've never using pads again! It was surprisingly easy to get it and remove (love the grips on stem and base), despite being super nervous about it. You'll know more info about your period and menstrual cycle than you ever thought possible!"
"Five stars! I actually wish I could give it more. That's how much I love this product. My only regret is not knowing about the DivaCup sooner in my life. All those wasted years with pads and tampons. I've been able to learn so much about my body by using it."
"Divacups and other sanitary cups have the potential to change the world. I want to spread the word about this thing to everybody I know!" 
"Overall, I found my experience with this period cup to be a very positive one. It wasn't that difficult to insert, and remove as long as I got a good grip on the stem. I found that the only time it leaked was when I got it behind my cervix, instead of below it. That's more a user error though than a fault with the product though. I've recommended it to a number of my friends."
Pros:
1.Easily available on Amazon because it's the most popular menstrual cup in the world.
2.It's made from medical silicone and it's clear, which means that it has fewer chemicals than the coloured ones. Also, the company assures the highest production standards and it's approved by the FDA and Health Canada.
3.An excellent resource booklet to help you with insertion and removal and to answer your FAQs about this product.
4.A stylish bag to store your period cup in between cycles.
5. A product you can feel good about buying!
6. Most women discover that it fits well and doesn't leak, after a few cycles of practice getting the hang of inserting it correctly.
7. It's the cup to which all others are compared. If it doesn't work for you, you'll have a wealth of resources at your disposal to help you choose another one that will work.
8. It's an environmentally friendly alternative to single-use feminine hygiene products.
Cons:
1.Some women report leaks that they don't have with other brands, including the Moon Cup or Lunette Cup.
2.Even size 1 (the pre-childbirth model) is too big for some smaller people. At 41 mm diameter, it's certainly not one of the smallest cups out there. You could consider something like the Meluna Cup
3.They can be difficult to clean due to the writing and etching on it, as well as the holes which give greater suction. Some people recommend using an old toothbrush, or a toothpick at the end of your cycle to get all the little bits out.
4.It's quite long and not great for those with a low cervix (we recommend the FemmyCycle Low Cervix Model instead).
5.The stem, at 70 mm is shorter than other brands, which can sometimes make it difficult to remove. If you find removal difficult with this period cup, you might want to consider the Cleo Cup.
6. It's a little bit expensive than some of the other period cups.
7. The colour isn't that appealing to some because it will discolour after a few cycles. However, there is a benefit to this as well-no dyes used in the manufacturing process leads to a more "natural" product. After all, it doesn't really matter what colour it is, as long as it is safe to use.
8. They don't accept returns for used products.
It Keeps Falling Out!
Some women have the experience of their sanitary cup falling out. It can be a scary, messy situation and one that should certainly be avoided if possible. Here are a couple reason why your period ucp might be falling out of you:
It's too Small
Are you using a small but have given birth vaginally? Maybe your cup has been slipping and sliding around inside of you and it never really seems to seal to your vaginal walls?
It's too Long
The more likely reason why your cup is falling out is because it's too long. If you have a low cervix (you can touch it easily with the tip of your finger), then your cup may fall out.
There just isn't spade for everything "up there." You can try cutting the stem off, or turning it inside out. Both of these things will make it shorter. Getting a bigger, or shorter menstrual cup should work for solving your falling out problem!
Can it Get Lost of Stuck?
Some women have a fear that they can get lost or stuck. Nothing as big as a menstrual cup, or even a tampon can get past your cervix because it's such a small hole. The exception is during childbirth, or course.
Rest easy, your period cup will not get lost!
The other thing that women want to know is whether or not it can get stuck. You will eventually get it out, even though it may be a bit difficult at first. This is especially true after you wake up in the morning sometimes.
If this is the case, don't worry. Put on a pad to catch the leaks, and come back in an hour or two after you relax for a bit. This will usually solve most of the problems.
Besides that, you can reach up to see if you can grab the tail on your menstrual cup. Use it to pull down gently until you can reach the base. Then, squeeze in the two sides and break the suction seal on it.
If you still can't get it, then push down with the muscles in your pelvic while reaching up with your fingers. This should work.
The last resort is to get a trusted partner to help you out, or go see a doctor. They'll be able to get your menstrual cup out in seconds.
Can you Pee with it In?
The short answer is yes, it is indeed possible to pee while using a menstrual cup.
A quick anatomy lesson. We have three holes: vagina, anus, and urethra. You insert a cup into your vagina, while you pee out of the urethra, and poop out of your anus. So in theory, there will be no interference between a menstrual cup, and either peeing or pooping.
Don't worry, you're not alone! Many people also wonder, "Can I poop with a menstrual cup in?" The easy answer is yes!
However, some people find that a menstrual cup presses on, or pushes against their urethra. That's why it can feel like it takes a looooooong time to pee when you're wearing a menstrual cup. This can also cause some discomfort.
Know that you're not alone. There are lots of other people who have this experience when peeing with a period cup
Sex with Diva Cup?
Can you have penetrative sex with a Diva Menstrual Cup? The short answer is no! It would be very uncomfortable for you and your partner if you did happen to try.
If you're looking to have sex during your period, we recommend a better option: The Soft Cup.
This will be far more comfortable than trying to have sex with a menstrual cup. Unlike a normal period cup which sits low in the vagina, the Soft Cup fits higher up.
The Soft Cup is a flat, flexible disc. Most people report that neither they, nor their partner even noticed it was in there during sex. Please note: Soft Cups are not contraceptive devices! Use a condom, or other form of birth control/STI protection.
The only real negatives to Instead Soft Cups are that they can be a bit more difficult to insert, particularly if you have a high cervix, and that they are disposable. With disposable ones, you lose a lot of the advantages of traditional sanitary cups including money saving potential, and environmental benefits.
That's why we recommend something like the Diva Menstrual Cup for everyday use. Then, keep a box of Soft Cups in your cupboard for sex during your period. It's the best of both worlds!
Shop now for Soft Cups for period sex over on Amazon:

My Cup Leaks!
A problem that some people have with their DivaCup is that it leaks. This certainly isn't a problem that is unique to this period cup. While a certain menstrual cup may work for some people, it won't work for all people.
The reason for this isn't that the period cup is bad, it's just that people come in all different shapes and sizes. Of course no one single menstrual cup will work for every single person in the world!
Care and Cleaning
When compared to single-use products, a DivaCup is a little bit expensive. It only makes sense to ensure that it lasts as long as possible. If you have to replace it too soon, you'll lose out on one of the big advantages of menstrual cups—that they are way cheaper in the medium to long-term.
Although they recommends replacing it every year, it actually can last far, far longer than that. Here's how you can get the most life out of it:
Wash hands well with soap before inserting and removing it. This will prevent any foreign things from getting into your vagina, which can lead to infections.
During your period, you can clean it with Diva Wash, or a mild, water-based soap. Do this at least twice a day. You may have to do this more often if you have a heavier flow.
When you're traveling, always use potable (drinkable) water to clean it with.
If you're in a public bathroom, wipe your cup with toilet paper, and then clean it thoroughly next time you remove it at home.
After your period, you can sterilize your cup by boiling it in a pot of water on the stove for 5 minutes. Be sure to not let the cup touch the sides of the pot because this will destroy it.
Or, you can check out the DivaWash, a top-quality menstrual cup cleanser on Amazon:

How to Clean it in a Public Restroom
Okay, so you've got your shiny new cup and you want to take it on the road! That's awesome. You'll probably love the higher capacity of it.
When you're at home, it's really easy to clean a menstrual cup in your bathroom sink. What about on a public bathroom? Here are some tips for getting started:
Wash hands before going into the stall.
Get out your water bottle, filled up with water.
Take out the menstrual cup, and rinse it off with some water from your bottle. Or, wipe it with a piece of clean tissue.
Reinsert the cup and be sure to give it an extra scrub when you get home.
It's really not a big deal to use one away from home.
What about the DivaWash?
Diva Menstrual Cup also makes a menstrual cup wash. Most people use a mild, water-based soap and water to clean their menstrual cup. But, if you have a bit of money to burn, then you can use a special menstrual cup cleaner.
Over on Amazon, it has some of the highest user ratings among all menstrual cup cleansers. Most people who try it out really seem to like it.
It certainly will keep your menstrual cup cup smelling nice, looking clean and lasting as long as possible. Here are a few features to consider:
Naturally pH balanced
Gentle, and can be use for sensitive skin as well
100% plant-based (vegan)
Not tested on aimals
No harsh chemicals
Scented with orange oil
The best place to find the DivaWash is on Amazon. Prices are very reasonable and shipping is often free with Amazon Prime. Check it out for yourself today:

How Often to Replace the Divacup
Okay, so menstrual cups aren't cheap! It only makes sense to find out how long they last. They officially recommend replacing your Diva Menstrual Cup every year on the website. We find this totally and completely ridiculous, and finally, unnecessary.
Most other companies that sell top-quality, silicone cups say to replace it every 2-10 years. The majority of companies say that around 5 years in normal.
You should inspect your menstrual cup and if you notice any signs of wear or tear, stop using it. This could include rips or tears, or a change in the material, most likely an oily or stocky film.
Discolouration is NOT a reason to replace your Divacup. This is normal, and it does not affect the performance of the cup.
How Often Do I Have to Empty the Diva Menstrual Cup?
You're probably used to changing out a tampon every 8 hours or even sooner because of the risk of TSS. What about with a menstrual cup? How long can you keep it in before having to take it out and change it?
The recommended maximum for the Divacup is 10-12 hours. You should take the cup out 2-3x times a day and be sure to clean it well. This is done to reduce your risk of TSS and other health problems.
If you have a heavy flow, you may find that you have to empty it sooner than 12 hours. Once the cup is full, the fluid will usually leak out so it should be obvious when you have to do this.
Dropped it in the Toilet: What to Do?
Okay, so you've dropped it into the toilet. That's some bad, bad news and you're probably wondering what to do next.
The thing you should NOT do is just rinse it off and put it back in. There are all sorts of nasty bacteria and germs in your toilet and you certainly don't want to get this stuff in your vagina. This can lead to all sorts of infections, and perhaps months of unhappy vagina.
If you're at home, it's not such a bad thing to drop a cup in the toilet. Just pluck it out, wash well with soap or menstrual cup wash and water. Then, boil it in a pot on the stove for 5 minutes to sterilize it.
If you're not at home, hopefully you have a pad or tampon back-up. Put that on, or in. Failing that, ask a friend, or make a "TP pad." Pluck out your menstrual cup and try to rinse if off. DO NOT put it back inside you. Then, boil it when you get home.
I repeat: DO NOT just put it back in after dropping it into the toilet. THIS IS BAD!
Can I get Toxic Shock Syndrome from a DivaCup?
Can you get (TSS) from a menstrual cup? Are menstrual cups safer than tampons with regards to this?
Let's look at the facts. To date, there has only been one reported case of it being associated with menstrual cup usage. This is because the person cut themselves at the beginning of their period when inserting the cup.
Now let's take a look at TSS and tampons. There are thousands of reported cases each year from tampon use. Although it's relatively rare, based on the number of people who use them.
Clearly, menstrual cups seem to be a safer alternative.
Can I use One with an IUD?
The company, unfortunately doesn't have any information on their website (at least that we could find) about using their cup with an IUD. Fortunately, there's a lot of information out there from physicians, other menstrual cup companies and actual users.
We'll share some of these tips with you about using your cup along with an IUD. Of course, be sure to consult with a physician if you plan to do this.
Make sure that your menstrual cup is the correct length. There should be some space between your cervix and the cup. At 70 mm, the Diva Menstrual Cup is one of the longer cups, so if you have a short vagina, it won't work that well for you.
Ask your doctor to trim the strings on your IUD as short as possible. This will reduce the risk of accidentally dislodging it.
Use extra caution when removing your cup. This can't be stressed enough. You MUST break the suction seal before removing it. Pinch the edges of the cup with your fingers. Then, remove it slowly and gently. DO NOT PULL IT OUT BY THE STEM. Only use it to pull the cup down until you can grasp the base.
Check your IUD strings throughout your period, and at the end to make sure the strings are still in the same position. See your doctor if they have moved.
Can I Wear the Diva Menstrual Cup While Swimming or Playing Sports?
A common question that people have is whether or not they can use the it while swimming, scuba diving, or playing sports. It's an excellent question, and we're happy to report that you most certainly can.
The Diva actually makes an excellent choice for swimming and scuba diving because it's completely contained inside your vagina. There are no strings hanging out, and of course, you shouldn't swim with a pad (disposable, or reusable) because they'll absorb way too much fluid and get soggy.
If you play sports, you'll probably love using the Diva Menstrual Cup. At 30 ml in capacity, that's 3x more than even a jumbo tampon with 10 ml capacity. This means that you won't have to worry about dealing with your period so often. Just empty the cup before your match, and you should be fine! No more running to the bathroom at half-time.
If you engage in long-distance sports like running, or cycling, it's even more awesome. Or, you might do some long kayak, or hiking trips. In these cases, you'll love not having to deal with the trash that comes along with disposable products. Simply empty your menstrual cup, and then reinsert it.
Can I use it at Night? 
A common question that people have is whether or not they can use it at night. Some people are nervous about using tampons overnight because of TSS. Is there a risk with a period cup as well?
The happy news is that you can use a menstrual cup for up to 12 hours before having to empty it. This means that you can use a Diva Cup through the night easily.
Just remember to empty, and then insert it before you go to bed. When you wake up, you should empty your cup.
Some people find that it travels up their vaginal canal while they sleep because of the lack of gravity. If this is the case for you, don't worry too much about it. Come back and try again in an hour or two and you should be able to remove it easily.
The only thing to consider about wearing it at night is if you have a very heavy flow. In this case, you may overflow the cup. You might consider wearing a pad to prevent leaks.
Check out this quick video about using a menstrual cup overnight:
Isn't the DivaCup Kind of Expensive?
If you search on Amazon for "Diva Cup," you'll notice that there are pages and pages of results. It's one of the more expensive menstrual cups on the market, retailing for around $30 USD.
You may think that this is quite expensive! After all, most people only spend around $5 a month on tampons. However, think about it this way. You'll be breaking even after only six months, and then it's pure money in the bank! If you take care of your menstrual cup, it should last for 5+ years. That's months and months of not spending more than you have to on menstrual care.
You also might want to know whether or not you should consider one of the cheap menstrual cups. We always recommend AGAINST the very cheap menstrual cups out of China.
These cheap menstrual cups have a lot of problems, but the main one is the materials that they're made from. It's flimsy silicone that's not medical grade. The result is that they leak like crazy, and also degrade very quickly.
In reality, you'll end up buying a top-quality cup later, so don't waste your money on a cheap one for the first round.
What about Yeast Infections?
You may want to know what the deal is with the Diva Cup and yeast infections (or the opposite problem, bacterial vaginosis). Maybe you've never had yeast infections before, but you're starting to get them after switching to one. Or, maybe you're getting them in greater frequency.
In general, menstrual cups can help to reduce the frequency of yeast infections. This is because they collect, rather than absorb menstrual fluid like with tampons. This helps to maintain the natural lubrication in your vaginal canal.
The other reasons why it may be preferable to tampons with regard to yeast infections is because non-organic ones contain trace amounts of pesticides and bleaching agents in them. This can throw off the pH balance in your vagina, which in turn leads to increased infections.
However, if you do find that a period cup is leading to more yeast infections, or bacterial vaginosis, then perhaps you're not cleaning it well enough. Boil in between periods for 5 minutes in a pot of water on the stove.
Also be sure to rinse off the soap or menstrual cup cleanser extra well.
If you do these things, but keep getting infections? It may not be the right product for you. Switch back to what you were using before and see if this improves your situation.
The DivaCup vs. the Others
If you want to see how it stacks up against the competition, check out these short articles:
What is the Return Policy?
Before you buy the Diva Menstrual Cup, you'll probably want to know what the return policy is. Here's what the company has to say on their website:
"The DivaCup…may not be returned or exchanged. All sales are final…In the rare case that there is a defect in the cup, please contact us within 60 days of purchase."
They'll do their best to help you make it work for you, so please contact them for help if you're struggling to get it to not leak, etc, so please contact them if you need some advice.
Over on Amazon, there are more than a few reports of the customer service team from this company going above and beyond to help people out.
Is it Safe?
You may want to know whether or not the Diva Period Cup is safe to use. The short answer is, "yes!" The Diva Menstrual Cup has been around since 2001, so it has 15+ years with a proven track record.
In general, most people consider them to be safer than the other alternatives. This is true for a few different reasons:
It doesn't contain toxic chemicals.
Tampons come with a slightly higher risk of TSS.
What about Pelvic Floor Prolapse?
There are some reports of the Diva Cup, or other brand causing issues with pelvic floor prolapse. There are no scientific studies on this, and there are only a few anecdotal reports among thousands and thousands of users.
We'd love to see more research done o this, but for now, it doesn't uterine prolapse doesn't seem to be a big issue among users. As far as we can tell, it is perfectly safe to use.
What about Cramps?
Some people may wonder whether or not it's safe with regards to cramps. Some companies claim that their cup can help to reduce cramps. This is usually not the case.
On rare occasions, a cup can actually cause cramping. This often happens because the cup is too big, or too stiff. Although the Diva Cup is not that firm, you could try switching to a softer one and see if this alleviates the problem.
The other issue is that the cup may be too big for you. The company recommends using their large size if you're over 30, even if you've never given birth vaginally. This may work for a lot of people, but not everyone.
If you are not someone that it works for, you may get cramps from it. Try switching to a smaller cup.
Is it FDA Approved?
There's a bit of misinformation about FDA approval of menstrual cups. Many companies claim to have this, when in fact they don't.
The FDA doesn't really give a stamp of approval to specific menstrual cups. What they do approve is the materials that go into them. The Diva Cup certainly meets, and exceeds this standard for quality of the materials in the cup.
The Diva is the first cup approved for sale in Canada by Health Canada. It also complies with with FDA, Australian TGA, and COFEPRIS standards to ensure a safe product.
It's free from latex, plastic, PVC, acrylic, acrylate, BPA, phthalate, elastomer and polyethylene. It's also free from any colours or dyes and has been shown to be biocompatible in a number of independent tests.
There is a long track record with this one, and it's clearly a safe product to use.
Diva Cup vs Tampons: Which One to Choose?
Okay, so it's the great debate of the Diva vs. Tampons. Which period protection option is better? Let's find out which product worn internally is right for you.
Ease of Use
Okay, it's no surprise that we recommend sanitary cups over tampons. However, there is one area where tampons come out ahead and that's in ease of use.
For cups, there's a serious learning curve. It takes most people 3-4 cycles to really figure it out. After that? You'll have years of happy period experiences so just persevere through that initial tough spell.
Affordability
You may think that it's a bit expensive at around $30 USD. Compare this to tampons that cost around $5 a month. You'll break even in half a year, and then have years of savings ahead of you.
Risk of Toxic Shock Syndrome
As already mentioned, it comes with a lower risk of TSS than tampons. Just be sure to take basic precautions like emptying your cup every 12 hours, and washing your hands before handling it.
Exposure to Toxic Chemicals
Tampons sometimes contain trace amounts of toxic chemicals in them.
If you Have a Heavy Period
Do you bleed through a jumbo tampon in only 2-3 hours? Then you'll need to check out the Diva. It has a capacity 3x more than a jumbo tampon.
More details here:
Is it better than tampons? In our opinion, most certainly yes!
Is it Good for Traveling?
The Diva Cup makes an excellent choice for people who like to travel. There are a number of reasons why we think you'll love it:
No more searching around in some small corner store in a random country looking fruitlessly for your favourite brand of tampons. You'll just have what you need.
Period cups are ideal for long bus or train rides because they have 3x the capacity of even a jumbo tampon, and you can leave it in for up to 12 hours.
They are a no-waste period solution.
The most important thing to remember about taking one with you when traveling is to only use potable drinking water to clean it. If you wouldn't drink it, don't use it for brushing your teeth, or cleaning your Diva Cup.
What about for Beginners?

If you're looking for your first menstrual cup, you'll probably want to know whether or not it will work for beginners. We think it is! It's easy to find in stores or online, is reasonably priced, has a nice size and firmness to it and is also safe to use.
More details here: Is it Good for Beginners?
The Takeaway on the Diva Period Cup:
Pros and cons-every single cup has them! The Diva Menstrual Cup is not unique in that it does have both pros and cons as well.
However, the cons have nothing to do with the quality of the product. It's one of the highest quality products in the world and there is absolutely nothing unsafe about using this product.
The negative reviews mostly seem to be about not fitting with certain body types (smaller people especially). So when you weigh up the DivaCup pros and cons, it comes out a winner in the end for sure!
We give it our solid 5 star recommendation. It's the cup that the author of most of the reviews on this website wore for years!
Do you want to have a safer, healthier, more affordable and greener period experience? Yes? We thought so. Then you'll need to check out the Diva for yourself and consider making the switch from tampons.
Shop now on Amazon today:

Have your Say!
What are your thoughts about this menstrual cup review? Are you going to check out this popular cup, or are you considering another brand? Any questions you'd like to ask?
Leave a comment below and share your thoughts with us.
Last update on 2021-04-17 / Affiliate links / Images from Amazon Product Advertising API