Diva Cup vs. Moon Cup: Overview
The Diva Cup and the Moon Cup are the two most popular menstrual cups in the world for good reason! They're both made by reputable companies from the highest quality medical grade silicone. The Diva Cup is made in Canada, while the MoonCup is from the UK.
They both seem to work for most people who try them, and it's rare that someone tries one of these cups and can't use it for whatever reason. If you're looking to buy your first menstrual cup, you really couldn't go wrong with either of them.
Old, Established Companies
There are many newcomers to the world of menstrual cups in the last five years or so. Many of these cups are very cheaply made in China, and results with them are often lacklustre. Think leaking, flimsy materials, discolouration, bad odour, etc.
However, the Diva Cup and the Moon Cup are old, established companies that have been around for decades. They are the polar opposite of these cheap, imitation cups you can find on Amazon.
Two of the Most Expensive Menstrual Cups
In terms of pricing, both the MoonCup and the Diva Cup are two of the most expensive sanitary cups you can buy. However, as with most things, you get what you pay for and in this case, they're top-quality period cups.
In reality, neither the MoonCup nor the Diva Cup are that expensive when you consider how long they can last. With proper care and cleaning, menstrual cups can last for up to 10 years (even if the companies tell you to replace them sooner!).
Although the initial cost is slightly more than with the Lena Cup, Blossom Cup, or Anigan EvaCup for example, it's not really a big deal. The reality is that you'll save thousands of dollars over the course of a lifetime by making the switch to a menstrual cup from disposable pads and tampons.
Frugal power all the way! And don't forget about the environmental benefits too.
Both Cups are FDA Approved
These two cups are on the list of FDA approved menstrual cups, a rare distinction. Although many cups make the claim that their period cup is "FDA approved," it is in fact not often true. It's usually just the materials that are used in them that are, but not the actual cup itself.
The MoonCup and the Diva Cup are exceptions to this rule, in that the entire product is FDA approved.
Country of Origin
The Divacup is manufactured in Canada while the Mooncup is based out of England. In general, the menstrual cups manufactured in North America, or Europe are of much higher quality than the cheap ones out of China.
It really is worth it to spend a few extra bucks getting something like the Diva Cup or the Moon Cup. We LOVE menstrual cups manufactured in the Western world here at Reusable Menstrual Cups and we'll always recommend one of these over the ones out of China.
One Colour, 2 Sizes
Both these cups only come in one colour: white. They both have two sizes: small and large.
The small sizes of both brands are generally recommend for people under the age of 30 who haven't given birth vaginally.
The larger sizes are for people who've given birth vaginally, or are over the age of 30. These are just general recommendations however, as body types and sizes vary considerably. You may be over 30, but require a smaller cup and vice-versa.
Diva Cup Review
MoonCup vs. Diva Cup Materials
Both of these popular menstrual cups are made from medical grade silicone. Here's what the companies have to say about it:
Diva Cup: natural un-pigmented soft medical grade silicone that softens with body heat.
Mooncup: latex-free, hypoallergenic and contains no dyes, BPA, phthalates, plastic, bleaches or toxins.
That's a lot of marketing hype. In reality, these cups are made from exactly the same thing.
MoonCup Review
Moon Cup vs Diva Cup: Sound Pretty Similar to You?
Do these two period cups sound pretty similar to you? That's because they are!
Top-quality medical grade silicone. FDA approval. Manufactured in the Western world. Made according to strict quality standards. Excellent companies that stand behind their products and have great customer service. A ton of satisfied customers (based on Amazon reviews). A nice design and fit. Easy to understand instructions and storage pouch included.
They are both readily available on Amazon or in drugstores. However, the Diva Cup might be difficult to find in Europe, while the MoonCup might be difficult to find in local shops for North Americans.
Sounds like a win to you? It does to us. That's because both the MoonCup and the Diva Cup are some of the best cups that money can buy.
You can check out the choices for yourself on Amazon:

Diva Cup vs. Moon Cup: Design
In terms of design, the Divacup and Mooncup are very, very similar and they look basically the same when placed side by side to one another. Unlike many of the newere menstrual cups (The Anigan EvaCup for example), they are available in only one colour: clear.
The main difference between the two is that the Diva Cup has a slightly larger cup and shorter stem, while the Moon Cup has a smaller cup and longer stem. The result is that the Diva Cup has a slightly bigger capacity (30 ml) compared to the Moon Cup at 25 ml (small) + 28 ml (large), although both have almost the same overall lengths (70 + 71 mm).
When you're out and about on a busy day, or on the night of your heaviest period, even a few ml of extra capacity can make a difference. This could tip the scales slightly in favour of the Diva Cup, especially if you have a heavy flow.
In terms of diameters, both cups are similar, with the only difference being that the Mooncup is slightly larger. See the chart below for more details about the Diva Cup vs. the Moon Cup sizing.
Diva Cup vs. Moon Cup: Comparison Chart
MoonCup vs. Diva Cup: Stiffness 
One slight difference between the MoonCup and the Diva Cup is the stiffness of the material. The Diva Cup falls into the "average" firmness category, while the MoonCup can be found under "firm." The difference, however, is quite slight.
The advantage to having a firmer cup is that it's easier to insert. This is because it will just "pop" open inside of you, and you won't really have to jiggle it around. For some people, firm menstrual cups can be uncomfortable because they press quite strongly against the vaginal canal walls.
If you have a softer menstrual cup, you'll probably find it very comfortable and won't even feel it inside of you. They can sometimes be more difficult to insert because they don't just open easily. You may have to fiddle around with them a little bit, by turning them a full circle one way, and then the other. It's not a big deal, but it does require some extra work.
How about the MoonCup vs. the Diva Cup—is there a big difference? While the MoonCup is slightly firmer, it's not a big difference, and the Diva Cup is actually considered a firmer cup as well. Both should feel almost the same inside of you, as well as be reasonably easy to insert for a beginner.
Check out this menstrual cup firmness comparison chart for even more information: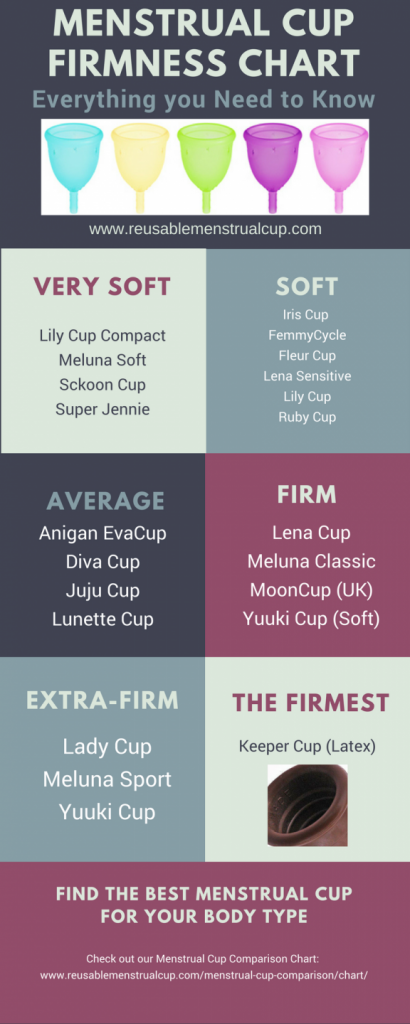 Moon Cup vs. Diva Cup: How Often to Replace 
A common question people have is how often they need to replace their menstrual cup. It's a great question and there is a ton of conflicting information out there. Some companies say their cups can last for 10 years or more, while some recommend replacement every year.
MoonCup's official advice is "years and years," with proper care. Ultimately, it's up to you and you should replace it when there are signs of wear and tear.
Diva Cups says to replace it every year, which is obviously on the extremely conservative side. After all, that's only 12-13 cycles! Anecdotal reports (including the author of this blog post!) say that the Diva Cup can last for up to five years, or even longer.
We would hope that a product you pay around $30 USD for would last more than 12 times. Most people, however, report that their Diva Cup has lasted for a lot longer than the company recommends. In reality, the lifespan of each of these cups is very similar and it mostly depends on how well you look after them.
See: How to Clean a Menstrual Cup.
Diva Cup vs. MoonCup: Pricing
In general, the Diva Cup and the MoonCup are similarly priced. Check out the chart below for the most up to date prices on Amazon:
I Have a Low Cervix? Are These Suitable?
If you have a low cervix, neither the MoonCup, nor the Diva Cup will work well for you. At around 70 mm, they are average-long in the menstrual cup world. While fine for someone with a medium-high cervix, someone with a low cervix will do better with a total length of 60 mm or less.
You can trim the stem to whatever length you want, or turn the cup inside out to make it shorter. However, these are not ideal solutions.
In our experience, it's better to just buy a low-cervix menstrual cup. We recommend the FemmyCycle Low Cervix Model. You can check it out on Amazon by clicking the button below:

Can I Have Sex With a Diva Cup or MoonCup?
A common question that people have is whether or not they can have sex while wearing a Diva Cup or MoonCup. The answer is that it depends on what kind of sex!
For anything besides penetrative sex, menstrual cups are ideal. Your partner probably won't even know that you have your period because there are no strings like with tampons.
However, for penetrative sex, it will be very uncomfortable for both parties and it's not recommended. Menstrual Cups are also NOT a form of birth control in any way whatsoever.
For penetrative sex during your period, we recommend checking out Soft Cups. You can click the button below to head over to Amazon to see the product description and reviews for yourself:

Instead Soft Cup Review
Are the Diva Cup and MoonCup Good for Beginners?
You may be a beginner to menstrual cups and are wondering if a Diva Cup, or the MoonCup are good for you to start with. The short answer is yes!
Both the Diva Cup and the MoonCup are often the first menstrual cup that people try, and it's often the one that people end up sticking with for the rest of their lives. They really are that good.
Both of them are stiff enough that they're reasonably easy to insert. They're not so stiff as to be uncomfortable.
The sizing is around average, which means that they'll work for a large majority of people.
If you're a beginner to menstrual cups, you couldn't go wrong by choosing either of these popular options.
Diva Cup vs. Moon Cup: Which one to Choose? 
These two menstrual cups are so similar in terms of design, price, and marketing that it is hard to differentiate between two. Perhaps your choice could be made most easily based on where you live.
Although if you have heavy periods, the Diva Cup might be a better choice for you due to the higher capacity.
If you Live in Europe…Go with the MoonCup
If you live in Europe and want to buy local, consider the Moon Cup. You can get it directly from the company, or on Amazon. If you get it from the website, you'll get free shipping within the UK and your total will be just under 20 pounds.
Even if you don't live in the UK and want to buy the MoonCup, shipping is still surprisingly affordable. When you factor in shipping from Amazon, or the lack of availability at the local drugstore, you'll often find that ordering directly from MoonCup makes the best choice.
We love to buy menstrual cups directly from the company and cut out the middleman! It just makes good financial sense, especially considering that we're all about the frugal power here at Reusable Menstrual Cups.
Click the "shop now" button below to buy directly from MoonCup's website:

If you Live in North America…go with the Diva Cup
If you live in North America and like to support local businesses, the Divacup makes an excellent choice.  The Diva Cup company is based in Canada, and the cup is manufactured there as well.
You can buy it easily on Amazon, especially in the USA and Canada, where it dominates the market. In fact, in Canada, the USA and in many other parts of the world, the name "Diva Cup" is often synonymous with "menstrual cup."
You can check out the Diva Cup for yourself today:

Diva Cup vs. Moon Cup: More Information
If you want some more information about which period cup is right for you, the Divacup or the Mooncup, see the following:
Or, just head on over to Amazon to get the Mooncup Menstrual Cup or the Diva Cup for yourself.
Have your Say about the Diva Cup vs. MoonCup
What do you think about this ultimate menstrual cup showdown? Do you like the MoonCup? How about the Diva Cup? Which one would you recommend to your friends.
Comment below and let us know all the details. Thank you!