Best Organic Cloth Pads
If you're looking for the best organic cloth menstrual pads (sometimes called Mama Cloth), you've come to the right place! We're going to share our top 5 reusable organic pads so you can make your period safer, healthier and more eco-friendly.
Our Top 5 Organic Reusable Pads to choose from include:
Blushing Bluebird cloth menstrual pads
How Did We Choose the Best Organic Reusable Pads?
That's an excellent question, and we're happy to share our process with you. It's basically the same, whether it's pads, tampons, menstrual cups, or urination devices.
We look carefully at the overall user rating, and total number of reviewers (more than 100 is best) on Amazon. Then we dig deeper into the 3-4 star reviews because they usually give the most accurate picture of a product's pros and cons.
After that, we see what other bloggers and YouTubers are saying about it.
Next, we look at the company website, paying close attention to the philosophy behind the product, as well as where and how it's made. At this point, we also look at price per unit to help you get the best deal.
Then we try it out. We get some products for free, while we pay for others. Either way, our process is the same.
Finally, we recommend the best ones for you!
#1 Organic Cloth Menstrual Pad: Hesta Organic
If you're looking to make the switch from disposables, then these cloth pads from Hesta Organic should be at the top of your list. They have some of the best reviews and ratings in the category over on Amazon.
Organic Cotton Grown in the USA
Women love them because they're leak-proof, and stain-free. They're also made from organic materials in the USA, so you know that you're getting a top-quality product.
The only real downside to these organic reusable cloth pads is that they're a bit expensive. However, you get what you pay for and in this case, you're getting a top-quality organic feminine hygiene product that'll last for years. If you take care of cloth pads, they can last for 10 years or more.
Range of Sizes and Absorbency Levels for these Reusable Organic Reusable Menstrual Pads
Hesta Organic makes a wide range of cloth pads from pantyliners to average flow, to overnight ones. You're sure to find a cloth pad that works for you, no matter how heavy your flow is, or where you're at in your cycle. Plus, you're sure to be able to find the color that you want.
More Information and Where to Buy
For more information, be sure to check out: Hesta Organic Cloth Pads Review.
You can check out Hesta Organic Reusable Menstrual Pads on Amazon for yourself if you want to have a toxic chemical free period experience. They can be difficult to find in stores, which is why we recommend shopping online:

Hesta Organic Cloth Pads Review
Compare Hesta Organic Period Products
---
#2 Best Reusable Menstrual Pads: Blushing Bluebird
Blushing Bluebird cloth pads are quickly becoming one of our favourite organic options. They are soft, comfortable, have a leakproof layer and also come in a wide range of sizes, and colours. We also love the fun, cute designs and patterns and style of these pads.
Reusable Organic Reusable Menstrual Pads Handmade in Canada
We LOVE that Bluebird pages are handmade in Canada because you can certainly tell the difference in quality. Although they're not cheap, you get what you pay for. The fabric feels great next to the skin.
These organic reusable sanitary pads from Blushing Bluebird should last for years. Plus, they work well and don't leak because of the protective, waterproof layer. However, unlike some cheaper pads, this layer is not the outer one, but it's instead in the middle. This means that the backing is non-slip. The result? They stay in place really well on your underwear.
We have ALL the washable pads at our house and can easily compare them to each other. When our flows are on the heaviest days, it's the super pad from Blushing Bluebird that we turn too. It's one of the biggest, most absorbent pads you can buy.
You can check them out at their website: Blushing Bluebird Cloth Pads.
Blushing BlueBird Organic Cloth Pad Review
#3 Organic Reusable Cloth Pads: ThinkEco
Next up on our list of the best organic cloth menstrual pads are these ones from ThinkEco. Compared to some of the other options for organic organic washable pads, these ones are a bit more reasonably priced.
Excellent Customer Reviews
Although they're pretty new to the scene, ThinkEco pads have some excellent initial reviews over on Amazon. They're a top-quality, organic product at a very reasonable price.
Made in South Korea from 100% Organic Cotton
These reusable pads are made in South Korea. There are a variety of size options, from a pantyliner to extra-large ones that are suitable for overnight use. The best part is the leakproof inner layer which is designed to prevent embarrassing leaks.
More Information and Where to Buy
You can order them online now, and you'll often get free shipping with Amazon Prime:

---
#4 Organic Washable Cloth Pads: Sckoon Organic
Next up on our list of the best organic cotton pads are these ones from Sckoon Organic. The company also makes one of our favourite menstrual cups, the Sckooncup, as well as a line of period underwear.
These organic cloth pads are well designed and most women report that it stays in place quite well, even during exercise. They have some decent reviews on Amazon and most women try them seem pretty happy with Sckoon Cloth Pads.
Sold with the SckoonCup Menstrual Cup
Although you may be able to find these organic cloth pads by themselves, they most often come in a set with the Sckooncup. This can be an economical way to make the switch away from disposable pads or tampons to reusable period products.
More Information about these Reusable Organic Cloth Pads
For more details, check out the Sckoon Organic Cloth Pads Review.
Or, you can buy them on Amazon:

---
#5 Organic Cloth Menstrual Pad: Glad Rags
Next up on our list of the best organic cloth pads are these ones from Gladrags. They are the makers of the Keeper Cup, as well as the XO Flo and and Glad Rags has an excellent reputation in the feminine hygiene world.
These pads are made from organic cotton in the USA and overall, are a nice option to have. They are breathable, soft and feel nice next to the skin. Many people commented that they feel more absorbent than some of the other cloth pads out there.
Huge Range of Size and Absorbency Options
There are a wide range of options, from pantyliners to overnight pads, so you're sure to find one that's right for flow. We suggest getting a few different sizes to account for the variance in your menstrual flow.
More Information and Where to Buy
For more information, be sure to check out: Gladrags Organic Cloth Menstrual Pads Review.
Or, head on over to the company website to buy these Glad Rags Organic Cloth Menstrual Pads today:
Gladrags Organic Reusable Pads Review
---
#6: Party in My Pants Reusable Organic Cloth Pads
Another option to consider for organic sanitary napkins are these ones from Party in My Pants (PIMPs). The company offers a couple of options, one organic, and one non-organic. They have a fun name, as well as some interesting patterns, styles, designs and colors (bright pink for example).
Girls or teens will love these things!
As far as pricing goes, these organic cloth pads are quite expensive. However, when you consider what you get, they're reasonably priced. In this case, they're top-quality organic reusable pads that should last you for years. If you're planning on buying these ones, be sure to check for deals and coupon codes because they frequently have them.
They're made in the USA from top-quality materials and most people that try them really seem to like them. They stay in place extremely well with the well-positioned snaps on the wings. In particular, we love the longer ones for women with heavy flows that are perfect for those days.
You can learn more about them here: Party in My Pants Review.
Reusable Organic Cloth Pads Review
---
Why Consider Making the Switch to Organic Cloth Menstrual Pads?
You may be wondering why you should consider making the switch from disposables to organic cloth pads that are reusable. There are a number of important reasons you might want to start using them, including the following:
Sensitive skin?
If you find that regular disposable pads cause skin irritation of allergy flare-ups, then you should consider switching to cloth menstrual pads. Most people find that they're a lot easier on sensitive skin.
Better for your health
Disposable pads (and tampons too) contain toxic chemicals in them from the pesticides used to grow the cotton, as well as from the manufacturing process. It only makes sense to avoid this if possible, especially for something that you wear next to your skin for up to a week each month.
Save money
If you have a very heavy and/or long period, then you'll know that you spend a lot of money on disposable pads! Although cloth menstrual pads cost a bit more up-front, you can save thousands of dollars over a lifetime by making the switch to reusable products.
The best reusable menstrual pads will last a long time and you'll save a lot of cash.
Help the Environment
Have you ever felt kind of bad about throwing away all those plastic pads into the trash? We certainly have.
Disposable pads are made in large part from plastic, which is not biodegradable and it's certainly not friendly to our Earth. Those things will still be hanging around the landfill in hundreds of years from now. Organic cloth pads are made in large part from natural materials that are biodegradable so you can reduce your plastic waste.
It's time to make the switch!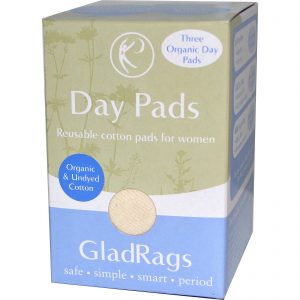 Which Organic Pads are Best for a Heavy Flow?
Hesta FDA Registered Organic Reusable Cloth Menstrual Pads (Environment-Friendly), PMS Relief Set of...
Safe Guarantee – FDA registered / Our pads are made of 100% certificated organic cotton (GOTS)...
Fit-Max - Independent fixing wings are absolutely staying in underwear. Our new pads are designed...
LeakLocker - 6 layers of absorption organic cotton layers / Waterproof layer made of coated pure...
Ultra Airflow - The most breathable pads keep natural moist from your body. You can immediately feel...
Multiple Options-4 different sizes (Slim, Regular, Large and Overnight) / Wings: good for heavy...
If you have a heavy period, you'll probably want to know which pads are the best option for you. The good news is that are a number of extra long, overnight pads that will work well for you, even on your heaviest flow days.
Most brands offer a range of sizes from panty liner to much bigger pads. Stick with the bigger ones if this is the case for you. Of these, one brand in particular that we recommend is Hesta Organic. Their jumbo (overnight) pads are very long and absorbent, but are far less bulky than you'd expect.
When you're wearing them, you'll find that they're just as comfortable as normal pads. Most people find that they can use them for a number of hours, even on their heaviest day.
Well-Positioned Wings and Waterproof Layer
The wings on Hesta pads are well-positioned so that once you snap them into place on your underwear, they stay there to help prevent leaks and surprises in the morning!
There is also a waterproof layer to prevent leaks if they do become saturated. Try them out for yourself—we're confident that you'll love them.
You can shop now on Amazon:

For a heavy flow, you may find yourself changing your pads several times a day. This is where reusable cloth pads can be a game-changer in terms of money, the environment and comfort.
How to Clean Organic Reusable Pads
First of all, be sure to check this out for all the details: Cloth Pad Care Guide, including how to wash them by hand. But, we'll also give you a few quick tips for washing your pads here.
If you're not worried about staining, it's actually quite easy. Put them in with your regular laundry, but for best results, use cold water. We don't care, and are actually far more worried about staining our clothes than our pads.
Worried about Staining?
If you do care about staining, then soak them in cold water after use. A quick rinse if they've just been used will often work well too. Or, you could use a commercial stain remover.
You might want to hang dry instead of using the dryer to increase their lifespan.
Another option if you worry about staining is to get a darker-coloured reusable pad instead of the light ones. Or, one with a multi-coloured design so that the stains won't show as easily.
How to Deal with Reusable Pads When Not at Home?
Dutchess Pads Panties Diapers Storage Wet Bag 2-Pack Floral Bird Print
PRETTY PATTERNS - Floral / Bird Print Wet Bag for Cloth Menstrual Pads, Period Panties, Reusable...
SET OF 2 - You'll always have a spare clean bag. Keep one spare while you wash or use the other one.
QUALITY CONSTRUCTION - Waterproofed for no leaks. Money back guarantee if not 100% satisfied
ONE FOR CLEAN AND THE OTHER FOR DIRTY - Use for clean and dirty diapers, incontinence briefs or...
MULTI USE - Use also for wet swimming gear.
If you're thinking that it may be annoying to deal with your organic cloth pads on the road, you're right, kind of.
When you're at home, it's very easy to deal with reusable pads. You just have to take off the soiled one, and put it into your laundry hamper, or soak it in cold water first if you wish.
But, when you're away from home, it's a bit more difficult. But don't worry, it's easier than you might think.
Carry a Wet Bag With You
Most people carry a spare pad with them in a wet bag like this one from Dutchess. When the pad you're wearing is soiled, take it off, replace it with the one from your wet bag, and put the soiled one in there. Some people carry a wet wipe with them in case they get some blood on their hands, or you could also use some toilet paper.
Throw it into your purse or backpack and don't have a second thought about it! Then, when you get home, you can handle it like you normally would.
A wet bag is much better than the alternative—a Ziplock bag because it's not see through. They can also be quite useful for cloth diapers, swimming gear, wet wipes and more.
You can learn more this, and more here: Reusable Pads FAQs (there are also way more tips and tricks).
In the end, every woman figures out what works best for her.
Are they Just for Periods?
Although most women use them for periods, reusable pads have other uses beyond that. You might also consider them for light incontinence, vaginal discharge, spotting, or post partum bleeding. Especially after giving birth, cloth pads can feel much more comfortable than disposable products.
When you use panty liners almost every day for something like discharge or incontinence, disposable pads can get quite irritating, especially the ones with scents, perfumes or dry weave. This is particularly true if you have sensitive skin.
Make the switch to a reusable pad or panty liners to see if you notice a different in terms of comfort level. Our guess is that you will, and that you'll never go back!
What are Reusable Pads Made From?
You may want to know what they're made from, and whether or not you can make them yourself. Before there were so many great choices online, many people used to make their own using a basic sewing machine (look on Pinterest for patterns ideas and tips).
Here are some of the most common materials you can find in organic reusable pads. Companies that make menstruation products are all about giving your choices these days!
Fleece
It's soft, comfortable but not really the most absorbent. It can also leave you with that wet kind of feeling as it doesn't pull moisture away from the surface.
However, the waterproof version of this fabric can sometimes be used to prevent leaks.
Flannel
While you can feel the fluid on this fabric, it does hold onto it well. It's often used to make the thinner type of pads with high absorbency.
Cotton Velour
It's very soft, quite comfortable next to the skin and also very absorbent. The only real problem is that it can stain quite easily so be sure to give your pads made from this material a rinse in cold water.
Minky
This is quickly becoming one of the more popular choices for cloth pads. It's very soft, and comfortable, but it can sometimes get hot and sweaty so it's not recommended if you live in a hot climate.
Hemp
Of all the materials, hemp is one of the most absorbent ones. It feels very nice, and is also inexpensive, durable and soft. We predict that more companies will start to use this in the future.
Bamboo
It's very absorbent, but also very comfortable next to the skin. It's somewhat prone to staining, so be sure to soak your pads in water before washing.
How Many Cloth Pads Do I Need?
That's a great question and we're happy that you asked. Most people find that they can make it through their period easily and not run out with five or six pads.
Of course, it depends on a few factors
How often you do laundry
How heavy your period is
Whether you wear them only at home, or out too
Having an extra one or two can help with saving you the stress of running out!
What about Period Panties?
You may also be considering making the switch to period panties. They serve much the same function—absorbing menstrual fluid and preventing leaks. But, which option is better? It's up to you!
What about Menstrual Cups?
If you're looking for the ultimate in eco-friendly, frugal periods, then you'll also want to consider a menstrual cup. They're bell-shaped cylinders that collect, rather than absorb menstrual fluid like tampons do. Like organic pads, the top-quality ones can give you a toxic chemical free period experience.
The best part though? You'll save thousands of dollars over a lifetime by making the switch to something like the Diva Cup or Lena Cup. There really isn't much not to love!
For help in choosing the best one, you'll want to check out our menstrual cup quiz. There are a few simple questions and at the end, you'll get a recommendation for the best period cup for your body type.
What Period Products do you Recommend for Girls and Teens?
If you're young, (or a Mom who has a young girl), you may want to know what period products are good for you. We definitely recommend cloth pads, period panties, or a period cup. They're eco-friendly, affordable and most people find them quite easy to use.
If you're nervous about having to deal with them when not at home, why not use disposables at school, but then consider reusable products at home? It's easier than even to go on living your life, in a more eco-friendly way!
You can check out our top picks for girls and teens here: The Best Period Products for Teens.
Organic Cloth Menstrual Pads: Have your Say
What do you think about these organic cloth menstrual pads? What's your favourite brand? Or, what do you look for in an organic reusable menstrual pad.
Did we answer all your questions?
Leave a comment below and share your thoughts with us. And don't forget to give this content a share on Facebook, Twitter, or Pinterest.
Last update on 2021-04-17 / Affiliate links / Images from Amazon Product Advertising API