Dear Kate Period Panties Review
If you're looking for some extra protection during your period, or for light incontinence, then you might want to consider a pair of period panties like these ones from Dear Kate. Here are a few quick facts about them:
Made in the USA (designed in New York City)
3 layers of protection (2 wicking, 1 leak-resistant)
Comfortable and breathable (no plastic layer like most period underwear)
Sweat-proof, even when working out
Wash and dry with your regular laundry
Some of the most expensive menstrual underwear you can buy
Very stylish and fashionable, most people would never guess that they were period panties
3 styles and 2 lining options
Similar in terms of pricing, sizes and styles to Thinx period panties
Patented Underlux technology
Plastic free so you can avoid the crinkly feeling
Anti-microbial to help prevent yeast infections
Keep on reading for the full Dear Kates review. Or, head over to Amazon to check them out for yourself:

Dear Kate Period Panties Introduction
The Dear Kate Menstrual Underwear are some of the most expensive period panties you can buy. They're nice, but the real question is are they worth this high price-tag?
Let's find out in our Dear Kates Review!
Stylish and Well Designed
We LOVE how stylish Dear Kate Period Panties are. They don't even look like period panties, unlike some of the other options out there (ahem…Intimate Portal) that are very obviously not regular panties.
Dearkate: Soft and Comfortable…no Crinkly
The other great thing about Dear Kate is how soft and comfortable they are. Unlike other period panties, they don't have a plastic layer in them. No more crinkling when you walk or sit down! They use some innovative technology to make them leak-resistant without this.
Use Dear Kates Alone, or as Backup
On light flow days or when you're spotting, you might want to consider using Dear Kate underwear as your sole source or protection. You could also use them for light incontinence, or vaginal discharge issues.
However, on days when your flow is heavier, you'll probably want to use these as backup to a tampon or menstrual cup. They're absorbent, but not that absorbent to handle some serious flow for more than a couple of hours.
Very Expensive
However, they are 2-5x more expensive than most of the other period panties you can find on Amazon. According to reviews, durability is a bit of an issue and these things didn't really stand up to washing that well.
Some people also experienced leaking, although this could have been because they got the mini-lining (only crotch coverage) model.
For the price, we'd expect way better reviews, almost perfect ones in fact. As it is, Dear Kate aren't terrible, but they're just too expensive for what they are, an average pair of period panties.
Three Protection Layers, with Patented Underlux Technology
There are three layers of protection:
Two wicking and stain-resistant inner layers. 100% micro-polyester
One protective, water-repelling outer layer (Underlux technology). 74% nylon, 26% lycra
Their patented Underlux technology is designed to keep you dry, comfortable and leak free. The inner layers wick away moisture and absorb fluids. The outer layers trap the fluid and prevent leaking. It's like the future of underwear is here now!
We also love the anti-microbial nature of these period panties, which will help to prevent things like yeast infections or BV.
Care and Cleaning of Dear Kate Period Panties
You can wash and dry Dear Kates with your regular laundry. Wash them in cold water, and tumble dry on low for the best results. We generally hang them to dry on the line in order to reduce wear and tear on period panties, and cloth menstrual pads.
Don't use fabric softener or dryer sheets with Dear Kate underwear. This can destroy the properties of the material that makes them leak-resistant.
Wide Variety of Sizes
Dear Kate Underwear run from XS to 3X, which means that there's a size to suit just about anyone, from a young teenager to a plus-sized person. Everyone should have a stylish option for period panties!
Why Consider Period Panties? 
Period underwear are comparable to pantyliners, or a light pad. Most people would wear any of these things because they want a layer of protection to go along with their menstrual cup, or tampon. Or, these things work for light incontinence as well.
However, period panties are a better option than pantyliners for a number of reasons. These include:
Better for the environment. One pair of period panties can last for years, and replace countless pads or pantyliners.
Save money. Menstrual underwear are more expensive in the short-term, but you can save a ton of money over the long-term.
Better for your health. Wash them first, of course, but after that? You'll have a toxic chemical-free period experience. Compare this to disposable pads that have trace amounts of pesticides on them. This stuff isn't good to have next to your body!
Buy Dear Kate Period Panties
Sounds like exactly what you need based on our Dear Kates Review?
You can easily get the Dear Kate Menstrual Underwear online. If you want to have a cheaper, more comfortable period experience, then check out these period panties for yourself over on Amazon:

Styles and Linings of Dear Kate Period Underwear
There are three different styles of Dear Kates, and two different linings.
Dear Kate Styles
Thong (low rise, minimal back coverage)
Brief (high rise, full back coverage)
Hipster (low rise, but full back coverage)
Date Kate Linings
Mini lining (crotch area only, holds up to a teaspoon of liquid)
Full lining (crotch, plus up to waistband in both front and back, holds up to 3 teaspoons, except for the thong which holds only 1 teaspoon).
Dear Kate Underwear Sizing
Dear Kate menstrual underwear come in a wide range of sizes and there's something that'll probably work for just about everyone. You can find Dear Kates in sizes ranging from XS (size 00 USA) to 3X (size 24-26 USA). That's why they take a spot on our list of the best Plus Size Period Panties. 
Compare Dear Kate Menstrual Underwear
Dear Kate Menstrual Underwear Review
What People are Saying about Dear Kate Period Panties
"These menstrual underwear from Dear Kate do what they claim to do—which is keeping your dry and free from odours. They hipster feel good and have a nice style and design, but the elastic isn't great and it tends to slide down a little bit."
"Dear Kate Underwear are really expensive for what they are. I bought them for my daughter, but the first time wearing them, they leaked through the front. I would personally recommend sticking to regular panties and using a pad, tampon or menstrual cup."
"Dearkate underwear have a very nice fit and are super comfy to wear. However, durability is a bit of an issue with these things as the stitching started to unravel after only a few washes. For the price, I'd expect way better."
Dear Kate Menstrual Underwear Pros
Nice styles and colour options
Made in the USA
Comfortable and breathable
Leak-resistant, but don't have the plastic layer in them
Sweat-proof
Anti-microbial and inhibits bacteria growth
Not obviously period panties
One year warranty
60 day window for returns or exchanges
Sounds like the right period underwear for you? You can check them out for yourself over on Amazon:

Dear Kate Period Underwear Cons
Some of the most expensive period panties you can buy
According to reviews on Amazon, some issues with durability
Not absorbent, but just provide a layer of leak-resistant protection. You'll have to pair these with a cloth pad, tampon or menstrual cup for serious period protection
Check out some Cheaper Period Panty Options
The Best Period Panties
Pair with a Menstrual Cup for Extra Protection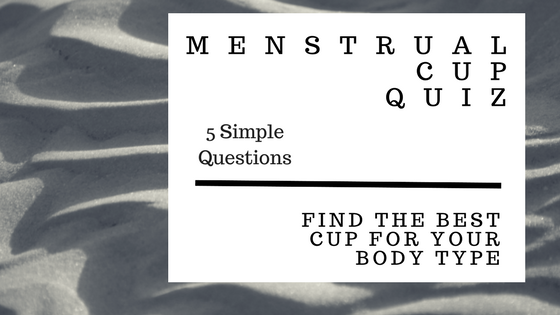 Period panties like these ones from Dear Kate are a good back-up, and can offer an extra layer of protection when you need it most. However, they are not really that absorbent and don't provide serious period protection.
That's why we recommend pairing your Dear Kate Underwear with a menstrual cup (or tampon) on all but the lightest of spotting days.
Menstrual cups have a number of advantages over tampons, including the following:
Better for the environment (one cup vs. thousands of tampons)
Money savings (save thousands of dollars over a lifetime)
Good for your health (much lower risk of Toxic Shock Syndrome)
Great for heavy periods (3-4x the capacity of a jumbo tampon)
The difficult thing is finding the right menstrual cup for your body type. There are so many choices out there. Low cervix, high-capacity, teen, ring or stem, etc.
That's why we've put together this menstrual cup quiz. There are 5 simple questions that'll only take you a minute. At the end, you'll get a recommendation for the best menstrual cup for your body type. Find it here:
What about Dear Kate Yoga Pants? Are they Leak-Resistant?
If you're looking for some yoga pants that offer the same protection as period panties, then look no further than Dear Kate. As far as we know, they are the only company offering protective yoga pants.
Dear Kate Commando yoga: Yes! It's the period product that people have been waiting for forever!
So, if you like to go commando during your workouts, or just wear yoga pants around town but need a bit of extra protection, then you'll probably love these things. Here are a few of the features that they offer:
Underlux technology protects you from leaks and sweat, exactly what you need in workout wear
Lined crotch gusset means that they won't be too revealing, if you wear them commando. It also holds 1 teaspoon of liquid
Sweat wicking fabric that is stretchy and comfortable. It moves with you!
Hidden pocket at the waistband for a house key or money
You can check them out for yourself over on Amazon:

Dear Kate Yoga Pants Review
Compare Dear Kate Yoga Pants Styles and Prices
Dear Kate Period Underwear and Yeast Infections
Some people want to know whether or not they can use Dear Kate Menstrual Panties if they have chronic yeast infections. According to the company, the answer is most certainly yes!
They've done testing, comparing Dear Kate to regular panties (not period panties) in terms of permeability and breathability and found it comparable. The moisture wicking, and anti-microbial properties of Dear Kate means that bacteria find it hard to grow, unlike with disposable pantyliners.
Some of the cheaper period panties don't have this wicking, anti-microbial nature to them and can lead to some serious sweaty crotch situations. This is turn can lead to yeast infections or Bacterial Vaginosis. You'll have to experiment and see what works for you.
Dear Kate Period Underwear: How They Work
Dear Kates: Only for Periods?
Period panties are not just for periods!
Use Period Panties for Incontinence
They can also work well for people with light incontinence issues.
For this situation, you're probably wearing something like pantyliners or light pads all the time. This can get really expensive.
The other negative to them is that they have trace amounts of toxic chemicals in them from the pesticides used to grow the cotton, as well as bleach from the manufacturing process. This stuff isn't good to have next to your body every single day.
That's where Period Panties, like these ones from Dear Kate can come in. Although they do cost more money up-front, they will save you lots of money over medium to long-term.
Consider Dear Kate Period Panties for Spotting
If you experience spotting between periods, there are many possible reasons for this. We recommend checking with your doctor to find out why this is happening. Treatment options depend on the underlying condition.
If you're currently using pantyliners to deal with spotting, then you know they can get expensive and also a bit uncomfortable is used every day. Instead, consider making the switch to some period panties like these ones from Dear Kate.
Dear Kates for Vaginal Discharge
If you experience serious vaginal discharge, you should see your doctor! Although a small amount of discharge is normal, it's not normal to have a large amount of it.
However, if you're experiencing this, menstrual underwear might be just what you need. They can be cheaper, and also less irritating than wearing pantyliners all the time.
The Takeaway on Dear Kate Period Panties
What's the final takeaway on Dear Kate Period Panties? They're not bad, and we like a lot of things about them, including the style, leak-resistant but non-plastic lining, and also how soft and comfortable they are.
Dear Kate: Made in the USA
They're also made in the USA, which we appreciate. A lot of other period panties are mass-produced in China, so this is a nice change from that. If you live in North America, and like to shop local, then consider these period underwear and yoga pants.
Dear Kates: Ridiculously Expensive
But the price of Dear Kates! They're ridiculously expensive for what they are, but they are not that much better than their competitors which are often significantly cheaper.
For how much they cost, we'd expect near perfect reviews online. However, most of them are very similar. They're an okay product, but leaking or durability is a bit of an issue. A lot of people are disappointed because having spent so much money, they'd hoped for a higher-quality product.
Money-Back Guarantee, so Nothing to Lose with Dearkate
But, there is a 60 day return or exchange policy, and a 1-year warranty, so in reality, you have  nothing to lose by trying them out. If you're not happy, return them for a full refund.
A  company that puts their money where their mouth is and offers a full money-back guarantee. Well, that's certainly nothing to complain about. It in fact pushes this Dear Kates review over to positive territory!
You can check them out on Amazon today:

More Period Panty Options
Dear Kate Menstrual Underwear are very expensive. Here are some of the cheaper options available. Of these options, we love the Anigan Stain-Free Period Panties. They are affordable, come in a number of stylish options and have some excellent reviews online and just work well.
Dear Kates vs Thinx Period Panties
Thinx is another popular brand of menstrual underwear that has dominated the scene for last couple of years. It's due in large part to their very popular referral program. However, there's more to that than meets the eye.
A number of bloggers racked up thousands of dollars of commissions, and instead of paying them, Thinx changed the program. The result? These influencers who helped make Thinx so popular were out all that money. It's for this reason that we don't really recommend Thinx.
That said, how do Think Period Panties stack up against Dear Kates? Let's find out.
Dear Kate vs Thinx: Price
Both of these period panties are extremely expensive. You can expect to pay around $40 USD per pair (as listed on the company websites)
Dear Kate vs Thinx: Range of Sizes
We had a quick look at the Dear Kate website and found a range of sizes from XS to 3XL.
Thinx period panties come in the same range of sizes
Dear Kate vs Thinx: Styles
In terms of styles and colours, both of these popular period panty brands come in a staggering array of colours and styles.
The best thing? They're just as stylish as regular underwear and don't really look like menstrual underwear.
Dear Kate vs Thinx: Where to Buy Them and Shipping Costs
Dear Kates are available on both Amazon and from the company website. However, there are a limited number of styles available on Amazon. Dear Kate has the better deal for shipping. It's free in the USA, and also free internationally for orders over $75.
Thinx underwear are sold exclusively on the company website. If you live in the USA, your first order ships free. After that, it's about $5. If you live outside the USA, shipping is around $10, even for your first order.
Dear Kate vs Thinx: Who is the Overall Winner?
In terms of overall quality, including how well they absorb fluid, both of these products are similar. They are also nearly identical in terms of styles, sizes and colour options.
Where they differ is availability and shipping. We LOVE that you can buy Dear Kates on Amazon, and also the free shipping.
Thinx Leak Proof Underwear are only available from the company website, and shipping often isn't free.
Plus, we certainly can't agree with the sketchy marketing tactics that Thinx employs. Their success has come at least partly at the expensive of influencers.
Learn more about Thinx
Dear Kate Underwear vs Modibodi
An up and comer in the period panty world is Modibodi. They're an Australian company that's been around since 2013. They're making some top-quality period panties with many of the same technology features that you can find in Dear Kates or Thinx underwear.
How does Modibodi compare to Dear Kates?
In general, we prefer Modibodi. They're a bit cheaper overall, but still come with the excellent customer service and money-back guarantee that Dear Kates do.
The size (4XS to 6XL) and style options are greater, and the overall quality just seems to be slightly higher. The sizing makes them a better choice than Dear Kate for someone looking for plus sized period panties.
The heavy absorbency panties from Modibodi absorb a SERIOUS amount of fluid, and can be worn on their own for a few hours during a heavy flow day. It's actually quite impressive!
As far as what people think, the vast majority of reviewers LOVE Modibodi, while Dear Kate has some mixed reviews, mostly due to the high price-tag, but not the fabulous performance that you'd expect from such an expensive product.
More information and Where to Buy Modibodi:
For some more details about Modibodi underwear, check out our full review here. You can also head over to the company website and find out more for yourself:

Modibodi Underwear Review
Have your Say about Dear Kate Underwear
What do you think about Dear Kate Period Panties? Worth the premium price-tag? Or, are you considering a cheaper pair of menstrual underwear.
Leave a comment below and let us know your thoughts about Dear Kate period underwear.