Best Cloth Pantyliners
Reusable Cloth Panty Liners: The Best Brands
You probably want to know what the top brands of reusable pantyliners are? Here are the best-selling cloth pantyliners that you might want to consider:
Party in my Pants (PIMPS) Cloth Pantyliners
Panty Pads make a good pick for the environment, your bank account and also for your health. Keep on reading for some more information about which ones to choose, as well as more detailed reviews about each product.
How Did We Come Up With this List?
It's an excellent question and we're happy to answer it for you! Our process is the same, whether for pads or tampons, menstrual cups or urination aids.
We look at the overall rating, and total number of reviews on Amazon (100+ is best). Then, we look closely at the 3-4 star ratings because they usually give the most accurate overview of the pros and cons of a particular item.
After that, we see what other bloggers and YouTubers are saying.
Then we take a look at the company website (or product description on Amazon if they don't have one). We pay close attention to the product materials and where/how it's made. At this stage, we also look at price per unit so that we can help you get the best bang for your buck.
Next, we try out the product. We get some of them for free from the company, while we pay for some too. Either way, our process and results are the same.
Finally, we compile this list to help you choose the best ones.
Why Use Reusable Panty Liners?
Reusable cloth pantiliners make an excellent choice for the eco-friendly person who also wants to save a bit of money. Think about how many panty liners you go through in a single month. Multiply this by 12 for the year, and then think about over the course of your lifetime. That's a lot of waste going into the landfill!
Reusable panty liners can last for 5-10 years, with proper care, which certainly makes them a better choice for the environment than disposables.
Save Money with Reusable Panty Pads
Just as using reusable panty liners is great for the environment, it's also an excellent way to save some money. Each box of panty liners costs around $5—think about how many you use throughout the year!
Each reusable liner costs about the same. You'll have recouped your costs in a few months by using reusable cloth pads.
Cloth PantyLiners: Make your Body Happier
The other reason that we recommend reusable cloth pads over disposables ones is for health reasons. Disposable pads contain pesticides from the cotton, as well as chemicals from the manufacturing process. This isn't good to have next to your body!
Reusable cloth pantiliners, especially the organic ones alleviate this problem. Reusable pantyliners also just plain feel good next to your skin. Now, that's a serious win in our books, and we're guessing yours as well?
Great for Light Incontinence
If you suffer from light incontinence, then you'll also want to consider some reusable panty liners. They're cheaper than disposables, and are way more eco-friendly. You'll also reduce your exposure to toxic chemicals every day!
Check out this list of our top picks for Eco-Friendly Incontinence Products (reusable pantyliners are on the list!).
Compare Reusable Pantyliners
Onwards to out picks for the best reusable pantyliners! Check out this handy comparison chart to see the prices, and details about each of our top picks.

#1: Dutchess Cloth Panty Liners
Dutchess Cloth Panty Liners make an economical choice for a reusable panty liner. They feel good against the skin, and the bamboo charcoal layer is excellent at absorbing odours and fluid.
There is a waterproof outer layer to help prevent leaks. The colourful pattern on the outside of these panty pads, combined with black material on the inside helps in preventing stains.
What People are Saying about the Dutchess Cloth Panty Liners:
"I bought these reusable pantyliners to try with light bladder leakage issues from childbearing. I love them and will no longer buy disposable pads. Since I use them almost every day, I save a ton of money from switching to a reusable product." 
"These reusable cloth pantiliners hold a lot, are easy to clean, and soft. I also stopped getting yeast infections since using these instead of disposables."
More Details about Dutchess Cloth Pantyliners:
Also be sure to check out Dutchess Wet Bags. They're the perfect addition for when you're out on the road and need to change your panty liner. Throw them in here, and then in the laundry basket when you get home.
Get the Dutchess Cloth Panty Liners on Amazon
The best place to get these reusable panty liners is on Amazon. You have the option of all three absorbencies: panty-liner, medium flow, and heavy/overnight flow. Prices are very reasonable for Dutchess Cloth Liners and they ship to most countries. Check them out today:

#2: Charlie Banana Reusable PantyLiners
Next up on our list of the Top 5 Reusable Panty liners are these ones from Charlie Banana. The kit includes one waterproof wet bag, which is perfect for when you're on the go.
These cloth panty pads are stain-resistant, soft and comfortable to wear. Charlie Banana reusable pantyliners are free of perfumes, and are naturally super-absorbent.
What People are Saying about the Charlie Banana Reusable Panty Liners:
"I love these cloth pantyliners because unlike most of the other ones, they aren't topped with fleecy material. This means that they stay super dry and don't get really hot."
"They slide a little bit if I'm very active, but overall they're great to have as a backup to my menstrual cup."
More Details about Charlie Banana Cloth Pads
You can read the full review of the Charlie Banana Reusable Panty Liners here.
Get the Charlie Banana Cloth Panty Liners on Amazon
You can check out these top-quality panty liners on Amazon today:

Cloth PantyLiners vs. Disposables
How to Care for Cloth PantyLiners
A common question that people have is how to care for cloth panty liners, or other reusable menstrual pads. If you're not worried about staining, or you have dark coloured pads, it's very easy. Just throw them in with your regular laundry.
If you have lighter coloured pads, and want to prevent staining, there are a couple of things you can do.
You can soak panty pads in cold water right after using them. This should prevent the stains from setting. An hour or two is enough and then just put cloth liners in with your regular laundry.
Or, you can use some commercial stain remover, but this adds chemicals to something that many people use because it's free of them!
For all the details, be sure to check out: Care and Cleaning of Cloth Menstrual Pads.
#3: Morxy Bamboo Cloth Panty Liners
Next up are the Morxy Bamboo Cloth panty liners. Although they're slightly on the expensive end of reusable panty liners, they do come with a wet bag. You can use this to change your panty liner when you're on the go and away from your home.
The thing we particularly love about the Morxy cloth panty liners is the bamboo inner layer which absorbs fluid really well. It's paired with a waterproof backing which is ideal for preventing leaking. The double snaps do a decent job of keeping the pad in place, although like many of the other cloth pads, they do shift a bit during exercise.
What People area Saying about the Morxy Bamboo Reusable Panty Liners: 
"I wasn't sure if these cloth pantyliners would do the job, but I decided to give them a try. I'm super happy with the results! These cloth pads are comfortable, don't leak, and are very absorbent. I'm not wasting any more money on disposable pads."
"So far, these are the best reusable panty liners I've tried. They wash up well and come out looking like new."
More Information about Morxy Cloth Pads
Check out our full review of Morxy Reusable Cloth Pads.
Buy the Morxy Reusable Panty Liners on Amazon: 

#4: Mama Cloth Reusable Cloth Pads
Next up on our list of the best reusable panty liners are these bamboo mama cloth ones. They are some of the cheapest ones on Amazon, and are sold in a pack of 6.
Panty Liners are 8″ long, while the regulars are 10″, ones for heavy flow are 12″ and the overnight ones 14″. They also sell packages with a combination of all of these panty pads.
Mama Cloth: What we Love about Them
In particular, we love the design of these things. There is a smooth and soft bamboo charcoal layer against your skin, a super-absorbent microfiber layer in the middle, and a waterproof outer layer which prevents leaking. There are also wings with snaps to help keep these panty liners in place and prevent leaking.
One of the interesting things about these cloth pads is that they are custom made. You have 25 designs to choose from, of which you can pick six. This whole process take from 1.5-3 weeks, so keep that in mind when ordering.
What People are Saying about Mama Cloth Reusable Cloth Pads: 
"I love these reusable cloth pantiliners, and have all of the various sizes. They are comfortable and absorb fluid surprisingly well."
"I highly recommend these Mama Cloth pantyliners. They launder very well and come out with no stains on them."
More Information about Mama Cloth Reusable Pantyliners:
Full Mama Cloth Bamboo Reusable Cloth Pad Review.
Buy the Mama Cloth Reusable Panty Liners Today:

Mama Cloth Pads Review
#5: Hesta Organic Reusable Panty Liners
Rounding out our list of the Top 5 Reusable Panty Liners are these ones from Hesta Organic. We love these things here at Reusable Menstrual Cups, and the only reason they take the last spot on our list is because they are more expensive than all the other ones mentioned.
100% Organic Cotton
However, you get what you pay for and in this case, you're getting organic cotton. The organic nature of them is reflected by how not-colourful they are! Hesta organic only come in white because they don't use dyes in their products.
Because these panty liners are organic, they make an excellent choice for someone with sensitive skin, or allergies. These panty pads are very thin, absorb well considering this thinness, and also stay in place better than some of the other reusable cloth pads. They are very breathable and feel good against your skin.
What People are Saying about Hesta Organic Reusable Panty Liners:
"These are excellent, reusable panty-liners and are perfect for all-day use. But, they are not absorbent enough to be used when you have your period. Of course, they're not really designed to be super absorbent like a normal pad. I just use mine as a little bit of back-up in case my Diva Cup leaks."
"It takes some getting used to cloth pads, but I find them very comfortable and non-irritating. I used to get rashes from regular pantyliners, but these cloth ones don't irritate my skin. "
"I love the simple and clean design of these cloth liners. Despite the colour, they're reasonably resistant to stains."
More Details about Hesta Organic Reusable Cloth Pads:
Review of Hesta Organic Reusable Cloth Pads
Buy these Organic Cloth Panty Liners Today:

Hesta Organic Reusable Pads Review
#6: Party in My Pants Cloth Panty Liners
Okay, so we'll give you a bonus! 6 recommendations for reusable panty liners instead of the 5 we promised. We don't think you'll mind.

Party in My Pants reusable pantyliners aren't cheap, but you get what you pay for. In this case, it's a premium cloth panty liners that you should be able to use for years.
Beyond that, they're comfortable, easy to clean, and just overall an excellent cloth pad. They're far better than many of the cheap ones that you'll find over on Amazon.
Full Range of Sizes and Absorbency Levels
If you're looking for something beyond a pantyliner, Party in My Pants has a full range of sizes and absorbency levels. There are also a myriad of fun, and interesting colours and patterns to choose from.
We love the name too! Basically, there isn't any reason to not check them out.
Party in My Pants Cloth Pads Review
You can check them out here.
#7: Simfamily Reusable Washable Panty Liners
Wait! There's one more. We just discovered this set of reusable, washable pantyliners and wanted to include them on our list because of how affordable they are.
6 Pantyliners + 1 Wet Bag
They come in a set of 7 cloth pantiliners, plus 1 mini wet-bag. This is exactly what you need to make it through your period in style.
Most people find that 5-6 cloth pantyliners is a good number, if they do laundry once during their period. Then the wet bag is nice to have if you change our your panty liner when you're not at home.
Some Good User Ratings
As far as quality goes, the low price doesn't mean terrible. Customer reviews and ratings are very decent, and are similar to some of the cloth pads than are 5-10x more expensive.
For us, that's a serious win, and that's why we recommend this pantyliner set from Simfamily if you're looking to an affordable alternative to some of the ridiculously expensive brands of reusable cloth pads.
What People are Saying about Simfamily Pantyliners
"I'm impressed with these. They're thinner than other cloth pads, but they absorb a whole lot more. You can't really see the amount of liquid they hold, but they feel heavier. I'll be ordering more for sure."
"Some of the negative reviews of Simfamily said that they didn't absorb well, but I found this not to be the case. For a pantyliner, they absorb more than the disposable ones do actually!"
"They exceeded my expectations. Save some money, and the environment as well? I'll take that any day."
More Information about Simfamily Pads
Sounds like the eco-friendly period product that you need?
You can check them out for yourself over on Amazon:

#8: Luna Pads Cloth Panty-Liners
If you're looking for some top-of-the-line reusable cloth panty-liners, then look no further than Luna Pads. This reusable product is ethically made in Canada by a company based in Vancouver, Canada. They're committed to helping girls stay in school, and have donated 100,000 cloth pads and period panties to people in 17 countries.
Lunapads really are a product you can feel good about using!
2 Styles of Lunapads
There are two styles of Lunapads Pantyliners to consider. The first is their classic style, which consists of a pad that you can wear alone. It also comes with an insert for extra protection.
Their newest pad, the Performa is a stand-alone pad that is similar to most of the other ones on this list.
What People are Saying about Luna pads
"Finally, a cloth pantyliner that just works! I like that these ones are long enough that I feel like I actually have some decent coverage with them."
"Top-quality cloth pantyliners. If that's what you're looking for, then go for Luna Pads. They also make more absorbent pads in bigger sizes that work very well too."
More Information and Where to Buy Lunapads
For more details about these cloth pantiliners, you'll want to check out our full review: Luna Pads Pros and Cons.
Or, head over to Amazon to take a look for yourself:

Our Top Picks for Reusable Cloth Pantyliners
Best Cloth Pantyliners
Pair Cloth Reusable Pantyliners with a Menstrual Cup
For the ultimate in eco-friendly, frugal period awesome, you're going to want to pair up your reusable pantyliners with a menstrual cup.
Reusable pantyliners can replace, well disposable pantyliners! A menstrual cup can replace thousands of tampons. The best part is that both of these reusable feminine hygiene products can last for up to 10 years with proper care and cleaning.
What are Menstrual Cups?
In case you don't know menstrual cups are, I'll give you the quick rundown. They are basically bell-shaped cylinders made (usually) of medical grade silicone. They are designed to sit low in the vaginal canal, and they collect menstrual fluid instead of absorbing it like tampons do.
You have to take out your menstrual cup every 6-12 hours, empty it into the toilet, wash it with soap and water, and then reinsert it. It's the ultimate in eco-friendly period protection.
Why Reusable Pantyliners with a Menstrual Cup?
Once you get the hang of period cups, they shouldn't leak. However, if they're too full, not open completely inside of you, or shift around a bit during exercise or a bowel movement, they can.
That's why it's ideal to pair a menstrual cup with reusable cloth pantyliners. A little layer of protection in case of leaking disaster is always a good thing!
Which Menstrual Cup Brand is Right for Me?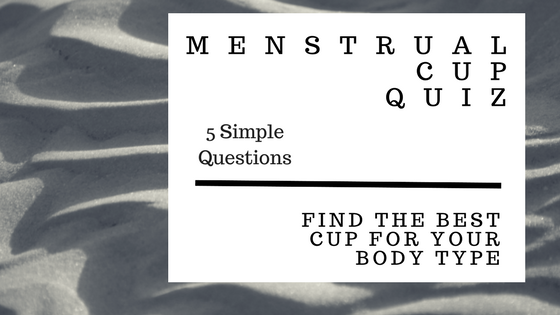 If you take a look over on Amazon for "menstrual cups," you'll notice that there are more than a hundred of them. You may have heard of the Diva Cup already? It's the most popular cup in the world, and makes a nice choice for your first one.
However, there are plenty of other choices, and you may find one that works better than the Diva Cup for your body type.
You can take our quiz to help you find the perfect cup for your body type. 5 simple question, 1 minute of your time. Check it out here:
Reusable Cloth Pantiliners for Vaginal Discharge
Is your pantyliners brown, green, or yellow? Do you have a milky discharge on it? It's maybe more like cottage cheese?
If you experience vaginal discharge, then you might be wondering what the best way to deal with it.
We recommend washable pantyliners for vaginal discharge. Since you'll probably be wearing them most days, it can be a cheaper, more eco-friendly solution than disposables.
For more details about vaginal discharge, including how to tell if it's serious or not, check out: Everything you Need to Know about Vaginal Discharge.
Cloth Pantyliners: Eco-Friendly Incontinence Products
If you suffer from incontinence, you know how expensive it can be to use disposable pads, and other similar products. It's also not great for the environment, as those products are made largely from plastic.
If you're looking to go green, as well as save yourself a ton of money, then you'll need to seriously consider reusable cloth pads. Reusable pantyliners, like these ones on our list are a great choice for light incontinence issues.
For more protection, you can opt for some heavier, reusable cloth pads.
Are Pantyliners for Everyday Use?
If you experience vaginal discharge, or suffer from incontinence, you may want to wear pantyliners every day. This is also true if you like to keep your underwear fresh and clean throughout the day.
But, is wearing pantyliners 24/7 harmful to your health? Are there any reasons why you wouldn't want to do this?
Your vagina and surrounding area are happiest when dry and airy. Things that help with this include:
Wearing breathable underwear (cotton)
Using fresh underwear each day
Loose-fitting pajamas
Avoiding tight pants for long periods of time
Not completely free from pubic hairs
When menstruating, change your tampon or pad frequently enough
What about disposable pantyliners? Are they for everyday use? The bad news is that it's not really a great option.
Using pantyliners everyday can lead to an increase in things like bacterial vaginosis and yeast infections because they keep the moisture right next to your skin. Non-organic, disposable pantyliners (especially the scented ones) contain all sorts of things that can irritate your skin as well.
Cloth Pantyliners for Everyday Use?
Cloth pantyliners are better than non-organic disposables in terms of reducing your exposure to toxic chemicals.
But, they are similar in terms of keeping moisture next to your skin, which can lead to an increase in yeast infections, or bacterial vaginosis. Use them sparingly!
If you have vaginal discharge that's so heavy as to require pantyliners every single day, then it's time to see your doctor. There are usually simple solutions for vaginal infections and discharge.
How Often Should Pantyliners be Changed?
Keeping this in mind, you might want to know how often pantyliners should be changed. The general rule of thumb is that you should change them at least twice a day (every 12 hours).
If you have vaginal discharge, incontinence, or are menstruating, you'll want to change them as soon as they're damp. Your labia, and surrounding area are happiest when dry and breezy.
Leaving on wet pantyliners for hours isn't ideal for preventing infections or things like UTIs.
Can Pantyliners Cause Irritation?
A common question that people have is whether or not panty liners can cause skin irritation, or even an allergic reaction.
It is certainly true that some people will have this experience, but it's generally the disposable pantyliners that they're talking about (more details: Cloth Pantyliners vs Disposable Pantyliners)
Some brands of non-organic, disposable panty liners contain trace amounts of toxic chemicals in them. They come from the pesticides used to grow the cotton, as well as the manufacturing process.
Skin irritation or allergic reactions are most often a reaction to this. If this is the case for you, try out reusable pantyliners for a month or two to see it they work better with your sensitive skin. Of course, wash them first to ensure that there are no harmful chemicals on them from manufacturing.
Skin irritation from pantyliners? It's possible, but try out some reusable pantyliners to see if they work better for you.


Do Pantyliners Cause Yeast Infections or Bacterial Vaginosis?
Airflow is most definitely a good thing for your vagina! Doing everything you can to assist in this can go a long ways towards keeping it healthy and happy. This in turn will prevent things like yeast infections and BV.
It's generally recommended that you should wear breathable cotton underwear. Skipping the underwear under your pajamas is another good strategy.
What about pantyliners? It's generally recommended to only wear them during your period because studies have shown that they do contribute to infections.
If your discharge is so heavy that you can't make it through the day without a pantyliner, it's time to see a doctor. Your condition is most likely treatable.
More questions about them? Check out our Reusable Cloth Pantyliners Quick Facts.
What about Period Panties Instead of Reusable Panty Liners? 
If you're looking for an eco-friendly alternative to disposable pantyliners, reusables make an excellent choice. But what about period panties instead of cloth panty liners? Do they make a god choice?
If you're using panty liners for discharge, light spotting or light incontinence, then you should also consider period panties. They're comfortable, work well and many people find them more comfortable than wearing pantyliners all the time.
For some of the best options to consider for menstrual underwear, you'll want to check this out: Top 5 Period Panties.
Which Period Panties do you Recommend?
Or, you could just go with Modibodi Menstrual Underwear. They are a premium option from an Australian company. Here are a just a few of the reasons that they're our top picks for period panties:
Huge range of sizes, styles and colour options
They are comfortable and don't leave you feeling sweaty and gross
There is a range of absorbency levels, from pantyliner to heavy, overnight ones
Prices are very reasonable, and shipping is free to many countries with a minimum order
Excellent customer service and support
You can check out Modibodi Period Panties for yourself at their website:

Can I use Cloth Pantiliners for Swimming? 
If you're new to periods, you may want to know if you can wear cloth pads, or pantiliners for swimming. The quick answer is no! It's certainly not recommended that you use pantiliners for this purpose.
They'll quickly become a soggy mess, and not soak up any menstrual fluid. Don't believe us? Put on your bathing suit, along with a pantyliner and sit in the bathtub for 2 minutes. Then, check out the results!
Consider a Leakproof Swimsuit Instead
Do you have a better recommendation for swimming while on my period? If you don't want to use some of internal protection like tampons or a menstrual cup, another option is a leakproof swimsuit like this one from Modibodi.
This bathing suit keeps pool or lake water out, while keeping menstrual fluid in. Please note, it's best for a light flow, incontinence or spotting issues, and not to absorb a large amount of fluid.
You can check out Modibodi leakproof bathing suits for yourself at their website:
Or, check out our full review here: Modibodi Leakproof Swimsuit Full Review.
Have your Say about the Best Cloth Panty Liners! 
Please leave a comment below and let us know which brand of reusable panty liners you like.
Or, do you prefer disposable pantyliners over the cloth pantyliners?
Last update on 2020-03-29 / Affiliate links / Images from Amazon Product Advertising API