Modibodi Leakproof Swimwear Introduction
If you're looking for a bit of extra protection at the beach or pool during your period, you've come to the right place! There are very few leakproof swimwear options available. Among them, period proof swimwear from Modibodi are the best on the market today.
Modibodi offers two styles of menstrual swimwear (one piece + bikini) that can absorb as much fluid as a jumbo tampon. They contain innovative, modifier swim technology in the gusset that can give you the extra confidence that you need.
The absorbent layer is water resistant, quick drying, doesn't stain, and also fights odours. According to reviews, most people really like the styles, function and fit of Modibodi leakproof swimwear.
In terms of style, people mention that they're kind of like "sexy Speedos." They're athletic in look and feel, but also don't have too much coverage. We LOVE the plain black colour of them. Who doesn't look good in black?!
Modibodi Leak Proof Swimwear—We LOVE these things and we're confident that you will too.
Buy Modibodi Leak proof Swimwear 
There is a 30-day, risk-free trial for first time customers. If you don't like the performance of your Modibodi period panties or swimwear, return them for a full refund. There's also free shipping on orders over $75 to USA and Canada.
Do you want to have a little bit of extra protection when you hit the beach or pool this summer? The best place to find Modibodi Period Proof Swimwear is online.
You can check out their website here:

ModiBodi Period Proof Swimwear
2 Styles of Modibodi Leakproof Swimwear 
There are two styles of Modibodi Leakproof Swimsuits. They are:
Set Me FreeStyle Leak-Proof One Piece. It looks exactly like a regular, black swimsuit that competitive swimmers might wear. It has a light to moderate absorbency.
Got your Backstroke Leak-Proof Bikini. This is a stylish, athletic style bikini that is currently available only in black. It also has a light-moderate absorbency.
Both of these menstrual swimwear products offer a reasonable amount of absorbency. However, think of them as more of a "backup," and not your entire protection plan.
For a heavy period, these will be saturated quite quickly. At that point, you'll have no other option but to leave the pool or beach. Most people wouldn't carry a back-up bathing suit with them (although you could!). Wear a tampon or menstrual cup along with them for best results.
If you're using a Modibodi Bathing Suit for light incontinence, or spotting, you'll find that they have enough absorbency.
Modibodi Leak Proof Swimwear Sizing
As of the time of writing, many of the sizing and style options for Modibodi swimwear are sold out. Rest assured, the company has let me know that they currently being manufactured and they expect these waterproof swimwear for periods to be available soon.
What People are Saying about Modibodi Swimwear
"There are so few options for period swimwear, but thankfully, this is a good one. I found that using them with a menstrual cup gave me just that little bit of extra confidence that I needed. Quick (and free) shipping to the US." 
"Brilliant. These period proof swimwear work perfectly as advertised. They won't stain and are odour resistant too. Overall, an excellent product that I've recommended to lots of people in a very short amount of time!"
—>Check More Customer Reviews and Ratings<—
ModiBodi Swimwear Unboxing
Modibodi: About the Company
The company began in 2013, and is based in Australia. Modibodi is most well-known for their line of premium leakproof period panties. They launched many of their products through successful Kickstarter campaigns.
Modibodi's founder, Kristy Chong consulted with textile engineers and manufacturing companies to come up with the best line of period panties, and leakproof swimwear possible.
Modibodi ships to countries around the world. They also work with a number or organizing to support women in need around the world.
Modibodi Leakproof Technology
Modibodi Leakproof Swimwear Pros:
Can absorb around 10 ml of fluid
Leakproof
2 styles (one piece, and bikini)
Free shipping to USA and Canada for orders over $75
Large range of sizes
Feels like normal swimwear
Removable padding for the bikini top
Stylish (high-cut, but not too revealing)
People love the plain black design
Perfect for girls or teens who are new to having their period
Overall, this leakproof swimsuit from Modibodi is a solid product with some excellent user ratings and reviews. There isn't much that's not to love. Check out the few reasons below:
Modibodi Leakproof Swimwear Cons:
Expensive, for a swimsuit, but there are so few options for leakproof ones
Sometimes limited availability because it's so popular
Only 1 colour available
Pair with a Menstrual Cup for Extra Protection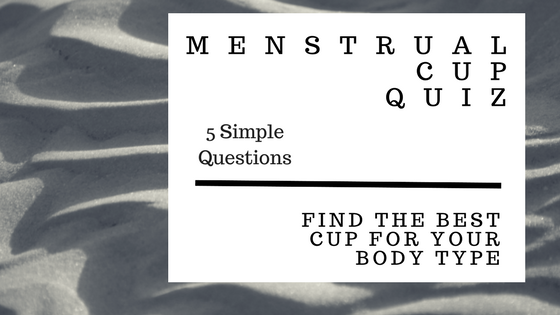 These leakproof swimwear from Modibodi only absorb 10 ml, or about as much as a jumbo tampon. They're perfect for light incontinence, spotting, or a very light period.
However, if you have a heavy period, or on the day of your heaviest flow, you'll want to use some extra protection with your Modibodi swimwear. Of course, you can use a tampon.
But, we generally recommend menstrual cups instead. They're eco-friendly, more affordable, safer and healthier for your body.
Which menstrual cup to choose? There are lots of options if you take a look over on Amazon.
That's why we recommend checking out our menstrual cup quiz. There are 5 simple questions that'll only take a minute of your time. At the end, you'll get a recommendation for our top menstrual cup. Check it out here:
Menstrual Cup Quiz: Find the Best Cup for your Body Type
The Takeaway on the Modibodi Leakproof Swimwear 
If you're looking for an extra bit of confidence while at the beach, pool or waterpark, then you'll need to seriously consider these Period Swimsuits from Modibodi. They are among the only options available for leakproof, absorbent swimsuits available.
The good news is that they're a good option too! These menstrual swimwear optoins from Modibodi are high quality, reasonably priced, and fit nicely. Modibodi swimsuits also look like normal swimwear, so nobody will guess that you're actually wearing a period product.
Leak Proof Swimwear = Perfect for Teens
Do you know a young lady in your life who has just gotten her first period? These period swimsuits from Modibodi may be exactly what she needs. Give her that extra bit of confidence to go swimming during her period. She won't miss out due to worrying about leaking!
Light-Medium Absorbency
The company says that their period proof bathing suits and light-medium absorbency, so for best results, you'll probably want to pair it with a tampon or menstrual cup. Or, you could use it alone if you're spotting, or have light incontinence.
30-Day, Risk-Free Trial
There is a 30-day, risk-free trial if this is your first Modibodi product. However, most people love them and end up recommending them to their friends! Shipping is free to Canada and the USA on order over $75.
Need some extra protection when swimming? Get this stylish, well made leakproof bathing suit today:

More Details about Period Swimming
Okay, so you have that big day out at the waterpark planned, but there's only one problem—you have your period. Is it really a big deal? Maybe not.
You have a few different options for period protection, including this period swimwear from Modibodi, which is the only one you don't wear internally.
Beyond that, you can use a menstrual cup or tampon, both of which are inserted internally.
Which Period Swimming Option is the Best?
Let's talk about capacity and time worn.
A jumbo tampon holds around 10 ml, and can be used for up to 8 hours.
A menstrual cup can hold around 30 ml, and can be left in for up to 12 hours.
Finally, a Modibodi Leak Proof Swimsuit can hold 10 ml, and be worn for as long as you wish.
When you consider that you can change out a tampon with another one, or empty your menstrual cup and reinsert it, they are better than a Leak Proof Swimsuit.
That's why we recommend this period swimwear in tandem with a cup or tampon. That way, you'll have the maximum protection against leaking.
More details here: Swimming on your Period

What about Scuba Diving?
Okay, so you're wondering which period protection option is the best for scuba diving? You'll want to check this article out: Scuba Diving on your Period.
What about Modibodi Leak Proof Period Panties?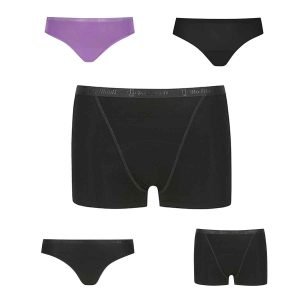 The company also makes some seriously nice menstrual underwear, besides this period swimsuit. We actually like them so much that they're at the top of our list of the best period panties. Here's what we love:
Reasonably priced
Free shipping to USA/Canada/Aus with a minimum order
Risk-free trial for your first product
Huge range of sizes and styles
Very comfortable and absorbent
Patented technology
You can check out these leak proof period panties over at the company website:

Modibodi Period Panties Review
Modibodi Leakproof Bathing Suits: Have your Say!
What do you think about Modibodi leakproof swimwear? Are they a win? Or, are you just sticking with a tampon or menstrual cup?
Leave a comment below and share your thoughts. Also be sure to give this article a share on Facebook, Twitter, or Pinterest.