Do you want to see how all the cups match up head to head? Then you'll need to keep on reading to check out our popular menstrual cup comparison chart. This menstrual cup chart has everything you need to make the best choice for a period cup.
Menstrual Cup Comparison Chart
Welcome to our guide that will help you choose the right eco-friendly menstrual cup for your body type. Choosing your first menstrual cup can be a daunting process. There are so many to choose from, in a huge range of prizes, sizes and styles.
Don't worry. We'll help you pick the perfect one with our cup size comparison. But, before we get there, here's a sneak peek at some of our favourites from the menstrual cup sizing chart:
Where are the Cheaper Menstrual Cups?
Have a look at the Cheap Menstrual Cups We DON'T Recommend:
Are these cheaper period cups a good buy? Why not pay a few bucks less for basically the same product? The key here is that you're not actually getting the same product.
These cheaper cups are often made from materials that are not medical-grade. Think about it this way. A cup is a product that you're putting into your body for up to a week each month. Doesn't it make sense to spend a bit more money on a top-quality product? It's not really a big deal when you consider that it lasts for up to 5 years.
The other thing to keep in mind about cheapies is that they're often so flimsy that they don't work that well. A cup should open pretty easily once inside of you, but these flimsy ones often don't. This can lead to some serious frustration that can easily be avoided.
A Few Notes about this Cup Size Comparison Chart:
Rating: Based on Amazon customer reviews with cups that have 100+ reviews. If less than 100 reviews, it's a combination of user ratings + our own rating.
Length: Average is about 70 mm.
Rim Diameter: Average is about 41 mm.
Capacity: Average is about 30 ml.
There's also a "buy now" button if you'd like to check out the cup for yourself on Amazon.
Menstrual Cup Comparison: More Details
If you're looking for some additional information, then you'll want to check out the following.
Menstrual Cup Comparison: Firmness Chart
If you're looking for the softest, or the firmest feminine hygiene cups, or anything and everything in between, then you'll need to check this out. This is especially important if you have a sensitive bladder, or are looking for a very comfortable cup.
Menstrual Cup Firmness Chart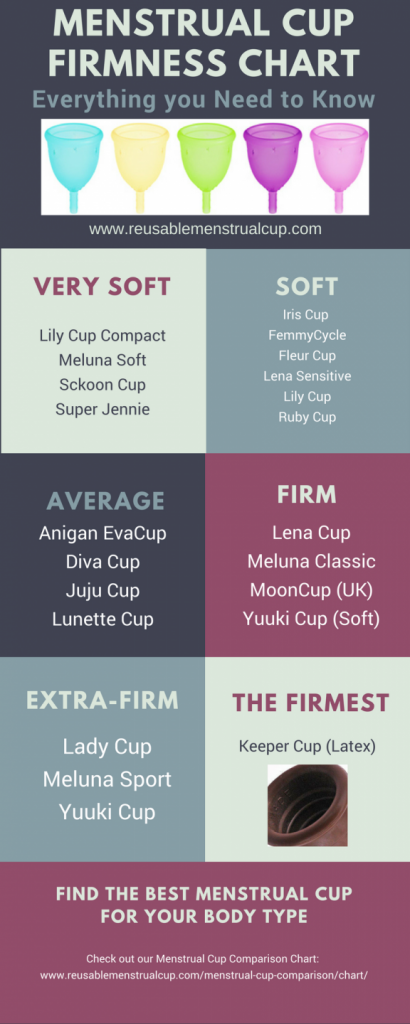 About Firm Cups
There is one distinct advantage to a stiff menstrual cup, as well as one big disadvantage.
In general, firmer ones like the Lady Cup or Yuuki Cup are easier to insert than the softer and more flexible cups such as the Sckoon Cup or Super Jennie. This is because once you insert them into the vaginal canal, they should just "pop" open quite easily and snap into place. Some of them can create some serious suction, which is what actually prevents leaking.
Many sporty, active people find that the firmer ones work better for them because they'll stay open no matter what.
However, because the stiffer ones press so strongly against your vaginal canal walls, they can sometimes feel quite uncomfortable. This can even result in cramping for some people. If you get cramps from one, you may want to consider one of the softer cups instead.
Learn more about Soft Cups
If you have a sensitive bladder, then you may want to consider a soft, flexible period cup. These won't push so strongly against the walls of your vagina. They're also a nice choice if you find that the firmer cups have given you cramps.
However, the softer ones sometimes make not a great choice for very active people because they can compress when inside of you.
Shop Now for the Lena Cup
One of our favourite ones is the Lena Sensitive. It's softer than the regular Lena and it has some excellent reviews over on Amazon. You can learn more about it here:

You can also check out all of our top picks here:
Menstrual Cup Comparison: Lengths Chart
An important factor to consider is the length of the cup.
Maybe you have a low-cervix and want to find out the shortest menstrual cup? Maybe you have a long vaginal canal and want to know what the longest menstrual cup is? Or, you have an average height cervix, and just want to find a normal cup.
You'll need to check this out: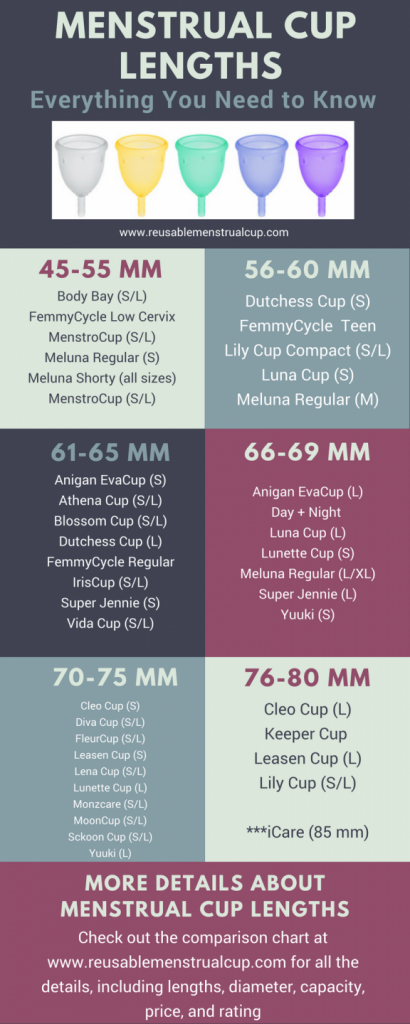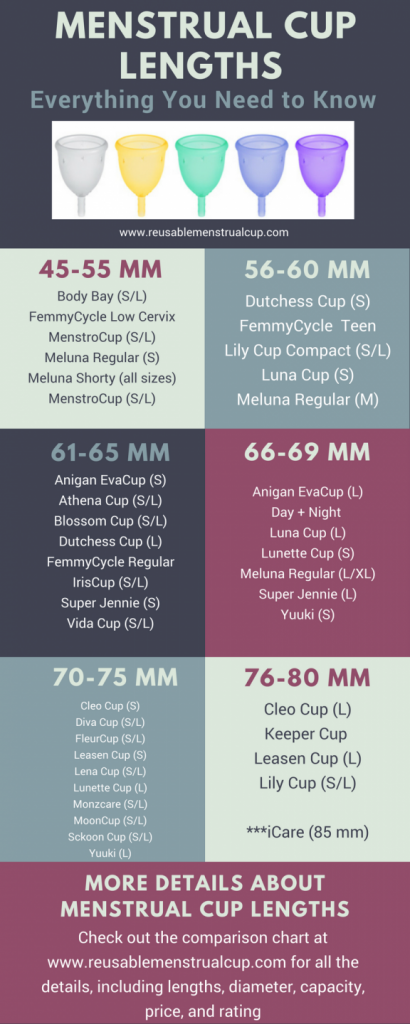 I Have a Low Cervix!
So, you've learned that you have a low cervix. This means that you'll want one of the shortest menstrual cups such as the FemmyCycle Low Cervix, or the Meluna Shorty. If you try to use an average or long menstrual cup, one of two things will happen:
The stem will stick out of your vagina
The menstrual cup will push up against your cervix.
Trust us, neither of these things is comfortable, and should be avoided!
Menstrual Cup Comparison: What is the Shortest Menstrual Cup?
If you're looking for a very short feminine hygiene cup, you've come to the right place. Here are your best choices:
50 mm in length: FemmyCycle Low Cervix
42 mm in length: Meluna Shorty Small (ball)
45 mm in length: Meluna Shorty Small (ring)
I Have a High Cervix
So you've found out that you have a high cervix, or long vaginal canal. You have a lot more options available to you than if you have a low cervix. Most of the cups that are 70 mm or longer will work well for you.
However, if you have a very, very long vagina, you may want to try one of the longest ones such as the Lily Cup, or the Cleo Cup. This will make removal much easier for you.
In order to remove a menstrual cup, you should try to grasp the base. If you can't reach the base, you can grasp the stem and pull down gently until you can get to the base. Squeeze in the sides to release the suction seal and pull it out.
However, if you have a very long vaginal canal, you may not be able to reach the stem. In this case, you'll have to use your pelvic muscles to push the cup further down until you can get the stem. This process will obviously be easier if you have a longer menstrual cup because you can get to the stem sooner.
Menstrual Cup Capacity Chart
If you have a very heavy period and want to know some of the highest capacity period cups, you've come to the right place. Do you want a cup that you can wear all day, or all night without having to worry about, and empty it?
Or, maybe you're a smaller woman, or a teenager and want to know what is one of the smallest menstrual cups? You're also in the correct place! You can easily find a smaller cup, but it'll also come with a lower capacity. You may also want to consider one of these for those lighter days.
Check this out:

Which High-Capacity Cup do you Recommend?
Do you have a very heavy flow? You're probably wondering which high-capacity menstrual cup we recommend.
First of all, congratulations on making the switch from jumbo tampons. They have a capacity of around 10-12 ml, while an average menstrual cup holds around 30 ml. High capacity cups hold around 40 ml, or 4x more than a tampon. This means 4x less period hassle.
You might even be able to sleep through the night during your period, even if you have a heavy flow!
As for which high-capacity cup we recommend, any of the four that we mention on the chart are quite good: Super Jennie, Anigan EvaCup, Yuuki, or Meluna. They are all made in the USA or Europe from top-quality materials according to strict standards.
However, if you're strictly looking for the highest capacity cup, then you'll need to check out the Super Jennie (L), or the Meluna (XL), coming in at 42 ml. The Super Jennie is widely available in North America, while the Meluna is quite popular in Europe.
What about if I Have a Light Flow?
If you have a very light flow, then I have some good news for you. Just about any cup will do, and you should base your decision more on the rim diameter of it than anything else (smaller if you haven't given birth vaginally, and larger if you have).
Just keep in mind that even if you have a light flow, you should take out and clean our feminine hygiene cup every 12 hours to reduce your risk of infection.
Menstrual Cup Diameter Chart
You may be looking for the smallest rim diameter menstrual cup if you're a teenager or someone who is very small. This is particularly true if you haven't given birth vaginally.
Or, perhaps you're looking for one of the largest rim diameter ones if you've given birth vaginally multiple times, or are a very large framed woman.
Perhaps you want a menstrual cup that is average in diameter. These ones will work for most women.
You can find out all the details about menstrual cup size comparison here:
How to Use a Menstrual Cup
It's an excellent question! We're happy you asked. If you're new to period cups, it can be a bit intimidating to get started. The thing to keep in mind is that it takes a few menstrual cycles to really feel confident with it. It does take a bit of practice to get it.
And, yes, you will most certainly get blood on your hands. Not to worry though. It's less gross than you might think!
Here are a few tips and tricks for getting started.
Be sure to wash your hands and the cup well. You can use a mild soap or a special wash.
Fold the cup (follow the included instructions, or check them out here: menstrual cup folds), and insert it into the opening of your vagina. Point it back and down towards your tailbone, not up towards the sky.
It should open easily by itself. If it doesn't, twist or jiggle it until it does. It should also feel quite comfortable and you probably won't even notice that it's in your vagina.
You can wear it for up to 12 hours, or when it's full and starts to overflow and leak a little bit.
Remove it by squeezing in at the base with two fingers to break the suction seal. Use the stem to pull down on it if you can't reach the base.
Pull it out, and empty it into the sink or toilet in your bathroom.
Wash it well and reinsert it, if necessary.
My Period Cup Leaks
Okay, so you're excited about using your new cup. You follow the directions, watch a few videos on YouTube and insert it. It seems okay, but it leaks. What can you do? Here are a few tips:
Make sure that the cup is under your cervix. It can leak if it's in front or, or behind it. Point the cup back and down when you insert it to help with this.
Check to see if the cup is fully open. Run your finger around the rim to make sure it's sealed and open.
Try another fold if it's not working for you.
You may want to try a firmer cup that will open more easily if you're a beginner. The softer cups can be difficult when you're learning to use them.
Perhaps your cup is too small, or too big? Or, too short if you have a low cervix. This is usually the problem if you've tried the other solutions but found that they didn't work.
What are they Made From?
Let's talk about what the most popular period cup brands are made from.
Silicone
In general, they are made from high-quality silicone that is approved by the FDA. For example, the MoonCup, Diva Cup, Anigan EvaCup, and the Lena Cup are all excellent choices and the material in them is the best that you can find.
Medical grade silicone is a product that you can feel safe putting inside your body for up to a week each month. It's used in a wide variety of other products that are safe for this purpose.
The Silicone: Is it all Medical Grade?
An excellent question that some people have is whether or not all the menstrual cups made from silicone, are made with materials that are medical grade. All of the top-quality cups are, yes.
However, there are numerous cheap menstrual cups which are quite secretive about the materials they use, as well as the manufacturing process. In general, these cups are so, so flimsy that they barely work. This leads us to believe that the silicone is sub-par and certainly not something that we'd want to put inside our bodies.
The Keeper: Made from Latex 
There are a couple of exceptions. The Keeper Cup, which has been around for decades is made from latex. It's the stiffest menstrual cup that you can buy and you may even find it quite difficult to fold to insert it! It may make the ultimate choice for the extremely active woman who does something like powerlifting because it won't compress inside of you, no matter what you do.
The advantage of it is that it can last for 10 years or longer, which is a few years longer than the average cup made from silicone. If you're serious about saving money in an eco-friendly way, you might want to consider the Keeper Cup.
The disadvantage is that some women are allergic to latex, while others develop an allergy to it after repeated exposure.
The Meluna Cup: Made from Thermoplastic Elastomer (TPE)
The other exception is the Meluna which is made from TPE. One advantage to this menstrual cup material is that it molds to your body after heating up.
Some people find this cup very comfortable, and if you've experienced cramping with some of the stiffer menstrual cups, you may want to try this one out.
In reality, when it comes to materials, the choice is ultimately yours.
Help in Choosing the Best Menstrual Cup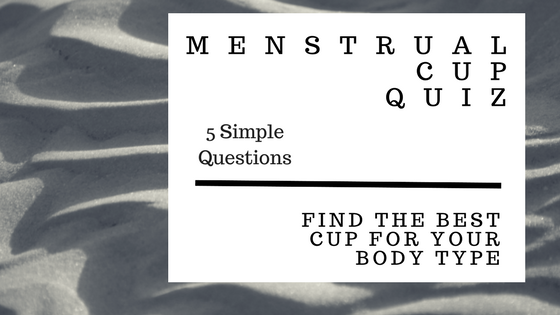 So you've checked out this menstrual cup comparison, but still aren't sure what the best menstrual cup is. That's normal! There are a ton of choices out there and it can be difficult to find the perfect one for you. Don't worry. We'll help you find one that you love.
Just have a look at "menstrual cups" on Amazon and you'll see pages and pages of options. It can be overwhelming to try to find the one that will work for your body type, as well as try to avoid the cheap cups that are pieces of junk!
That's why we've put together our menstrual cup quiz. We've put together all the information from this menstruation cup comparison chart, along with our extensive knowledge from reviewing all the cups. 
The result is this menstrual cup quiz with five simple questions that will only take a minute or two of your time. At the end, you'll get a recommendation or two for the best menstrual cup your body type.
There are cups for people with a low cervix, high cervix, people who've had children, and those who haven't. There are cups for smaller people, and for larger people, and for those with allergies. And of course, a menstrual cup for everyone in between!
We only recommend the top-quality menstrual cup brands that we'd personally feel safe putting inside our own bodies.
What's the Best Menstrual Cup for Beginners?
Many people want to know what the best menstrual cup for beginners is. If you're looking for your first menstrual cup, then this is an important question! The top-quality cups cost $15-30 USD, so you don't want to waste money on a cup that won't work for you.
Check out the Diva Cup
For beginners, we often recommend that they start with the Diva Cup. It's the most popular menstrual cup in the world for good reason. The Diva Cup is made in Canada from top-quality medical grade silicone according to strict standards. The company has been around for years, far longer than most of the other period cup manufacturers.
Average Size
In terms of sizing, the Diva Cup is "average," which is why it's the cup to which most others are compared. The Diva Cup capacity is 30 ml, for both the small and large, while the length is 70 mm. The only difference between the small and large is the diameter, with the small coming in at 41 mm, and the large 45 mm.
Diva Cup Firmness
In terms of firmness, the Diva Cup is "average." This means that it will pop open and snap into place easily enough when you insert it, but it's not so stiff that it will feel uncomfortable inside of you.
Most people have the best results with cups that fall into this stiffness category. Softer cups can be hard to insert, while firmer cups can be uncomfortable.
Buy the Diva Cup
You can check out the Diva Cup for yourself on Amazon. Click the button below to find the best prices and also to check and see if it's eligible for free shipping with a Prime membership:

Tips and Tricks for Beginners
You may experience some frustration when you're just getting started out. Don't worry too much about it. It takes most women a few cycles of practice before they really get the hang of it. By "hang of it," we mean learning how to fold, insert and remove it without getting blood or menstrual fluid everywhere!
The key is to not give up too soon. You will eventually figure it out.
Head to Head Menstrual Cup vs. Menstrual Cup
If you're looking for a direct menstrual cup comparison between two popular brands of menstrual cups, you've come to the right place! You can check out the following:
The Diva Cup is the most popular brand of menstrual cup in the world. The Lena Cup is a bit of a newcomer. However, it's quickly gaining in popularity and we predict that in a few years, this may overtake some of the big names in the menstrual cup world.
https://www.youtube.com/watch?v=i8aKpWv6tYY
The Diva Cup has been around for years, while the Anigan EvaCup is a bit of a newcomer. We, however, love that the Anigan EvaCup has a huge range of sizes, as well as colours. It's quickly becoming quite a popular menstrual cup brand.
We compare one of the more expensive menstrual cups, the Diva Cup to the Dutchess Cup, a cheap cup out of China. Does the Dutchess Cup stack up? Find out in this menstrual cup comparison.
We compare two of the oldest, most established and popular menstrual cup brands in the entire world. The Diva Cup is out of Canada, while the MoonCup is based in the UK. They are almost identical, but is there a slight edge for one of them?
The Diva Cup and the Lunette are two of the best menstrual cups in the world. How do they compare? Hint, one has a flat stem and the other one is more rounded. Find out the right one for your body type in this head-to-head menstrual cup comparison.
They are very similar in terms of price, and user ratings on Amazon. Is there one that has the slight edge over the other one?
We compare the newcomer, the Anigan Eva Cup, to the Lunette Cup, which has been around for years. One is smaller, the other larger. Which one is right for you? You can find out in this menstrual cup comparison.
It's the old, established MoonCup vs the newcomer, the Blossom Cup.
We compare two of the oldest, most reputable menstrual cups in the world, the MoonCup and the Lunette Cup.
The Soft Cup is a different kind of cup. In fact, it's not really a traditional menstrual cup at all. It's actually a flat disc, that's designed to sit right up under your cervix, unlike those which are stiff, bell-shaped cylinders that sit lower in your vagina.
Although Soft Cups are disposable, they do have the advantage when it comes to sex on your period. You can wear a Soft Cup for this purpose, while you definitely wouldn't want to wear a regular menstrual cup.
We compare the Diva Cup, the most popular, traditional menstrual cup with this interesting alternative.
An interesting fact: the Soft Cup is disposable so you don't have to clean it.
Is there a Collapsible Menstrual Cup?
Okay, so if you're looking for the bizarre, there is one that you'll need to check out! It's the Lily Cup Compact, made by Intimina (the same company who make the Lily Cup, Lily Cup One for Teens and the Ziggy Cup).
Now, we're not really sure why you'd need a collapsible cup because they're not actually that big to begin with. But, perhaps you want to carry it around when travelling or in your purse just in case? This might be the one for you.
Please note that some women find it quite difficult to find a fold that works to get the Lily Cup Compact to open. But, because of the unique shape, it may work for you even when other cups don't. You'll have to test it out for yourself to see.
You can read more about it here: Lily Cup Compact.
What about the Buy One, Give One Programs?
Perhaps you're looking to buy a period cup and help the world at the same time? You've come to the right place! There are a few of these programs that we know of, but the two most popular are the following:
Both of these are solid cups that are worth checking out and many people really seem to love them. The Ruby Cup has been around for years, while the Daisycup is a bit of a newcomer. In terms of menstrual cup comparison, these are two very decent cups so it's certainly worth considering them.
Why Make the Switch from Tampons?
If you're currently using tampons, you may wonder why you should consider making the switch. Does it really make a big difference? There are a few reasons why you might consider this:
Health Reasons
Here's something that you might not know (but should!). It's that many of the leading tampon brands contain toxic chemicals in them. Make the switch to a reusable cup to reduce your exposure to this stuff.
Better for the Environment
The average woman uses more than 10,000 tampons during a lifetime. That's a lot of waste going into the landfill. Make the switch and you'll use just a handful of cups instead.
Just say yes to a plastic free menstrual cycle and reduce the amount of trash you're throwing away each month!
Higher Capacity
The average tampon holds 5 ml of fluid while a jumbo one has room for 10 ml. Compare this to a regular cup that holds about 30 ml. That's kind of a game-changer.
3-4 times the capacity? You're going to love it.
You can use the cup all day, or sleep all night without having to empty it. Amazing, right? It certainly is.
Save Money
All those tampons? They're expensive. Stop wasting money and switch to the product that is around 10 times cheaper.
Which of these reasons we just mentioned is most important to you? Leave a comment below and let us know.
Unbiased, Factual Reviews
We hope that you found this comparison useful. Our goal is to provide unbiased, factual reviews of the best menstrual cup brands on the market today. Please do let us know if we've missed out on one.
There are new ones on the market almost every week and we do try to keep this chart up to date, but sometimes one gets by us. Please do let us know if you'd like us to review a new menstrual cup, and add it to this chart.
Menstrual Cup Comparison Chart
Want to see the top options? Have a look at this simple chart we put together for you:
Have your Say about our Menstrual Cup Comparison Charts
Leave a comment below and let us know what you think the best menstrual cup is. Why is it the best, and why do you love it?
Is there a menstrual cup you've tried, but it didn't work for you? Also let us know!
Please tell us your thoughts! We'd love to hear from you.
Please share this with your family and friends on Twitter, Pinterest or Facebook. It'll help other menstrual cup enthusiasts, like yourself find this useful resource.
Last update on 2021-04-17 / Affiliate links / Images from Amazon Product Advertising API