A Review of the Lily Cup Compact
The Lily Cup is very unusual in the world of menstrual cups in that it's the only one on the market that is fully collapsible, folding to the size of about three OB tampons. It comes with a case that can fit easily into your purse to keep with you in case of surprises while out and about.
While it's kind of cool having a collapsible menstrual cup, it's also quite expensive. Is it worth the high-price? And is it a cup that works well in terms of not leaking? Let's find out!
Or, you can just head over to Amazon and check out the Lily Cup Compact for yourself:

European Made
This period cup is made in Sweden from the highest quality medical grade silicone and has a decent 4.1/5 star rating on Amazon. Here at Reusable Menstrual Cups, we love European made menstrual cups because they have a reputation for being the top menstrual cup brands in the world.
It really is a product that you can trust. After all, you're putting it into your body for up to a week each mont-you really should spend a bit of extra money getting something from a reputable company.
One of the Most Expensive Menstrual Cups
It's one of the more expensive menstrual cups (along with the Lunette Cup). You're partly paying for the European manufacturing, and the other part of it is the collapsible nature of the cup. This high price-tag is perhaps worth it if you're looking for a compact menstrual cup, perfect for something like backpacking when size actually does matter.
However, if you're looking for a menstrual cup for everyday use, and plan to just store in a drawer in your bathroom between periods, perhaps consider another period cup. Even if you want to take a menstrual cup backpacking around the world, you probably don't need the Lily Cup Compact!
One of the Softest Cups
Due to the collapsible nature of the Lily Cup Compact, it has to be one of the softest cups on the market today. Some people love soft cups because they are very comfortable once inside of you, and they don't cause cramps, like some of the very stiff menstrual cups.
However, the big negative is that they can be difficult to insert and remove them. A stiff cup, like the Moon Cup or Lunette Cup will just "pop" open once inside of you. For the softer cups, you may have to jiggle, turn or push/pull the cup in order to get it to fully open because it won't just "pop."
It really is up to whether or not you prefer a soft, or stiff cup.
If you want more information about soft, or firm menstrual cups, as well as everything in between, then check out the following: Menstrual Cup Firmness Chart.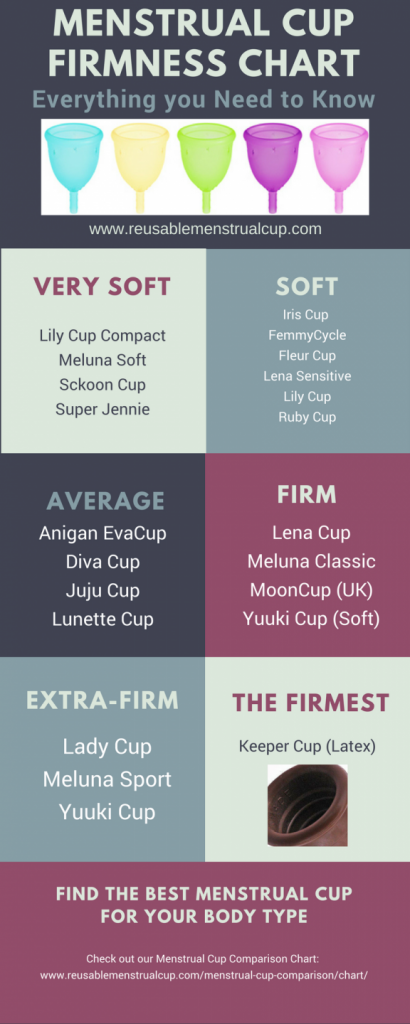 Lily Cup Compact: Two Sizes
Lily Cup Size A: Light-medium flow + has not given birth vaginally. 18 ml capacity, diameter 42 mm, length 58 mm.
Lily Cup Size B: Medium-heavy flow + has given birth vaginally. 23 ml capacity, diameter 45 mm, length 58 mm.
Not for Someone with a Heavy Period
The most noticeable thing about the Lily Cup Compact sizing is the low-capacity. At 18 ml (small) and 23 ml (large), it's far below even the average capacity of around 30 ml.
There are even high-capacity cups on the market today with capacities of up to 42 ml. This makes the Lily Cup Compact totally unsuitable for someone with even a medium-heavy flow.
For more details about which menstrual cups to consider if you have a heavy period, then you'll need to check out our handy Menstrual Cup Capacity Chart.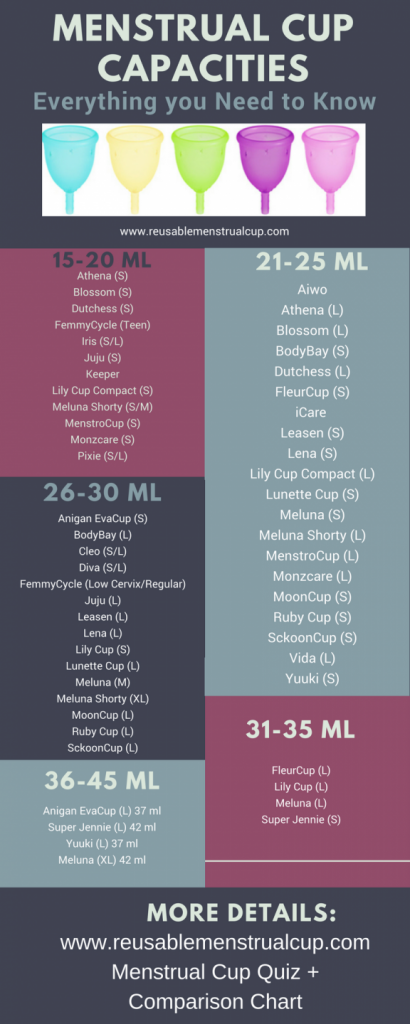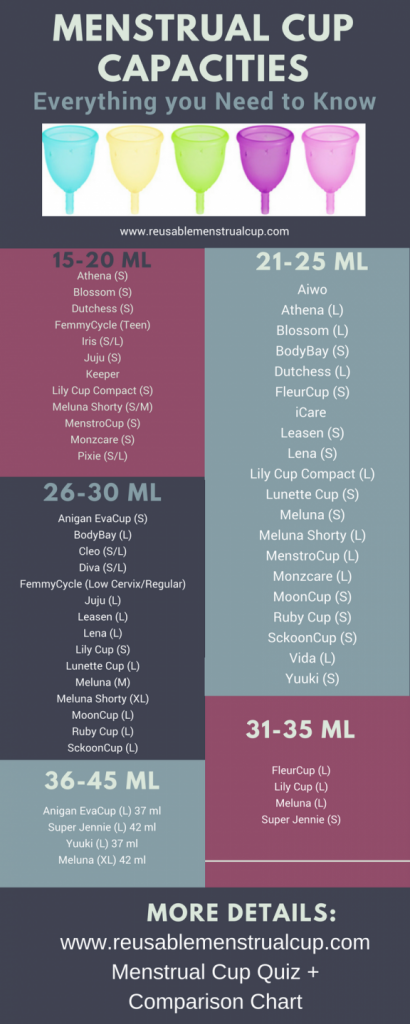 People that Like the Lily Cup Compact are Saying:
"It's very soft but doesn't collapse when being inserted. I found that the punch-down fold works really well for this cup."
"It's easier to carry around because it's collapsible, but inserting it can be a little bit tricky. It's quite flimsy and soft and I'm not sure that's it's worth it."
"The lip of the cup provides some serious suction to my vaginal canal walls. It didn't leak even on my heaviest days. Although the capacity is less than the Diva Cup, I found that it could fill all the way to the top without leaking–for whatever reason, it just worked better for me."
Buy the Lily Cup Compact
In our experience, it's not that easy to find the Lily Cup in local drugstores or shops. The best place to buy one is online, where you'll have all the options available to you. Shipping is discreet and nobody will know that you're ordering feminine hygiene products! It's often free with Amazon Prime as well.
Check out the Lily Cup Compact for yourself on Amazon today:

Lily Cup Compact vs. Lily Cup
Lily Cup Compact Pros:
It's made in Europe (Sweden) from the highest quality medical grade silicone and by a trusted name in women's health (Intimima).
It's the only collapsible cup and perfect for when space is at a premium such as in a small purse or when backpacking.
Lily Cup Compact Cons:
The cup is extremely soft silicone, which can make insertion more difficult than with something like the very stiff Diva Cup. It doesn't just pop into place and it can also collapse when trying to insert it.
It can be quite difficult to break the seal when removing the cup because it's so soft.
It's one of the most expensive cups on the market. If you're looking for something more economical (but not collapsible), try out the Lena Cup or Anigan Evacup.
At 18 ml + 23 ml, the capacities of these cups are some of the smallest on the market. It will not be suitable for anyone with even a moderate flow, especially overnight. See: Heavy Periods and Menstrual Cups.
More Lily Cup Compact Reviews
The Takeaway on the Lily Cup Compact:
The Lily Cup Compact is an interesting addition to the menstrual cup world. They are certainly unique in that they collapse fully to the size of about three OB tampons. It can be good for someone who wants to carry it with them in their very small purse, or when out backpacking.
However, traditional cups are actually not that big and can also easily be carried with you on the road. For the very expensive price, it doesn't seem like the Lily Cup Compact menstrual cup is worth it. As far as user ratings on Amazon go, the 4.1/5 stars isn't bad, but there are certainly menstrual cups up in the 4.5-4.6 range. In addition, there are the insertion and removal difficulties that can come with the extremely soft nature of the cup.
For some advice on choosing the menstrual cup that is right for you, please see: Top 10 Menstrual Cups Brands.
Or, for a customized recommendation, then you'll need to check out our menstrual cup quiz. We've combined all the information from our popular menstrual cup comparison chart, along with our extensive knowledge gleaned from reviewing ALL THE CUPS.
You have to answer five simple questions, which will take only a minute or two of your time. At the end, you'll get a recommendation for the perfect menstrual cup for your body type.
What's not to love? Check it out here:
Buy the Lily Cup Compact:
You can easily get the Lily Cup Compact on Amazon.