Lunette Cup vs Moon Cup: An Overview
—>Lunette Cup vs. MoonCup: see our Top Pick<—
Both the Lunette Cup and the Moon Cup are extremely high-quality products made by very reputable companies. These menstrual cups are made from medical grade silicone to the most exacting manufacturing standards.
They are both made in Europe, which usually means top-quality manufacturing standards, combined with the best materials. Lunette is based out of Finland, while the Moon Cup is from England.
If you're looking to buy your first menstrual cup, either one of these would make an excellent choice. Both the Lunette Menstrual Cup and the MoonCup have been around for years and they have thousands of happy customers, as demonstrated by the reviews on Amazon.
Lunette Cup vs Moon Cup: Design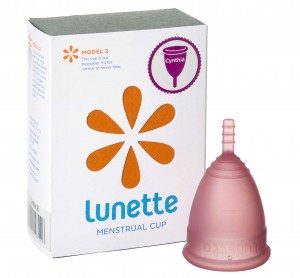 In terms of design, these two period cups are very similar. They come in small (pre-childbirth, under 30) and large (post-childbirth, over 30) sizes.
The small Lunette is slightly shorter than the Mooncup small. Both the small, and large MoonCups have slightly bigger diameters than the Lunette, but the difference is minimal.
Lunette Cup vs. MoonCup: Stiffness
One small difference between the Moon Cup and the Lunette is the stiffness. According to this menstrual cup firmness comparison chart, the Lunette cup falls into the "average" category, while the MoonCup is "firm."
A firm menstrual cup such as the MoonCup has one distinct advantage, and that is that it can be easier to insert. This is because once you insert it into the vaginal canal, it should just "pop" open into place. And once the suction seal takes hold, it'll be hard to break! This means no leaking.
However, a softer menstrual cup can be more comfortable. Some of the firmer cups can even cause cramping because they push so strongly against the vaginal canal walls.
It should be noted that both the Lunette Cup and the MoonCup are in the middle of the pack in terms of firmness, so this isn't really a big deciding factor between cups.
For more details, check out this comparison chart: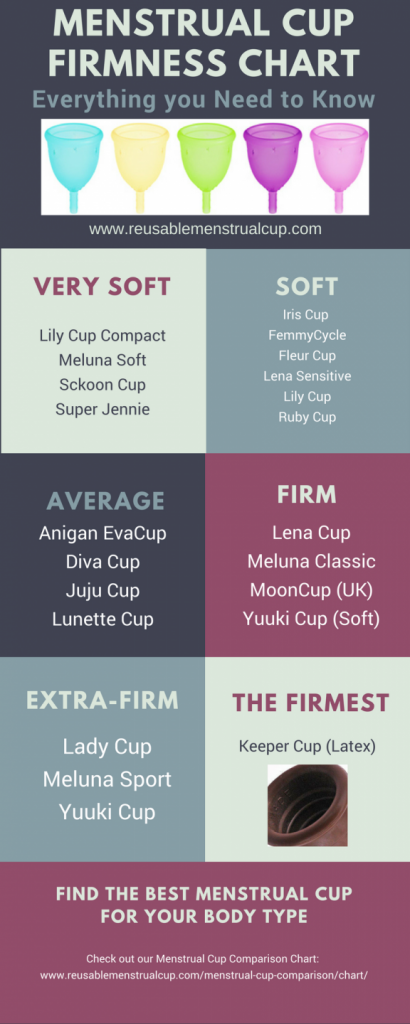 MoonCup vs. Lunette Cup: Capacity
In terms of capacity, both of these menstrual cups fall into the average range. Both of the small cups hold 25 ml, while the larges hold 28/30 ml. This should work for most people with normal periods.
At 30 ml, that's 3-4x more than even a jumbo tampon, so most people find that they can go for at least a few hours before having to empty it.
However, if you have a very heavy period, then 25 ml isn't really enough capacity. This is especially true if you don't want to get up in the middle of the night to deal with your period!
In this case, we recommend checking out some high-capacity menstrual cups that can hold around 40 ml of fluid. That extra 10 ml really does make a difference.
Lunette Menstrual Cup Review
Lunette Cup vs. Moon Cup: Comparison Chart

If you need more information about ALL the cups, then you'll need to check out our popular menstrual cup comparison chart. As far as we know, we're the only comparison chart that updates the prices daily.
MoonCup Menstrual Cup Review
Lunette Cup vs Moon Cup: Which one is Right for You?
Either one makes an excellent choice and you really couldn't go wrong! Both of these companies have been around for years and you're likely to be very satisfied with either sanitary cup.
The Lunette is often more expensive, but has a slightly higher user rating. The Mooncup is very affordable, but usually comes with a slightly lower rating.
—>Check Prices on the MoonCup<—
You can buy either cup easily online.
Buy the MoonCup Direct from the Company
Get the MoonCup directly from their website. Shipping is free worldwide and prices are often a bit cheaper than on Amazon. We LOVE to recommend buying a menstrual cup straight from the company and we're happy that MoonCup offers this option.
Check it out below:

Get the Lunette Cup
If you're looking to buy the Lunette Cup, the best place is on Amazon. It's widely available in all countries online, however it can be pretty difficult to find outside of Europe on drugstore shelves.
Check out the Lunette Menstrual Cup today:

What about Sex with the Lunette Cup, or MoonCup?
A common question people have is whether or not they can have sex with a Lunette Cup or MoonCup. The short answer is that it depends on what kind of sex you want to have!
For anything that's not penetrative sex, a menstrual cup is an excellent option. Unlike with tampons, there are no strings hanging out and your partner may not even know you have your period.
However, for penetrative sex, neither or these period cups are suitable. There just isn't enough room for everything up there. And because these menstrual cups are quite stiff, it wouldn't be comfortable either.
For sex during your period, we recommend the Instead Soft Cup/ Flex Menstrual Disc. They are disposable, flat, and sit right up under your cervix. Keep a box of these in your bathroom for those "special" times during your period!
Instead Soft Cup Review
Lunette Cup vs Moon Cup: Which One Lasts Longer?
Both of these menstrual cups are on the higher range of prices for menstrual cup. It only makes sense to figure out which one is going to last for you longer.
The easy answer is that they're very similar! All of the top-quality cups are made from the same material (medical grade silicone) and the manufacturing process is very similar as well. This means that the lifespans of all these cups is basically the same.
It mostly depends on how well you look after your cup. Keep it clean during your period, and wash it well after your period. Make sure you don't store it in airtight container, or expose it to the sun. You can boil it for 5 minutes to sterilize it every once in a while.
You should find that the Lunette Cup or Moon Cup should last for 5-10 years. If your cup becomes discoloured, that doesn't really matter and is not a reason to replace it. The more important thing is if there are tears or signs that the material has begun to degrade.
More Information about the Lunette Menstrual Cup and MoonCup Menstrual Cup
Find out the pros + cons, sizing information and details about where to buy the popular Lunette Menstrual cup.
Check out the pros and cons of the Moon Cup (UK), sizes and find out where to buy this top-quality menstrual cup.
Lunette Cup vs Moon Cup
What do you think about the Lunette Cup vs Moon Cup? Leave a comment below and let us know which popular menstrual cup brand you're going with.
Also be sure to give this article a share on Facebook, Twitter, or Pinterest.
Last update on 2021-04-17 / Affiliate links / Images from Amazon Product Advertising API