Lunette Cup vs Moon Cup: An Overview
Both the Lunette Cup and the Moon Cup are extremely high-quality products made by very reputable companies. These menstrual cups are made from medical grade silicone to the most exacting manufacturing standards.
They are both made in Europe, which usually means top-quality manfuacturing standards, combined with the best materials. Lunette is based out of Finland, while the Mooncup is from England.
If you're looking to buy your first menstrual cup, either one of these would make an excellent choice. Both the Lunette Menstrual Cup and the MoonCup have been around for years and they have thousands of happy customers, as demonstrated by the reviews on Amazon.
In terms of rankings, the Lunette has a 4.6/5 star rating on Amazon, while the MoonCup has a 4.2/5.
Lunette Cup vs Moon Cup: Design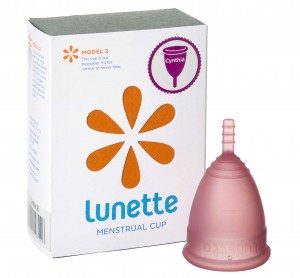 In terms of design, these two period cups are very similar. They come in small (pre-childbirth, under 30) and large (post-childbirth, over 30) sizes.
The small Lunette is slightly shorter than the Mooncup small. Both the small, and large MoonCups have slightly bigger diameters than the Lunette, but the difference is minimal.
Lunette Cup vs. MoonCup: Stiffness
One small difference between the Moon Cup and the Lunette is the stiffness. According to this menstrual cup firmness comparison chart, the Lunette cup falls into the "average" category, while the MoonCup is "firm."
A firm menstrual cup such as the MoonCup has one distinct advantage, and that is that it can be easier to insert. This is because once you insert it into the vaginal canal, it should just "pop" open into place. And once the suction seal takes hold, it'll be hard to break! This means no leaking.
However, a softer menstrual cup can be more comfortable. Some of the firmer cups can even cause cramping because they push so strongly against the vaginal canal walls.
It should be noted that both the Lunette Cup and the MoonCup are in the middle of the pack in terms of firmness, so this isn't really a big deciding factor between cups.
Related: Soft Menstrual Cups
For more details, check out this comparison chart: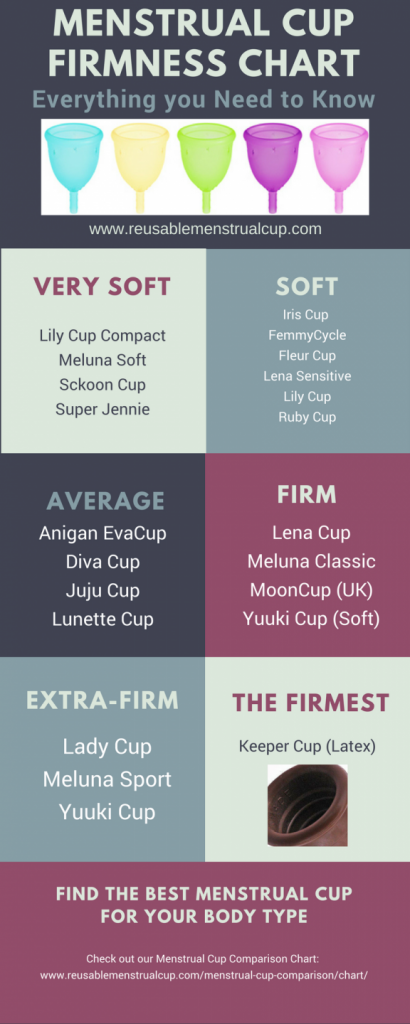 Lunette Menstrual Cup Review
Lunette Cup vs. Moon Cup: Comparison Chart
If you need more information about ALL the cups, then you'll need to check out our popular menstrual cup comparison chart. As far as we know, we're the only comparison chart that updates the prices daily.
MoonCup Menstrual Cup Review
Lunette Cup vs Moon Cup: Which one is Right for You?

Either one makes an excellent choice and you really couldn't go wrong! Both of these companies have been around for years and you're likely to be very satisfied with either sanitary cup. The Lunette is more expensive, but has a slightly higher rating on Amazon. The Mooncup is very affordable, but with a slightly lower rating.
You can buy either cup easily online.
Buy the MoonCup Direct
Get the MoonCup directly from their website. Shipping is free worldwide and prices are often a bit cheaper than on Amazon. We LOVE to recommend buying a menstrual cup straight from the company and we're happy that MoonCup offers this option.
Check it out below:

Get the Lunette Cup on Amazon
If you're looking to buy the Lunette Cup, the best place is on Amazon. It's widely available in all countries on Amazon, however it can be pretty difficult to find outside of Europe on drugstore shelves.
Check out the Lunette Menstrual Cup on Amazon:

More Information about the Lunette Menstrual Cup and MoonCup Menstrual Cup