Diva Cup vs Lena Cup: Overview
The LENA Cup and the Diva Cup  are two top-quality menstrual cups that are both manufactured in North America. The Diva Cup is from Canada while the Lena Cup is American made (California).
They are two of the best menstrual cups in the world, and you really couldn't go wrong with buying either of them. They're an eco-friendly, affordable feminine hygiene option that we hope more people will try out.
Diva Cup Since 2001
The Diva Cup has been around since 2001 and is the most popular menstrual cup in the world. It's so popular that it's often the name associated with menstrual cups in general.
Lena Cup: A Newcomer to the Scene
The Lena Cup is a relative newcomer to the menstrual cup world and has only been around a few years. Except that it's taken the menstrual cup world by storm because it's such a great cup and offered at a very reasonable price.
We predict that this will be the one dominating the market in just a few years time, unless the older, established companies lower their prices.
The company's mission is to put a top-quality menstrual cup in the hands of as many people as possible for a reasonable price. They've done that extremely well.
Here at Reusable Menstrual Cups, we love having more affordably priced, yet still high-quality cups to recommend!
Lena Cup vs. Diva Cup Pricing
In terms of price, the Lena Cup is a little bit cheaper on Amazon. The Diva Cup usually comes in a bit more expensive. The manufacturers of the Lena Cup want to put a top-quality, affordable menstrual cup in the hands of every person who wants one.
While the Diva Cup company doesn't have this explicit goal, it's in fact what they're been doing for years.
Considering that a menstrual cup can last for up to 10 years with proper care and cleaning, a few extra bucks isn't a big deal, if it means getting the cup that's right for you.
Ratings on Amazon
The Lena menstrual cup has a slightly higher 4.7/5 rating. The Divacup has a very good 4.4/5 star rating. Both of these cups have 1000+ user ratings.
There are plenty of satisfied customers with both of these popular period cups and very few specific complaints with either of them.
The unhappy people seem not like menstrual cups in general; their negative review doesn't have anything to do with problems with these specific cups. This perhaps partly explains the Diva Cup having a slightly lower rating. It's the first cup that most people try, while the Lena Cup has more experienced cup users who buy it for the second, or third one.
Both are Registered with the FDA
Both of these excellent period cups are registered with the FDA and are made from the highest quality medical grade silicone. You really couldn't go wrong with buying either of them in terms of design, safety and ease of use.
These two menstrual cups flip flop back and forth between our top and second top rated cup, depending on the author's mood! We love both of them and personally use them interchangeably.
Diva Cup vs Lena Cup: Design
Lena Cup vs. Diva Cup Capacity
In terms of design, these two popular period cups are almost identical. One slight difference is in the small size of the Lena Cup which has a capacity of 25 ml vs the 30 ml of the Diva Cup.
If you have a very heavy period, you may want to opt for the Diva Cup over the Lena Cup. But, you might do even better by considering one of these high-capacity menstrual cups instead.
Check out this Menstrual Cup Capacity Comparison Chart for more details: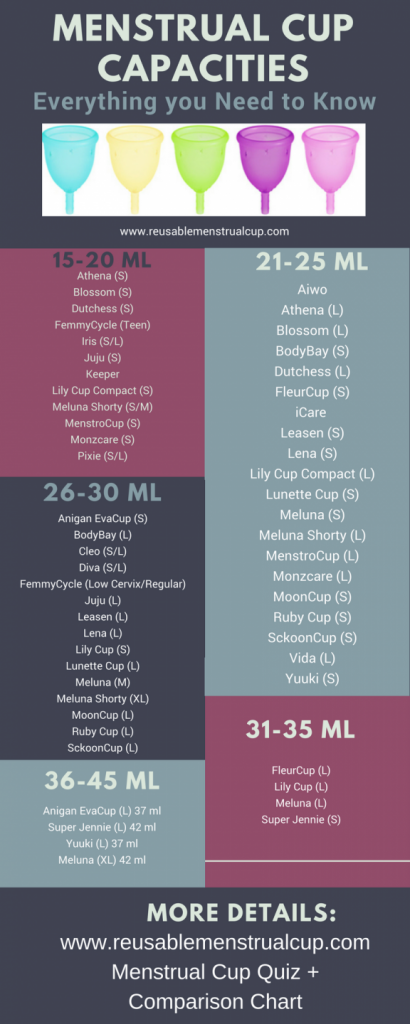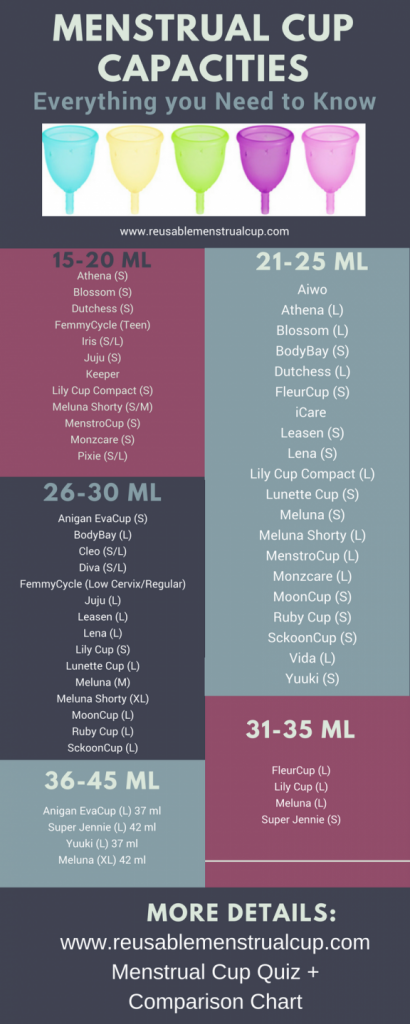 Diva Cup vs. Lena Cup Shape
The shape of the cups is slightly different as well. If you compare the two products side by side, you'll see that the Diva Cup is more of a cone. The LENA cup has a bit more of a bell-shape to it. Both of these designs can work well.
In our experience, if you find that the Diva Cup leaks, you can try out the Lena Cup and perhaps have better results (or vice-versa). It's sometimes not useful to try out something so so similar. For example, if the Diva Cup doesn't work for you, don't try the MoonCup next because they are almost identical to each other.
Diva Cup vs. Lena Cup Color
Another small difference is color: the Diva Cup is white, which can start to look dingy after months of use, while the Lena Cup is pink and can look quite new even after a year or two.
This disadvantage can be overcome by cleaning your Diva Cup regularly. You can also use something like the Diva Wash, which should help prevent serious staining.
But, in reality a little staining or discolouration doesn't really matter. After all, it's something you're putting into your vaginal canal! You're not displaying it to the world. Staining in no way impacts the effectiveness of the cup, nor does it indicate that the cup is degrading and needs to be replaced.
Diva Cup vs Lena Cup: Comparison Chart
Another Diva Cup vs. Lena Cup Comparison
Diva Cup vs Lena Cup: Which one to Choose?
Both these menstrual cups are an excellent choice for your first cup. They are top-quality products, from reputable companies and you can get them at a reasonable price.
Stiffness: Lena Cup vs. Diva Cup
The Diva Cup is considered to have an "average" stiffness. This means that it should pop open reasonably well once you put it into your vaginal canal. However, it's not so firm that it will press strongly against your vaginal canal walls. This can cause cramping for some people.
There are two models of Lena Cup: Regular, and Sensitive. The regular one is considered to be a firmer menstrual cup, while the sensitive is one of the softer ones.
A very firm cup will be extremely easy to insert. However, it can sometimes feel a bit uncomfortable because it pushes so strongly against your vaginal canal. The soft Lena Cup can feel very comfortable, but be slightly harder to insert.
The choice really is up to you. For more details, check out this Menstrual Cup Firmness Comparison Chart: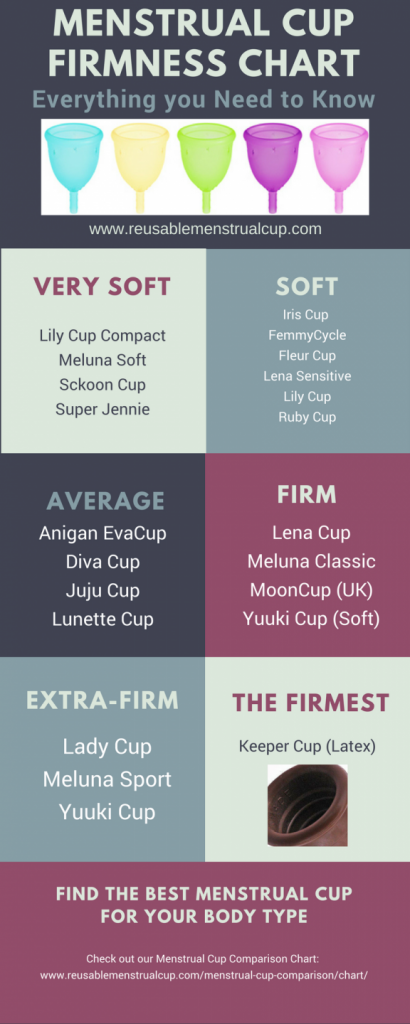 Price: The Edge Goes to the Lena Cup
Another reason to go with the Lena Cup over the Diva Cup is the price. If you have a look on Amazon, you'll see that the Lena Cup is usually a few dollars cheaper than the Diva Cup. Because it's such an excellent cup, there's no reason to spend more money if you don't have to!
The Slight Edge Goes to the Lena Cup
Considering these factors, it looks like the Lena Cup has the slight edge! We love a cup that is easy to insert and place inside, as well as remove. And any menstrual cup that doesn't leak for most people is a serious win here at Reusable Menstrual Cups.
Plus, you can save a bit of money. Who doesn't want to have a few extra dollars in their wallet at the end of the month?
Where to Buy a Menstrual Cup

The Diva Cup is for You?
The best place to buy a menstrual cup is on Amazon. There is a huge range of choices and you can get the exact menstrual cup you want, instead of just choosing from the one or two at the local drugstore. Delivery will be within a few days and shipping is often free.
As the Diva Cup is the most popular menstrual cup in the world, you can often find it at the drugstore, even outside of North America. If a store carries only one menstrual cup, it's probably the Diva Cup. However, prices are often cheaper on Amazon, so check there first.
You can get the Diva Cup on Amazon today:

Or, is the Lena Cup the One?
Perhaps you've decided that the LENA Feminine Hygiene Cup is the one for you? It's often quite difficult to find the Lena Cup at your local stores because it's a newcomer to the menstrual cup world. The best place to buy it is on Amazon. You can check out the reviews and compare prices over on Amazon:

Diva Cup vs Lena Cup: More Information