A Review of the SckoonCup Menstrual Cup
The SckoonCup is made in the USA from the highest quality medical-grade silicone and is even packaged in environmentally-friendly materials. We LOVE eco-friendly products here at Reusable Menstrual Cups, and the SckoonCup certainly falls into that category.
Over on Amazon, people seem to really love it and the SckoonCup has a 4.6/5 star rating, one of the highest among all period cups. Most people that try it really seem to like it. There are a lot of comments from people who've made the switch from something like a Diva Cup or MoonCup and found that this one worked better for them.
This cup is a bit unique in that it's made from a single piece of silicone instead of two pieces that are molded together which makes it both easier to clean and more comfortable to wear due to the lack of seams.
The other unique thing about the Sckoon Cup is that it's one of the softest menstrual cups you can buy. This may be exactly what you're looking for, or it may not be. Keep on reading for more details about the advantages, and disadvantages of this.
Smart manufacturing from a made in the USA product? We love that.
You can check out this popular menstrual cup brand for yourself over on Amazon:

Two Sizes of SckoonCups:
Size 1 (small): Length 70 mm, Diameter 43 mm, Capacity 23 ml.
Size 2 (large): Length 70 mm, Diameter 45 mm, Capacity 30 ml.
One of the Softest Menstrual Cups
An interesting thing about the SckoonCup is how soft it is. In fact, it's one of the softest menstrual cups you can buy, according to this menstrual cup firmness chart.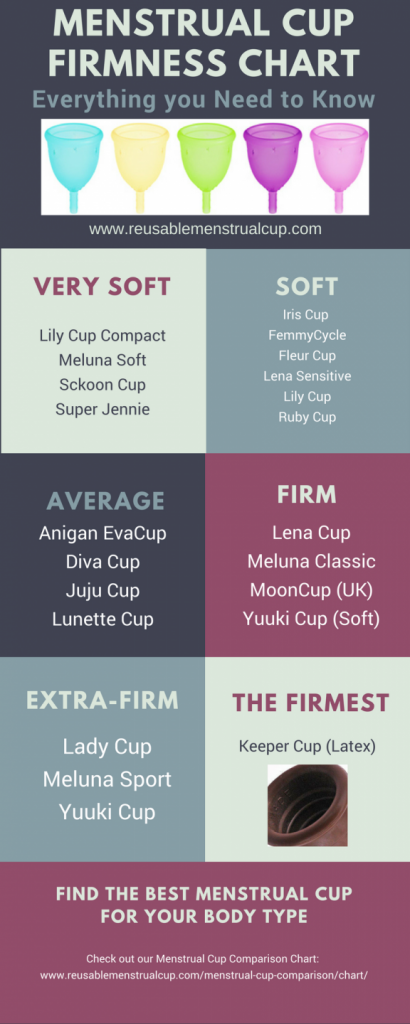 There is one distinct advantage, and disadvantage to soft menstrual cups that you should be aware of.
The advantage is that they can feel quite comfortable because they don't press strongly against your vaginal canal wall. This is unlike the stiff menstrual cups which can sometimes even cause cramps.
However, the disadvantage to the softest menstrual cups is that they can sometimes be a little bit difficult to insert correctly. This is because unlike the stiffer menstrual cups, they don't just "pop" into place easily. You might have to turn them a full rotation one way, then the other in order to get them to seal properly.
Our general rule of thumb is that if you're a beginner to menstrual cups, try out one of the average-firm cups. However, if you're experienced, then going for one of the softer menstrual cups is fine.
Which Menstrual Cup is Most Comfortable?
A common question that people have is, "Which menstrual cup is most comfortable?" Perhaps you've found something like the Diva Cup, or MoonCup uncomfortable, or they even caused cramps.
Or, maybe you've never tried a menstrual cup before, and are doing some research to find the best one for you. Of course you'll want a product that is easy to use, fits well and most importantly, is comfortable. You wouldn't buy a pair of jeans that felt terrible to wear! A menstrual cup is the same.
In general, the most comfortable menstrual cups are the softest ones. This is because they don't press strongly against your vaginal canal walls. The vast majority of people don't even feel average or firm cups when they're inside of them, but there are some that do. Among the people who do, a softer cup can perhaps be just what they need.
Our recommendations for the most comfortable menstrual cups are the softest ones from the chart above. They include the SckoonCup (reviewed here), Meluna (soft), Super Jennie, and the Lily Cup Compact.
However, please be aware that these comfortable menstrual cups come with a disadvantage—they can be quite difficult to insert because they're so soft. That's why we usually recommend an average firmness cup for beginners.
Heavy Period: Not a Great Choice
If you have a heavy period, the Sckoon Cup might not be the best choice for you. With a capacity of 23 ml (small) and 30 ml (large), it's below average/average. The small one in particular isn't a great option.
If you have a heavy period, then you'll want to consider a high-capacity cup instead. Check out this menstrual cup capacity chart for more information and some of the better options: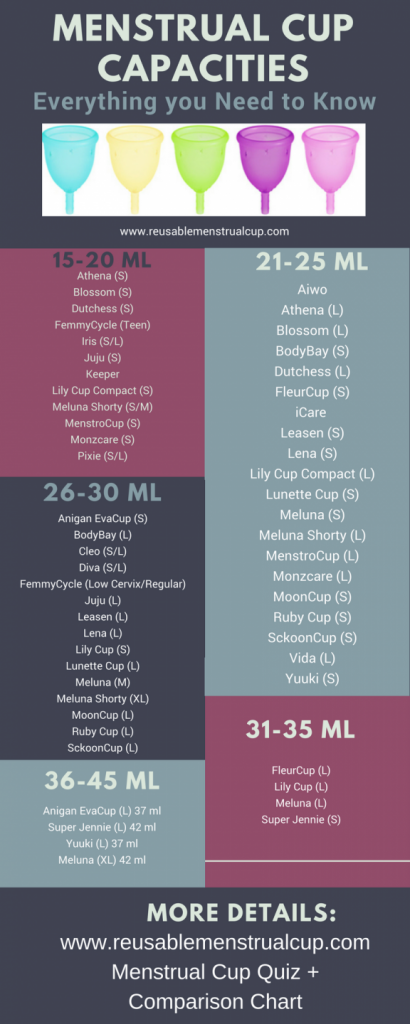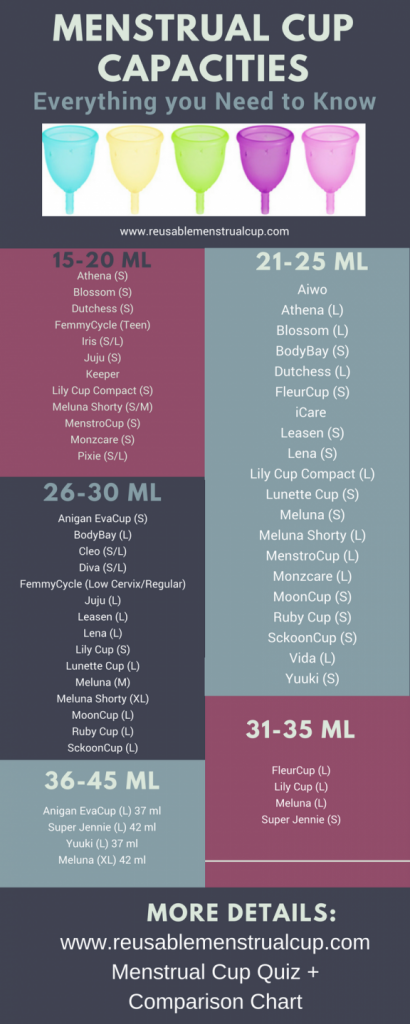 People that like the SckoonCup are Saying Things Like: 
"It doesn't leak! I've tried lots of other period cups and this is the first one that's really worked for me. It does take a little bit of fiddling to make sure it's inserted correctly, but once it's done, it's done."
"This cups fits well, unlike some of the more popular ones which were horrible for me. It's just comfortable for whatever reason. I think it might be because the SckoonCup is a bit softer than the other cups."
"It's more comfortable than the Diva Cup, and it's a little bit easier to clean because it's so smooth. There are no holes, ridges, etc."
Buy the Sckoon Cup Menstrual Cup on Amazon:

More Sckoon Cup Reviews:
SckoonCup Pros:
The design. This menstrual cup is made from a single piece of silicone which eliminates seams. This makes it more comfortable to wear and also easier to clean.
It's made in the USA for those who like to shop local.
The small size has a very short length and very small diameter which makes it an excellent choice for teens or those with a low cervix.
The large size also has a relatively small length so it could be a good pick for those women with a low cervix who have a heavier flow.
Excellent user ratings and reviews on Amazon-better than many of the other more popular menstrual cups brands on the market today.
It's an eco-friendly period product that can save you a ton of money when compared to pads or tampons.
SckoonCup Cons:
The price. It's one of the more expensive period cups on the market. If you're looking for a more economical cup, try the Anigan EvaCup or the Dutchess Cup.
Some people found it too difficult to remove because of the very short stem length as well as how flimsy it is. It can be hard to get a solid grip on it. Plus, the ridges around the base are not as defined as on the Diva Cup.
It's extremely soft and doesn't pop open easily like the stiffer Moon Cup or Diva Cup.
The Takeaway on the Sckoon Cup:
Most people that use the SckoonCup seem extremely happy with it. People report far fewer leaks as well as much greater comfort than with the more traditional Diva Cup.
However, the extremely short length combined with lack of solid stem and not well defined ridges on the base can make removal very difficult for some.
It's also quite expensive, coming in at around $10 more than some of more popular menstrual cup brands. However, it's made in the USA and is extremely high-quality, so it's worth a try.
Where to Buy the SckoonCup
The best place to get the SkoonCup is on Amazon. It's not one of the most popular menstrual cup brands, so it can be hard to find at the local drugstore or supermarket. Amazon has all the menstrual cups choices, including different brands, sizes, colours, models, etc.
Pricing is extremely competitive, but be sure to compare prices among sellers. Shipping is usually free if you're a member of Amazon prime. Plus, it's discrete and simple.
Get the SkoonCup on Amazon today: