SckoonCup Menstrual Cup Review
—>Check out the SckoonCup on Amazon<—
The SckoonCup is made in the USA from the highest quality medical-grade silicone and is even packaged in environmentally-friendly materials. We LOVE eco-friendly products here at Reusable Menstrual Cups, and the SckoonCup certainly falls into that category.
Most people that try it really seem to like it. There are a lot of comments from people who've made the switch from something like a Diva Cup or MoonCup and found that this one worked better for them.
This cup is a bit unique in that it's made from a single piece of silicone instead of two pieces that are molded together which makes it both easier to clean and more comfortable to wear due to the lack of seams.
The other unique thing about the Sckoon Cup is that it's one of the softest menstrual cups you can buy. This may be exactly what you're looking for, or it may not be. Keep on reading for more details about the advantages, and disadvantages of this.
Smart manufacturing from a made in the USA product? We love that.
You can check out this popular menstrual cup brand for yourself over on Amazon:

Sckoon Cup Review
Two Sizes of SckoonCups:
Size 1 (small) on Amazon: Length 70 mm, Diameter 40 mm, Capacity 23 ml.
Size 2 (large) on Amazon: Length 70 mm, Diameter 45 mm, Capacity 30 ml.
In terms of sizing, both of these cups are relatively small, and even the large Sckoon Cup is more of an average size.
At 70 mm, the length is average (same as the Diva Cup), and it perhaps isn't the best option if you have a very low cervix. Most people have better results with a specially designed low-cervix menstrual cup. 
However, it is possible to trim the stem of your SckoonCup to make it shorter. Don't do this while you have the Sckoon Cup inserted, and also trim just a little bit at a time.
If you have a very heavy period, you may want to consider a high-capacity menstrual cup instead of the Sckoon Cup. The 30 ml capacity for the large is average, while some of these bigger cups hold 40+ ml.
—>Find out the Highest Capacity Menstrual Cup<—
Sckoon Cup Unboxing and Review
One of the Softest Menstrual Cups
An interesting thing about the SckoonCup is how soft it is. In fact, it's one of the softest menstrual cups you can buy, according to this menstrual cup firmness chart.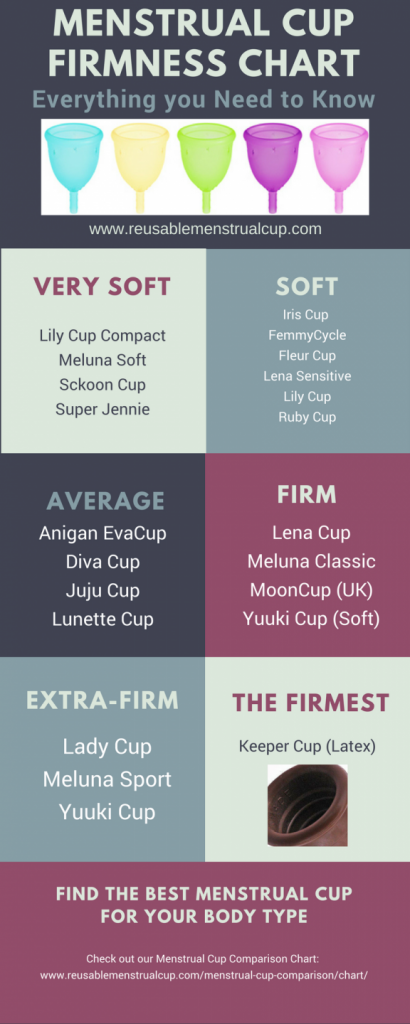 There is one distinct advantage, and disadvantage to soft menstrual cups that you should be aware of.
The advantage is that they can feel quite comfortable because they don't press strongly against your vaginal canal wall. This is unlike the stiff menstrual cups which can sometimes even cause cramps.
However, the disadvantage to the softest menstrual cups is that they can sometimes be a little bit difficult to insert correctly. This is because unlike the stiffer menstrual cups, they don't just "pop" into place easily. You might have to turn them a full rotation one way, then the other in order to get them to seal properly.
Our general rule of thumb is that if you're a beginner to menstrual cups, try out one of the average-firm cups. However, if you're experienced, then going for one of the softer menstrual cups is fine.
***The owner of this website most often uses the SckoonCup, even though she has tried ALL the cups! She finds it easy enough to insert, despite how soft it is.
Which Menstrual Cup is Most Comfortable?
A common question that people have is, "Which menstrual cup is most comfortable?" Perhaps you've found something like the Diva Cup, or MoonCup uncomfortable, or they even caused cramps.
Or, maybe you've never tried a menstrual cup before, and are doing some research to find the best one for you. Of course you'll want a product that is easy to use, fits well and most importantly, is comfortable. You wouldn't buy a pair of jeans that felt terrible to wear! A menstrual cup is the same.
In general, the most comfortable menstrual cups are the softest ones. This is because they don't press strongly against your vaginal canal walls. The vast majority of people don't even feel average or firm cups when they're inside of them, but there are some that do. Among the people who do, a softer cup can perhaps be just what they need.
Most Comfortable Menstrual Cup = Softest Cup
Our recommendations for the most comfortable menstrual cups are the softest ones from the chart above. They include the SckoonCup (reviewed here), Meluna (soft), Super Jennie, and the Lily Cup Compact.
However, please be aware that these comfortable menstrual cups come with a disadvantage—they can be quite difficult to insert because they're so soft. That's why we usually recommend an average firmness cup for beginners.
Heavy Period: Not a Great Choice
If you have a heavy period, the Sckoon Cup might not be the best choice for you. With a capacity of 23 ml (small) and 30 ml (large), it's below average/average. The small one in particular isn't a great option.
If you have a heavy period, then you'll want to consider a high-capacity cup instead. Check out this menstrual cup capacity chart for more information and some of the better options: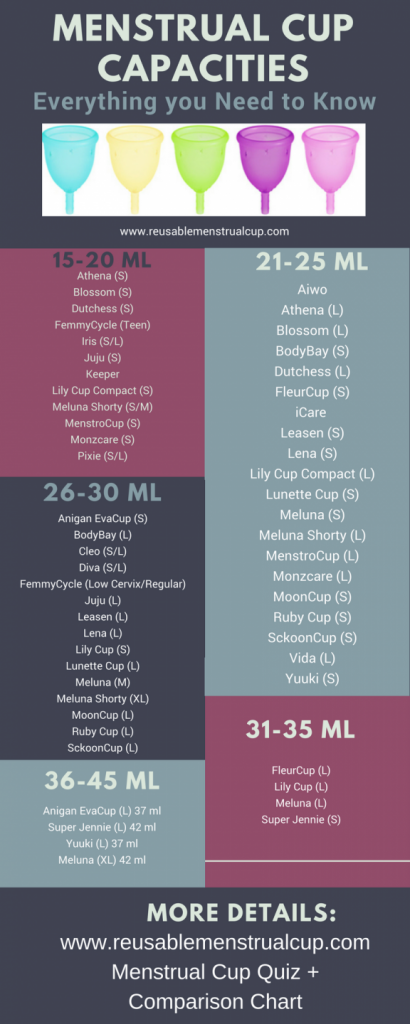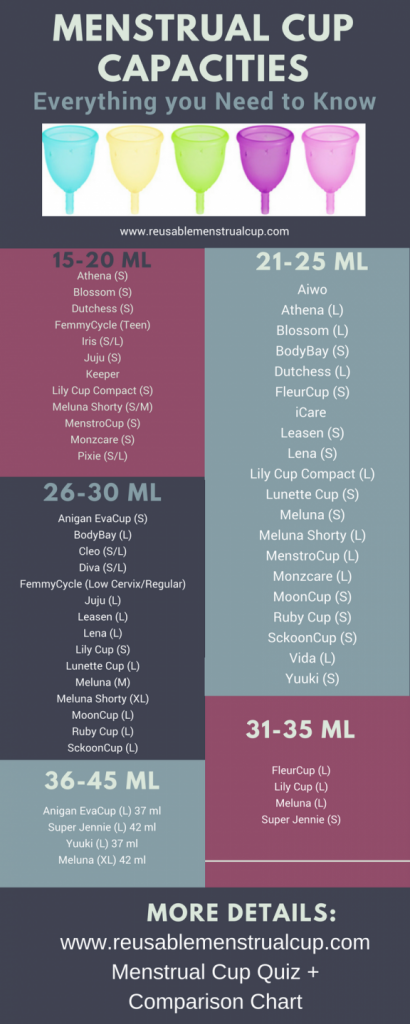 People that like the SckoonCup are Saying Things Like: 
"The Sckoon Cup doesn't leak! I've tried lots of other period cups and this is the first one that's really worked for me. It does take a little bit of fiddling to make sure it's inserted correctly, but once it's done, it's done."
"This cups fits well, unlike some of the more popular ones which were horrible for me. It's just comfortable for whatever reason. I think it might be because the SckoonCup is a bit softer than the other cups."
"It's more comfortable than the Diva Cup, and it's a little bit easier to clean because it's so smooth. There are no holes, ridges, etc."
—>See Customer Reviews and Ratings on the SckoonCup<—
Buy the Sckoon Cup Menstrual Cup on Amazon:

More Sckoon Cup Reviews:
SckoonCup Pros:
The design. This menstrual cup is made from a single piece of silicone which eliminates seams. This makes it more comfortable to wear and also easier to clean.
It's made in the USA for those who like to shop local.
The small size has a very short length and very small diameter which makes it an excellent choice for teens or those with a low cervix.
The large size also has a relatively small length so it could be a good pick for those women with a low cervix who have a heavier flow.
Excellent user ratings and reviews on Amazon-better than many of the other more popular menstrual cups brands on the market today.
It's an eco-friendly period product that can save you a ton of money when compared to pads or tampons.
SckoonCup Cons:
The price. It's one of the more expensive period cups on the market. If you're looking for a more economical cup, try the Anigan EvaCup or the Dutchess Cup.
Some people found it too difficult to remove because of the very short stem length as well as how flimsy it is. It can be hard to get a solid grip on it. Plus, the ridges around the base are not as defined as on the Diva Cup.
It's extremely soft and doesn't pop open easily like the stiffer Moon Cup or Diva Cup.
What about Sex with the SckoonCup?
A common question that people have is whether or not they can use the SckoonCup during sex. The short answer is: no! There just isn't room for everything up there. And even if you did try, both parties would likely find it pretty uncomfortable.
If you'd like to have sex during your period, you previously had only two good options, the Instead Soft Cup / Flex Menstrual Disc. They are flat, flexible discs that sits right up under your cervix. The only real negative to both of these products is that they're disposable.
However, Intimina has recently come out with a new product, the Ziggy Cup. It's very similar in design and function to the Soft Cup. However, it's made from medical grade silicone and is reusable.
—>Check Customer Reviews for the Ziggy Cup<—
Finally, a reusable option for sex during your period! We've been waiting years for this, and we're happy that one company finally did it. Thank you Intimina!
You can check out the Ziggy Cup for yourself over on Amazon:

The Sckoon Cup and IUD's
You may want to know whether or not your SckoonCup is compatible with an IUD. It's an excellent question!
The good news is that, in general, your menstrual cup shouldn't interfere with an IUD because it sits low in the vaginal canal. But be sure to keep your SckoonCup as low in the vaginal canal as possible, just so that the stem isn't sticking out of you.
The major risk is that you might dislodge your IUD when removing your Sckoon Cup. This most often happens because people don't release the suction seal. You can do this by squeezing in with two fingers, and then pulling out your cup by the case.
DO NOT pull a menstrual cup out completely by the stem. It's very hard on the cup, but it's the quickest way to dislodge an IUD.
The company recommends not using a menstrual cup for 6 weeks after you get an IUD inserted. Give it time to settle.
Make sure to periodically check your IUD strings (after every period is a good time). If you can't feel them, or they've moved, please check with your doctor.
Toxic Shock Syndrome and the SckoonCup
Many people want to know whether or not it's possible to get toxic shock syndrome (TSS) from a menstrual cup, and whether or not the risk is higher, or lower than with a tampon.
To date, there has only been one reported case of toxic shock syndrome (TSS) that was caused by a menstrual cup (the Diva Cup). It happened because the person cut themselves when inserting the cup at the beginning of their period.
However, there are thousands of cases of TSS from tampon usage. There are also way more tampons users than menstrual cups users, so this must be taken into account.
It does appear though that the overall risk from menstrual cups is lower than with tampons.
How to Clean the SckoonCup Menstrual Cup
Menstrual cups are kind of expensive, so it only makes sense to look after them well. By doing this, you'll be able to make sure they last as long as possible.
The company recommends cleaning your SckoonCup with mild soap and water during your period. You can do this every time you take it out, and then before inserting it. Be sure to wash off the soap really well in order to prevent infections.
You could also use a specially designed menstrual cup wash such as the DivaWash. However, this isn't really necessary as mild soap works just as well.
You can pay special attention to holes. If they start to get stuff stuck in them, use an old toothbrush, or toothpick to clean them out. Don't use a metal object (like a needle) because this will damage your Sckoon Cup.
For more details, see below, or check out: Menstrual Cup Care and Cleaning.
How to Store your SckoonCup Between Periods
Be sure to store your Sckoon Cup in the organic cotton bag that came with it. DO NOT store your SckoonCup in an airtight container. This breeds all kinds of bacteria nastiness that will quickly ruin your cup!
What about vinegar, bleach, rubbing alcohol or hydrogen peroxide?
Some people want to "deep clean" their menstrual cup using one of these things. However, it's not recommended because they will damage the silicone. This in turn will reduce the lifespan of your Sckoon Cup.
How can I Deep Clean My SckoonCup?
At the end of your cycle, you can "deep-clean" your menstrual cup. This is completely optional and many people never do this.
However, if you'd like to, boil your SckoonCup in a pot of water for 5-10 minutes. DO NOT leave the pot unattended because if your menstrual cup sticks to the side of the pot, or the pot boils dry, you'll ruin your cup.
This, along with leaving your cup in an airtight container are the two fastest ways to have to buy a new menstrual cup!
Compare Menstrual Cup Washes
Isn't the SckoonCup Kind of Expensive?
You may wonder why the SckoonCup is so expensive. After all, it's just a small piece of silicone. The good news is that the Sckooncup is often a little bit cheaper than some of their competitors, especially the European menstrual cups.
You may then head over to Amazon and find that there are some cheap menstrual cups for around $5-10. It's certainly tempting, especially if you're on a tight budget.
However, we never recommend these cheaper menstrual cups for a few different reasons. They include:
They are usually not made from medical grade silicone
Manufacturing standards are often a bit suspect
Customer service is non-existent
They wholesale for $0.10-$0.25. Do you really want this in your body?
Information about the product is lacking
They don't work that well
Let's sum this up! The first reason you shouldn't use a very cheap menstrual cup is because it's something you're putting into your body. By spending a little bit more, you're ensuring a safe, comfortable experience.
The other reason is because the cheap menstrual cups don't really work that well. They're often so flimsy that they never really open when inside you. This will mean crazy leaking.
Most people end up buying a higher quality cup like the Sckooncup in the end, or even switching back to tampons. It's just not worth it. Get a top-quality cup like the Sckooncup to start with.
The Takeaway on the Sckoon Cup: Love it!
Most people that use the SckoonCup seem extremely happy with it. People report far fewer leaks as well as much greater comfort than with the more traditional Diva Cup. The author of this article has tried ALL the cups, but finds herself coming back to the SckoonCup most often.
Despite being quite soft, it's easy enough to insert. It also feels very comfortable when inside. In terms of diameter, length, and capacity it's pretty average as far as menstrual cups go. However, the design is a little bit different than something like the Diva Cup, and it just seems to work better for some people.
The major downside is that it's quite expensive! However, it's made in the USA and is extremely high-quality, so it's worth a try. Reviews over on Amazon are excellent and there are clearly thousands of satisfied customers.
—>See Sckoon Cup Customer Ratings and Reviews<—
Where to Buy the SckoonCup
The best place to get the SkoonCup is on Amazon. It's not one of the most popular menstrual cup brands, so it can be hard to find at the local drugstore or supermarket. This is especially true if you don't live in Canada, the USA or Europe where menstrual cups are not so popular.
Amazon has all the menstrual cups choices, including different brands, sizes, colours, models, etc. Returns and customer service is excellent and most people have a very, very positive experience when buying menstrual cups on Amazon.
Pricing is extremely competitive for the SckoonCup, but be sure to compare prices among sellers. Shipping is usually free if you're a member of Amazon prime. Plus, it's discrete and simple.
Get the SkoonCup on Amazon today: