A Review of the Keeper Latex Menstrual Cup
The Keeper Menstrual Cup is a bit unusual in that it's made from latex, unlike most other menstrual cups which are made from medical grade silicone (for example, the Diva Cup, Lena Cup, and MoonCup).
The big negative with a latex menstrual cup is that some people have an allergy to it. Another possibility is that they begin to develop a latex allergy after years of using the Keeper Menstrual Cup.
For those who are sensitive to silicone, the Keeper makes an excellent choice and we're happy that there's another option on the market today (along with the Meluna Cup, made from Thermoplastic Elastomer—TPE).
Check out the Keeper Cup for yourself on Amazon:

Latex = Extremely Durable
However, it's not all bad for the Keeper Cup! The very, very good news is that the Keeper, with proper care and cleaning will last far longer than the silicone ones, more than 10 years in some cases.
Compare this to a normal menstrual cup that you may have to replace every 2-3 years. Some companies even recommend that you replace a silicone menstrual cup every single year!
Related: How Often to Replace a Menstrual Cup
Keeper Cup = Very Stiff
One of the other unusual things about the Keeper Cup is how stiff it is, compared to some of the Soft Menstrual Cups. It's actually the stiffest menstrual cup that we've ever come across.
Some people love this. The Keeper Cup pops open very easily once it's inside of you. However, it does take a while to get the hang of inserting it and making sure that it actually does pop. The fold is key. Experiment for yourself and see what fold works for you.
Some people, however, find that the really stiff cups are quite uncomfortable. They can press quite strongly on your vaginal canal walls, sometimes causing cramps or other discomfort.
What works for you really depends on your body.
Related: How to Insert and Remove a Menstrual Cup
For more details about soft, average, and very firm menstrual cups, check out this menstrual cup stiffness chart: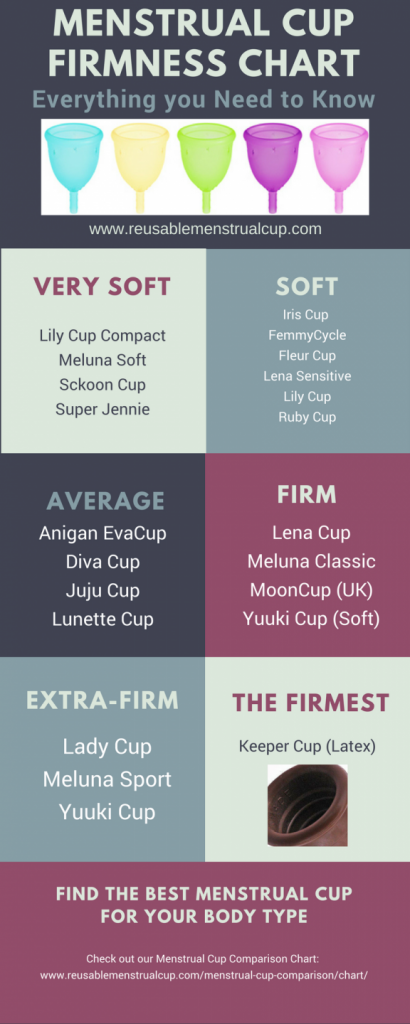 Keeper Cup: Longer than Other Menstrual Cups 
Another thing that's kind of unusual about the Keeper Cup is how long it is. At 79 mm, it's a full 10 cm longer than the more average cups like the Diva Cup or MoonCup, which come in around 70 mm in length.
This is a good thing for people with a high cervix. In order to remove a menstrual cup, you should grasp the base, break the suction seal and then pull it out gently. However, if it's too high up, you'll need to pull on the stem in order to get it low enough to grasp the base.
If you have a very high cervix, but a cup that is too short, then you might not even be able to grab the stem easily. In this case, it's better to get a longer cup like the Keeper.
However, if you have a low-cervix, this is most certainly not the right cup for you! Instead, consider one of these low-cervix menstrual cups.
Check out this menstrual cup length chart for more details: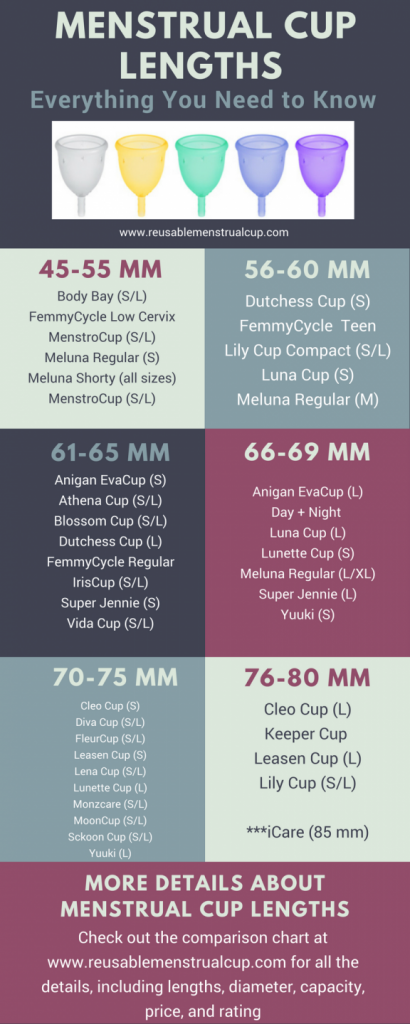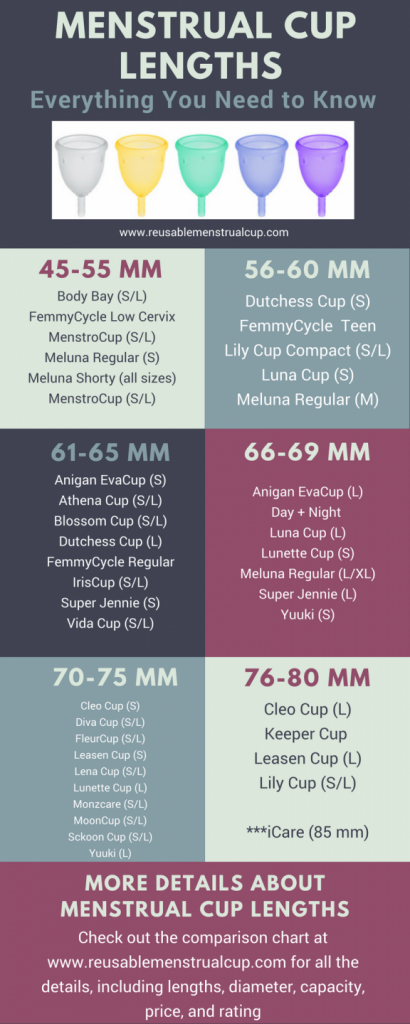 The Keeper Menstrual Cup Reviews
The Keeper has a 4.5/5 rating on Amazon and people are saying things like:
"It lasted for 10 years and is still going strong. It's super economical when you consider how long lasting it is. Imagine how many tampons and pads I would have used during that period of time. It seems crazy to me!"
"Awesome. It's easy to insert and remove and it doesn't leak. I've recommended the Keeper Cup to so many of my friends. I'm proud to say that I've converted more than a handful of them!"
"It's one of the longer menstrual cups on the market today. This won't work well if you have a low-medium cervix, but mine is quite high so it's fine. I actually prefer this because I can grab it quite easily when removing it."
Buy the Keeper Menstrual Cup
The best place to get the Keeper Cup is on Amazon. It's one of the less popular cups on the market today, so you'll probably not be able to find it at your local drugstore. Check it out on Amazon today:

2 Sizes of Keeper Menstrual Cup
Size A (large, after-childbirth). Capacity: 25 ml. Diameter: 46 mm. Length: 79 mm.
Size B (small, before-childbirth, and for C-section births). Capacity: 21 ml. Diameter: 45 mm. Length: 79 mm.
The Keeper Cup Pros
1. Can last way longer than silicone (10+ years is quite normal).
2. Stiff material so pops open more easily than the Diva Cup or the Moon Cup.
3. Very long stem so easy to remove. It can also be cut for comfort.
4. Creates "super-suction" because it's so stiff, reducing leakage.
5. Easy to clean.
6. FDA approved.
7. Holds up to an ounce of fluid, which is 3-4 times more capacity than even a jumbo tampon.
The Keeper Cup Cons
1. Some people are allergic to latex rubber.
2. It's very stiff, which can make it difficult to insert for some people.
3. At 79 mm, it's a full 10 mm longer or more than the other popular menstrual cups on the market. This is a big negative if you have a low, or even medium cervix height.
4. One of the smallest capacities of all menstrual cups for the "B" size (pre-childbirth). Not great for those really heavy flow days.
5. Lack of ridges on the stem can make removal quite difficult.
More Keeper Cup Reviews
The Takeaway on the Keeper Menstrual Cup:

The Keeper menstrual cup is a different kind of cup, unlike many of the newer ones out there (Diva Cup, Moon Cup, Lunette) which are made from silicone and are far more flexible. This may suit some people who want something that will just "snap" into place and stay there.
However, others may find it uncomfortable and difficult to insert. Although it does have a long stem, some may find it difficult to remove due to the stiffness of it. The other difficulty in removal comes from the stem not having any ridges or lines on them, unlike most of their competitors. This can make it pretty slippery and difficult to grasp.
The big positive to the Keeper Cup is that it can be an extremely economical choice since it lasts for 10 years or even longer. This is unlike the silicone cups which start to degrade much sooner.
Some makers of silicone menstrual cups will tell you that their cup last for 10 years or more, but in our experience this isn't really true. Most people have to replace them every five years or so, depending on the quality of the cup they bought.
Get the Keeper Menstrual Cup on Amazon: