The Cleo Cup is made by an Australian company, but the actual period cup is manufactured in China. However, it does appear to be made from the highest quality medical grade silicone and the company seems reputable.
Compare this to something like the Hengsong Cup, or the Vida Cup which are also made in China. They are astoundingly cheap, but of dubious quality and we certainly don't recommend them.
Related: Are Cheap Menstrual Cups a Good Buy?
The Cleo Cup has a very high 4.4/5 star rating on Amazon. However, it appears that many of these reviews were in exchange for a free or discounted menstrual cup, so this shouldn't be entirely trusted.
For a menstrual cup manufactured in China, it's extremely expensive. Compare this to something like the Dutchess Cup, also manufactured in China and of similar quality, that is almost 1/2 the price.
Is the Cleo Cup a buy? Keep on reading to find out! Or, head on over to Amazon to check it out for yourself:

2 Sizes of Cleo Cup:
Small: 30 ml capacity, 43 mm diameter, 73 mm length
Large: 30 ml capacity, 46 mm diameter, 76 mm length
As far as the dimensions go, it's pretty average in the menstrual cup world. The 30 ml capacity is standard and works well for most people, except for those with an extremely heavy period. In that case, you might want to consider one of these high-capacity cups. 
The Cleo Cup is longer than average cups, which won't make it suitable if you have a low to medium cervix. Check out these low-cervix menstrual cups for a better option.
One thing that we hate is how companies put out a "small" and "large" menstrual cup but that they're not actually that much different from each other. This is the case with the Cleo Cup. The small is only 3 mm shorter and narrower than the large one.
People that Like it are Saying:
"It works well and doesn't leak as much as the Diva Cup. It just seems to snap into place more easily for whatever reason. I like the suction is gets to my vaginal wall. It's so strong!"
"The instructions and all the useful tips they included were very helpful when I was getting started. I had to phone the company with a specific question that I had and they were very responsive."
"It was really easy to use and it also worked! No leaks, no mess. Overall, the Cleo Cup is a great buy and I'd recommend it just about anyone."
"I love the hot pink colour. The lack of markings and holes on it make it really easy to clean as well. Overall, this thing is great and I'm happy I went with this one."
One of the Longest Menstrual Cups
Do you know your cervix height? It not, here's what you need to do:
Reach into your vaginal canal with your index finger
If you can touch your cervix easily with the tip of your finger, you have a low cervix.
If you can just touch your cervix when your finger is fully inserted, then you have a regular length cervix.
Maybe you can't touch your cervix at all? You have a high cervix/long vaginal canal.
How Long is the Cleo Cup?
At 73 mm (small) and 76 mm (large), the Cleo Cup is one of the longest menstrual cups you can buy. It's certainly not the cup you want if you have a low cervix, or even an average length one.
However, if you have a long vaginal canal, you might want to consider it. Perhaps you've found the short or average length cups difficult to remove?
In order to take out a menstrual cup, you should grasp the base of it. You can break the suction seal by pushing the sides in, and then pull it gently out.
However, if the cup is too high up in your vaginal canal, then you'll need to pull the stem gently until you can grab the base. If you have a shorter cup, but a longer vaginal canal, you may not be able to find the stem, and you'll have to push down with the muscles in your pelvis. A longer menstrual cup will make this whole process much easier.
For more details, check out the menstrual cup length comparison chart: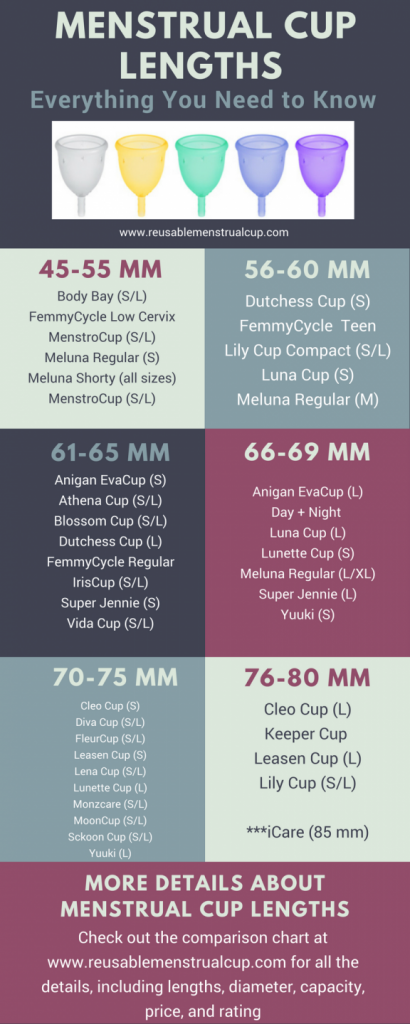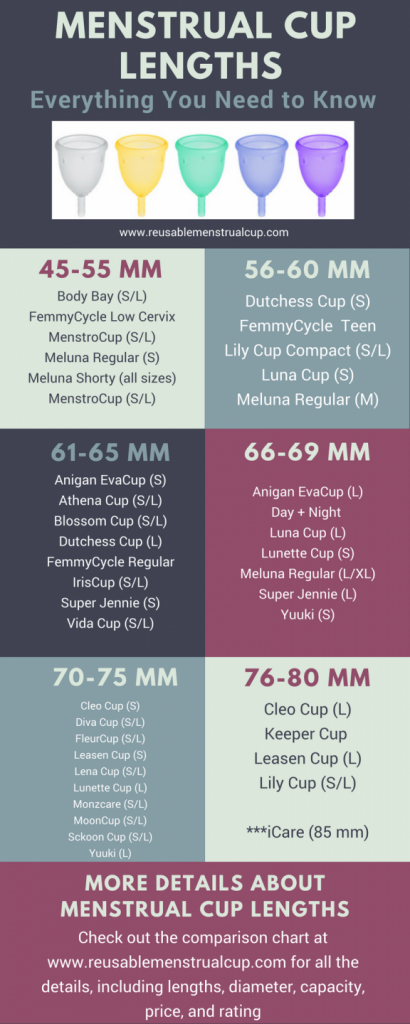 Cleo Cup Pros:
People that use this cup generally seem to like it, commenting that is doesn't leak.
Somewhat difficult to remove since it's very stiff. Related: Menstrual Cup Insertion and Removal.
A good overall rating on Amazon, but many of them were perhaps paid for by the company.
Buy the Cleo Cup

Cleo Cup Cons:
For a period cup made in China, it's extremely expensive. Although, this period cup does appear to be made of the highest quality silicone and it is an Australian company.
Very little real information on the company website.
The stem is very long.
Many people comment on Amazon that while this cup isn't terrible, the next one they tried from another company ended up being much better.
The Takeaway on the Cleo Cup: 
As far as menstrual cups go, this one isn't a terrible choice, but it's also not a great one either. In the 400+ reviews on Amazon, we found numerous comments along the lines of, "I didn't hate it, but the Diva Cup (MoonCup) (Lena Cup) (etc.) was just so much better."
However, the biggest negative is how expensive it is. It's one of the most expensive menstrual cups you can buy. If you're going to splurge, why not get yourself the Lunette Cup. It's the same price, but it's a whole lot better menstrual cup.
The Lunette is made in Finland from top-quality medical grade silicone and has some extremely high user ratings on Amazon. It's the cup many people start with, and end up sticking with for the rest of their lives.
You can get the Lunette Cup on Amazon today:

Buy the Cleo Menstrual Cup:
If you have a few extra dollars burning a hole in your pocket, you can buy the Cleo Cup easily on Amazon: