MeLuna Menstrual Cup: Huge Variety of Sizes
The Meluna menstrual cup, manufactured in Germay has a very good 4.2/5 star rating on Amazon. The huge positive about this cup is that it comes in a huge variety of sizes and lengths. This means that the Meluna Cup can fit well with your specific body size, unlike other period cups where you have to just approximate with only two available sizes.
Most other popular brands of menstrual cups such as the Dutchess Cup, Moon Cup, Lunette, or the Diva Cup come in only two sizes: small (pre-childbirth) and large (post-childbirth). In addition, many of these cups don't have a lot of variation between the small and large sizes, and they both are around average.
However, the MeLuna comes in an astounding number of different sizes:
Small, medium, large, extra-large
Regular version, or shorty version of each of the sizes (S-XL)
Classic (firm), Sport (extra-firm)
You can check out al the Meluna Cup sizes and options on Amazon:

The Me Luna Menstrual Cup ranges in length from 41mm (S) to 56mm (XL), making them shorter than many of the other cups on the market. For example, The Diva Cup has a length of 70 mm. Most other cups on the market are very similar to this Diva Cup, or are even a bit longer, up to 80 mm (The Keeper Cup for example).
The Shorty Version: For Those with a Low Cervix
There is a "shorty" version of the Meluna cup which has the same cup diameter as the regular version, but a reduced capacity and shorter overall length. This makes it perfect for those who have a low cervix/short vaginal canal.
If you're one of those people who find yourself having to cut the end of the stem off something like the Moon Cup or the Lunette Cup, then the Meluna Shorty might just be for you. In our experience, cutting the stem off of a cup isn't ideal because it can cause the materials to degrade faster than they should.
There actually aren't that many low cervix menstrual cups on the market. In our experience, the Meluna is one of the best because there are sizes of this short version, ranging from small to extra-large.
There are 4 sizes of this version ranging in length from 35mm (S) to 44mm (XL). Along with the Femmy Cycle Low Cervix Cup, the Meluna makes an excellent choices for people who have shorter vaginal canals.
If you have a low cervix, but a heavy period, then the previously mentioned FemmyCycle may actually be a better choice for you. It has a regular capacity of 30 ml, instead of the 15 ml-27 ml of the Meluna shorty.
Related: How to Handle a Heavy Period
Made from Thermoplastic Elastomer (TPE)
Price Disclaimer
The Meluna menstrual cup is a bit unusual in that it's made from thermoplastic elastomer. The other menstrual cups are made from medical grade silicone of varying qualities, from medical grade in the more expensive cups, to cheap silicone in the knock-offs from China.  The exception to this is the Keeper Cup, which is made from Latex.
As far as we know, the Meluna is the only one made from TPE. As far as safety of materials go, it's neither good, nor bad. Both medical grade silicone and TPE are safe for use and have been approved by the FDA. TPE is used, for example in baby bottle nipples and is hypoallergenic.
The company states the following benefits of TPE as opposed to medical grade silicone:
Smooth and dry, not sticky
Lower incidence of allergic reactions
Very pliable and will mold to your body shape
However, this use of TPE could most definitely be related to the major negative-that there are a number of reports that it smells terrible, even after boiling, washing with Diva Wash, etc. It's hard to say for sure, but our guess is these two things are closely related. It does seem that the benefits outweigh the negatives!
5 Ways to Fix a Stinky Menstrual Cup
Help is here! If you have a stinky menstrual cup, here are a few tips for getting rid of the funk and making it as fresh as the day you bought it!
#1: Boil your Cup
Boil your stinky menstrual cup in a pot of water for 5-10 minutes. Make sure the pot is a big, deep one because you don't want your cup sticking to the bottom or sides of the pot. And of course, keep an eye on things.
#2: Rubbing Alcohol or Hydrogen Peroxide (3%)
Soak your cup in either of these things for an hour or so to fresh up a menstrual cup that stinks. A word of caution, however. While Lunette recommends this option, other companies do not.
#3: Lemon Juice or Vineger (1/2, 1/2)
Soak your cup in lemon juice for an hour or so. Or, a solution of 1/2 vinegar + 1/2 water.
#4: Menstrual Cup Wipes
You can use something like Lunette CupWipes that are specifically designed to tackle menstrual cup funk.
#5: Menstrual Cup Cleanser
Instead of using plain soap and water to clean your menstrual cup daily, you can use a specially designed menstrual cup cleanser like the Diva Wash, or Lunette Feelbetter. 
However, if you've got a serious case of the menstrual cup stink, options 1-3 may work better for you than options 4-5.
Is TPE Safe?
Most menstrual cups are made from silicone, with the exception of the Keeper Cup which is made from latex, and of course, the Meluna. Because the Meluna cup is so unusual, an excellent question is whether or not TPE is safe to use inside your body.
Basically, yes, TPE is safe to have inside your body for up to a week each month. Of course, you should consult your doctor to see if it will work for you. However, companies have been using thermoplastic elastomer safely for years in all kinds of medical and food devices.
TPE: Used in Many Medical, Healthcare and Food Applications
Thermoplastic Elastomer is biocompatible, and it has a high purity level. There is a low risk of substances leaking out of products made from TPE. Many medical companies use this material as an alternative to latex, silicone, rubber, or PVC.
It's often used in medical tubing, catheters, drug delivering/monitoring patches, dental/medical masks, and surgical tool grips.
In terms of food uses, it's often found in baby spoons, spouts, etc.
Menstrual Cups: Silicone vs. TPE
Most menstrual cups are made from silicone, with the exception of the Keeper Cup made of Latex. At this time, it's very hard to find the Keeper Cup, and it seems to go in, and out of production quite frequently.
The Meluna Cup, made of Thermoplastic Elastomer (TPE) is becoming increasingly popular and many people are wondering what the difference is between these two materials.
Menstrual Cup: Silicone vs. TPE. Here's what you need to know:
Durability: Silicone is more durable than TPE and your silicone cup will last longer.
Feel of the Cup: TPE is dry, smooth, and not sticky. Some people prefer this, while others do not. It's really up to you.
Allergies: Fewer people are allergic to TPE than silicone.
Pliability: TPE is much more pliable than silicone. In general, silicone cups snap back into shape when you take them out. Meluna claims that their cup, made from TPE will form to your body shape.
Care and Cleaning: Menstrual cups made from TPE should be cleaned and sterilized more frequently than silicone ones. Silicone cups can be left in the sun to sterilize them, while you shouldn't do this with TPE cups.
Can I Get Toxic Shock Syndrome from the Meluna?
An excellent question that people have is whether or not they can get Toxic Shock Syndrome (TSS) from using the Meluna Cup (or any menstrual cup). You may wonder how a menstrual cup compares to tampons when considering this important question. Let's talk facts.
To date, there has only been one reported case of Toxic Shock Syndrome associated with menstrual cup use (with the Diva Cup). It happened because the person cut themselves at the beginning of their period when inserting the cup.
There are thousands of reported cases of TSS from tampons. Of course, it must be considered that there are many, many more people using tampons than menstrual cups. So, the overall risk from tampons is very low, especially if precautions are taken. For example, changing your tampon frequently, and matching the absorbency level to your flow at the time.
It can be stated with certainty, however, that the risk of Toxic Shock Syndrome is indeed lower with menstrual cups than tampons.
One of the Firmest Menstrual Cups
If you're looking for a firm menstrual cup, then the Meluna Classic and the Meluna Sport should both be on the list of the ones you consider.
We've rated the Meluna Classic as a "Firm" cup, while the Meluna Sport is "extra-firm." Check out this handy guide for more details: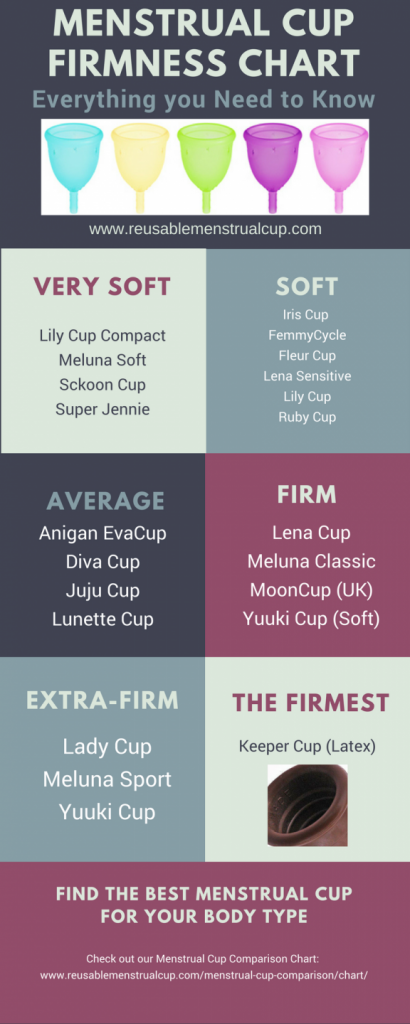 Should I Get a Soft, or Firm Menstrual Cup?
It's kind of up to you whether or not you want a firm, or soft menstrual cup. Most people find that the firmer menstrual cups are easier to insert. This is because they just "pop" into place quite easily with minimal fuss or hassle.
The softer menstrual cups often require a bit of fiddling around to get them to fully open, and seal to the vaginal canal wall. Most people do eventually figure it out, but it does take some practice.
In terms of comfort, the softer cups don't press so strongly against the vaginal canal walls, and most people find that they're very comfortable. However, the firm cups can press quite strongly, and in some cases even cause cramping. This certainly isn't the case for everyone, so you'll just have to see what works for you!
Meluna Sport, or Meluna Classic: Which One is Best?
Okay, so you're maybe wondering if you should get the Meluna Sport (extra-firm), or the Meluna Classic (firm). It's a great question!
First of all, both the Sport and the Classic are actually very firm menstrual cups. If you're looking for a softer menstrual cup, skip right over both of these options and head straight to this Top 5 Soft Menstrual Cups article.
However, if you do want a firmer cup then how to decide between the two?
Perhaps the ONLY reason you might want to get the Sport is if you are a serious athlete. Some people think that the softer menstrual cups might get compressed, lose their seal and leak due to exercising. In our experience, this is extremely rare, even for the softest menstrual cups.
Otherwise, go with the Classic. It's still a very stiff cup, but it is a little bit more comfortable than the Sport because it doesn't press so strongly against the the vaginal canal walls.
Meluna Regular/Shorty (Small): One of the Smallest Diameter Cups
If you fit into one of the following categories, then you may want to consider the Meluna (Small) because it is one of the smallest diameter menstrual cups you can buy:
A teenager
Someone who has never inserted something into their vaginal canal (no tampons, penetrative sex, etc.)
A very small person who hasn't given birth vaginally
Have a look at this menstrual cup diameter comparison chart: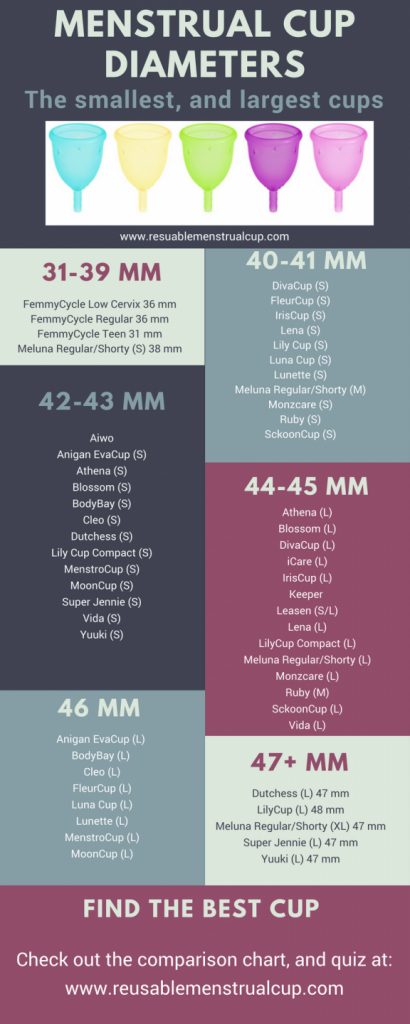 Besides the FemmyCycle, the Meluna is the smallest menstrual cup you can buy. If you need a very small menstrual cup, but are allergic to silicone, then this may be your only choice. Thankfully it's a good one!
Meluna (XL): One the Largest Diameter Menstrual Cups!
Meluna really covers all the bases. Their small size is one of the smallest menstrual cups you can buy, while the XL is one of the largest diameter menstrual cups on the market today. Some of the other big menstrual cups include the Super Jennie, Dutchess Cup, and the Yuuki Cup. 
You may want to consider getting a very big menstrual cup if you've given birth vaginally multiple times, or have found that something like the Diva Cup (Large) slid around inside of you and never really sealed to your vaginal canal walls.
Meluna Menstrual Cup Sizing Chart
What People on Amazon are saying about the Meluna Menstrual Cup:
"For the price, you can't go wrong. I love the shorty version of this thing-with other cups, the stem is quite uncomfortable for me. However, I didn't even notice the Meluna when it was inside of me. Love it!"
"It's a very comfortable menstrual cup once you get the hang of how to use it. Don't give up too soon with this thing-there is definitely a kind of steep learning cup, especially with figuring out how to get it to not leak."
"The Me Luna Menstrual Cup is easier to get into place than the Diva Cup. I'm not sure why, but I found this one just popped into place easily and also that it didn't leak."
"I've tried several menstrual cups but this one is my favourite. I've finally found the size of cup that works for my body! I'm very small and most of the other cups I've tried felt uncomfortable when inside me."
You can easily get the Meluna Menstrual Cup on Amazon today:

Sex with the Meluna Cup?
A common question that people have is whether or not they can have sex while wearing the Me Luna Cup. The short answer is that it depends on what kind of sex. For anything besides penetrative sex, the Meluna Cup will work really well. It's likely that your partner won't even know you have your period because there are not strings hanging out.
However, for penetrative sex, a Meluna will not work. There simply isn't enough room inside your vaginal canal for all those things. In addition, it will dislodge the cup and cause leaking.
Sex During Period: Consider the Instead SoftCup
If you want to have sex during your period, we suggest using a SoftCup. It's a flat, flexible menstrual cup that fits right up under your cervix, unlike the Meluna Cup which sits lower in the vaginal canal.
The only real negative to Soft Cups is that they're disposable, which means that they're not eco-friendly, and the cost will add up over time.
We recommend using something like the Meluna cup for daily use, and then keeping a box of Soft Cups in the bathroom for those times when you want to have sex during your period.
You can check out Soft Cups on Amazon for yourself:

Instead SoftCup Review
Meluna Cup Pros:
It's affordable, coming it at 2/3 or even 1/2 the price of the more expensive menstrual cups on the market today.
It's an excellent option for those with a low to medium cervix due to the shorty version.
The XL regular model has a capacity of 42ml which is much greater than most other menstrual cups on the market. Diva Cup Large = 30ml. Dutchess Cup Large = 25ml. See this menstrual cup comparison chart for more details.
The Me Luna small size (both versions) has a diameter of 38mm, which is smaller than most other cups. It can make an excellent choice for very small people or for teenagers who are not sexually active. The smaller diameter can also make insertion and removal easier.
Excellent customer service. This company is extremely committed to making happy customers.
Made in Germany according to the strictest quality standards.
Very soft, meaning that it can mold to your body shape more easily than a silicone cup.
Less chance of allergic reaction as compared to latex or silicone.
Meluna Menstrual Cup Cons:
Some people find that the smell is terrible. They seem to have tried everything including using something like the Diva Wash, boiling it and soaking it overnight. However, none of these things worked and they eventually switched to another brand of cup.  The strange thing is that not all people found this problem and many are very happy with this cup. Other menstrual cups don't seem to have these same complaints about them, so it's something to consider before buying this one.
Can be quite soft for some people. It doesn't just "pop" into place like some of the other period cups.
No other real negatives! Overall, it's an excellent product at a great price.
Can I Pee While Using the Meluna Cup?
So you may be wondering if you can pee while you have the Meluna Cup in. It's an excellent question, and we're happy that we have some good news for you. You can indeed pee while wearing a menstrual cup, in the same way that you would with a tampon.
Let's talk anatomy "down there." You have three holes: vagina (where you insert a tampon/menstrual cup), urethra (you pee from this), and anus (you poop from this).
In theory, using a menstrual cup or tampon shouldn't interfere with either of the two bodily functions. However, you may have the experience that peeing takes a really long time when you're wearing a menstrual cup.
This can happen because your vagina, and urethra are very close to each other. Because a menstrual cup is quite large, it can push against the vaginal canal walls quite strongly, which in turn push against your urethra. This causes the tube to narrow a little bit, which is why it takes longer to pee.
For some people, it can feel very uncomfortable, or even be painful. In this case, we recommend paying careful attention to the firmness of your menstrual cup. You should consider using a soft menstrual cup, which won't push so strongly on your vaginal canal walls. Most people find softer cups more comfortable than the stiffer ones.
Can I use the Meluna Cup with an IUD?
An excellent question is whether or not you can use a Meluna Cup with an IUD. The company doesn't offer any advice, apart from consulting with a doctor about the specific brand of IUD you're using, and whether or not it's compatible with a menstrual cup.
However, we have some general advice for you about menstrual cups and IUD's:
Be gentle when inserting and removing your Meluna Cup! This cannot be emphasized enough. It can go a long way towards ensuring that your IUD does not become dislodged.
When you remove your Meluna Cup, be sure to break the suction seal first. You can do this by pinching in the edges of the cup with your fingers. Then pull it out gently after that.
DO NOT pull out your Meluna by the stem. Only pull down gently on the stem if you can't reach the base yet.
Ask your doctor to trim the stems on your IUD as short as possible to make sure they don't become stuck in, or around your Meluna.
Check the stem location periodically to make sure they're in the same position. Check with your doctor if you think they're moved.
Cleaning your Meluna Menstrual Cup
Here are a few tips from Me Luna about how keep your cup in tip-top shape for years to come:
Store your Me Luna cup between periods in the supplied cloth bag. This allows good air circulation and prevents those nasty bacteria from breeding. The worst thing you can do is store a period cup in an airtight container.
Never use corrosive substances, abrasives, or solvent-based cleaners on your Me Luna Cup because this can seriously damage the plastic (as well as with any other menstrual cup)
Wash your hands before removing your cup. Then, rinse it under warm water during your period.
You can clean and disinfect your MeLuna Cup after your period is done by boiling it for 2-3 minutes in a deep pot.
Another option for cleaning your Meluna Cup besides mild soap and water is something like the Lunette Feelbetter Menstrual Cup Cleanser. Although it's a bit expensive, you only need a small amount of it to clean your menstrual cup because it lathers up nicely. It's also made from natural ingredients and smells very nice.
More Meluna Cup Reviews
Meluna Coupon Code
The Meluna is one of those menstrual cup that often puts out coupon codes. There are sometimes even discounts up to 50% off. The best way to stay up to date with this is to join their email list:
Meluna Cup Newsletter (Giveaways and Coupon Codes).
They do have a Facebook group with some coupon codes, but they are years out of date, so don't be fooled!
The Takeaway on the Meluna Menstrual Cup: 
Almost everyone that uses the cup seems to really like the variety of sizes (Small—>Extra-large), shapes (regular and short), and firmness options (classic-firm, sport-extra firm). People also note how easy it is to insert and remove—this is because it's such a firm menstrual cup.
The Meluna is an economical choice for those with a low cervix (the shorty version) and also for those with an extremely heavy flow (the XL size). There are few reports of leaking and if you like a firmer menstrual up, it might be the one for you. It's comfortable to wear, and you probably won't even notice it inside of you.
However, for some, the smell lingered even after washing/soaking/boiling and was never able to be resolved. It probably has something to do with the type of materials used-TPE as opposed to medical grade silicone. This didn't seem to be a problem for everyone, however.
Overall, if you fit into one of the previously mentioned categories (low cervix, heavy flow, teenager, etc.), then The Me Luna makes a nice choice, and is in fact better than many of the standard menstrual cups on the market today where you have only two choices-small, or large.
You can easily buy the Meluna Menstrual Cup on Amazon.