What's the best menstrual cup to use with an IUD? The shorter the better. We recommend sticking with something like the FemmyCycle Low Cervix.
Menstrual Cups and IUDs
There are many questions and concerns associated with the usage of period cups with IUDs, as there are concerns over the IUDs dislodging. While a few consider this a risk, experienced medical professionals do agree that usage of menstrual cup does not impact or affect the usage of IUD to a large extent.
This study shows that there is only a slightly higher risk of dislodging an IUD when wearing a menstrual cup. Read on to understand the intricacies of using menstrual cups and IUDs at the same time.
Before you use a contraceptive tool such as an IUD along with a menstrual cup, it is ideal for you to discuss this option with your gynecologist or physician. This is because there are certain precautions or care you must take while using these two together. Listed below are some of them.
Ask the Doctor: Menstrual Cups and IUDs
Get the basics right with menstrual cups and IUDs
You should remember that menstrual cups are not birth control devices. Therefore, you should not use them in lieu of IUDs.
The purpose of an IUD is to prevent pregnancy. It does not prevent sexually transmitted infections, so use a condom or other form of protection against this if necessary (talk to your doctor).
Menstrual cups are solely to be used as feminine hygiene protection and take the place of pads or tampons. They simply collect menstrual fluid and prevent your clothing, or bedding from becoming stained.
Menstrual Cup and IUD's
Have a fair knowledge about IUDs
Having a fair knowledge about IUD placement and where the strings need to be positioned would help you greatly in using a menstrual cup alongside it. Such knowledge will also let you steer clear of pulling out the string of your IUD while removing the cup. However, it is essential for you to read the instructions of both these devices to ensure that each works at its optimum level to give you adequate protection.
Breaking the seal correctly on your Menstrual Cup
This is an extremely important step in the removal of menstrual cups. Leading menstrual cup manufacturers provide all details on how the cups have to be pressed in c-shape while inserting and removing them.
When you pull out the stem of the cups, you must be very careful not to pull out the IUD string. Basically, you need to break the seal of your menstrual cup before pulling it out with the stem. A menstrual cup should come out easily, without much pulling and straining if you've broken the seal correctly.
Proper placement of menstrual cups with IUDs
There must be adequate space between the menstrual cup and the cervix. Normally, menstrual cups are positioned in the lower region of the vagina, which is away from the cervix.
If you already have a low cervix, there may not be enough places for a menstrual cup to be comfortably placed. In such a case, you may not be able to use both these cups and the IUDs simultaneously. It's something that you'll need to experiment with and you can also talk to your gynaecologist about.
You could also consider using a menstrual cup designed for those with a low cervix such as the Femmy Cycle Low Cervix Model, or The Meluna Cup Shorty Model.
Using rings with menstrual cups?
Even when you are using rings for birth control, it is safe to use menstrual products like period cups. This too requires a good understanding of the usage of both products for you to avoid unpleasant consequences. Here are a couple of tips to help you get started:
Be sure your ring is all the way in first, before inserting a menstrual cup.
Or, try putting the ring around the outside of the cup before inserting it.
Be careful when removing the cup, or your ring might end up in the toilet!
Check for IUD/IUS strings:
During the time of disposing cup contents and after each menstrual cycle, make sure your IUD is still in the right position. Most contraceptive products come with detailed instructions on how to handle little accidents (such as tugging at the strings, misplacement etc), using which you can get them back in the right position on your own in most cases without having to go see your doctor.
In a nutshell, as recommended by well-established and experienced brand manufacturers, IUDs are absolutely safe to use along with period cups. The only requirement is to consult your gynecologist or physician before you opt for these.
Also, read instructions with care and understand well how to use these products simultaneously. The risk of expulsion of IUD is minimal if you have a good understanding of its correct usage along with a menstrual cup.
A Rule of Thumb about Menstrual Cups and IUDs
Perhaps a good rule of thumb would be to use either a menstrual cup or IUD alone for at least a few months until you're really familiar with it and then add the other one to the mix. Trying to do both at once will likely be quite difficult for most people.
Menstrual cups and IUDs-possible, but you really have to know your body.
Post-IUD Insertion: Wait 2-3 Cycles
After you get an IUD inserted, you may want to wait 2-3 cycles before everything gets settled and back to normal. Give your body time to get adjusted to the IUD.
After 2-3 cycles, if everything is going well, then try using a menstrual cup with it.
Doing both these things at the same time, right at the beginning may be tough.
What is the Best Menstrual Cup for an IUD?
Most people want to know what the best menstrual cup is to use along with an IUD. It's an excellent question and there are certainly better cups than others.
You want to have space between your menstrual cup and cervix, in order for the cup to not interfere with your IUD. Taking this into account, shorter menstrual cups are better than longer one to use with an IUD.
Check out this comparison chart to find the shortest menstrual cups. Or, just check out the following period cups that are shorter in length:
We'll give more information about menstrual cups and IUDs, including information for these specific brands.
Diva Cup and IUDs
Here's the official recommendation about using the Diva Cup along with an IUD.
The Diva Cup is designed to be worn low in the vaginal canal, and not right by the cervix. This means that a menstrual cup shouldn't interfere with an internal birth control device.
However, there is the possibility that a Diva cup could dislodge an IUD. It's important to follow the instructions for both the Diva Cup, as well as the UID carefully. And of course, be sure to consult your doctor prior to using these two products together.
Diva Cups and IUD: Possible? Yes! But, check with your doctor first.
Ruby Cup and IUDs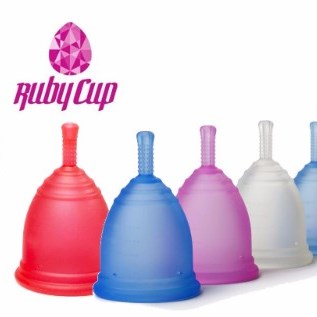 Ruby Cup is one of our new favourite menstrual cups on the market today. This is because they have a "buy one, give one" program. This means that for every cup that they sell, they give one, for free to someone who needs one. We also love that Ruby Cup has the most generous money-back guarantee in the industry. So, if you find your IUD incompatible with the Ruby Cup, just return it to the company for a full refund.
As far as the Ruby Cup and IUDs go, here's what they recommend:
Make sure your Ruby Cup is positioned low enough in the vaginal canal. If this is the case, it shouldn't touch your IUD string.
Release the seal on your cup before removing it. Do this by pushing against the sides of the cup before pulling it out. If you don't, you could pull out the IUD along with the cup.
Check your IUD string length every month. Make sure that it hasn't changed lengths.
Ruby Cup and IUD: Is it possible? Yes! But of course, check with your doctor first.
Lily Cup and IUDs
Imtimina makes two kinds of menstrual cups, the Lily Cup, and the Lily Cup Compact.  The Lily Cup Compact has the novelty factor going for it, in that it's the only collapsible menstrual cup that we know of! That's kind of cool when you're travelling, or backpacking. Here's what they recommend for using their menstrual cups along with an IUD:
Give your IUD time to settle. They recommend two cycles before using a menstrual cup or tampons.
Know where your IUD strings are. Make sure they haven't changed lengths. If they're too long and get in the way of your cup, consider asking your doctor to trim them.
Know where your cervix is. If you have a low-cervix, consider one of the shorter menstrual cups.
Release the suction before removing your Lily Cup. Make sure you grasp the base of the Lily Cup to break the suction seal. Then you'll be able to pull it out easily. If you don't do this, there will be too much force and you may dislodge your IUD.
Can I use a Menstrual Cup with an IUD?
What about the Soft Cup or Ziggy Cup with an IUD?
If you want to have sex during your period, you have a couple of excellent options.
Soft Cups and IUDs
The first one is the Instead Soft Cup/Flex Menstrual Disc (similar products, made by the same company). They are flat, flexible discs that fit right under your cervix, unlike regular menstrual cups which sit low in your vaginal canal.
Because they're flat, and go high up in the vaginal canal, they work very well for penetrative sex. The only negative to them is that they're disposable.
Can Instead Soft Cups be used with an IUD? The company recommends against this. It makes sense when you think about it.
The strings from your IUD are around the entrance to your cervix. A Soft Cup fits right under your cervix. There is a much higher chance that your Soft Cup will interfere with your IUD than with a regular menstrual cups.
Remember that there should be space between your menstrual cup (insert it low in the vaginal canal) and the IUD? Due to the design of the Soft Cup/Flex Menstrual Discs, this isn't really possible.
Check with your doctor, of course, for more information on this.
Ziggy Cups and IUDs
The other option that just came onto the market (early 2018) is the Intimina Ziggy Cup. It's very similar in design and function to Soft Cups, but it's reusable.
Finally, a company that has made a reusable menstrual cup that can be worn during penetrative sex. We've been waiting years for it. Intimina, the company that makes the Lily Cup and Lily Cup Compact are behind the Ziggy Cup.
The Ziggy Menstrual Cup is made from medical grade silicone. It can last for 5-10 year with proper care and cleaning. Early reviews on Amazon are excellent and we can't wait to try it out for ourselves.
Can you use the Ziggy Cup with an IUD? Probably not, for the same reasons as the Soft Cup. It sits right below your cervix, where your IUD strings are.
Check with your doctor to be sure, but in general, it's not recommended.
Menstrual Cups and IUDs: Have your Say
We hope that this answered all your questions about menstrual cups and IUDs.
Please leave a comment below and let us know your tips and tricks for using these two things together.