TPE vs Silicone Menstrual Cup: What's the deal?
Most menstrual cups are made from silicone. The high-quality ones like the Diva Cup, Lunette Cup, MoonCup, and many others are made from medical grade materials.
There are also a lot of cheap menstrual cups that are made from silicone that is listed as "food-grade" or "diamond." We don't recommend these periods cups because of safety concerns.
There two menstrual cups, the Meluna Cup and the Oi Cup that are made from Thermoplastic Elastomer, or TPE. The Meluna Cup is a popular menstrual cup that has a huge variety of size, firmness and stem options. The Oi Cup is a newcomer to the menstrual cup world.
Let's compare medical grade silicone to TPE. Our goal is to help you decide what's best for you when choosing a menstrual cup.
An Introduction to Medical Grade Silicone Period Cups
Expensive to make menstrual cups from silicone. After manufacturing, the products have to go through a curing process.
Very strong and resistant to tearing.
Not recyclable, but can be ground and made into various sporting surfaces
Can last for 5-10 years
Low compression strength—these menstrual cups will retain their shape for their lifespan
Very high hypoallergenic ratings. It's the preferred material for many medical device manufacturers.
Can withstand high temperatures. You can boil these cups for 5-7 minutes to sterilize them between cycles.
Can be left in direct sunlight
Can feel a bit sticky to the touch
Don't change shape or mold to your body when they heat up
Saalt Cup: One of our Favourite Silicone Menstrual Cups
An Introduction to TPE Menstrual Cups
It can be cheaper and more energy efficient to produce cups from Thermoplastic Elastomer than silicone.
Easy to colour and mold.
Recyclable—can be melted and repurposed easily.
Menstrual cups made from TPE have a lifespan of 3-5 years. They can be compressed easily and will lose their shape and stiffness over time.
Feel soft to the touch
Can mold to your body when they heat up for a better fit
Can be sterilized but shouldn't be subjected to high temperatures for long periods of time. The Me Luna Cup company recommends cleaning it with mild soap and water when you take it out. Then you can sterilize the Meluna Cup by boiling in water for 3 minutes.
Must keep out of direct sunlight
What is TPE?
A common question that people have is, "What is TPE?" Let's find out!
Theromplastic Elastomers are also referred to as Thermoplastic Rubbers. They're a class of copolymers, or a mix of polymers (usually plastic and rubber). They're easy to manufacture by injection molding which can be done more easily and cheaply than something like silicone.
The advantage of TPE is that it has properties of both rubber and plastic, making it stretchy, but able to return to its original shape. The advantage of plastic is that it's recyclable, and also easy to manufacture. It's easy to heat up, and reuse any production waste.  In short, TPE is the best of both worlds!
Which Menstrual Cups are Made from TPE?
The vast majority of menstrual cups are made from medical grade silicone. The exceptions are the cups made from TPE and the Keeper Cup, made from latex. There are a few periods cups made from thermoplastic elastomer, but the two most popular ones are the Meluna Cup and the Oi Cup. We'll give you a few details about each of them.
Meluna Cup
The Meluna Cup is made in Germany according to strict standards and is one of the top-rated menstrual cups here at this site. Just about the only negative is that it can be difficult top find the full range of sizes and stem options outside of Europe.
The main reason people love this cup so much is that there's a cup to fit just about every single person. For example, you can choose from:
Regular or Firm.
Various stem options (ball, ring, stem, etc.)
Different sizes (Small-XL)
Regular or shorty length
If you have a heavy period, light period, low cervix, high cervix, or just about anything in between, you should be able to find the Meluna Cup that'll work for you.
You can check out the Meluna Menstrual Cup for yourself over on Amazon:

Oi Cup
The Oi Cup is a newcomer to the menstrual cup world, but it looks like it's hear to stay. The company behind it (Organic Initiative) is based in New Zealand and makes a wide range of organic feminine hygiene products (pads and tampons).
This menstrual cup made from TPE has some excellent initial reviews and most people that try it really seem to like it.
As far as sizing goes, the Oi Menstrual Cup is a bit unusual in that it comes in three sizes: small, medium and large. The small Oi Cup is a nice choice for teens, or very small people who don't regularly have penetrative sex.
The large is quite large and can be perfect if you have a heavy period because it has a higher than average capacity of 40 ml. Compare this to something like the Diva Cup at 30 ml.
Finally, the medium Oi Cup will work for the average younger person who hasn't given birth vaginally.
Sounds like the menstrual cup for you? You can check it out for yourself over on Amazon:

Meluna Cup: The Most Popular Thermoplastic Elastomer Menstrual Cup
TPE vs. Silicone: Which One is Best for a Menstrual Cup?
In reality, both of these materials are a good choice for a menstrual cup. Both silicone and TPE are reasonably durable, easy to clean, comfortable and soft and overall great material for a medical device such as a menstrual cup.
The Slight Edge Goes to Silicone Menstrual Cups
But, if we had to choose one? We'd probably stick with a menstrual cup made from medical grade silicone, even though it may be a bit more expensive. They have a few advantages over the Meluna Cup or Oi Cup which are made from TPE, including the following:
A longer lifespan (5-10 years vs 3-5).
They retain their shape and stiffness for a longer time.
Are more durable. For example, you can boil them for longer and not worry about it, or leave them in direct sunlight.
Although they can't be melted and repurposed, they can be recycled and made into sporting surfaces.
Which Medical Grade Silicone Period Cup to Choose?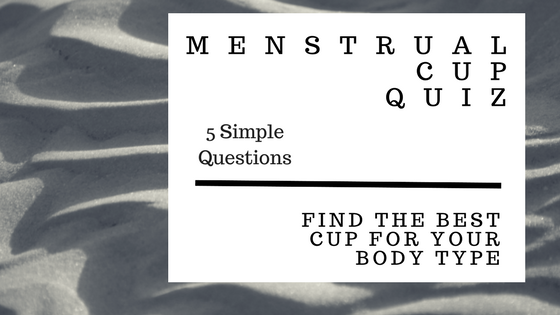 There are more than a hundred period cups to choose from. We've made it easy for you though and designed this menstrual cup quiz. There are a few simple questions, and at the end, you'll get a recommendation for the best menstrual cup for your body type.
Check it out here: Find the Best Menstrual Cup for your Body Type. 
Thermoplastic Elastomer vs Silicone Menstrual Cups: Have your Say!
In the head to head battle of TPE vs medical grade silicone, which one comes out the winner? Are you considering the Meluna Cup? Or, a menstrual cup made from silicone.
Leave a comment below and share your thoughts with us.