Anigan Evacup vs.  Lena Cup: Overview
Let's compare the Anigan Evacup with the Lena Cup. Both are excellent menstrual cups that have been gaining in popularity in recent years. They're both made in the USA, and have some excellent user ratings on Amazon.
Not only are they an eco-friendly choice, but they're also economical and come in around $10 cheaper than the more expensive period cups.
Both of them are excellent cups and you can't really go wrong buying either of them. They can both usually be found on most people's lists of the best menstrual cups in the world.
Let's examine the Lena Cup and the Eva Cup in more detail to see which one will work best for you.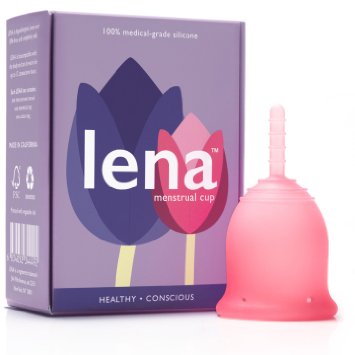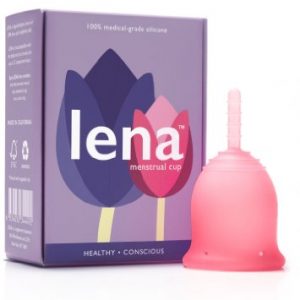 The Anigan EvaCup: Cheaper that Others Menstrual Cups
The Anigan Evacup is an up and comer in the world of menstrual cups and it's gaining traction over older, more established brands like Diva Cup, Lunette and Moon Cup. People seem to really like it because it's one of the cheapest cups available that's still worth buying.
Another popular feature is that the Anigan Evacup is manufactured in the USA, unlike many of the other cups in that price range that are made in China. The cheap ones from China are usually very low-quality silicone that's extremely flimsy. This means that it doesn't open easily and will leak like crazy. Avoid these ones!
Finally, the EvaCup has a nice user rating on Amazon and comes in 8 different colours. Why shouldn't period protection be fun?
Anigan EvaCup Review
The Lena Cup: Very High Ratings on Amazon
The Lena Cup is also made in the USA and is quite similar to the Anigan Evacup. It's just a little bit more expensive on Amazon. However, the company's mission is to put a top-quality cup in the hands of as many people as possible for a reasonable price. And they've succeeded at doing just that!
The Lena Cup is one of the leading menstrual cups brands, and it's made from medical grade silicone. It has a high user rating and the only complaints about it on Amazon are about menstrual cups in general and not about this specific product. There really don't seem to be that many dissatisfied customers with the Lena Cup at all.
Lena Cup Review
Anigan Evacup vs. Lena Cup: Design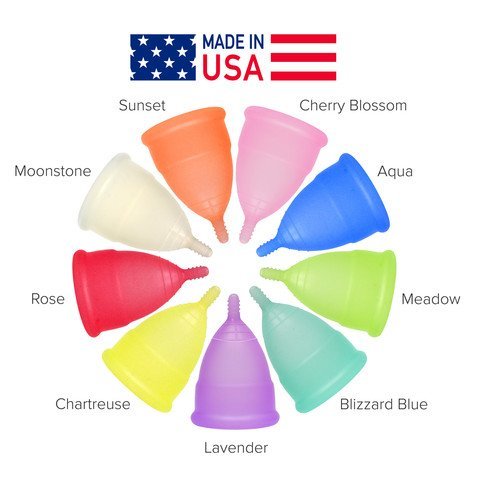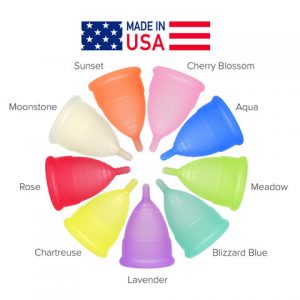 In terms of design, the Lena Cup and Evacup are similar. However, the Lena Cup has a longer stem and is longer overall. This can make removal of the Lena Cup easier but it will certainly not be suitable for those with a low cervix. Instead, consider one of these low-cervix menstrual cups.
The Anigan Evacup vs. Lena Cup Size Comparison Chart
Heavy Period: Consider the Anigan EvaCup
If you're looking for a higher capacity cup, the Anigan Evacup is the hands down winner with 30 ml (small) and 37 ml (large). The large size is one of the largest menstrual cups you can buy.
The Lena Cup only has a slightly smaller than average capacity of 25 ml (small) and 30 ml (large). This makes it not a great choice for someone with a heavier flow.
Check out this menstrual cup capacity chart for more details: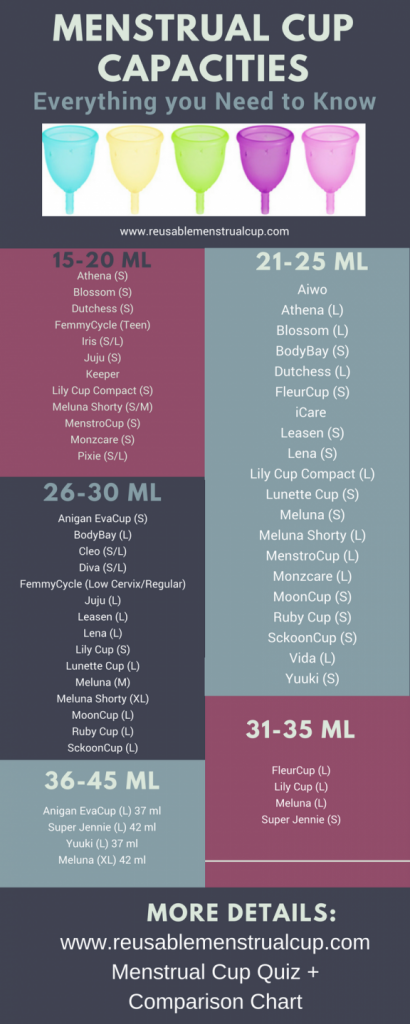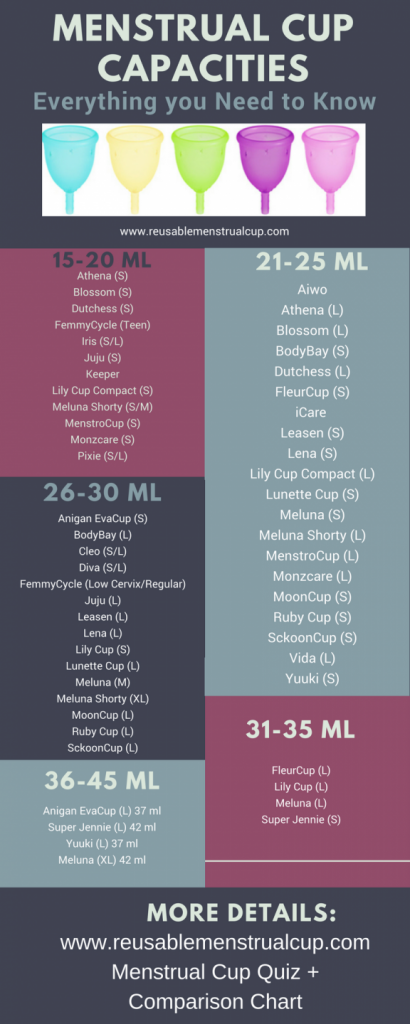 Lena Cup vs. Anigan EvaCup: Firmness
In terms of firmness, the Eva Cup is considered to be average. In general, we recommend a menstrual cup like this for beginners. It will be reasonably easy to insert, but it's not so stiff that it will feel uncomfortable inside of you.
The Lena Cup has two firmness options: Regular, and Sensitive. The regular version is firmer than the Anigan EvaCup, but the sensitive is softer.
Most people find that a firmer menstrual cup is easier to insert. This is because it usually just "pops" open once you put it in your vaginal canal. However, it can press very strongly against your vaginal canal and even cause something like cramps.
Softer, average, or firmer cups: it really is up to you. Check out more details in this menstrual cup firmness chart: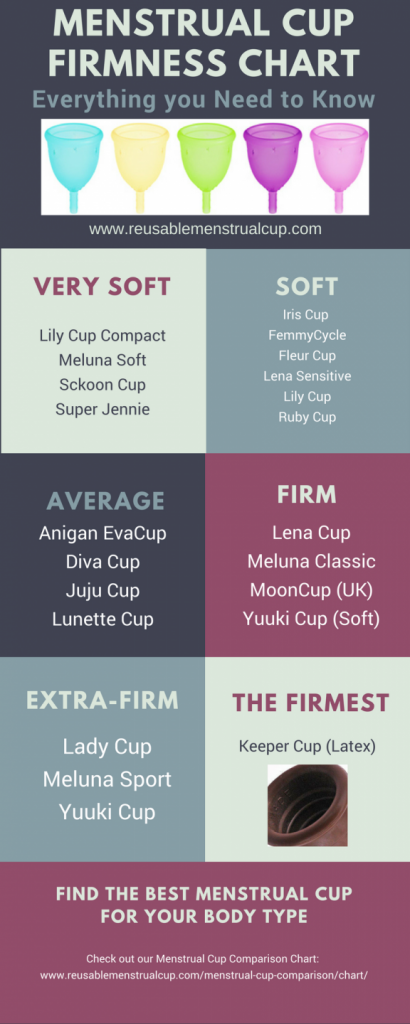 Anigan Evacup vs. Lena Cup: Which one to Choose?
Both of these cups are made from the highest quality medical grade silicone and are manufactured in the USA. The Lena Cup is a bit more expensive than the Anigan Evacup but it does have a higher rating on Amazon and people seem to love it. They mention that is has the perfect stiffness, making it easy to fold but also easy for it to pop open and seal once inside of you.
If you have a heavy period, the Anigan Evacup Large would make an excellent choice for you. At 37 ml, it has one of the biggest capacities of all menstrual cup, along with the Meluna L/XL and the Yuuki L.
Anigan Evacup + Lena Cup: Where to Buy
The best place to get both of these cups is on Amazon. You'll be able to find all the size, colour and model options available to you. Shipping is usually free with Amazon prime, and it will come straight to your door in discrete packaging.
Check out the chart below to find the brand and size that you need:

Evacup vs. Lena Cup: More Information
Anigan EvaCup vs. Lena Cup: Have your Say
Anigan EvaCup vs. Lena Cup: which menstrual cup are you going with? Leave a comment below and let us know all the details!