wegreeco Bamboo Reusable Sanitary Pads - Cloth Sanitary Pads | Light Incontinence Pads | Reusable...
THREE SIZE AVAILABLE,small size 8 inch long X width (including wings) 7 inch,Middle size 9.5 inch...
LOVELY PRINT leak-free outer of Cloth Sanitary Napkin and comfort of the softer, Bamboo layer...
CHARCOAL BAMBOO INNER LAYERS of these cloth menstrual pads is soft with maximum and have a stay dry...
GREAT CHOICE for eco-conscious women. Reusable and Sustainable. HUGE savings to be made by using...
TWO SNAPS DESIGN for better fasten the pads around your underwear and make it more security.Change...
WeGreeco Reusable Cloth Pads Introduction
If you're looking to go green for your period, then you'll want to consider making the switch to reusable cloth pads. These ones from Wegreeco make a nice choice. Here are a few quick facts about them:
Come in a wide variety of sizes
3 layers
Made from a variety of natural materials
Affordably priced
Some excellent customer ratings and reviews online
2-snap system keeps them secure (better than other reusable menstrual pads)
These pads from Wegreeco are not that easy to find in stores, which is why we recommend shopping online. Prices are very reasonable, and you'll often get free shipping with Amazon Prime.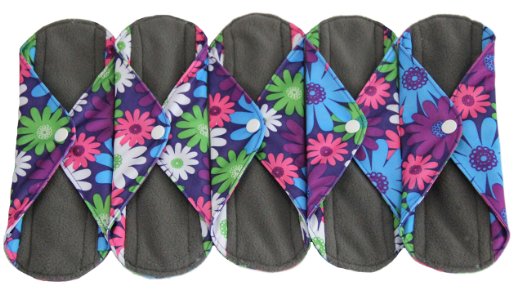 Check them out today for a greener, cheaper, healthier period experience:

Wegreeco Bamboo Reusable Sanitary Pads Review
Wegreeco Bamboo Reusable Sanitary Pads have an excellent rating on Amazon with hundreds of reviews. Most people who use them to seem to love them. They're an eco-friendly, economical alternative to regular disposable sanitary napkins.
The way cloth menstrual pads work is that they simply snap into place over your regular underwear. You then have to change them every few hours like you would a regular disposable pad. Simply wash and dry with your other laundry and use them again.
Depending on the size of the pad, the price varies. However, it's extremely reasonable, especially when considering that you're probably spending $5-10 a month on disposable pads already. You'll be breaking even in just a few months by making the switch to reusables.
Where to Buy Wegreeco Reusable Cloth Pads
It can be very difficult to find reusable sanitary pads in stores. That's why we recommend shopping online for most eco-friendly period products. You'll have the full range of size, colour, style and brand options and prices are very competitive.
Keep on reading for the full review, or head on over to Amazon to check out these cloth pads from Wegreeco:

Reusable Cloth Menstrual Pads: An Excellent Alternative to Disposables
Reusable sanitary pads such as these ones make an excellent alternative to disposables for a variety of reasons including the following:
Reduce Exposure to Toxic Chemicals
Disposable pads and tampons often contain traces of pesticides and chemicals. By using reusable cloth pads, you're reducing the amount of chemicals that are right next to your skin. This is especially important if you have a long period and need to use pads for a week or longer each month.
Another reason that you would want to reduce chemicals is if you have sensitive skin or allergies. Regular pads might can skin irritation or rashes each month. Try out reusable cloth pads and see if the situation improves. Our guess is that it will.
Better for the Environment
The average person uses 1.5 boxes of pads or tampons each month. Multiply that by 12 for the year, and then decades over the course of your lifetime. That's a lot of plastic and paper going into the landfill.
Instead, consider using reusable pads or menstrual cups to reduce this waste. Do your part to save the world and reduce the amount of non-biodegradable plastic that is going into landfills and the ocean.
Save Money with Reusable Feminine Hygiene Products
Pads and tampons are expensive. Think about all of them you use over your life. It adds up! While reusable cloth pads do cost more initially, they can last for years, saving you money over the medium and long-term.
Wegreeco Reusable Menstrual Pads Review
Three Sizes of Wegreeco Reusable Cloth Pads
There are three sizes of Wegreeco pads available, so you can find one that suits your needs. They are sold in packs of 5. The starter kit has a variety of all three sizes and is sold in a 4-pack.
Small: 8 inches
Medium: 9.5 inches
Large: 11 inches
All of them include wings with a 2-snap system to help keep them in place, even when exercising.
Compare Wegreeco Cloth Menstrual Pads
Three Layers of Protection from Wegreeco
These cloth menstrual pads from Wegreeco are extremely well designed, with comfort and maximum leak protection in mind.
Outer layer: 100% waterproof fabric which prevents leaks.
Middle layer: Micro-fiber layer for maximum absorbency.
Inner layer: Bamboo charcoal layer that feels good against the skin.
What People are Saying about these Reusable Sanitary Pads from Wegreeco
"They're soft and feel quite nice next to my skin. Plus there's a waterproof layer so they don't leak. I've found that they work just as well as disposable pads for me, but I like the fact that I'm not throwing disposable pads into the landfill." Amy P.
"These cloth menstrual pads don't leak even on days of my heaviest flow. I pair mine with a menstrual cup for a bit more protection on my heaviest flow days." Tracy A.
"I love these reusable cloth pads! The design is very nice and the fabric is quite soft." Bobbi C.
Check out these popular cloth menstrual pads on Amazon:

Wegreeco Reusable Sanitary Pad Pros:
The have a good user rating on Amazon. People that have used them seem to love them.
These pads have a waterproof layer to prevent leaks.
There is a soft inner layer which feels good against your skin.
The three sizes-small, medium and large so you can find the one that will work for you.
They seem to stay in place quite well, unlike some of the other cloth menstrual pads.
Reusable pads work well for people will allergies or sensitive skin. No more chemicals and pesticides
Double snap system on the wings to help keep them in place, even when exercising.
Are stain resistant, and come out looking new even after multiple uses.
An eco-friendly, affordable feminine hygiene option (more affordable than some of their competition, Blushing Bluebird for example).
Pair a large Wegreeco pad with a high-capacity menstrual cupfor the ultimate overnight protection.
Wegreeco Reusable Sanitary Pad Cons: 
Wegreeco sanitary pads don't come with a wet bag, which is useful for changing them when you're not at home. Check out this Dutchess Wet Bag if you'd like one.
The outer waterproof layer is quite slick, which can cause them to shift around for some people. This is especially true if you're engaging in serious exercise like running or cycling.
The medium and large sizes can be quite big for people who are physically small.
Compare Reusable Menstrual Pads
There are plenty of options for reusable cloth menstrual pads beyond these ones from Wegreeco (although they are one of the best!). You can see some more of the choices in this comparison chart below:
Best Cloth Menstrual Pads
Pair Cloth Pads with a Menstrual Cup?
If you're looking for some serious period protection, minus all the chemicals, high environmental impact and big price-tag, then consider using a menstrual cup.
They are reusable, bell-shaped cylinders that are designed to replace tampons. The best thing is that they often last for up to 10 years and replace hundreds, if not thousands of tampons.
We generally recommend using a menstrual cup instead of tampons. And then cloth pads instead of disposable pads. This allows you to maximize your savings, and reduce your ecological footprint.
For help in choosing the best menstrual cup for your body type, we recommend checking out our menstrual cup quiz. There are five simple questions that only take a couple minutes of your time.
At the end, you'll get our recommendation for the best menstrual cup for you. You can check it out there: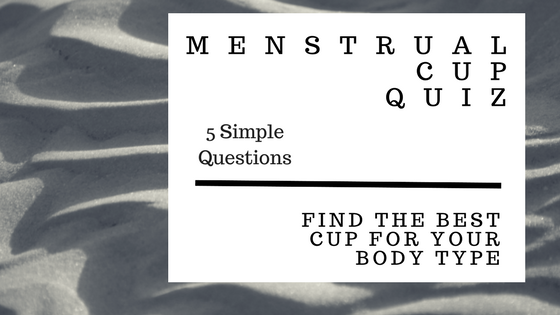 Or, you could check out some of our top picks for eco-friendly, affordable menstrual cups in this handy comparison chart below:
Care and Cleaning of Reusable Menstrual Pads
Cloth sanitary napkins do cost more money up-front than disposables. It only makes sense to try to make them last as long as possible in order to maximize the benefit from them.
Cleaning Cloth Pads: Is it a Hassle?
Or, you may be considering making the switch to reusable pads, and wondering how much of a hassle it is to clean and care for them.
Don't worry, it's actually quite easy to look after cloth menstrual pads! For darker pads, like these one from Wegreeco, you can just throw them in with your regular laundry. Since they're dark, they won't really stain. Just be sure to wash them in cold water.
For lighter cloth menstrual pads, most of them are made from stain-resistant materials so you'll usually find that the stains come out quite well. But, if you're really worried about it, then throw your soiled pad in some cold water to soak for a couple hours. Then, wash them like you normally would.
Hang-Dry Pads for Maximum Life-Span
Most people don't know this, but the dryer is hard on clothes and reduces their life-span. Hang dry your cloth menstrual pads if you're serious about making them last as long as possible.
More Details about Cleaning Washable Pads
Check out the following for more information:
Reusable Sanitary Pads Care and Cleaning
Learn more about cleaning reusable cloth pads:
What about Staining with Cloth Pads?
We personally don't really care about staining with our reusable cloth pads. If you're the same as us, you'll have a very easy road ahead of you.
Just throw your Wegreeco pads into the laundry hamper and wash them with your normal laundry. A common question is how can you prevent them from staining for example, a white t-shirt. Our solution? We have a "dark" hamper and a "light hamper." Just throw them in with the dark.
If you do care about staining, get some dark coloured pads such as these ones from Wegreeco.
Or, if you do opt for light coloured pads, then soak them in cold water after using them. Most people just keep a small bucket in their bathroom for this purpose. Then, take them out and put them in with your regular laundry.
Alternatively, you could use a commercial stain remover spray.
Whatever you do, it's not really a big deal, and easier than you might think to keep reusable cloth pads clean and free from stains.
Can I Exercise with Reusable Sanitary Pads?
Many people wonder whether or not reusable sanitary pads work as well as their disposable counterparts. In general, the answer is yes!
In fact, many people, especially those with allergies or sensitive skin find that they work better and are less irritating to their skin.
Most cloth pads absorb very well, and also have a waterproof layer to prevent any leakage.
The only situation in which disposable pads may be better than reusables is when you're exercising. Cloth pads can be a bit bulkier than disposables so some people may find them a bit uncomfortable. They can also shift around a little bit due to the backing on them.
That's why we recommend keeping a box of disposable sanitary napkins in your bathroom cupboard. Want to run a marathon? Hike up a mountain? Use a disposable. But for all other situations, you'll probably find that cloth menstrual pads work very well.
The Takeaway on Wegreeco Reusable Cloth Pads:
These cloth menstrual pads are an excellent choice for reusable menstrual pads. They are very well made and come in a variety of sizes (small-medium-large) so you can choose the one that is right for your flow, including overnight and heavy days.
3 Layers for Maximum Protection
Wegreeco sanitary pads are well-designed, with three layers for maximum leak protection, absorbency, and comfort against your skin. They're not too thick, so it won't feel like you're wearing a diaper. This is a common complaint among cloth menstrual pads.
Although they do slide around a little bit for some people, this is a common complaint about cloth menstrual pads and not specific to these ones from Wegreeco. The double snap system works very well.
Very High User Ratings on Amazon
They actually have some of the highest user ratings on Amazon and a ton of satisfied customers who are happy to have an eco-friendly option for sanitary pads.
Buy Wegreeco Reusable Sanitary Pads:
The best place to buy these cloth menstrual pads is on Amazon. They come in packs of five and range in price depending on the size that you buy.

What about Reusable Organic Pads?
If you're looking to reduce your exposure to toxic chemicals during your period, you may want to know about organic options.
Although Wegreeco Reusable Sanitary Pads are very high in quality and are actually our top-rated option, they are not organic. This makes them very affordable. And after you wash them, they're basically free of any toxins or harmful chemicals.
It's the same as new clothes. You should generally wash them before wearing to get rid of the chemicals from the manufacturing process. But, after that? You really have nothing to worry about.
There are however, reusable pads made from organic cotton such as these ones from Hesta Organic. You can check out some of our favourite picks here:
Best Organic Cloth Pads
Wegreeco Reusable Sanitary Pads: Have your Say!
What are your thoughts about these reusable sanitary pads from Wegreeco? Are they a win, or are you considering another brand of washable cloth pads?
Leave a comment below and let us know your thoughts.
Last update on 2021-04-17 / Affiliate links / Images from Amazon Product Advertising API