Do you want to find out whether or not Tree Hugger Reusable Pads are the right option for you? Keep on reading our full review to see all the details you need to know about these popular reusable cloth pads.
Best Cloth Menstrual Pads
Tree Hugger Cloth Menstrual Pads Introduction
Cloth menstrual pads are an excellent alternative to disposables for a number of reasons, including:
Better for the environment. Reduce waste by making the switch to reusable products. This can make a HUGE difference over the course of a lifetime. Imagine the possibilities if even a small percentage of menstruating people in the world were using reusables?
Save money. Disposable pads are expensive. This is especially true if you have a heavy period and have to use a lot of them.
Better for your health. Disposable pads and tampons contain toxic chemicals in them, from the cotton, as well as the manufacturing process. Making the switch to reusables can reduce your exposure to toxins significantly.
We recently ran across Tree Hugger Cloth Pads and will do a quick review of them. We love that they plant a tree for every cloth pad sold. It's an easy way to make a difference in our world.
You can check out Tree Hugger Cloth Menstrual Pads here:

Tree Hugger Cloth Pads FAQs
Tree Hugger Cloth Pads: A Wide Range of Options
Tree Hugger offers a wide range of options for cloth menstrual pads, including "Minky," "Bamboo", and "Cotton." Each of these fabric options come in a variety of sizes, ranging from pantyliners to overnight/postpartum.
They also sell wet bags, nursing pads, period panties, and a few other things.

Here's a quick summary of what the company has to say about each of their fabric choices:
Minky
100% polyester (very soft)
Allows fluid through the absorbent layer underneath (dry feel)
Doesn't stain
Bamboo
Very soft feel
Organic option available
Absorbent
Can sometimes stain
Cotton
Quilter's cotton (low pile)
Can sometimes stain
Not as soft at the previous two options
Tree Hugger Cloth Pads Review
Top-Quality Reusable Cloth Menstrual Pads
In terms of quality, these cloth pads from Tree Hugger both look and feel nice against the skin. They are quite well made, and we love the nice variety of size and colour options.
They are all hand-sewn by work-at-home moms, unlike many of the other cloth pads on the market which are mass produced in places like India or China.
Although not cheap, you get what you pay for and in this case, you're getting a top-quality reusable cloth pad. They are in fact, some of the most expensive cloth menstrual pads you can buy.
Although cloth pads are a bit more expensive up-front, you will certainly save money over the medium to long term by making the switch from disposables.
Compare Reusable Cloth Pads
You can compare prices of some of our favourite reusable cloth menstrual pads here:
Effectiveness of these Reusable Pads
People wear sanitary pads to prevent leaking. So let's explore how effective Tree Hugger pads are at preventing this.
In general, they are very absorbent and do a better job at this than many of their competitors. They are not too big that they feel bulky and annoying to wear. However, they're not so small that they leak. The snap on the wings holds them in place quite well.
These cloth pads are very comfortable to wear, and we found that all three fabric options (bamboo/cotton/minky) feel nice next to the skin, particularly the minky ones. However, they can feel quite hot after a while, unlike the bamboo and cotton options.
More Information about Cloth Menstrual Pads
If you're considering making the switch from disposable sanitary pads to reusable ones, then you'll need to check this out.
We've answered your Top 10 questions:
Buy Tree Hugger Cloth Pads Online
The only place you can buy Tree Hugger Cloth Pads is directly from the company. You can check them out here:


About the Tree Hugger Company
Tree Hugger has been around since 2008, and is a family run business out of Canada. The husband/wife team do much of the work themselves, and employ work from home moms to do the sewing of their products.
You may have seen them pitch their product on Dragon's Den (Canada) in January 2015.
One unusual, but great thing about Tree Hugger is that they plant a tree for every cloth pad sold. We love it, and we're sure that you probably do too!
Tree Hugger Cloth Pads Pros:
Handmade, top-quality menstrual pads
Interesting designs
Wide range of fabric choices
Wide range of sizes, from pantyliners to heavy, overnight cloth pads
Excellent customer service
They plant a tree for every cloth pad sold
Quite absorbent for a cloth menstrual pad
A nice size and doesn't seem to leak for most people
Snaps on the wings that hold the pad in place nicely
Stain resistant fabric
Throw them in with your regular laundry (wash + dry)
Tree Hugger Cloth Pads Cons:
Some of the most expensive cloth menstrual pads you can buy
A little bit bulkier than disposable pads (most cloth pads are)
Pair it with a Menstrual Cup?
If you're looking for a complete, eco-friendly period experience, then you'll need to pair your cloth menstrual pads with a menstrual cup. Menstrual cups are designed to replace tampons, and can last for up to 10 years with proper care and cleaning.
Like cloth pads, they do cost a bit more up-front than disposable feminine hygiene products. However, in just a few months, you'll save money when compared to disposables.
If you're looking for your first (or next) menstrual cup, then you'll want to check out our menstrual cup quiz. We've combined all the information from our detailed menstrual cup comparison chart, along with our knowledge gleaned from reviewing ALL the cups and put it to work for you.
The result is this 5-question menstrual cup quiz that will only take a minute of your time. At the end, you'll get our recommendation for the best menstrual cup for your body type. Check it out here: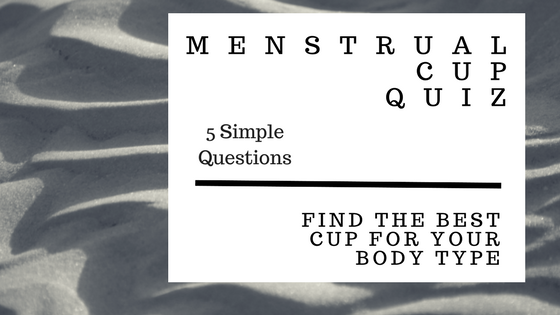 Consider a Wet Bag to use with Reusable Pads
One of the big negatives to reusable cloth pads is that they're a bit of a hassle when you're on the go. At home, you just have to take off the soiled pad, throw it in with your regular laundry, wash it, and then put on a new one.
See: Menstrual Cup Care and Cleaning for more details.
When you're not at home, however, it's a bit more work. You need to keep the soiled cloth pad somewhere. Our favourite option is a wet bag. They are discrete, easy to clean and just work well, far better than something like a ziplock bag.
Compare Wet Bag Prices here:
Care and Cleaning of Tree Hugger Cloth Pads
It's quite easy to care for reusable cloth pads. You usually just have to throw them in with your regular laundry. The best ones are stain-resistant and/or use dark colours that don't show stains.
Here's what Tree Hugger recommends for care and cleaning of their products:
Toss them into your washing machine!
If you're worried about staining, put them in an ice-cream bucket filled with cold water. But, change the water every day.
If you don't soak them in water, rinse them before throwing them into your laundry hamper.
"Minky" almost never stains, so consider this option if you're especially worried about stains on your cloth pads.
Don't use fabric softener or bleach.
Wash and dry once before use.
The Takeaway on Tree Hugger Cloth Pads
Tree Hugger Cloth Pads are certainly not cheap! They are way more expensive than some of the cheaper cloth pads you can find on Amazon.
However, if you're looking for a top-quality, handmade product, then Tree Hugger Cloth Pads are an excellent option to consider. There is a nice range of sizes, fabric choices, and colours.
We LOVE that they plant a tree for every cloth pad sold. Not only do these products reduce the amount of waste going to the landfill, but they also contribute to our Earth in other ways.
Overall, Tree Hugger cloth pads are a buy!
Buy Tree Hugger Cloth Pads
You can buy these top-quality cloth menstrual pads directly from the company. Click on the "Shop Now" button below to check them out: