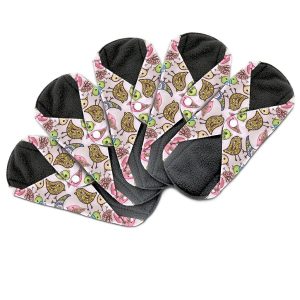 #1: What are Cloth Pads?
Cloth Menstrual Pads are similar to regular ones except that they're reusable! This means that instead of being made with plastic or paper, they're made of cloth and other natural materials like bamboo and charcoal.
There are a wide variety of sizes from panty-liners to overnight fabric pads. You simply wear them as you would a normal pad, machine wash them and then use them again.
In terms of effectiveness, cloth ones are slightly less absorbent than their disposable counterparts. However, most people find that they work well enough and are very happy that they made the switch!
They don't have sticky backing on them, but instead, you snap the wings together around your underwear. Some have two sets of snaps depending on the size of the pad.
Reusable menstrual products? We're ALL about that here at Reusable Menstrual Cups!
#2: Why use Cloth Sanitary Pads?
Cloth pads make an excellent choice for a few different reasons, including the following:
Cloth Menstrual Pads: Great for The Environment
The average woman uses a whole box of pads or tampons during their monthly period. That is a significant amount of plastic waste going into the landfill each and every single day.
Now imagine if even just 5% of people around the world used reusables instead of the disposable ones. They can last for 5-10 with proper care and cleaning. That's a whole lot less waste overall! And the world would certainly be a better place.
Regular pads are largely made from plastic, while reusables are made from mostly natural ingredients. Plastic will still be hanging around the landfill in hundreds of years from now. Reusable fabric pads will biodegrade within a decade.
Great for your Body
Disposables often have lots of harmful chemicals from the pesticides used to grow cotton, as well as chemicals from the manufacturing process. You can get organic pads but they also cost a bit more. Cloth pads, once washed are free of any of these harmful chemicals.
If you have allergies, or sensitive skin, consider making the switch to reusable maxi pads. You'll probably find that they're very comfortable and that you'll have a much better period experience!
Reusable Menstrual Pads: Save Money
A box of disposable maxi pads costs around $5. You can get a single cloth pad for around that same price and it can be reused, over and over again for 5 years or even longer.
Over the course of a lifetime, you can save thousands of dollars.
Frugal Living at its best! Reusable menstrual products including cloth sanitary pads, period panties and menstrual cups will save you a ton of money over the medium to long term. Start early in your teens for maximum savings potential!
If you're looking to save some serious money on your period, then make your own pads with fabric you have laying around your house.
#3: How Long do Cloth Pads Last?
Good news! They can last for at least a few years.
Think about it this way. If you have 7-10 pads, you'll probably wear each pad 2-3 times a month. Multiply this by 12 and that's around 30 times a year. 30 x 2 years = 60 times.
You would most certainly wear your favourite t-shirt or jeans more than 60 times and you can do this with your cloth pads as well. 3-5 years is probably a reasonable estimate for how long you'll be able to use a cloth pad.
#4: Are the Best Reusable Menstrual Pads Expensive?
Cloth pads are around a few dollars per pad, depending on the size. Pantyliners will be at the low end of that range, while big overnight pads will be at the higher end. You can, however make your own.
Compared to disposable menstrual pads at around $0.20 per pad, they could be considered expensive. However, a cloth menstrual pad can last for at least two years and quite possibly double or triple that. Over the medium to long-term, reusable pads are certainly much cheaper than their disposable counterparts.
Check out some of the best economical options for washable cloth pads here:
Best Cloth Menstrual Pads
#5: Is there a Variety of Reusable Cloth Pad Sizes?
Yes, there are a variety of sizes of fabric pads to suit the various stages in your menstrual cycle. The sizes are similar to disposable menstrual pads, ranging from very thin panty-liners to much thicker and longer overnight pads.
The panty-liners are cheaper, while the thicker and longer ones are more expensive. You will definitely be able to find a cloth menstrual pad that will work for you.
For example, Mama Cloth Pads come in various sizes, from a panty liner to heavy, overnight pad.
Here's a quick tip. If you're not sure what size to get, measure the pads you're currently using. Are they 4 inches long, 6 inches, 8 inches, etc. Then, but a comparable length of cloth pad.
Also be sure to get a couple different brands so that you can find the one you like best. Once you establish this, but a few more of that brand to make it through your cycle in style each month!
#6: What do you do with the Dirty Reusable Pads?
If you're at home, it's quite easy to deal with dirty cloth sanitary pads. You can simply throw them in with your laundry (don't use hot water because it sets the stains). Or, many people soak them in a bucket filled with a bit of laundry soap and water. Then throw them in with your next laundry load.
How Do I Deal with Reusable Menstrual Pads When Not at Home?
One of the major reasons that people opt for disposable sanitary napkins instead of reusable ones is because of dealing with them when not at home.
If you're at home in your own bathroom,  you can just throw your cloth sanitary pads in with your regular laundry (if you don't care about staining). If you do care, put them in a small bucket with some water to soak until you do laundry.
However, when you're not at home, you obviously can't just throw reusable maxi pads in the trash like you would with disposables. To get around this, most people carry a small wet bag with them in their backpack or purse. It's basically a waterproof bag to put wet or soiled things until you can get home.
Learn more here: Dutchess Wet Bag. Or, just check out this popular brand of wet bag for yourself over on Amazon. Shop now, and get free shipping with Amazon Prime.

Quick tip: when you're using a cloth pad, or menstrual cup and aren't at home, look for a private bathroom. For example, Starbucks often has a small room with a toilet and sink. This will make dealing with everything much easier.
What to do with Cloth Menstrual Pads Away from Home
#7: How many Cloth Menstrual Pads do I Need?
Most people find that 6-10 cloth menstrual pads work well to make it through that time of the month in style. You can go for the lower end of that range if you have a very light flow and don't need to change your pad as often.
As few as six reusable pads will also work well if you have a large family and are doing at least one load of laundry each day.
If you have a very heavy flow, or live alone and don't do laundry that often, 10 pads are recommended. But, buy 5-6 to get started and see how that works for you.
You can always supplement them with some disposable pads until you figure out how many you need each month.
#8: Do Reusable Menstrual Pads Stain?
Cloth menstrual pads usually stand up very well and don't stain too easily. They are made with stain resistant materials. They also have dark-coloured designs on them, so even if they do stain, it won't be that obvious.
In order to prevent staining, remember these tips:
Always wash in cold or warm water, never hot. Cold water is best!
Keep your pad moist after use. You can use a wet bag if you're out and about, or a bucket with water and some laundry soap if you're at home.
You can also use some commercial stain remover before laundering.
Some people try washing them by hand as soon as they take them off in order to prevent staining. It can sometimes help, but washing them like this one by one takes more time than I'm personally willing to spend.
Quick tip: if you're worried about this, choose your cloth menstrual pad patterns wisely. Aim for darker colored fabric, or a multi-colored pattern that won't show stains as much.
How to Clean Cloth Menstrual Pads
#9: Cloth Pads vs Menstrual Cups: Which One do you Recommend?
Menstrual cups are bell-shaped cups made of medical-grade silicone that are designed to catch menstrual fluid. You have to empty them every 6-12 hours and they generally hold 3-4x the amount of fluid as the biggest jumbo tampon.
Whether or not you use a menstrual cup or a cloth menstrual pad is entirely up to you.
Cups are easier because you just rinse them out and use them again, without having to launder them. But, some people find it quite difficult to insert them, prevent leakage and then take them out.
If this is the case for you, consider cotton fabric pads! They're extremely easy to use, even for those who are very young.
Another option is to use both. You can use a menstrual cup and then get a thin panty-liner type reusable pad as a back-up in case it leaks.
This option is great for the environment and also easy on the laundry, as you can usually wear a panty-liner like this for 12 hours.
#10: What Cloth Menstrual Pad Brands do you Recommend?
There are a lot of different brands which makes it hard to choose the right one for you. If you're good at sewing, you might even consider making your own, Check on Pinterest for patterns, tips and ideas to get you started. It's easier than you might think!
You can also buy cloth menstrual pads for around $5-10 each. A great place to start is on Amazon, which has a wide range of styles and sizes.
There are an actually an overwhelming number of choices for cloth menstrual pads, but some of the more popular ones include the following:
Charlie Banana (they also make some very nice cloth diapers)
Heart Felt (comtain a charcoal absorbency layer in them)
The Wegreeco Bamboo Pad is our #1 choice. People love it because it doesn't seem to leak. You can easily get this popular cloth menstrual pad on Amazon. Shop now, and you can often get free shipping with Amazon Prime.

#11: Can I Buy Washable Pads in Stores?
You may want to know if you can find them in stores. In general, they are pretty difficult to find because they are not so popular.
However, if you're going to find some, the best place is a natural food or natural health store. There might not be a great selection (only 1-2 brands), and the prices will also likely be quite expensive. It's for these reasons that we recommend shopping online instead.
#12: Should I Use Cloth Pads or Menstrual Panties?
Cloth pads and period panties are both popular options for women looking for an affordable, eco-friendly alternative to disposable feminine hygiene products.
But, which one to choose for your specific situation? We'll give you the rundown on when you might want to use each one.
Menstrual underwear are ideal if you're looking for some back-up to a tampon or menstrual cup. You could also consider using reusable panty liners for light incontinence, spotting, or vaginal discharge.
However, they're not great for actual period protection because instead of just having a pad that you need to change out, you have a whole new pair of underwear!
When you consider that most period pantie brands are 2-5x more than a cloth pad, this can get pricey.
If you want to use something for period protection on your heavier flow days, go with cloth pads. They can absorb more, and are easy to change, both at home and on the go.
#13: Are Cloth Menstrual Pads only For Periods?
Although "period" and "menstrual" is often in the name, they're not just for periods. Many women use them for the following situations:
Light incontinence that doesn't require something like Depends Undergarments
Spotting between periods
Women opt for cloth feminine pads (including panty liners) instead of disposable products because they're cheaper, contain fewer toxic chemicals and are also much better for the environment. These effects compound when you're using them every day for something like incontinence or vaginal discharge.
#14: What about Interlabial Pads?
We've had a few questions lately from women wondering about interlabial pads and whether or not we recommend them.
Basically, interlabial pads are absorbent pads that are worn externally and are held in place by the labia. This is unlike regular cloth pads, or disposable pads that are held in place by the underwear. Some people find them to be very comfortable, others not so much!
Because these ones are closer to the vagina, they can help reduce the leakage and mess of regular pads, especially up the bum crack, as when you're laying on your back with your knees up (have you had that experience before???).
Another reason why you might want to consider interlabial pads is if you have a very, very heavy flow. They could help you make it through the night without having to get up, in conjunction with a menstrual cup, and normal sanitary pad attached the the underwear.
In general, they have a kind of leaf shape on them, and they are kind of hard to find. We could only find one company offering Interlabial Pads on Amazon.

You can, of course, also sew your own inter-labial pads. Check out some patterns on Pinterest.
#15: Can I Make my Own?
If you're handy with the sewing machine, you may want to consider making your own washable feminine pads. You can potentially save a lot of money by doing this, especially if you use fabric that you already have; they're quite easy to make.
How to Make Cloth Menstrual Pads? 
Just search on Pinterest for something like, "Cloth Pad Patterns" and you'll find plenty of good options to get started sewing your own pads.
#16: How to Use Cloth Pads
Disposable sanitary napkins are pretty easy to use. You just have to peel off the backing and stick them to your underwear. Many of them have wings that fold around the bottom of your underwear.
It's recommended that you change them every few hours, and possibly more so if you have a heavy period and aren't using a menstrual cup or tampon.
They are not so different in terms of how often you'll need to change them. Most people find that they're equally absorbent to disposable products.
However, the major difference between cloth maxi pads and disposable ones is that they don't have a sticky backing on them. They stay in place on your underwear with snaps on the wings.
#17: What about Period Pants?
There is period underwear, as well as cloth pads, but what about period pants? You're in luck! Dear Kate has come out with their "Go Commando Yoga Pant" that you may want to try out.
They have a number of features you'll love, including:
They're patented underlux technology that's designed to prevent leaks
Can be worn with, or without underwear
The lining can hold around 1 teaspoon of liquid, or enough to make it through a workout when you have a lighter flow, are spotting, or some vaginal discharge
Comfortable, sweat-wicking fabric keeps fluid away from your skin
Sounds like exactly what you need for your next yoga workout? You can shop now on Amazon:
#18: I Have a Heavy Period: Will They Work for Me?
If you have a heavy flow, you may want to know whether or not cloth pads are a good option. In general, they are quite similar to regular pads in terms of absorbency and how well they prevent leaks.
Stick with the extra long, overnight pads and you should find that they work well. In particular, the extra large ones we've tried (and loved) are made by Blushing Bluebird and Party in My Pants.
Another group of people who may find that these bigger pads necessary are those who've just given birth. Post partum bleeding can often be quite heavy, but you can't use anything internally. That leaves you with pads.
Many people find the cloth ones more comfortable and less irritating. You're probably exhausted from just having had a baby and the last thing you need is something that's going to irritate your lady bits? Am I right about that?
Do They Leak?
In terms of leaking, most women find that cloth pads are the same as normal pads. Change them frequently enough so that they don't become completely saturated. Also, be sure to get the correct size to begin with.
#19: Are Reusable Pads a Hassle?
Okay, so you might be thinking to yourself, "Are they worth it?" Many women think so. However, they do take a bit more time and effort, especially the washing part of it.
Disposables are very simple to use, which is why some women prefer them. You just carry around a spare if you're not at home, or keep a box in your bathroom cupboard. Then, you take the soiled one off, throw it into the trash and put on a fresh one.
Reusable pads require more work, but try them out for yourself and you'll probably find that it's not as big of a deal as you might think. Plus, they're a product that you can feel good about using next to your body.
#20: Do they Smell Bad?
You might think that cloth pads could have an odour to them after wearing them for a few hours. In my experience, I've found them to be the same as regular pads. As long as you change them every few hours, or when you wake up in the morning, it shouldn't be a problem.
I've even say that they're slightly better in this regard because they don't have any fake fragrances or perfumes in them. That stuff isn't good for our bodies and I personally find it quite irritating.
#21: What about Organic Pads?

If you're looking to go organic for your cloth pads, the good news is that there are a number of options for you to consider. One of our favourites is Glad Rags.
Here's what you need to know about them:
Glad rags is a trusted name in period products. They're the makers of one the first modern day menstrual cup (the Keeper Cup) and have recently come out the Xo Flo Cup.
The pads are made from 100% certified organic cotton
Thin, but very absorbent
Leakproof layer that is waterproof, but also very breathable
Consists of a holder, and an insert so you can customize the absorbency level
You can check out Glad Rags organic maxi pads for yourself on Amazon:

#22: What's the Deal with Charcoal Underwear Pads?
You've maybe heard of charcoal underwear liners and are wondering what the deal is. Are they related in some way to reusable maxi pads? There is indeed some cloth pads that are made from charcoal because it absorbs well and locks in odours. However, this is a different product.
Charcoal underwear pads are designed to be worn in your underwear to trap the smell from flatulence. They're washable and reusable and can last for several weeks, depending on how often you use them. They're also discrete, thin and very comfortable to wear once taped into your underwear.
If you have lots of gas, you may want to check them out! Shop now on Amazon:

How do Cloth Pads Compare to Organic Disposable Pads?
Sale
Rael Organic Cotton Cover Pads - Regular Absorbency, Unscented, Ultra Thin Pads with Wings for Women...
100% CERTIFIED ORGANIC COTTON TOP SHEET - Made with Texas cotton grown without the use of toxins,...
SUPER ABSORBENT CORE - Our ultra premium, pillowy pad provides ultimate comfort and protection....
MAXIMUM AIR FLOW - Made with hypoallergenic, soft, and breathable sheets that alleviate unpleasant...
LEAK LOCKER TECHNOLOGY - Unique channel designs to trap fluids and side panels for added security....
MADE FOR ALL WOMEN - Safe and suitable for all women, skin types, and menstrual conditions.
If you're looking to go green for your period, you may be wondering if you should choose organic pads, or cloth ones. Both are much friendlier to the environment than regular pads.
Organic sanitary pads are made from organic cotton, and are plastic-free, including the packaging. Reusable pads can last for years, making them a much better choice for our Earth as well.
Which ones make the better pick? If you're looking to save some money, go with cloth. They're also better for the environment because they're reusable.
However, if you're away from home for large parts of the day, you want want to go organic. They're far easier to deal with because you just throw them into the trash and replace them with a fresh one.
Which Washable Pads do you Recommend?
There are a number of great choices for you to consider. You can see them all here: The Best Organic Maxi Pads.
Or, check out Rael Pads. They are a relatively new product, but they're quickly becoming a best-seller due to their very reasonable price-tag.  They're also super-absorbent and have some great air-flow so you can avoid that sticky, sweaty feeling.
You can shop now on Amazon:

Have your Say
Are they a good feminine hygiene option? Have you used them before? Any questions that we missed?
Leave a comment below and let us know all the details.
Don't forget to share this article on Facebook, Twitter, or Pinterest.
Last update on 2021-04-17 / Affiliate links / Images from Amazon Product Advertising API