A Review of the Pixie Menstrual Cup
Menstrual cups have gained significantly in popularity in recent years. 10 years ago, there were very few menstrual cups on the market, and choices were limited. The market seemed to be dominated by the big 3-Diva Cup, MoonCup and Lunette.
However, many more period cups are being manufactured these days and your choices are almost limitless. This is probably due to the increasing popularity of menstrual cups. More companies are seeing that it's worth their time and effort to develop a product in this niche.
The Pixie cup is one of one those new cups to appear on the scene in recent years. The company is based out the USA, but they're a little bit evasive about where the cup is made. On Amazon, someone asked them directly and they gave the very evasive answer of, "Pixie is a small, family owned business based in the United States of America."
Our guess is that it's actually made in China, but that the Pixie Cup manufacturers don't want people to know. Menstrual cups from China have a poor reputation in the menstrual cup world as being made from sub-par materials to very low standards.
Is the Pixie Cup a buy? Keep on reading to find one more about the Pixie Menstrual Cup and for our review of this newcomer to the feminine hygiene world.
You can also have a look at the user reviews over on Amazon:

Pixie Menstrual Cup Review
The Pixie Menstrual Cup is a newcomer to the menstrual cup world and there isn't a whole lot of information about it. It appears very similar to other cheap cups manufactured in China like the Hengsong Cup or the Vida Cup. This similarity is obvious when looking at pictures of the products side by side.
These products are usually sourced on a place like Alibaba, manufactured in China, and then a private label (such as Pixie) is put on them. In many cases, they're the exact same, generic menstrual cup.
Pixie Cup: We'd love more information about where and how your cup is manufactured. Please contact me and I'll be happy to update this information. Or, include it on your website for everyone to see.
You can get the Pixie Cup on Amazon:

Longer Stem: Not a Win
The company mentions that the long stem is only available with the Pixie Cup, but this certainly isn't the case.  There are plenty of other menstrual cups that have longer stems than this normal sized one!
See this Menstrual Cup Comparison Chart for sizes of menstrual cups, including total lengths. It's actually a somewhat bizarre claim from the company and makes us not actually trust anything that they say!
A longer stem, while perhaps making removal slightly easier, isn't really a huge advantage. Many people will actually find this uncomfortable, especially if they have a low cervix since the stem will stick outside their vaginal canal. And trust us, this isn't a comfortable thing!
Another factor is that the best way to remove a menstrual cup isn't by grasping the stem. It's by grasping the base of the cup itself and breaking the suction seal. The only reason you'd grasp a menstrual cup by the stem is if the cup is too high up in your vaginal canal to reach the base. In this case, you'd use the stem to pull gently down on the cup until you could get to the base of it.
It seems like the Pixie Cup company doesn't really have a basic grasp of how a menstrual cup actually works!
100% FDA Approved?
Selling for around $20 on Amazon, the description says that the Pixie Cup is made from 100% FDA approved medical-grade silicone. However, the company website has very little actual information on it, and there isn't much information about it on the Internet yet.
Any menstrual cup that has a website with no real information is one to be wary of. All of the reputable cups most certainly have websites with plenty of information about their products, including what they're made from, and how they're manufactured.
It's a serious red flag that Pixie Cup lacks this and it's enough for us to not recommend the product.
Reviews: Over the Top and Fake?
The reviews on Amazon appear to have been paid for and are a bit over the top. Therefore, the 4ish/5 star rating should perhaps not be trusted.
It looks like the company paid for a bunch of initial, favourable reviews, giving them a total rating of close to 5/5 for a few months after launch. However, the real reviews are starting to come in, and they're not altogether favourable, unlike something like the Lena Cup, or Anigan Evacup where almost every customer is satisfied.
The only real complaints about the top-quality menstrual cups come from people who are dissatisfied with menstrual cups in general, and not any one specific product. This is not the case for the lower-quality menstrual cups like the Pixie Cup.
About the Company
We checked out the company website and were appalled at the lack of real information. Here are only a few of the problems:
Spelling mistakes (Afraica).
The founder's name is "Amber." All other companies with this information give a full name.
"Pixie is a small, family owned business based in the mid-west." We were unable to find any more information than that, including an state, address, or phone number. A real company should have this information listed.
They say that if you're not satisfied with your cup, they'll make it right. There is, however, no contact information! We're not sure how one would go about this.
Reviews on Amazon
Here's what people are saying on Amazon about the Pixie Cup:
"The Pixie Cup is too floppy and I couldn't get it to open fully. The result is that it leaked ALL THE TIME."
"The material of the Pixie cup is too soft and it's difficult to open once inserted. I do like the nice pink storage bag it came with, but cup is terribly designed and I wish I'd gone with something like the Diva Cup to start with."
"After using this period cup for just three cycles, it has started to leak. I'm very disappointed because they're supposed to last for at least a few years. I followed their care and cleaning instructions to the T."
These reviews of it being super soft and floppy, as well as leaking are indicative of a cheaply made cup from China. Cups like the BodyBay, OTBBA, and Hengsong all have very similar complaints.
Two Sizes of Pixie Menstrual Cups:
The Pixie Menstrual Cup comes in two sizes: Small (15 ml capacity) and Large (20 ml) capacity. This is less than most of the leading menstrual cup brands such as the Diva Cup, Moon Cup or Lunette Cup which have capacities of around 30 ml.
The Pixie Menstrual Cup certainly wouldn't be good for those with a heavy flow. The average jumbo tampon holds around 12 ml, so with a small Pixie Cup, you lose a big advantage of menstrual cups-that they are less hassle!
Most people love menstrual cups because they can use them overnight. Or, they have no hassle about changing them when they're out and about doing sports or traveling.
Unusually, instead of recommending the small or large cup based on whether or not a person has given birth vaginally, they instead use "light to normal flow" and "normal to heavy flow." It's quite odd, considering all other cups recommend sizing based on vaginal canal size, or a high/low cervix. This doesn't seem like a company that really knows about women's health!

Buy One, Give one Program
One thing we do like about the Pixie Cup is that they have a buy one, give one program that is similar to the Ruby Cup.
There is no information on the company website about how many cups they've given to date, or how the program is administered. We'd love some more details about this. The other companies that do this have a specific organization through which the menstrual cups are donated to people in need.
Another problem is that the cup they're donating isn't actually that good!
The Takeaway on the Pixie Menstrual Cup: 
We do not recommend the Pixie Cup. It's too similar to the other cheap menstrual cups that are manufactured out of "100% FDA-approved medical-grade silicone" in China. These cups range in price from about $5 on the low end to $20 on the high end. So at $20, the Pixie Cup could be considered very expensive for a cup that really has very little information about it.
It's also very strange that they recommend the small or large based on flow, and not age, or having given birth vaginally.
Many reviews on Amazon appear to be fake. The real reviews that have appeared in the last few months aren't great. Think super-floppy, leaking, breaks down after a few cycles, etc.
Overall, it's worth spending a few extra bucks to get yourself a menstrual cup from a reputable company.
Pixie Cup: Not a Win. Consider Other Menstrual Cups
If you're looking to get your first menstrual cup, you'd do well to consider some of the other options from more reputable companies. They have websites, real reviews up on Amazon and also real information about their products.
Here at Reusable Menstrual Cups, we strongly recommend the following menstrual cups. They're all made by established, reputable companies out of the highest quality medical grade silicone and are also FDA approved.
These more established cups are priced at around $30. For $10 more than the Pixie Cup, you can get something you know will work.
Check out some of these top-quality menstrual cups from very reputable companies below. The Diva Cup, Moon Cup and Lunette are the oldest, most reputable menstrual cups money can buy.
The Anigan EvaCup and the Lena Cup are a couple newcomers to the scene. However, unlike the Pixie Menstrual Cup, they are of top-quality materials and have excellent designs. They're also a bit cheaper than the other cups just mentioned.
Get yourself a menstrual cup today:
USA Made: The Lena Cup + The Anigan EvaCup
Canadian Made: The Diva Cup
European Made: The Moon Cup + The Lunette Cup
Or, Take our Menstrual Cup Quiz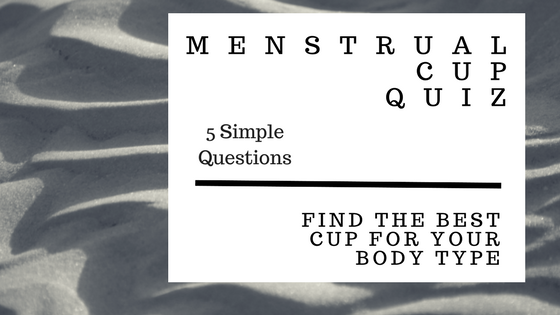 If you're looking to buy your next menstrual cup, then be sure to check out our menstrual cup quiz. It's only five questions and will only take a couple of minutes. At the end, you'll find out the best menstrual cup for your body type.
Check it out here: Menstrual Cup Quiz—Find the Best Cup for your Body Type.