Scuba Dive on your Period: Is It Possible?
A common question that many people ask is whether or not they can scuba dive on their period. It's a great question with a very simple answer: yes!
But, keep reading for all the details about why it's really no problem to scuba dive while you have your period. This is especially true if you use a menstrual cup, or tampon.
Sharks Do Like Blood…But….
While sharks are indeed attracted to blood, it's very, very rare to see one of the big, people-eating ones like a bull shark or great white when you're just out for a casual dive.
The vast majority of recreational scuba divers go an entire lifetime without seeing one of these dangerous sharks. For example, I've done over 2000 dives all around the world and never seen one of these big guys.
For recreational scuba divers, you're far more likely to see some of the smaller sharks like a white or black tip reef sharks when diving in a place like South-East Asia. These guys are very small and are far more afraid of humans than you should be of them. They usually just hang out on the bottom of the ocean floor and don't do a whole lot!
Fluid Doesn't Leak Out When Scuba Diving on your Period
In addition, while scuba diving with your period, you'll be wearing a tampon or menstrual cup so fluid will not be leaking out of you. On the off chance that you bleed through either of these things while you're actually on your dive, the amount of fluid will be so small that it won't be enough to cause sharks to be attracted to you.
But, if you're worried about it, change your tampon or empty your menstrual cup a few minutes before you go scuba diving and you'll be fine.
Menstrual cups have an average capacity of around 30 ml, while a jumbo tampon only holds about 10 ml. There are even some high-capacity period cups with room for up to 40 ml, so you truly don't need to worry about it!
One of our favourite large menstrual cups is the Super Jennie. It's soft and comfortable, and is perfect if you have a heavy period. You can check it out on Amazon here:

Snorkelling While on Period
Okay, so you're not a scuba diver, but you prefer snorkelling. Can you snorkel while on your period? Our advice is exactly the same for snorkelers as it is for scuba divers.
It's perfectly safe to snorkel while on your period. The total amount of fluid you'll lose during an hour or two or snorkelling is very low.
In addition, you'll be using something to catch the fluid, either a tampon, menstrual cup or period swimsuit. Keep on reading for all the details about these three products you may want to consider for snorkelling while on your period.
Scuba Diving While on Your Period: Comfort
Now that we've cleared up any fears you might have regarding your safety about if you can scuba dive on your period, it's time to turn attention to comfort. This is actually a much bigger consideration than the safety issue.
We all know that dive boats don't have a whole lot of privacy and changing a tampon might not be that easy (if not impossible). Some boats don't have a private bathroom. For this reason, it's best to use a menstrual cup while scuba diving.
What are Menstrual Cups?
In case you don't know, menstrual cups are bell-shaped cylinders designed to fit in your vaginal canal. They collect the fluid and you just have to empty them every 8-12 hours.
The best part about them as they relate to scuba diving is that they hold approximately 3-4x the fluid (depending on which cup you choose) that the biggest tampon does.
This means that you can put in your menstrual cup before you get on the boat and it'll hopefully not have to be emptied until you get off it. You can scuba dive on your period, hassle-free!
Menstrual Cups? Okay…Which One Should I Buy?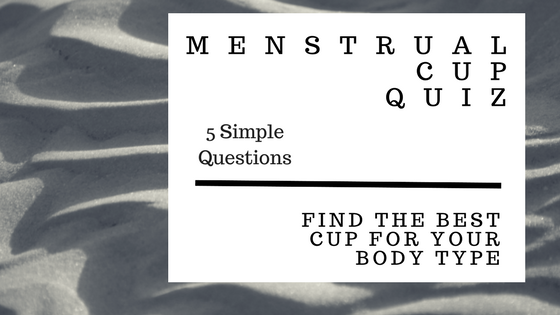 Are you convinced that menstrual cups are awesome for scuba divers? You should be! They really are.
Need  more convincing? See: 49 Reasons You Need a Menstrual Cup. They really are the ultimate solution for the active people and once you try them, you'll regret all those wasted years using pads and tampons!
Maybe you need some help in choosing the best one for you? There are a lot of choices out there and it can at times be a bit overwhelming.
That's why we recommend checking out our menstrual cup quiz. There are five simple questions that will only take a minute of your time. At the end, you'll get a recommendation for the best menstrual cup for your body type.
Check it out here: Menstrual Cup Quiz
I Prefer Tampons, which Ones do You Recommend?
Another great option for swimming, snorkelling or scuba diving during your period are tampons. They're widely available, easy to use and are reasonably priced.
In general, we prefer organic tampons rather than conventional ones. They contain no toxic chemicals in them, and they're also 100% biodegradable. Just say no to plastic period waste and help to protect our oceans!
You can check out our top picks for organic tampons here:
What about Modibodi Leakproof Swimwear?
Okay, so we recommend wearing a menstrual cup or tampons during your period if you're planning on going scuba diving.
But, there's a new product that you also might want to consider: Modibodi Leakproof Swimwear. You'll probably wear a bathing suit under your wetsuit when scuba diving.
This one from Modibodi absorbs around 10 ml, of fluid, the same as a jumbo tampon. It can give you a bit of extra confidence during that long boat ride to the dive site.
Check out our full review here: Modibodi Leakproof Bathing Suits. Or, head over to the company website to find one of these period swimsuits for yourself?

Scuba Diving Period Pad
If you're looking for a scuba diving period pad, we have some bad news for you! There really are no sanitary pads, disposable or cloth ones that can be worn while scuba diving or snorkelling.
Of course, if you're wearing a drysuit, then you won't get wet underneath your suit and you can wear anything you'd like to.
But, if you're using a wetsuit, or board shorts and a rash guard, then you'll need to use some internal protection like a tampon or menstrual cup, or a period-proof swimsuit.
Scuba diving period pad? No such thing exists!
Can you Scuba Dive on your Period? Have your Say!
Can you scuba dive on your period? What are your thoughts? Do you go menstrual cup or tampon?
Leave a comment below and let us know.
Are you looking for information about swimming during your period? Learn more here.